This series update brings with it a batch of new mysteries, new faces (some friendly and some less so), and new linguistic tools to help transitioning readers thrive through the chapter book format.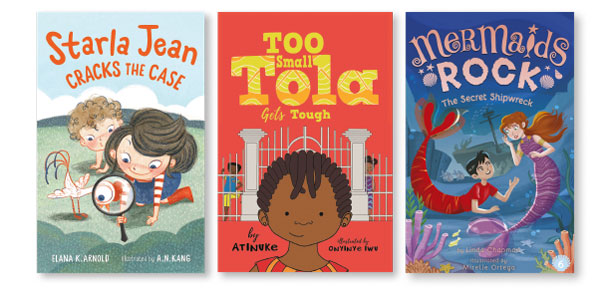 This series update brings with it a batch of new mysteries, new faces (some friendly and some less so), and new linguistic tools to help transitioning readers thrive through the chapter book format.
Arnold, Elana K. Starla Jean Cracks the Case. illus. by A.N. Kang. 96p. (Starla Jean: Bk. 3). Roaring Brook. Apr. 2023. Tr $15.99. ISBN 9781250305800.
Gr 1-4 –Starla Jean (whose chicken, Opal Egg, she walks on a leash and treats somewhat like a pet dog) explains that every person is an expert at something. Starla Jean considers herself a chicken expert and shares that her sister loves bubbles, whether it's a bubble bath or blowing them. Her neighbor Dani likes to go looking for buried treasures in the dirt. While on a walk with her sister Willa and Opal Egg, Starla Jean finds a bead and begins to wonder who it belongs to. Finding the bead's owner becomes an entertaining mystery with a satisfying conclusion. This is a great introductory series for children who are beginning to read on their own. Main characters are cued as white. VERDICT A third entry in this pleasant series that showcases the daily adventures of the ever-curious Starla Jean, with quirky humor, large font, and delightful illustrations.
ATINUKE. Too Small Tola Gets Tough. illus. by Onyinwe Iwu. 96p. (Too Small Tola: Bk. 3). Candlewick. Mar. 2023. Tr $15.99. ISBN 9781536229462.
Gr 2-4 –In this series addition, Tola and her family face the challenges of COVID-19. The Nigerian girl lives in a run-down room in Lagos with her Grandmommy, braniac sister Moji, and mechanic brother Dapo. One day, the talk turns to countries like London having their citizens enter lockdown in their homes. Grandmommy feels that this would not happen in Nigeria because of people needing to work desperately to survive. Soon enough, the lockdown reaches Lagos, and citizens are told by the police to remain at home. Moji's teacher comes to collect her so she can stay with her and keep up with schoolwork. Dapo's boss also comes to get him so he can continue to work on cars. Once both her siblings leave, Tola and Grandmommy grow despondent. As Tola and Grandmommy start to run out of food and money, their neighbor Mr. Abdul suggests Tola go work for a wealthy family, the Diamonds, who need a house girl. Tola begins to adapt to her job. She happens to see that the receipts for the Diamonds's generator oil don't add up, and informs Mr. Diamond. He is so happy that Tola stopped him from being robbed that he gives her enough money for three years of Grandmommy's rent, and the girl gets to finally reunite with her beloved family. Atinuke's stories interweave with Iwu's charming illustrations so effortlessly that readers will be enthralled by Tola's timely adventures. VERDICT This gives readers and their families a big message of hope, strength, and triumph in this series addition about ­COVID-19.
Chapman, Linda. The Secret Shipwreck. illus. by Mirelle Ortega. 160p. (Mermaids Rock: Bk. 6). Tiger Tales. Feb. 2023. pap. $6.99. ISBN 9781664340442.
Gr 2-4 –In this sixth book in the "Mermaids Rock" series Marina, Naya, Coralie, Luna, and Kia, along with their pet friends, go to the Red Sea for an adventure. Coralie and her friends are on vacation from school and decide to put on a play for their parents based on humans and their behavior. They decide to visit a shipwreck at the Red Sea. They are enthralled by a chest full of wigs and clothes. The group is playing dress-up when they are startled into hiding by four humans diving for scientific research. Wally the whale distracts the humans and drives them away, but one of them looks back and sees them. She follows them but ends up trapped within the unstable ship, and the mermaid group frees her before fleeing. This newest title broaches themes of collaboration and friendship. Sweet illustrations show the expressive mermaids in a range of skin tones and hair types. VERDICT This series continues embodying wonderful themes of diverse characters of merpeople and emphasizes the importance of ocean conservation and marine life exploration.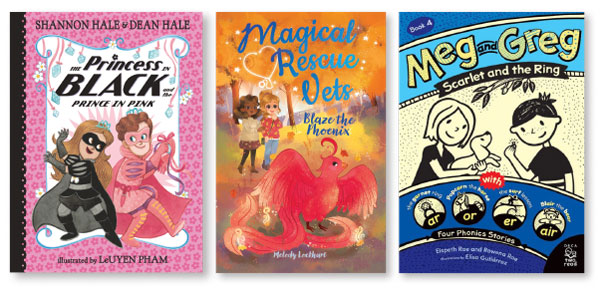 Hale, Shannon & Dean Hale. The Princess in Black and the Prince in Pink. illus. by LeUyen Pham. 96p. (Princess in Black). Candlewick. Apr. 2023. Tr $14.99. ISBN 9781536209785.
Gr 2-4 –By day Princess Magnolia sits in her refined outfits, and when her monster alarm goes off, she turns into a caped ninja. In this entry, Magnolia is getting ready for the flower festival and the evening's ball. While she's setting up, a big emu begins to stomp, kick, and destroy her glass decorations. Magnolia is at a loss at how to tame the grumpy beast. It turns out Prince Valerian also has a secret identity—he is the glamorous Prince in Pink, and his special skills save the day. A sweet twist shows Magnolia that the belligerent emu may actually have a softer side. This entertaining series centers a lovable, empowered female character; this is a princess who can save herself and still be frilly. Main characters are cued as white. VERDICT A wonderful addition to Hale's unique series, wherein zany humor and teamwork tell the story that children can be anything they dream of.
Lockhart, Melody. Magical Rescue Vets: Blaze the Phoenix. illus. by Morgan Huff. 128p. (Magical Rescue Vets: Bk. 3). Arcturus. Jun. 2022. pap. $5.99. ISBN 9781398815285.
Gr 1-4 –In this third installment in the "Magical Rescue Vets" series, Rosie and Kat face a new challenge as animal helpers in the fantastical world of Starfall Forest. In their own world, Rosie feels like the adults in her life treat her like a baby. When she offers to assist with cooking, her mom tells her she's too young; she asks her father if she can help him practice for the school show, but he doesn't seem to need her either. The girls visit Starfall Forest through their usual secret door and notice the animals need their help more than ever—because they have all turned into babies! They discover a misguided Phoenix is to blame. This saccharine addition to the series deftly handles a young child feeling babied alongside its magical plot. Rosie is depicted with white skin and light hair, while Kat is Black with dark curly hair. An opening Starfall Forest map and sweet monochrome spot-art bring this charming, gentle series to sparkling life. VERDICT This series focuses on friendship, teamwork, and adorable magical creatures. Recommended for young fans of animal rescue books and the cutest of happy endings.
Rae, Elspeth & Rowena Rae. Scarlet and the Ring. illus. by Elisa Gutiérrez. 160p. (Meg and Greg: Bk. 4). Orca. Feb. 2023. pap. $14.95. ISBN 9781459824997.
Gr 1-3 –This latest installment in the "Meg and Greg" series, which enables burgeoning and struggling readers with useful exercises, phonics, and sight words, introduces readers to r-controlled vowels (/ar/, /or/, /er/, and /air/). Each story centers one vowel sound, but all embrace the theme of working together to accomplish a goal of recovery. At the end of each tale are activities with sight words and phonics sounds from the plot. In the first story, Meg and Greg visit Greg's family and help his cousin Martha retrieve her missing garnet ring at the farmers' market. In the second, the duo help Martha's friend Flora find her horse Popcorn who was spooked by a storm and ran away. In stories three and four, they help an injured surfer get back to shore, and reunite a little boy with his toy bear. Each spread includes an adult (or buddy) reader's text on the left, and sequential comic-style art with dialogue bubbles and illustration labels for the young reader on the right. VERDICT This is an extremely useful and entertaining series for striving readers; children reading this book along with their partner are not only getting the adventures of Meg and Greg, but learning their sight words and phonics with ease.
---
Annmarie Braithwaite, New York P.L.