Aimed at early elementary school students, PebbleGo offers wide-ranging ready reference, with an emphasis on accessibility that strengthens the ease of interaction for students with physical and cognitive challenges.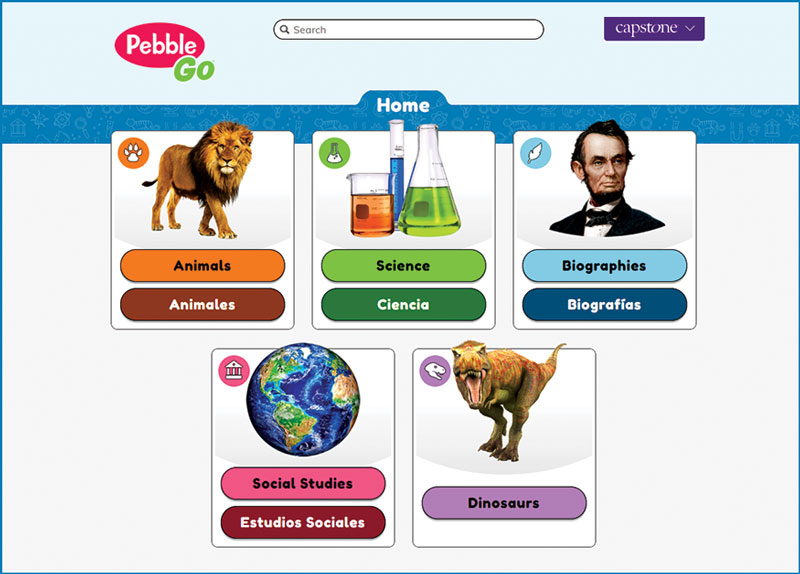 Grade Level Gr K-3
Cost Pricing starts at $1,299 per year.
Overview Aimed at early elementary students, Capstone's reference center is wide ranging and robust, featuring bright photos and a prominent search box. Short, declarative sentences explore a variety of topics, from sharks to credit cards. PebbleGo's emphasis on accessibility strengthens the ease of interaction for students with physical and cognitive challenges.
Content Organized into five modules (animals, science, biographies, social studies, and dinosaurs), the resource includes hundreds of articles. Clicking a module reveals tiles with more specific categories. A child interested in owls narrows down the topic by clicking on "animals," then "birds," then "birds of prey," and finally "owls," though typing "owls" into the search box leads to the same article.
With the exception of dinosaurs, all content is available in Spanish. Beginning readers will find the sentence structure straightforward, although topic coverage (Zora Neale Hurston; topographic maps; supply and demand) occasionally seems geared to older students. Most of the subjects have direct curricular application (invertebrates, simple machines, inventors).
Most articles provide brief videos; some entries contain sound files (a tiger's roar, a parrot speaking). Biographies include time lines. The use of alt text (or descriptions that are read aloud on a screen reader when users hover over an image) makes photographs accessible to users with vision issues. Coverage is broad and inclusive, both in terms of content and the accompanying photographs and videos. Women and men are portrayed in leadership roles, such as in the section on the Marines Corps, and the resource covers foster, adoptive, blended, same-sex, and single-parent families, along with grandparents, cousins, and more.
Each module includes six games (such as matching or jigsaw puzzles) and a question of the day. Videos (which are accompanied by transcripts) are generally engaging (a rumbling tank, elephants communicating by rubbing trunks together), though occasionally at odds with the content (a football fan waving at the camera for the article "Loyalty").
Student Ease of Use/Visual Appeal Teachers may choose to have students log in with a school-wide user name and password, or set up auto login from the administration section. Once users are logged in, PebbleGo opens to a blue and white–toned interface, ideal for students with low vision or who are color-blind.
Browsing is intuitive and simple. The search box offers autocomplete suggestions; for instance, typing in "ant" brings up "Antarctica," "anteater," "ants," and "Anthony Kennedy." However, typos such as "shork" for "shark" yield a "Sorry, unable to find" response. Similarly, users must search for an exact article name to find results—for example, though the resource includes an article on soccer player Mia Hamm, searching for "soccer" pulls up no results.
Individual articles are five pages long, with two to three sentences of information on each page. Bold words link to a definition, and students can select the read-along option, which underlines and highlights each word as text is read in English or Spanish. Simple icons help students navigate, and icons at the top of the page let them backtrack by category as they explore the database.
Most articles offer activities, often beginning with a "draw an example of" box, followed by an open-ended question. A citations button and the ability to print a single page or an entire article will help with assignments and reports. The interface adapts appealingly to desktops, laptops, and tablets and to keyboard-only and touch-screen access.
Educator Ease of Use/­Visual Appeal Educators will find navigation easy and intuitive on the student-facing side. Two introductory videos walk educators through features and using the administrator content, which includes the ability to make a single article or entire content areas unavailable to students. Educators can track which articles are especially popular among students.
Educator Resources Educators have access to handouts (mazes, coloring sheets), lesson plans, and activities not available through the student interface. Content maps list all the articles and how to access them ("frogs" are under "amphibians"; "Amelia Earhart" and "Bessie Coleman" are under "explorers"). Another tool maps material to state or Common Core standards. Additional resources include promotional materials (printable bookmarks with a password reminder, posters) and access to a blog, along with instructions for integrating PebbleGo into a Learning Management System (LMS), a classroom website, or Google Classroom.
Verdict PebbleGo is both a trustworthy beginner's encyclopedia and an engaging space for elementary students to independently explore interests, whether they are budding paleontologists or aspiring ornithologists. Educators may find opportunities for discussion with social and emotional learning content. This is an enticing and accessible addition to any elementary collection seeking to create or expand their online options.
---
Maggie Knapp, Trinity Valley School, Fort Worth, TX