Poetry, biographies, sci-fi, and historical fiction are just some of the genres represented in these middle grade titles centering Latinx stories. Highlight them for Latinx Heritage Month and beyond.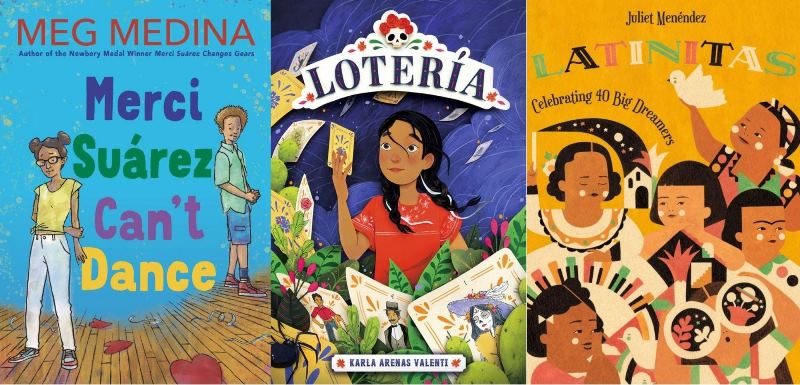 Poetry, biographies, sci-fi, and historical fiction are just some of the genres represented in these middle grade titles centering Latinx stories. Highlight them for Latinx Heritage Month (September 15–October 15) and beyond.
Aquí era el paraíso/ Here Was Paradise: Selección de poemas de Humberto Ak'abal/ Selected Poems of Humberto Ak'abal by Humberto Ak'abal. illus. by Amelia Lau Carling. Groundwood. ISBN 9781773064956.
Gr 6 Up–Divided into sections that explore everything from wildlife, home life, nature, and ghosts, this collection of poetry introduces readers to poet Humberto Ak'abal's home in Guatemala, and the pride and love felt for his Maya K'iche' village and the history it carries. Individual sections discuss everyday life in the village and animals, such as birds and dogs, and dissect aspects of nature, such as the moon and stars as magical things you can reach out and touch. Less tangible topics explored include love, ghosts, life, and death—ruminating about the place of each in everyday life, as well as the beauty and lessons that they teach. An excellent addition to poetry collections for youth, sure to also find fans among adult readers.
Lotería by Karla Arenas Valenti. Knopf. ISBN 9780593176962.
Gr 3-6–Life and Death have met up for their yearly game of Lotería and the silver strands of fate have chosen Clara this year, a seemingly ungifted dark-haired girl born into a family of gifted people in Oaxaca, Mexico. She does not know that she is being watched, but her prescient cousin Estaban foresees something bad about the happen. And bad things do happen and keep happening. A magical, philosophical tale rooted in Mexican lore that will hold readers from beginning to end with its verdant language and setting.
Cuba in My Pocket by Adrianna Cuevas. Farrar. ISBN 9780374314675
Review pending: By the author of 2021 Pura Belpré Honor Book The Total Eclipse of Nestor Lopez, a sweeping, emotional middle grade historical novel about a 12-year-old boy who leaves his family in Cuba to immigrate to the U.S. by himself, based on the author's family history.
Barefoot Dreams of Petra Luna by Alda P. Dobbs. Sourcebooks. ISBN 9781728234656.
Gr 5 Up–Set during the Mexican Revolution, mostly during 1913, this book follows Petra and her grandmother, her sister, and her baby brother as they flee the Federales after the burning of their village. Loosely based on the stories from the author's own family, the novel weaves traditional Mestizo tales and desert knowledge, historical events, and original storytelling. The book is compelling, with well-paced action that flows and keeps readers engaged. The lyrical writing perfectly evokes the loneliness of the desert, the companionship of fellow refugees, and the bravery of Petra.
Niños: Poems for the Lost Children of Chile by María José Ferrada. illus. by María Elena Valdez. Eerdmans. ISBN 9780802855671.
Gr 3 Up–On September 11, 1973, a military coup in Chile led to a 17-year dictatorship. A haunting introduction explains that 3,197 people were killed during this time and 34 were children under the age of 14. Ferrada and Valdez provide an homage to childhood and life that gives a voice to the deceased children. Each poem is titled with the name of a child who was killed during General Pinochet's regime, and every child's full name and age are listed in the back matter. Ferrada's language and choice of form—free verse translated from the original Spanish—flows well and captures the personalities of the featured children.
Fearless by Mandy Gonzalez. S. & S./Aladdin. ISBN 9781534468955.
Review pending: Better Nate than Ever meets Love Sugar Magic in this spooky middle grade novel from Hamilton and Broadway star Mandy Gonzalez about a group of young thespians who must face the ghost haunting their theater.
The Last Cuentista by Donna Barba Higuera. Levine Querido. ISBN 9781646140893.
Gr 5 Up–The magic and power of stories and storytelling help a preteen in a terrifying future. In 2061, with Earth about to be destroyed, 12-year-old Petra Peña and her scientist parents and younger brother Javier are just barely aboard the ship that will take them to the planet Sagan when a group of zealots called the Collective, wanting absolute equality at the expense of any diversity, take over. Almost 400 years later, Petra is one of the last four "sleepers" revived, and the only one who somehow retains her memories of Earth.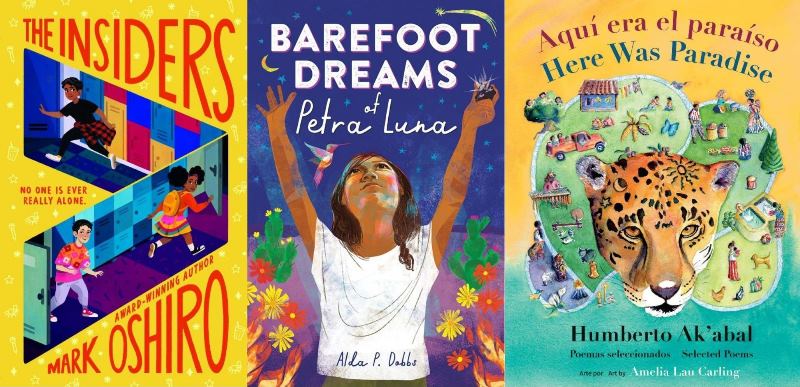 Merci Suárez Can't Dance by Meg Medina. Candlewick. ISBN 9780763690502.
Gr 4-7–Now in seventh grade, Merci Suárez finds that a new school year means new responsibilities and challenges. In this sequel to Newbery winner Merci Suárez Changes Gears, the struggles with friendships, school, crushes, and jealousy that Merci and her friends face will strike a chord with many readers. The plot moves along at a consistent and page-turning pace, and as usual Medina's characters are excellently written and developed. Medina also touches on racism and how shared cultural heritage can bring people together unexpectedly.
Sonia Sotomayor by Meg Medina. Philomel. ISBN 9780593116012.
Gr 1-4–This full-length biography of U.S. Supreme Court Justice Sonia Sotomayor is part of the "She Persisted" series, expanding on the original profiles in She Persisted: 13 American Women Who Changed the World. Medina takes readers through the stages of Sotomayor's life from learning to walk at the age of seven months to her appointment as the first Latinx Supreme Court Justice in 2009. An engaging read for elementary classrooms and a welcome addition to library biography sections.
Shaking Up the House by Yamile Saied Méndez. HarperCollins. ISBN 9780062970725.
Gr 3-6–Ingrid and Winnie Lopez have spent the last eight years at the White House as the country's first daughters. It is now time for them to turn the keys over to Skylar and Zora. However, preparations for the incoming family are delayed, and the four girls will have to stay under the same roof for several weeks. True to the White House's tradition of playing pranks on the incoming family, Ingrid and Winnie engage in an ongoing series of harmless gags with their successors. Méndez has created a funny and diverse cast of characters subverting the representation usually seen in the White House. Ingrid and Winnie are Latina, and Skylar and Zora are African American. They openly talk about their experiences with racism and the pressure they feel to be on their best behavior.
Latinitas: Celebrating 40 Big Dreamers by Juliet Menéndez. Holt. ISBN 9781250234629
Gr 3-6–This title highlights familiar women, and women who are lesser-known to some, from Latin America and the United States. The subjects of these short biographies made significant contributions to the world, from science, the arts, technology, and activism. The women are depicted in vibrant watercolor illustrations, and personal details and the lasting impact of each woman's actions are captured in a single page of text.
Flood City by Daniel José Older. Scholastic. ISBN 9781338111125.
Review pending: Welcome to Flood City, the last inhabitable place left above the waters that cover Earth. It's also the last battleground between the Chemical Barons, who once ruled the planet and now circle overhead in spaceships, desperate to return, and the Star Guard, who have controlled the city for decades.
The Insiders by Mark Oshiro. HarperCollins. ISBN 9780063008106.
Gr 4-6–Oshiro's middle grade debut follows a young Latinx boy, Héctor Muños, as he starts a new school in an unfamiliar town. Back in San Francisco, Héctor's personality, style, and sexuality weren't an issue with his classmates. In Orangevale, however, Héctor, who is gay, quickly becomes the victim of a particularly aggressive bully. Luckily for Héctor, a magical door appears exactly when he needs it most. Héctor discovers a secret room that caters to his needs and comfort.
Cece Rios and the Desert of Souls by Kaela Rivera. HarperCollins. ISBN 9780062947550.
Gr 5 Up–Cecelia Rios does the unthinkable by freeing a dark criatura from the grips of her village. Criaturas have long plagued the residents of the Tierra del Sol desert. Forewarned by her Mama, Cece knows that criaturas were creatures born from the dust and the words of the Great Namer, which aim to harm humans. Shadowed by betrayal and shame, Cece deems herself weak, believing the town whispers that water smothered her inner fire. But when her sister Juana is kidnapped by the criatura, El Sombreron, Cece grapples with a decision that rivals her Mama's beliefs. Courage, determination, and unwavering love are the foundation of this debut; a much-needed addition to public and school libraries.
The Greatest Superpower by Alex Sanchez. illus. by Brann Garvey. Capstone. ISBN 9781684462780.
Gr 4-8–Jorge Fuerte's world spirals when his parents announce they are divorcing and that his father is transgender. While 13-year-old Jorge earnestly navigates myriad emotions, his twin brother, Cesar, shuts their father out completely. As if his family life isn't complicated enough, Jorge falls head over heels for the new girl, Zoey, as he works on a comic competition with his two best friends. There is a lot to love here, and the hopeful, honest representation of a transgender parent is essential for all library collections.
Bella's Recipe for Success by Ana Siqueira. illus. by Geraldine Rodriguez. Beaming. ISBN 9781506468105
Gr 1-3–Bella's hermano can play the piano with his eyes closed, and her hermana is excellent at flipping and cartwheels like an expert gymnast. Bella tries to play the piano and flip in the air like her siblings, but her attempts are less than fabulous. When Bella asks Abuela to help her bake polvorones, Mexican cookies filled with dulce de leche, her first attempts don't come out quite as they should, and she becomes discouraged. Abuela nudges her to try again, and Bella begins to notice that even her piano-playing brother and somersaulting sister make mistakes, but each time they do they make sure to keep trying. This intergenerational tale about family traditions and grit will be a welcome addition to emerging or transitional readers' shelves.
Back-to-School Blitz by Jennifer Torres. illus. by Vanessa Flores. HarperCollins. ISBN 9780063059450.
Gr 2-5–David is excited to begin third grade. He studied all summer for Geography Club and is hoping to be captain of the Globetrotters. Also, the Romero twins will not be in his class this year. But since his parents spoke to the principal, David will not have to deal with Ash and Iris's pranks anymore. But what about his new neighbors? Bennie, Beckett, and Bird Benitez will be in his class…triplets! As recess becomes a competition between the Romero twins and the Benitez triplets for control of the tower, David and his friends must avoid the pranks while trying to keep their playground from becoming off-limits. Early readers who appreciate humorous school stories will enjoy this series debut.