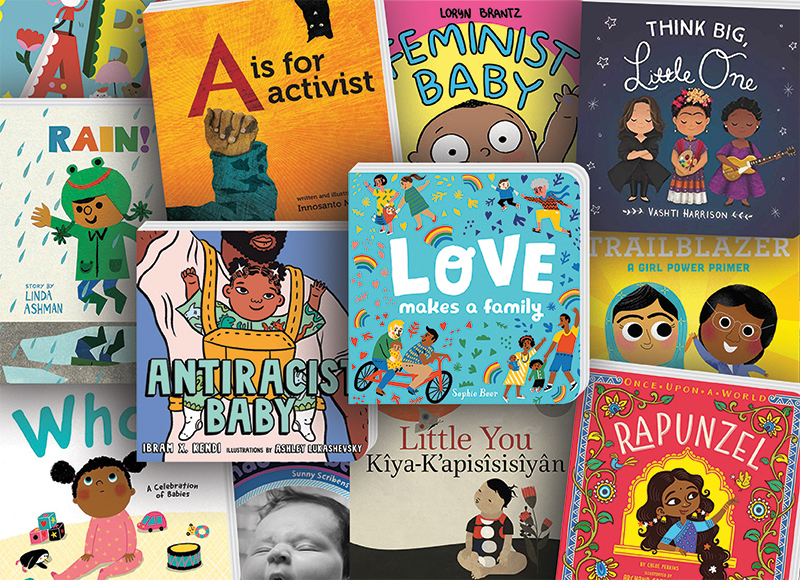 As Grace Lin pointed out at SLJ's Day of Dialog virtual event, when she had a baby eight years ago, she couldn't find many books with characters who looked like her family. "I remember being very frustrated that I couldn't find that many baby books that featured characters like me," she said. "I couldn't find very many minority character baby books. There are so many books of animals and the ones with people tended to be white babies."
Studies show that babies under one year old recognize differences in skin color. Just like for any other age group, it's important that babies see people of color in their books. So how do we bring diverse titles to the littlest readers, when the characters in most board books are animals—if there are characters at all?
These 50 books—many of which are by #OwnVoices creators—show Black, Indigenous, and people of color learning new skills, fighting for justice, and simply living their lives—and they're all appropriate for ages 0–3. From simple images to more complex narratives, and classics to upcoming titles from Lin, Vashti Harrison, and Ibram X. Kendi, these titles can help grow your board book collection. And stay tuned to our July issue for a broader list of new recommended board books.
Abrams Appleseed. Making Faces: A First Book of Emotions. Abrams. 2017. ISBN 9781419723834.
Ashman, Linda. Rain! illus. by Christian Robinson. HMH. 2017. ISBN 9780544880375.
Asim, Jabari. illus. by LeUyen Pham. LB Kids.
Whose Toes Are Those? 2019. ISBN 9780316454322.
Whose Knees Are These? 2006. ISBN 9780316735766.
Babbott-Klein, Libby. Baby Feminists. illus. by Jessica Walker. Viking. 2018. ISBN 9780451480101.

Baicker, Karen. I Can Do It Too! illus. by Ken Wilson-Max. Chronicle. 2010. ISBN 9780811875608.
Baruzzi, Agnese. Play With Me. illus. by author. 24p. Minedition. 2019. ISBN 9789888341719.
Toddler–PreS–This ultra-simple board book featuring short, straightforward sentences ("Walk with me." "Swing with me.") is made interactive by the addition of two die-cut holes. Readers insert their fingers into the holes, their fingers working as stand-ins for characters' arms or legs. Characters include an astronaut, a juggler, a soccer player, a skateboarder, and more, all depicted in bright, flat colors. A playful addition; little ones are likely to giggle uproariously as they—or their grown-ups—wiggle and walk their fingers on each spread.–SLJ Staff
Beaumont, Karen. I Like Myself! illus. by David Catrow. HMH. 2016. ISBN 9780544641013.
Beer, Sophie. illus. by author. Dial. 2019.
Kindness Makes Us Strong. ISBN 9781984816399.
Love Makes a Family. ISBN 9780525554226.

Brantz, Loryn. He's a Feminist Too. illus. by author. (Feminist Baby). Disney-Hyperion. 2019. ISBN 9781368022996.
Toddler-PreS–A new Feminist Baby learns social justice while teething, giggling, and dancing with his diapered friends. Brantz's rhyming text follows a brown-skinned boy as he plays with dolls, takes part in a feminist book club, and knows it's OK to cry. Bright illustrations and Feminist Baby's wide-eyed optimism make for an adorable addition to the series that dismantles toxic masculinity and reminds kids and adults that "feminism is for everyone."–Katy Hershberger, School Library Journal
Browne, Mahogany L. Browne. Woke Baby. illus. by Theodore Taylor III. Roaring Brook. 2018. ISBN 9781250308986.
Diggs, Taye. Chocolate Me! illus. by Shane W. Evans. Feiwel & Friends. 2019. ISBN 9781250207852.
Toddler-PreS–Actor Diggs's iconic ode to self-acceptance finds new life in board book format. An African American boy is mocked because of his skin tone, his hair, and his nose, but his mother reassures him: "Look in the mirror and love what you see!" Evans's beautifully chaotic, childlike illustrations convey the protagonist's angst, unease, and, finally, pride. With educators introducing conversations about microaggressions and privilege at younger and younger ages, this child-friendly and perceptive work is a must.–SLJ Staff
Ewing, Chana Ginelle. An ABC of Equality. illus. by Paulina Morgan. Quarto/Frances Lincoln. 2019. ISBN 9781786037428.
PreS-K–For many, the ideas of privilege and allyship are concepts that are not explicitly taught in childhood. Many people must consciously unlearn the system of beliefs imposed by parents, authority figures, and the overall dominant culture. Ewing's colorful, sunny board book takes such nebulous ideas and packages them into an easily digestible vocabulary bank for young readers. While definitions have been simplified to two sentences, Ewing doesn't avoid or ignore the far-reaching impact of these words. For example, the difference between "Gender" and "Sex" is clearly and objectively explained. She writes, "Gender is a category that describes the inside feeling of being a boy, girl, both, neither, and everything in between." Ewing defines the term sex as, "When a baby arrives, the doctor will say it's a boy or girl depending on their understanding of the baby's body. This is their sex." Each letter of the alphabet and its corresponding word is accompanied by a related image. Morgan's illustrations feature cartoon children and adults of various skin tones and physical abilities and exude joyful acceptance. VERDICT Ewing offers the tools of understanding and reciprocity in order to eradicate injustice. Highly recommended for school and public libraries and can serve as an entry point into social justice literature.–Vanessa Willoughby, School Library Journal
Check out SLJ's interview with Chana Ginelle Ewing.
The Global Fund for Children. Global Babies. Charlesbridge. 2006. ISBN 9781580891745.
Seventeen cultures are presented in cultural context with photographs showcasing babies in diverse settings.

Grover, Lorie Ann. I Love All of Me. illus. by Carolina Búzio. (Wonderful Me). Scholastic/Cartwheel. 2019. ISBN 9781338286236.
Baby-Toddler–From "wiggle toes" and "smelly nose" to "blinky eyes" and "bendy knees," this is a delightful, affirming ode to toddler parts. The smile-inducing rhymes beg to be repeated again and again, while the bold palette and cheery images heighten the book's enthusiastic tone.–SLJ Staff

Read: Discussing Race with Young Kids | First Steps
Harris, Robie. Who?: A Celebration of Babies. illus. by Natascha Rosenberg. Abrams. 2018. ISBN 9781419728341.
Harrison, Vashti. illus. by author. LB Kids.
Dream Big, Little One. 2018. ISBN 9780316475099.
Follow Your Dreams, Little One. Sept. 2020. ISBN 9780316475150.
Think Big, Little One. 2019. ISBN 9780316475136.

Herrera, Juan Felipe. Cerca / Close. illus. by Blanca Gómez. Candlewick. 2019. ISBN 9780763690625.
Holub, Joan. This Little Trailblazer: A Girl Power Primer. illus. by Daniel Roode. S. & S./Little Simon. Sept. 2017. ISBN 9781534401068.
Toddler-PreS–Ten wide-eyed women trailblazers, from Ada Lovelace to Maria Tallchief, are presented in brightly colored spreads. In larger print, a rhyming couplet gives young readers a general idea of the road each subject paved, and on the opposite page, in smaller print, more information is disclosed. The final spread asks kids how they will change the world someday, while showcasing a dozen more inspirational figures. The bottom right corner of the last page has a circle with a question mark, offering children the opportunity to see themselves as future trailblazers. An empowering collective biography for board book bins and shelves.–Shelley M. Diaz, BookOps: The New York Public Library and Brooklyn Public Library
hooks, bell. illus. by Chris Raschka. Little, Brown.
Be Boy Buzz. 2016. ISBN 9781484788400.
Happy to Be Nappy. 2017. ISBN 978-1484788417.
Isadora, Rachel. Peekaboo Morning. illus. by author. Putnam. 2008. ISBN 9780399251535
A toddler plays the universally loved game of "peek-a-boo!" with family members, friends, and the reader of the book via an attached mirror.–Lisa G. Kropp

Keats, Ezra Jack. illus. by author. Viking.
Peter's Chair. 2006. ISBN 978-0670061907.
The Snowy Day. 1996. ISBN 978-0670867332.
Whistle for Willie. 1998. ISBN 978-0670880461.
Kendi, Ibram X. Antiracist Baby. illus. by Ashley Lukashevsky. Penguin/Kokila. June 2020. ISBN 9780593110423.
Toddler-PreS–Kendi and Lukashevsky offer a beautifully designed set of guidelines for parents (and anyone, really) to practice anti-racism. This bright and welcoming board book speaks directly to new parents. The opening illustration, rendered in lush primary colors and bold lines, features a smiling baby riding in her father's baby sling as he participates in a peaceful protest. Other protestors of different ethnicities hold signs advocating for equity, climate change, and Black Lives Matter. Kendi is direct with his prose: "Babies are taught to be racist or antiracist—there's no neutrality." The text then offers nine steps to make "equity a reality." Each step is presented with a short explanation that rhymes, accompanied by more of Lukashevsky's inviting and cheerful illustrations. This excellent board book answers questions so many people are asking right now: What can I do? How can I help? Kendi's choice to speak directly to new parents in this format works quite well. His succinct, impactful prose makes for an accessible guide to anti-racism for everyone. Lukashevsky's artwork elevates the text even more with brilliant color and charming details that will inspire readers to linger on each page. VERDICT The timely and relevant anti-racist message so excellently delivered in this book makes it worthy of a place on all library shelves.–Kristy Pasquariello, Westwood P.L., MA
Lee, Spike & Tonya Lewis Lee. Please, Baby, Please. illus. by Kadir Nelson. 2007. ISBN 9781416949114.
Nelson's illustrations of an exuberant brown-skinned, springy-haired toddler pair perfectly with the Lees's sweetly rhyming text.–Lisa G. Kropp
Lin, Grace. illus. by author. (Storytelling Math.) Charlesbridge. Oct. 2020.
Circle! Sphere! ISBN 9781623541248.
The Last Marshmallow. ISBN 9781623541262.
Up to My Knees! ISBN 9781623541231.
What Will Fit? ISBN 9781623541255.

Nagara, Innosanto. illus. by author. Triangle Square.
A is for Activist. 2013. ISBN 9781609805395.
While activism is typically a message for older audiences, this non-traditional ABC book introduces the topic to little ones.–Lisa G. Kropp
Counting on Community. 2015. ISBN 9781609806323.
Perkins, Chloe. Once Upon a World series. S. & S./Little Simon.
Cinderella. illus. by Sandra Equihua. 2016. ISBN 9781481479158.
Rapunzel. illus. by Archana Sreenivasan. 2017. ISBN 9781481490726.
Snow White. illus. by Misa Saburi. 2016. ISBN 9781481471855.

Pinkney, Andrea Davis. Pretty Brown Face. illus. by Brian Pinkney. HMH. 1997. ISBN 9780152996433.
Puck. Bookstore Babies. illus. by Violet Lemay. duoporess. 2019. ISBN 9781947458505.
Rodriguez, Patty and Ariana Stein. Lucha Libre: Anatomy – Anatomia. illus. by Citlali Reyes. Lil' Libros. 2018. ISBN 9780986109911.

Read: A Diverse Book List for the Under-Five Set
Scribens, Sunny. Baby Dream/Soñando con bebé. ISBN 978178 2857372.
Silver, Skye. Baby Play/Jugando con bebé. ISBN 9781782857365.
Wieder, Stefanie Paige. Baby Food/Comiendo con bebé. ISBN 9781782857389.
ea vol: tr. by Maria Perez. Barefoot Bks. 2019.
Baby-Toddler–Black-and-white photos of babies and their grown-ups feature prominently on every recto page of these delightful books, with text in English and Spanish on each verso. Rhymes and repeated phrases make them ideal for reading aloud ("Cuddle with me, Snug as can be/When it's time/for us to rest…. I'll sing a song/While you hum along/When it's time for us to rest."). Black, brown, white, Asian, and multiracial families are represented; the cover of Baby Play features a smiling tot with Down syndrome; and Baby Food depicts an infant nursing in the arms of her mother. A joyous and joyfully inclusive board book series, reminiscent of the close-up photography of Margaret Miller.–SLJ Staff
Slier, Debby. Cradle Me. illus. by author. Starbright. 2012. ISBN 9781595722744.
Smith, Monique Gray. My Heart Fills with Happiness. illus. by Julie Flett. Orca. 2016. ISBN 9781459809574.
Toddler-PreS—Joyful and tender, this board book celebrates the activities that bring gladness through family and cultural connections. On one spread, three children wait in front of the oven in a modern kitchen ("My heart fills with happiness when…I smell bannock baking in the oven."). The patterns on their clothing are echoed in the kitchen textiles, creating a sense of belonging and completeness. Flett's quietly powerful gouache and digital collage illustrations emphasize the relationships between people through small gestures and touches; the bold colors and simplified compositions increase the impact by stripping away all that is unnecessary. Other things that bring happiness include holding hands, seeing the face of a loved one, singing, drumming, feeling the sun's rays, and listening to stories. All the people appear to be indigenous, although specific groups are not mentioned. The book is dedicated to "former Indian Residential School students and their families." The author and illustrator are strongly connected to their Canadian Aboriginal communities, and the sweet family story has universal appeal. VERDICT A first purchase for all libraries.–Anna Haase Krueger, Ramsey County Library, MN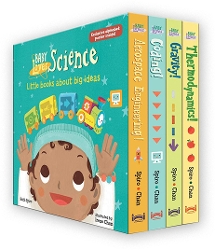 Spiro, Ruth. Baby Loves Science series. illus. by Irene Chan. Charlesbridge. 2016-2020. Box set ISBN 9781632890351.
Suen, Anastasia. Toddler Two. illus. by Winnie Cheon. Lee & Low. 2002. ISBN 9781584300526.
Van Camp, Richard. illus. by Julie Flett. Orca.
Little You. 2013. ISBN 9781459802483.
PreS—This tender celebration of babies features gentle rhymes and warm, understated illustrations. The six couplets combine direct language: "Let's all dance/let's all sing" with more poetic imagery: "Little wish/Gentle thunder." The art has the look of cut paper, with distinct lines and pleasingly curved shapes. It depicts the same child, at home and out in nature. Some scenes show the youngster alone, others with one or both parents. Eschewing the overt cuteness often seen in board books, the artist captures the toddler's joy in subtle, but tangible images, from a smiling face looking up at butterflies to the wisp of hair that blows just like the father's as the two watch fish from a canoe. The family feels real and specific, and the message ("You are the birth of everything true") will resonate with all readers.—Steven Engelfried, Wilsonville Public Library, OR
We Sang You Home. 2016. ISBN 9781459811782.
Baby-Toddler—Van Camp captures the love and joy of new parents welcoming a baby into their lives. Told from the first-person perspective of two new parents, the story highlights what they hope to give to their child, from kisses to songs, while also depicting the sense of happiness that their child gives them. The final page concludes with a simple yet candid declaration: "Welcome to the world! We love you!" The writing is minimal but has a lyrical, musical quality, as Van Camp uses poetic, metaphoric language, such as the phrases, "Our forever home is inside of you" and "Through you we are born again." As a result, a good portion of the book may go over the heads of its intended audience and will be better appreciated by parents than young readers, making it more suitable for one-on-one sharing. Flett's illustrations, made using gouache on paper and digital collage, are muted and understated, matching the tranquil tone of the text. While some of the prose might be a little too abstract for young children to fully understand, the emotions of parenthood—including feelings of love, elation, and gratitude—are certain to be conveyed to them by the parents who share this tale with them. VERDICT A lovely picture book that will resonate with parents and show young readers the profound, positive impact they have on their parents' lives.–Laura J. Giunta, Garden City Public Library, NY