An eighth grade public school class in New York City works with one of the lessons from the Museum of Jewish Heritage Holocaust Curriculum.
Photo courtesy of the Museum of Jewish Heritage/John Halpern
Suzanne Riley begins her yearlong course on Holocaust literature by asking her 11th and 12th grade students, "Why do we study the Holocaust?"
"Everyone has the rote answer of 'So that it never happens again,'" says Riley, an English teacher at Lowell (MA) High School. "I say, 'That's not good enough.'"
Lowell is a diverse school district, and many of Riley's students are immigrants or from immigrant families. Some of the students sitting in her Holocaust literature class have parents and grandparents who escaped from Cambodian genocide perpetrated by dictator Pol Pot's Khmer Rouge regime, which took the lives of two million people. Riley finds that her students naturally make connections between the history they are learning and their own lives, personal histories, and current events. And she presses them to dig into those connections: Given that some of their family members survived a genocide 30 years after the end of the Holocaust, what can "never again" mean?
Riley's students develop critical thinking and research skills while exploring challenging questions about ethics, systems of power, and failures in human rights that have tragically repeated themselves during the 20th and 21st centuries. This rigorous course is an elective; Massachusetts is one of 38 states that does not require Holocaust education.

With an increase in violent hate crimes and more high-profile anti-Semitic attacks in the news, additional states are considering adding the Holocaust to their education requirements. In 2018, the FBI reported a spike in violent hate crimes; that year, a shooter killed 11 people in the Tree of Life synagogue in Pittsburgh. There have been subsequent violent attacks against Jewish establishments in California, New York, and New Jersey. Following a string of street attacks against Orthodox Jews in Brooklyn, New York City is implementing hate crimes awareness programming to supplement Holocaust education for middle school and high school students in the neighborhoods affected.
In January, the U.S. House of Representatives passed the Never Again Education Act, which, if signed into law, would direct the U.S. Holocaust Memorial Museum to expand its education programming and make it available to teachers nationwide.

Read: Age-Appropriate Middle Grade and YA Books About the Holocaust
But despite these developments, learning about the Holocaust is far from a given in schools, and the lessons that students do receive vary widely. Students often learn about the Holocaust through reading memoirs like Elie Wiesel's Night or The Diary of Anne Frank in English class. Social studies teachers often struggle to fit lessons about the Holocaust into crowded curricula. But experienced Holocaust educators say that it doesn't much matter which class teaches students about the Holocaust. What matters most is that young people gain an understanding of the circumstances that led to the Holocaust and are brought into contact with the real, lived experiences of its victims and survivors.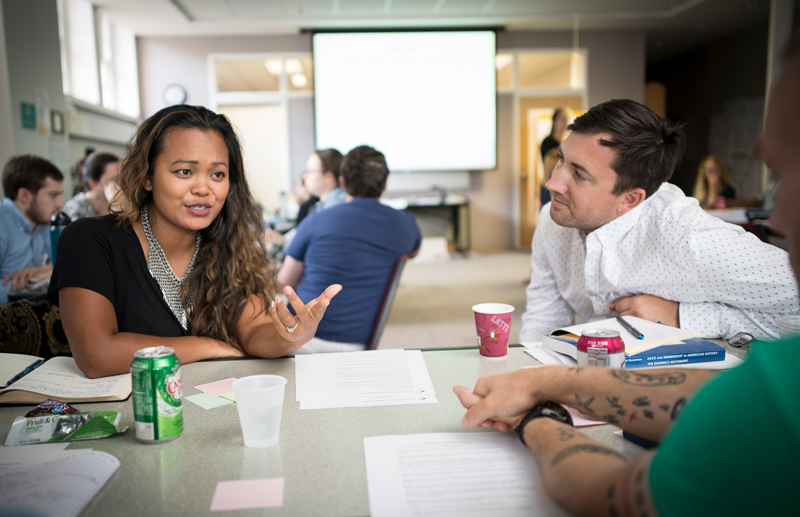 Teachers participate in the Facing History and Ourselves training.
Tom Kates Photography, courtesy of Facing History and Ourselves
Shortly after the Tree of Life shooting, the educational organization Facing History and Ourselves posted a free curriculum online to help teachers address the tragedy with their students. It provided links to news stories about other recent hate crimes, discussion questions about what allows hate to build in a community, and suggestions for how to support students in a meaningful response to the shooting.
It's a practiced approach that Facing History and Ourselves has honed over the past 44 years to connect the lessons of history with the present and teach students to stand up to hate. The organization trains teachers and develops curriculum centered on moments of historical crisis, including the Holocaust, using an approach that encourages students to consider the experiences of those who lived through history while inviting them to reflect on their own responsibilities today.
"History can allow us to ask better questions of our moment," says Laura Tavares, Facing History's program director for organizational learning and thought leadership. "The Weimar era was [an] era of upheaval. Norms were opening, there was cultural ferment. It was also a time of economic dislocation. We can ask, how do those factors shape the way people see their neighbors? How do certain people become vulnerable?"
Facing History and Ourselves trains teachers and partners with school districts around the globe on curriculum; there are nearly 150,000 teachers actively using its pedagogy in the classroom. The organization has been recognized for improving critical thinking and social-emotional learning skills for students who are exposed to its programs.
Lea Hartog, a humanities teacher at the Athenian School in Danville, CA, who took a course with Facing History and Ourselves, says that when students learn to question themselves as well as the actions of people involved in the Holocaust, they are forced to face difficult truths.

Read: The Jewish Experience in America | Great Books
"These were not aliens coming down from another universe, these were people committing [these atrocities]," Hartog says. "Because these were all committed by humans, we can repeat them."
Riley took courses with Facing History and Ourselves, and students in her Holocaust literature class bring up any number of current events that they see as related to the history of the Holocaust, including the detention of asylum seekers at the southern border and the mosque shootings in Christchurch, New Zealand. In many cases, Riley says, students use their own family histories to make connections between the Holocaust and other human rights abuses.
"We have a lot of kids in our community who are the children or grandchildren of survivors of the Khmer Rouge. There are students who are new arrivals from Central America," Riley says. "They have that fear."
This year, Riley's students are compiling a book of their research projects about crimes against humanity in the 20th and 21st centuries, including the Holocaust, the Armenian genocide, the Rwandan genocide, and the Rohingya refugee crisis. Lowell High School library media specialist Karen Davidson-Heller taught the students to use databases to find primary and secondary resources about their topics, as well as how to do online research, with an emphasis on judging the credibility of sources.
She and Riley have students apply the CRAAP test to sources they find online; the test—an acronym for currency, reliability, authority, accuracy, and purpose—is a widely used method to assess the credibility of sources. Davidson-Heller says that while research skills are an important educational tool in general, they're even more crucial when studying the Holocaust and anti-Semitism because of the misinformation that abounds online.
"You could find sites that are put together by white supremacists. They're going to say the Holocaust never happened," Davidson-Heller says.
The analysis of news and propaganda is a key component of Holocaust history. One of Riley's students last year wrote about the Reichstag fire in Berlin in 1933, an event that Nazis falsely blamed on communists and used to advance their takeover of the German government. The reports of the Reichstag fire, the student argued, were similar to "fake news" spread by politicians, pundits, and through social media channels today.
Yedida Kanfer, director of community education at the Jewish Family and Children's Services (JFCS) Holocaust Center in San Francisco, prompts her students to consider the role of bystanders during the Holocaust in order to reflect on the role that everyday choices make in historical events. In the Next Chapter after-school program she offers for high school students, she asks them whether, as ordinary citizens in Germany, they would have made the Nazi salute when Adolf Hitler passed by.
"And if I had," Kanfer instructs her students to ask themselves, "would I have been responsible for the Holocaust?"
The Holocaust Center includes a library and archives, a speakers bureau of survivors and their descendants, and education programs, including trainings for classroom teachers. The organization has partnered with Facing History and Ourselves to offer teacher training about Violins of Hope, a collection of violins from people who died in the Holocaust, that is on display in venues across the Bay Area this winter, with a related performance series. In 2014, the center published The Diary of Rywka Lipszyc, the journal of a Polish girl who was held in the Lodz ghetto.
Teaching methods that use personal stories and meaningful objects from the Holocaust are effective educational tools for teens that help them humanize the victims. Kanfer found that reading diaries of Holocaust victims their own age, who were experiencing historical events in real time, is deeply impactful for high school students.
"Kids really relate to [Rywka Lipszyc]," Kanfer says. "Anne Frank is a staple, standard text. But if that's the only thing, Anne becomes the one Holocaust girl. We feel it's really important to have other perspectives."
Amanda Lanceter, director of curriculum and instruction at the Museum of Jewish Heritage in New York, says Holocaust education should aim to give agency back to the victims by telling their stories and illuminating their perspectives, their decisions, and their point of view. It's one of the reasons diaries are potent teaching tools.
"The goal is really to help students understand how people lived and how they responded to the circumstances they were in," Lanceter says. "Through that, they gain empathy and understanding."
The JFCS Holocaust Center also uses education to take an active role in combatting anti-Semitism in the local community. When there are anti-Semitic incidents in schools, such as swastika graffiti or anti-Semitic social media posts, the center partners with the Anti-Defamation League and reaches out to the teachers and administration to offer training in historical context.
"We use it as an opportunity to understand the power of symbols," says Morgan Blum Schneider, the center's director. "I see the role of the JFCS Holocaust Center as how can we look to repair the community."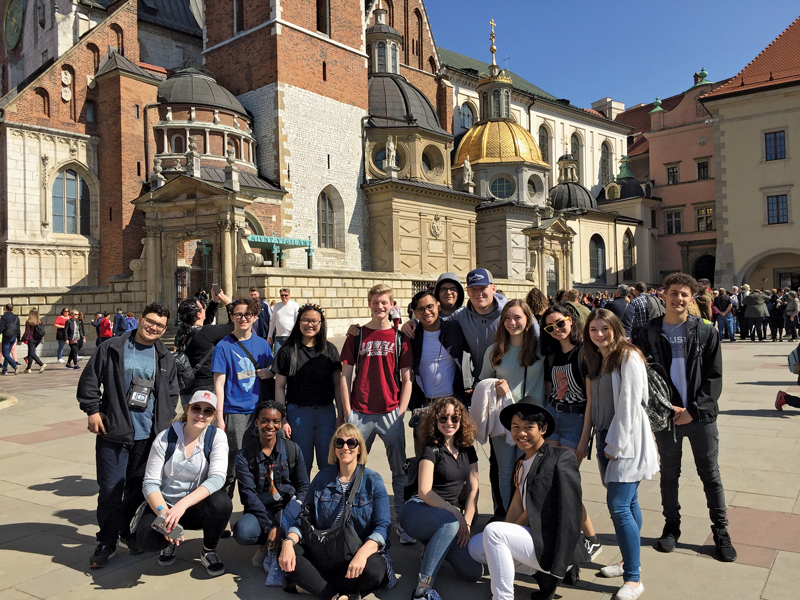 Lowell (MA) High School students in Kraków, Poland. On a school trip, they visited the city's old Jewish Quarter, Auschwitz, and the Schindler factory.
Photo courtesy of Lowell (MA) High School
Jim McGarry teaches the Holocaust as the cornerstone of his ethics and social justice class at Mercy High School in San Francisco. Studying the Holocaust, McGarry says, allows students to form an ethical understanding of roles of perpetrators, resisters, and bystanders to atrocities.
He emphasizes the conditions that preceded the Nazi policy of mass extermination, known as the Final Solution. "The important part of teaching the Holocaust is not to teach about the Final Solution, but it's to teach about the early types of discrimination in the 1930s," McGarry says. "That's my emphasis: how it got the point where they could implement the Final Solution."
McGarry, who is also a religious studies teacher at the Catholic girls school, has been teaching about the Holocaust for almost 30 years and was the founding director of the Helen and Joe Farkas Center for the study of the Holocaust in Catholic schools, which is based at Mercy. His students do research projects using the 1,000-volume Holocaust library that is part of the Farkas Center. McGarry says that the biggest point of pride for Helen Farkas, a Holocaust survivor who shared her story widely and for whom the center is named, was having a library in her honor.
"Helen Farkas never finished high school," McGarry says. "She always thought of herself as uneducated, and she felt embarrassed about it."
Mercy High School will close after this school year, and McGarry isn't yet certain what will happen to the Holocaust library. But he's determined to preserve it, and for the library to continue to be a resource for students to use to learn the important historical lessons that the Holocaust has to teach.
"We will find a home for this library," McGarry says. "I'm not going to let these volumes go."
---

Drew Himmelstein is a freelance journalist and public school parent who writes frequently about education, families, and religion.