Tahir's novel, which she once thought was "too niche" and "too weird" to be published, earned the Printz Award on Monday.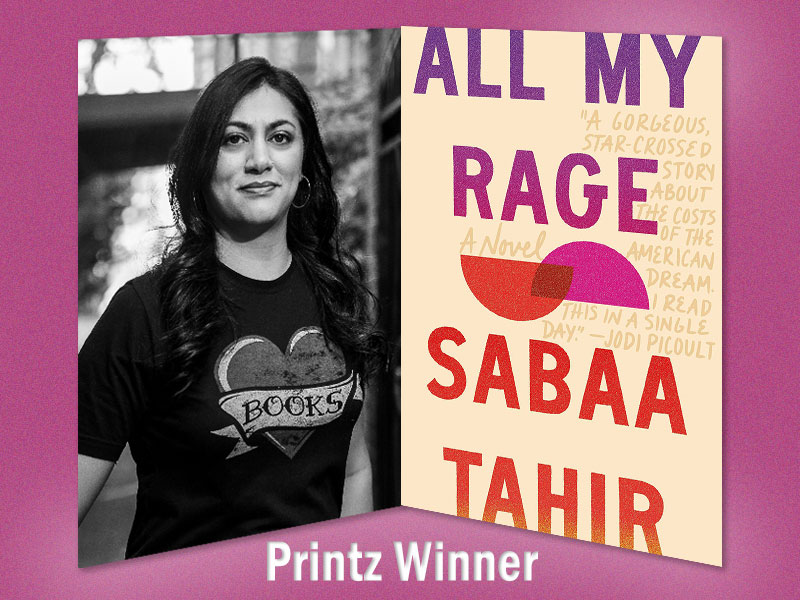 It will never be finished. It will never be acquired. It will never be published. The story is too weird. The story is too niche.
Author Sabaa Tahir spent nearly 20 years writing and rewriting and questioning the effort and end result of the book that would become All My Rage, which was named the 2023 Printz Award winner at Monday's Youth Media Awards ceremony at LibLearnX in New Orleans.
Tahir adds the Printz to the National Book Award for Young People's Literature, which All My Rage won in November.
"It is incredible validation," said Sahir, speaking not only of her decades of effort to write this book but the validation of the story that it told, of the need for everyone's story to be told, and the common struggle we all have, regardless of race, religion, or culture.
All My Rage began as a personal process, a way for safely "facing the demons" Tahir had been grappling with.
The story had very specific characters—Pakistani Punjabi Muslims living in the Mojave Desert—and community, culture, and circumstances, but the themes were universal.

[READ: Sabaa Tahir's 'All My Rage' Wins 2022 National Book Award for Young People's Literature]
"The idea of loss and forgiveness and betrayal, of trying to figure out who you are when you're a young person, and as a parent trying to guide your children but maybe not knowing how to always and failing sometimes, and then children having to deal with that failure....After a while, I realized maybe other people were going through the same things or had gone through the same things. That's when I started thinking, maybe the story should be more than just a Microsoft Word document in the bowels of my computer."
She began talking to other authors about the idea, and she kept working, thanks to a consistent and helpful push.
"My husband kept pestering me to write this book," she said. "He was like, 'You have to tell the story. I know it's hard, but it's a really important story.'"
At first, she countered that she was busy, working on the "Ember" series. She was a fantasy writer. But he didn't give up, and neither did she.
"Sometimes when someone else believes in your work, you start believing," said Tahir.
In the end, she kept entire sections written in 2004 or 2005 and reworked others. It all came together in a way that clearly resonated with readers and selection committees. For Tahir, the award recognition spotlights another critical theme of the young adult novel.
"It allows me to kind of double down on this message of hope, which I think is really important for young people," said Tahir. "I know I needed it as a young person. The young people in my life need it. And these awards tell me that our librarians, our writers, our judging committees, they think that's important, too. That's a wonderful feeling."