A recent SLJ webcast featured four experts who have successfully procured grant money for their schools and libraries. They shared top resources for grant funding, with tips on what might catch a reviewer's eye in a proposal.

As schools continue to struggle to pay for initiatives to boost educational opportunities for students, grants have increasingly become an important source of funding. In fact, grants are relied upon by over a quarter of schools, according to SLJ's 2019 technology survey of school librarians.
But securing these extra dollars is not always an easy task. That's why School Library Journal assembled a panel of experts who have successfully procured grant money for their school districts and libraries to deliver insights about the application process. In the webcast, "Grants: What's Available and How to Get Them," the four panelists also shared funding sources and provided tips on what might catch a reviewer's eye in a grant proposal.
Moderated by SLJ news & features editor Sarah Bayliss, panelists were: Lisa Mulvenna, head of youth/YA services, Clinton-Macomb Public Library in Michigan; Ali Schilpp, School Librarian of the Year 2018 and librarian at Northern Middle School in Accident, MD; Tracey Wong, library media specialist for Yonkers (NY) Public Schools; and Beth Yoke, chief strategy officer, Public Library of Cincinnati & Hamilton County and former executive director of the Young Adult Library Services Association.
Before searching for potential donors, experts advise researching what problem needs to be solved or what gap needs to be fulfilled. Once an objective has been identified, the road to implementation—which includes finding a grant—can begin. Mulvenna recommended taking these three steps: Work out your purpose and your tentative budget; develop your why; and develop goals and think about sustainability. It will be easier to locate grants that fit your scope and dollar figure, rather than casting a wide net. And find statistics that support the program or project's purpose and calculate its impact on the community. "Otherwise, a number is just a number," she said.
Finally, Mulvenna said it is important to think about the future. Funders are eager to hear what's next even after the grant has been used.
Pro tip: It's also possible to get grant officers to take a peek at the application. Some will even allow early review, she said. "I learned if you do not follow the directions on the application, you won't follow the directions with the money."

Lay the foundation
Yoke gave similar advice. She suggested building relationships with funders even before there's a plan to ask for money. "They need to get to know you and your library and what you're all about and the impact and vision you have for serving the community before they are comfortable providing funds to you," she said.
Invite philanthropists to events— or even to participate in activities, such as judging a contest. Librarians can also send information of interest that they come across during their jobs. "Being a resource and an ally can really help build your case eventually when you are ready to write a grant and ask for funding," said Yoke. "It's almost like dating a potential funder."
And don't forget to think local, she added. It's great to approach larger institutions, but local organizations and philanthropies are also viable and may have a direct connection to the community which the grant intends to serve.
When it comes to the proposal, Wong said to keep the story front of mind. Funders want to know who the grant will help and how. "It's not so much about the resources you are trying to obtain, but they want to know more about your population, your project, your idea."
Wong's students (at Maria Regina High School) received a Lemelson-MIT InvenTeam grant for creating LED smart jackets that are programmable through a phone and app. The team of girls designed the project after several pedestrians and cyclists were hit in an area that didn't have great lighting. "It's being able to bring the library to the forefront where they are doing authentic projects that have meaning and value in the community," she said.
Moreover, it's important to think of how the grant will connect with the curriculum, explained Wong. For librarians, she recommended partnering with another teacher on a project. "You don't want to act in isolation," she warned.
And practice makes perfect. Wong said refine your grant multiple times before sending it. "That's what's going to make your grant stand out from others."
Schilpp, whose rural district is highly dependent on grants, said being creative when choosing funders can enrich students' experiences. For instance, she sought out grants for pets in the classroom, access to the internet and school supplies, in addition to digital learning and books. She also received grants for professional development.
Organizations such as Donors Choose, Teaching Tolerance, Scholastic, Capstone and President Obama's My Brother's Keeper were among some of the grant sources educators should look out for, according to the panelists.
But don't be disappointed if the grant isn't approved, said Schlipp. "You just have to learn to channel that disappointment into another venture. And save that information and apply it to a different opportunity," she said. "There's strength in numbers. Do not put all your eggs in one basket. And don't be shy about asking someone how they won [a grant]."
See also: "How SLJ's 2018 School Librarian of the Year Gets the Grants"
Pictured, left to right: Author Ann Braden, student, and librarian Ali Schilpp, who secured grants to enable author visits. Photo courtesy of Ali Schilpp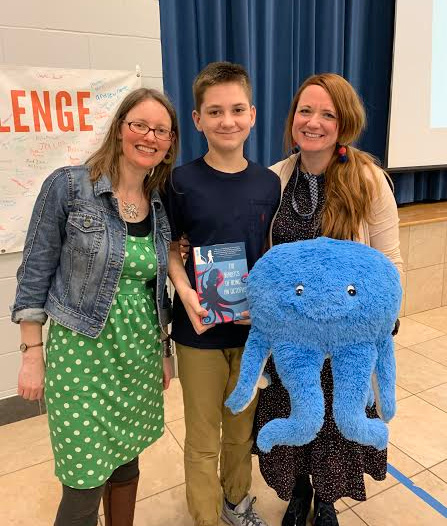 ---
Christina Joseph is an editor, writer, and content strategist.