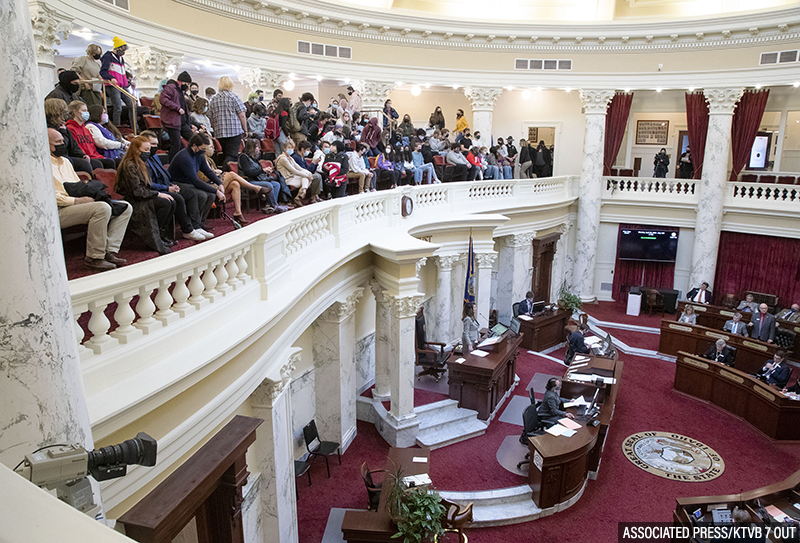 In April, Idaho students filled the gallery while the state senate debated a bill that prevented schools and universities from
"indoctrinating" students through teaching critical race theory.
When Leander Independent School District library coordinator Becky Calzada heard the Texas state legislature was considering a bill that would forbid teachers from discussing certain concepts related to race or sex, she made sure to be ready for any challenge. Such a law could set off a chain reaction—eventually trickling down to the library and resulting in book challenges aimed at diverse additions to the district's collection.
Across the country, educators are grappling with how to respond to the flurry of Republican-led legislative measures—already signed into law in six states and gaining steam in many others—aimed at limiting how they can teach topics such as race and American history. And some librarians, like Calzada, worry these restrictions may impact efforts to support their colleagues in the classroom, or their own steps to include antiracist and culturally relevant materials in the library.
Calzada's been through something similar before. After one of her librarians tweeted about taking part in an online professional development curriculum called Project READY: Reimagining Equity & Access for Diverse Youth, the school board received a complaint.
"We had a parent send the tweet to the school board wanting to know why the librarians are indoctrinating and brainwashing our kids," she says. "And they cited the Project READY background around critical race theory and said, 'What happened to No Place for Hate?'"
No Place for Hate is an anti-bias education program created by the Anti-Defamation League. More than 1,600 schools across the nation, including Leander ISD, use the program. "It's pretty ironic," Calzada says about the parent's objections. "I thought to myself. I don't think you know the foundations of No Place for Hate and how that [critical race theory] fits in."
The movement to restrict what is being taught in the classroom emerged as a coordinated effort as more schools increasingly sought to address systemic racism and implement antiracist teachings following the murder of George Floyd last spring and ensuing protests for social justice. Proponents of the bills claim schools are teaching students that one race or sex is inherently superior and that some students are being made to feel discomfort or guilt because of their race or sex, among other things.
Bills have already been signed into law in Arkansas, Idaho, Iowa, Florida, Oklahoma, and Tennessee. In Texas, a bill is awaiting the governor's signature. Several other measures are working their way through the process in such states as New Hampshire, Arizona, Ohio, and Michigan, and there are even more in the pipeline.
Some of the bills, such as in Florida and Michigan, directly take aim at a district's use of The New York Times Magazine's 1619 Project and accompanying curriculum, which reframes the founding of America around the year the first enslaved Africans reached America's shores. Other legislation, like in West Virginia, forbids schools from teaching critical race theory —a decades-old academic framework that examines the intersection of race and the law and how policies perpetuate systemic racism. Still, some GOP-drafted bills, like the one in Louisiana, are broader and prohibit the teaching of "divisive concepts," such as the United States is "fundamentally, institutionally or systemically racist or sexist."
"In places where bills aren't even being put forward, you hear from school principals and school superintendents that parents are coming to school board meetings saying their children shouldn't be taught critical race theory, which is a term that's being used to try to scare people," says Deborah Menkart, co-director of the Zinn Education Project, a partnership between nonprofits Rethinking Schools and Teaching for Change that promotes and supports the teaching of people's history in classrooms across the country. "As much as I've been working in K-12, it's not a term you normally hear. But we also don't want to say people aren't teaching critical race theory, because people are teaching its tenets. We certainly hope people are teaching everyone to be critical of racism. And to look at where racism is embedded in the laws and in the system and textbooks and the media."
As Menkart said, there are smaller, more localized efforts around the country objecting to the teaching of so-called "divisive" subjects.
Just a few months ago, Leander ISD faced controversy after several books with LGBTQ+ themes were removed from a classroom book club reading list following a parent complaint. In May, a diversity, equity, and inclusion initiative sparked a contentious school board race in the Eanes Independent School District in Austin, TX. The two opposing candidates, who lost their election bids, said the DEI initiative was rushed and noted some parents thought it would introduce a political agenda into the classroom, wrote the Austin American-Statesman. A couple of weeks later, parents in Southlake, TX, a suburb of Dallas-Fort Worth, opposed a plan to incorporate cultural awareness into the curriculum of the Carroll Independent School District, according to CNN. The plan had been devised in response to an incident a few years earlier where students were captured on video chanting the N-word.
These challenges aren't just happening in red states. A parent was arrested in Chatham, NJ, for trespassing on school property and going on a tirade about the district's curriculum on racism, according to a report in the local Patch. The incident came days after he spoke at a Board of Education meeting, arguing that people think he's racist because of his views. And in Smithtown, NY, several incumbent school board candidates were ousted after parents organized against diversity initiatives being introduced in the schools. A video of a school board meeting posted on the Patch website shows parents lambasting school officials and threatening to vote out other members in the next election.
Politicization of education
None of this surprises Hasan Kwame Jeffries, an associate professor of history at The Ohio State University who focuses on African American history. The proposals are not new, though, there is a heightened groundswell. "When we look at American education historically, curriculum has always been politicized," he says. "When we think about the post-Civil War and the development of a modern education, the development of a public education system in the South, which didn't exist. By the time you get to the early 1900s, you're talking about the [United] Daughters of the Confederacy leading a charge that sweeps across the United States to frame the Confederate struggle as noble, slavery as benign, and the rise of the Klan as righteous. There has been a longer history when it comes to American education of suppressing the truth than actually shining a light on the truth."
Still, Jeffries says there were members of the Black community, such as Carter G. Woodson, W.E.B. Du Bois and others, who advocated for teaching what happened. And that charge continued during the Black Power movement of the '70s and into present day with small gains. Now, the calls for change have become more mainstream.
"It's a push to reform and revise—not erase—how history is taught, so it's accurate and effective," says Jeffries, an advisory board member for the Center for Anti-Racist Education and chair of the advisory board for the Southern Poverty Law Center's Teaching Hard History Project. "But that hasn't been the norm. Protections of the status quo and silence, lies and errors of omission and commission have been the status quo."
Jeffries says teachers are being put in an unfair position and school administrators and school boards should be protecting the teachers, many of whom want to teach an antiracist curriculum, as long as they are supported and receive the right tools. "The burden, unfortunately, falls to our teachers to be courageous," he says.
Taking a stand against the backlash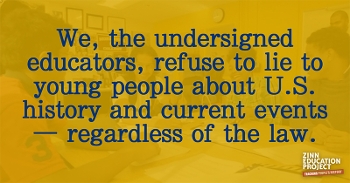 In response to the mounting furor and legislative push, the Zinn Project launched a pledge for educators who agree to "refuse to lie to young people about U.S. history and current events – regardless of the law." Menkart says the efforts to suppress antiracist teaching and reinforce the traditional narrative only seek to harm students' ability to think critically about historical events. Menkart disagrees with the notion that educators shouldn't teach lessons that may upset students, as some of the language in the legislation suggest.
"Not understanding history can leave you feeling confused," she says. "But once you start studying the history, you start realizing the systemic issues. For example, the talk right now about Tulsa on the anniversary, those white folks were deputized. That was a systemic operation. It allows you to look at the system and say what do we need to change about the system, rather than focusing on any one individual."
Erin Chisholm, a history teacher at Mountain Ridge High School in Glendale, AZ, says she won't allow the legislation to stop her from presenting students with multiple perspectives. "The truth is worth more than the $5,000 fine the State of Arizona wants to slap on me if I allow my students to become critical thinkers," she wrote when she signed the Zinn pledge.
Chisholm says she doesn't talk about her political opinions in the classroom. But she says her 11th graders are developing political opinions of their own and she wants them to do that based on evidence.
"We may not agree with each other. We may not go away feeling the same way, but we can have real great academic discourse," she says. "This kind of bill just eliminates the possibility of that."
Chisholm left a 20-year career as a chiropractor to teach because she loved interacting with teenagers and had an appreciation for history. She sees the excitement her students have about learning.
"We have students who are Indigenous, students who are people of color, students who are part of the LGBTQ+ community. I have transgender students. Making it so that they can see that American history does indeed include them, that's a real big priority for me," she says, adding that as a white middle-aged woman, she learned white history in high school. "That didn't help me. How do I communicate effectively and have empathy for my fellow citizens who are not white if I don't know what their history entails or what their populations have had to go through."

Prepare for a challenge
What should her fellow educators do to respond to efforts to restrict their lessons?
In some places, educators have spoken up as proponents of the bills. On social media, they discuss the chilling effect of not just the bills but the vocal opposition within the community, which leads educators to be afraid of speaking about racism now and throughout history. But Chisholm says she and her colleagues have said they are going to keep doing what they have done. Teach evidence-based history using primary and secondary sources. "There are so many amazing resources out there —Library of Congress, National Archives," she says. "So, making sure we are transparent about the resources we are using, but also backing those resources up as best practices."
She adds, "Sometimes the textbooks just aren't good enough. I tend to use the online resources more because they are more accurate and more inclusive."
Nelva Williamson concurs. A 40-year veteran history teacher, who is chair of the social studies department at the Young Women's Preparatory Academy in Houston, TX, she says educators must be very intentional about what they teach.
"I don't know of anybody who stands up in their classroom and teaches critical race theory. Nobody teaches that. Our children are not at that level," she says. "When you look at the notes from the Constitutional Convention and you see the arguments on enslavement—it's right there. You don't have to go to the 1619 Project. It's in the notes that the 'founding fathers' wrote. Thomas Jefferson had to strike out a lot of language in the Declaration of Independence when he said the colonists were being treated like slaves. The Southern delegates were like, 'Wait a minute, we can't say that.'"
Williamson, who is Black, says she's been trying to fight the good fight for a long time. And she is convinced these efforts to suppress certain historical elements in the classroom will in fact backfire at the hands of savvy educators.
"They should not feel restrained or constrained by this bill," she says. "I refuse to be censored. I refuse to have my students not know something that I know out of fear. I know there are teachers who do that. But we're not going to both sides everything. How am I going to say that Indian removal was OK as a person of good conscience?"
Evan O'Connell, a high school government and history teacher at Metropolitan Expeditionary Learning School in Queens, NY, is a big proponent of foundational documents. "As soon as we talk about contextualizing those documents whether it's the Constitution or the Bill of Rights, the Federalist Papers, students are oftentimes the first ones to point out and say, 'This was written by slave owners, this was written by enslavers. And here are the people that did not have civil rights at the time this document was created.'"
O'Connell worries about the impact of the continued whitewashing of history.
"I'm fearful for the civic life of the country."
---
Christina Joseph is an editor, writer, and content strategist.