Seventeen titles made SLJ's list of the most distinguished young adult books published in 2019.
Young Adult
by Elizabeth Acevedo. HarperTeen. ISBN 9780062662835.
Gr 9 Up –Afro-Latinx teen Emoni is a gifted chef and mother whose determination allows her to find success through hard work and help from supportive friends and family. The focus on trade schooling and teen parenting will both empower readers and be a welcome addition the YA canon.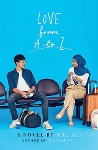 Love from A to Z
by S.K. Ali. S. & S./Salaam Reads. ISBN 9781534442726.
Gr 8 Up –Adam Chen and Zayneb Malik, who for very different reasons feel alone and frustrated, meet in Qatar and discover the transformative power of convictions and connections. Centering the Muslim experience, this beautiful, complex, and important book examines love, family, justice, activism, and the changes and challenges life throws at us.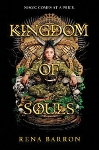 Kingdom of Souls
by Rena Barron. HarperTeen. ISBN 9780062870957.
Gr 9 Up –Arrah is the daughter of two powerful witchdoctors. Her father continues to practice the old magic, while her mother renounced her tribe to serve as Ka-Priestess to the ruler of the Kingdom. Shamefully, Arrah's abilities haven't appeared, but when children start disappearing and her mother turns to darkness, she is the only one who can save the world. This exhilarating fantasy debut, rooted in West African lore, boasts vivid action and delicious family intrigue.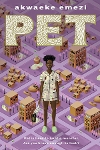 Pet
by Akwaeke Emezi. Random/Make Me a World. ISBN 9780525647072.
Gr 7 Up –In a town where all monsters and evil deeds are thought to have been eliminated, Jam, a selectively mute transgender teen, accidentally lets loose a creature from one of her mother's paintings and together they hunt a particularly insidious monster—one who hasn't yet been discovered. Unique and tightly written, without a word out of place, this slim fable forces readers to consider what is truly monstrous in our world.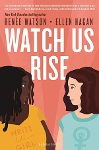 Watch Us Rise
by Ellen Hagan & Renée Watson. Bloomsbury. ISBN 9781547600083.
Gr 8 Up –Fed up with their school's problematic staff and lukewarm commitment to social justice, poet Chelsea and actress Jasmine start a blog to showcase their own progressive writing. With heartfelt friendship and family dynamics, this relevant novel explores body-shaming, racial stereotypes, and gender inequality and shows what artistry and activism can look like.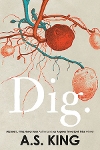 Dig
by A.S. King. Dutton. ISBN 9781101994917.
Gr 9 Up –Five cousins with no prior connection to one another find themselves living near their wealthy grandparents. The stark realism of the five teens' lives touches on issues of abuse, prejudice, white privilege, and loneliness as the teens struggle to make sense of themselves, their family, and their relationships. The delightful surrealism and masterful storytelling make this an unforgettable read that will linger long.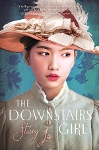 The Downstairs Girl
by Stacey Lee. Putnam. ISBN 9781524740955.
Gr 7 Up –Frustrated by the inequality she sees as a Chinese woman in 1890 Atlanta, Jo Kuan begins writing an anonymous advice column in the newspaper. The mostly untold history of the Chinese experience in the South sets the tone for Jo's story, the secrets kept by those in power, and her drive and talent. The superb writing, deliberate pacing, and slow reveal of secrets make this a believable and enjoyable read.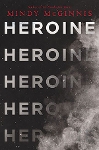 Heroine
by Mindy McGinnis. HarperCollins/Katherine Tegen Bks. ISBN 9780062847195.
Gr 9 Up –One prescription is all it takes to kick-start softball phenom Mickey Catalan's frightening descent into opioid addiction. From the horrific first line to the hopeful yet devastating conclusion, this powerful, harrowing, and compassionate story humanizes addiction and will challenge readers to rethink what they may believe about addicts.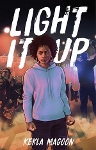 Light It Up
by Kekla Magoon. Holt. ISBN 9781250128898.
Gr 9 Up –A police officer fatally shoots an unarmed 13-year-old African American girl and sends an already grieving community into an emotional tailspin. Magoon examines how law enforcement policies, the threat of police violence, and the 24-hour news cycle affect different parts of a community in profound ways.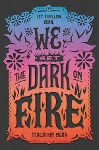 We Set the Dark on Fire
by Tehlor Kay Mejia. HarperCollins/Katherine Tegen Bks. ISBN 9780062691316.
Gr 8 Up –In a Latinx-inspired dystopian setting, young women are trained to be paired as sister wives to a single husband. When Dani is paired with Carmen, her school rival, to one of the most powerful men in Media, she is surprised to find herself falling in love with her former enemy. The queer themes and tough characters make this novel rise above other dystopian offerings.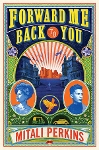 Forward Me Back to You
by Mitali Perkins. Farrar. ISBN 9780374304928.
Gr 9 Up –Two teens from very different backgrounds journey to Kolkata with a church group to help those who have escaped from sex trafficking. While they help others, they are surprised to find healing from their own traumas. Through alternating perspectives, the author crafts a powerful message about global trafficking, activism, and cultural bias.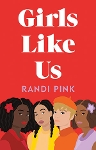 Girls Like Us
by Randi Pink. Feiwel & Friends. ISBN 9781250155856.
Gr 9 Up –In 1972, Missippi and Sue are sent to live with other pregnant girls in Chicago until they deliver while Ola relies on her younger sister Izella to help hide her pregnancy from their mother in rural Georgia. Pink highlights the innocence and strength of her indelible characters in gut-wrenching scenes, depicting a tight-knit community of women and exploring a highly relevant issue.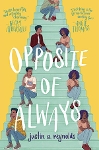 Opposite of Always
by Justin A. Reynolds. HarperCollins/Katherine Tegen Bks. ISBN 9780062748379.
Gr 8 Up –A uniquely twisted love story involving time travel, death, and friendship. Sparks fly when Jack and Kate meet at a party, but their love affair ends unexpectedly when Kate dies suddenly. Jack uses his newfound time-traveling ability to save her. This "meet cute" blends elements of classic rom-coms Say Anything, Groundhog Day, and When Harry Met Sally to great effect.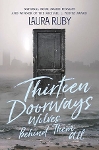 Thirteen Doorways, Wolves Behind Them All
by Laura Ruby. HarperCollins/Balzer + Bray. ISBN 9780062317643.
Gr 9 Up –In World War II–era Chicago, Frankie Mazza and her siblings are left at an orphanage. Frankie dreams of a more hopeful future, while her every movement is observed by Pearl, a ghost working through her own disappointments and grief. This stunning story of loss, tragedy, forgiveness, and survival explores all the ways girls are locked up, controlled, punished, and yet persevere.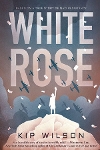 White Rose
by Kip Wilson. HMH/Versify. ISBN 9781328594433.
Gr 7 Up –This elegantly written verse novel tells the story of real-life activist Sophie Scholl, her siblings, and friends, as they work together to resist and bring down the Nazi regime. The dangers they face and the brutal punishment they endure result in a compelling read that resonates today.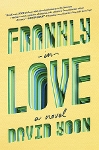 Frankly in Love
by David Yoon. Putnam. ISBN 9781984812209.
Gr 9 Up –After Frank Li's Korean parents disown his sister for marrying a black man, he fakes a relationship with Joy, a family friend, so they won't find out that he's actually dating a white girl. This is a nuanced look at culture, identity, and racism, with well-drawn characters, an incredibly strong narrative voice, and warm humor that doesn't detract from its deep themes.
Black Enough: Stories of Being Young & Black in America
by Ibi Zoboi. HarperCollins/Balzer + Bray. ISBN 9780062698728.
Gr 9 Up –The beauty and complexity of being black and young in America is brilliantly encapsulated in 17 multifaceted short stories from authors across the black diaspora, providing a vehicle for readers to make connections across different societal barriers. Each entry is accessible and deftly woven with humanity.