Graphic novels deliver on the thrills and chills, and middle grade readers have plenty to choose from. Brigid Alverson examines the format and recommends 13 titles that deftly blend scary and fun.
Illustration by Stephen Gilpin

As a child, Mark Fearing used to watch old horror movies with his family. Later, he mused about how he would escape from the differentmonsters. "Werewolves were the worst," he says. "I could outrun Frankenstein's monster. If you have a crucifix with Dracula, you're gonna be okay. But darn, those werewolves! They can climb into a second-floor window!"
As an adult, Fearing is still thinking about the best way to survive a monstrous encounter, but from a different perspective: He's the author of Welcome to Feral, the first in a planned two-volume series set in a haunted town.
Graphic novels deliver on the thrills and chills, and middle grade readers have plenty to choose from. Some mix humor with the horror; others pack in action and suspense. Tie-ins abound, from a Stranger Things spinoff to adaptations of classic horror titles such as Bunnicula and series like "Goosebumps" and "The Bailey School Kids." One thing they all have in common? The kids lead the action, whether they are fighting monsters or befriending ghouls.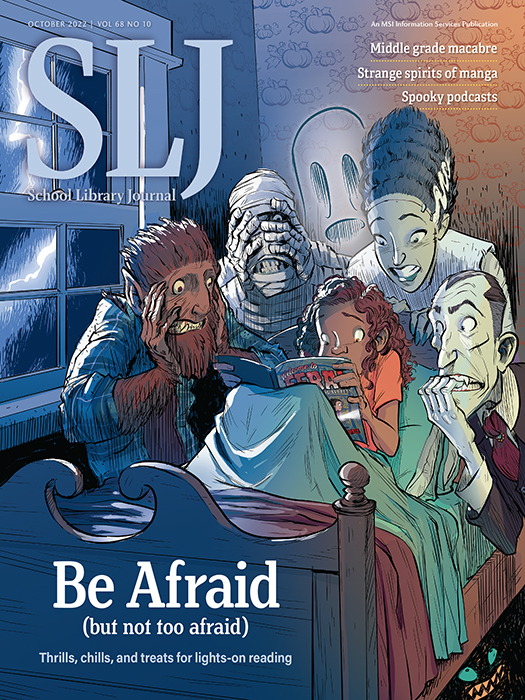 SLJ's October 2022 cover. Illustration by Stephen Gilpin.
Halloween provides an excuse to showcase these titles, but kids love horror year-round. "I usually have a never-ending reserve list for our horror graphic novels," says Julie Shatterly, K–5 school librarian at W.A. Bess Elementary in Gastonia, NC. While the collection is small, demand is high, particularly for readers in grades 2–5, she adds. "It doesn't matter if they are struggling readers or proficient readers, they love the creepy blend of words and images."
There's a lesson lurking beneath the spiderwebs, too. "Horror is an allegorical storytelling device," says movie producer and graphic novel editor Sandy King, who heads up the horror comics publisher Storm Kids. "Whether it is for children or adults, it allows us to process our fears safely. We can face what bothers or frightens us and make sense of it."
"Kids like being scared when they think they are safe at the same time," says R.L. Stine, creator of "Goosebumps" and the graphic novel series "Just Beyond." That's why his books always have a happy ending. "It can get pretty scary—they can have these crazy adventures—but they know it's all going to work out at the end, and that's really important."
For Stine, surprise is the secret sauce of middle-grade horror. "Most of children's literature is very linear," he says. "You can predict where it's all going to go. But you can't do that with 'Goosebumps.' There's always two or three real shocks and real turns and twists that turn everything around. And I think kids like that. I think they like being teased."

Read: 16 Spooky Middle Grade Books for Young Horror Fans
Stine puts a lot of constraints on his middle-grade stories. "No one ever dies," he says. "No one ever gets seriously hurt. No real-world problems. If I think a scene is getting too intense, I throw in something fun. You don't really want to terrify kids."
Artists strive for the right degree of terror, too. Ira Marcks recalls dialing down the horror in one scene of his graphic novel Shark Summer. The story is about a group of kids on Martha's Vineyard watching the movie Jaws being filmed, and one of the props is a fake severed head—one that his editor originally felt was too realistic. "She says, 'You're drawing that with too much detail,'" Marcks says. "'Draw it so it's a little more cartoonish, leave out the rot around the mouth, make the blood a little gloopier.'"
Graphic novels allow creators to balance out the dark parts of a story with cartoony art, as Fearing does in Welcome to Feral. "My style allows me to do a lot scarier stuff than if I was drawing in a highly realistic style," he says. "I hopefully walk the line where it is scary and fun and re-readable and interesting and intriguing and all of that, but not, you know, frightening. I have stories that I could illustrate that are truly, horrifically frightening, but that's not what this is."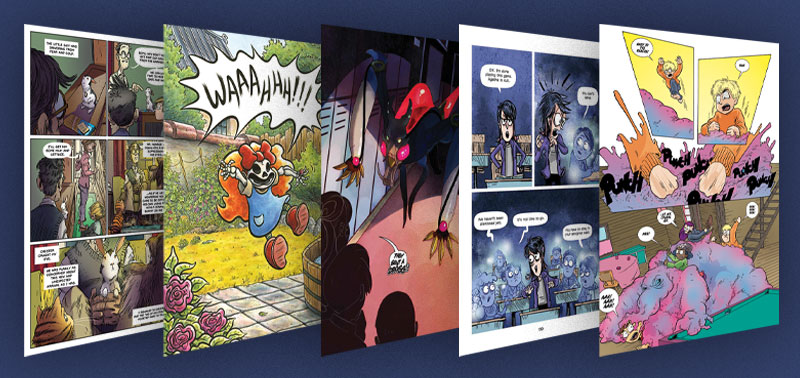 Page samples from left: (1) Bunnicula: The Graphic Novel by James Howe, adapted by Andrew Donkin/illus. by Stephen Gilpin; (2) Prunella and the Cursed Skull Ring by Matthew Loux; (3) Scare School (Just Beyond series) by R.L. Stine, illus. by various; (4) Welcome to Feral by Mark Fearing; (5) Have You Seen the Darkness (Black Sand Beach series) by Richard Fairgray.

Ages and stages
At Storm Kids, King is building a line of horror stories carefully curated for different age groups. "With littler kids' books, I use artists who can draw in a Disney-esque style that is accessible and friendly to small children," she says. "As the books go up in ages, I get a bit more daring in style and colors."
"I want the youngest kids to have fun and be in on the joke," she says. "I want them to enjoy the BOO! scares or the pumpkins and bats and ghosts. As they get older, I want them to feel good when they walk off the roller coaster safe and sound. When they get to YA, I'd like them to learn to love the power of suspense and release—the dynamics of good story telling.

Read: 15 Frightful Favorites: A Fifth Grader's Horror Booklist
"It's not about cutting heads off and giving nightmares," King adds. "It's about the AHA! moments."
And there are all kinds of readers. "It's amazing how something doesn't faze one child but scares the pants off another," observes Shatterly. Like King, she focuses on different types of stories for various ages. For grades K–2, she chooses cautionary folktales with a scary twist, such as "Little Red Riding Hood." In third grade, she introduces stories wherein things may not be what they seem, as in "The Bailey School Kids." For older readers, Shatterly explores the parallels between horror and history with classic folk stories from North Carolina and the Appalachian region.
When kids choose their own horror stories, Shatterly says, many strive to keep up with what their friends are reading. "I think they are also exploring limits and freedoms they have just come into earning as newly minted middle-grade readers," she says. "Middle grade readers are exploring independently what their horror tolerance is and where they can personally draw the line." While many students this age are highly influenced by movies, TV, and books marketed to teens, she says, "I have had them tell me they've put down horror that was just too much for them."
The hidden monster
"It's not the monster hiding behind the door that terrifies people," says Jack Axworth, a character in Marcks's graphic novel Spirit Week. "It's what they conjure in their mind the moment before that door opens." Loosely based on the film The Shining, Spirit Week focuses on a group of kids who want to save an aging hotel and possibly eliminate a local curse.
"That thing you don't see, like the shark in Jaws—that's the thing" that sets the imagination into terror overdrive, Marcks adds.
Other works deliver on the fear factor and then pack emotional impact when appearances are deceiving and the scary-looking creature turns out to be a friend, not a foe. In Prunella and the Cursed Skull Ring, a young girl finds that the monsters her village is so afraid of are warmer, more accepting creatures than the people in her community. In The Grimm's Town Terror Tales: Rise of the Candy Creeper, a monster starts crying after being hit with a baseball bat; it turns out he's an ally, not an enemy. And in The Ghoul Next Door, a ghoul living in a graveyard explains that her kind don't choose their corpse-eating lifestyle—and then befriends the human protagonist.
Scary graphic novels prompt readers to face their fears and consider how they would escape from the werewolf, just like Fearing did—and they often draw on newly discovered reserves of bravery or skill.
"At every stage of our life, books help us process the world around us," King says. "Some people will always be afraid of the monster under the bed. Others will gain confidence in having beaten that monster before, in all his disguises."


Brigid Alverson edits the blog "Good Comics for Kids."