Building a STEM foundation begins before a child enters elementary school. Early on young children should be exposed to a range of books that encourage them to look closely at the world around them, to wonder, and to ask questions. These recently published books for preschool—grade two will do just that. To be sure, there are a number of books on animals, but you'll also find titles on space travel, the Big Bang, energy, ecosystems, the environment, and a number of other topics.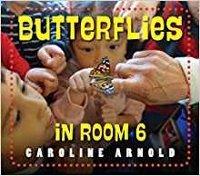 ARNOLD, Caroline. Butterflies in Room 6: See How They Grow. photos by Caroline Arnold. 40p. further reading. glossary. websites. Charlesbridge. Mar. 2019. Tr $16.99. ISBN 9781580898942.
PreS-Gr 2–Arnold returns to the same classroom she observed in Hatching Chicks in Room 6 (Charlesbridge, 2017). This time she joins Mrs. Best and her kindergarten students as they follow the progress of painted lady butterflies from small blue eggs to adult insects. Photos document the steps required to care for the creatures during their journey from egg to larva to pupa to adult. The intent expressions on the children's faces reveal their engagement with the process and their delight as they watch the butterflies prepare to fly away. The close-up photos, including the sequence of a butterfly's emergence from the chrysalis, draw readers into the transformation. The clear, straightforward text is supplemented by facts supplied in small text boxes. A vocabulary list plus suggested books and websites enhance the information. VERDICT A solid choice for most libraries, particularly those supporting hands-on science learning.–Kathy Piehl, Minnesota State Univ. Lib., Mankato
Baby Elephant Joins the Herd. 32p. (First Discoveries). photos. Sterling. Jan. 2019. Tr $16.95. ISBN 9781454932123.
PreS-Gr 2–An elephant herd gets a new member when a female calf is born. She learns to stand, swim, roll in the mud, and play with friends. Through stunning color photography, commissioned by the American Museum of Natural History, this title captures the landscape of the African savanna and the milestones of the adorable baby elephant as she grows up with her herd. Using a loose linear time line of the calf's life, the book offers facts about elephants and how they survive in the wild in easy-to-read text on pastel color blocks. Although the story seems to end abruptly, it comes full circle as the calf becomes an adult and welcomes the next generation of elephants. VERDICT A lovely choice for early nonfiction collections.–­Hilary Tufo, Columbus Metropolitan Library-Reynoldsburg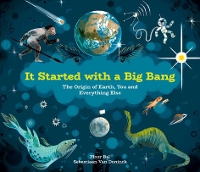 BAL, Floor. It Started with a Big Bang: The Origin of Earth, You and Everything Else. illus. by Sebastiaan Van Doninck. 34p. Kids Can. Oct. 2019. Tr $17.99. ISBN 9781525302558.
K-Gr 3–Written in the present tense, this accessible book explains the big bang theory. Dramatic pictures work in tandem with the clear text to reenact the explosive origin of the universe. Earth's many transformations are shown with deeply saturated color illustrations from its fiery beginning, to the emergence of land and sea, to the gradual development of plant and animal life, to extreme climate variations, and, eventually, to the appearance of humans with their distinct capacity to learn, invent, and communicate through reading and writing. Kids eager to know what happened to the dinosaurs will be satisfied by the spread depicting a giant rock crashing down and Bal's simple explanation: "Tough break for the dinosaurs—their time is up." Less convincing is the reference to Earth as a "big tangled web." It's a repeating phrase that lends a lyrical quality to the narrative but one that could have used a bit more explanation. VERDICT Overall this is a fine introduction to a complex topic and one that is suitable for children in the primary grades.–Gloria Koster, formerly at West School, New Canaan, CT
BESTOR, Sheri M. Soar High, Dragonfly! illus. by Johnny Lambert. 32p. Sleeping Bear. Mar. 2019. Tr $16.99. ISBN 9781585364107.
PreS-Gr 3–Using narrative and thoughtful sidebars, this title follows the life cycle of the dragonfly. The cycle begins in spring with the laying of eggs by an adult dragonfly on a pond, (an interesting fact: some dragonflies lay their eggs inside plant stems for protection). It follows the cycle from egg to nymph to adult to mating. Dragonflies mate by holding onto each other in the shape of the letter "O" as they float through the air. It ends with autumn and the laying of new eggs. The sidebars are facts about dragonflies written in different fonts and colors and varying in location from top, bottom, and side. This format might be off-putting to younger readers as it looks like dense text, but the writing style makes the information accessible to all. Characteristics and terms that might be new to readers are defined within the text. While the narrative is often several sentences in block format, similar to the informational text, there are also pages with just a few enthusiastic words in large print: "Soar high, dragonfly!" for example. The illustrations are reminiscent of Eric Carle's brightly colored collages that jump off white backgrounds. VERDICT This title could be used on many levels: very young audiences will enjoy as a picture book, while budding scientists will appreciate the narrative and informational text together. An excellent addition.–Susan Lissim, Dwight School, New York City
BROWN, Martin. Even More Lesser Spotted Animals. illus. by Martin Brown. 56p. glossary. Scholastic/David Fickling Bks. Jul. 2019. Tr $18.99. ISBN 9781338349610.
Gr 1-4–Brown illuminates the lives of animals in the most fun and informative way. His text and illustrations about lesser-known animals make for a laugh-out-loud and insightful work that smoothly flows from beginning to end. Even the endpapers are instructive and compelling. Before the title page, a snout appears above the waterline: "Who's there?" The answer is located in the text and confirmed in the final endpaper. Back matter reflects the book's tight organization throughout, where physical features, habitat, diet, memorable facts, and more are revealed. These animals originate from all over the world, and the text includes their endangered status. The eight possible statuses are clearly explained, from data deficient to extinct. End matter contains a well-written glossary and one more fun-filled fact. ­VERDICT This rare find takes readers to enjoyable heights. A delightful and highly engaging work.–Nancy Call, formerly at Santa Cruz Public Libraries, Aptos, CA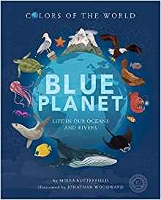 BUTTERFIELD, Moira. Blue Planet: Life in Our Oceans and Rivers. illus. by Jonathan Woodward. 32p. (Colors of the World). index. Tiger Tales/360 Degrees. Oct. 2019. Tr $19.99. ISBN 9781944530969.
Gr 1-4–This work introduces younger children to the many wonders of oceans and river life. Full-color illustrations depict examples of animal life dependent on the waters in which they live. The five oceans and the major rivers of the world are presented with information about each. The water cycle is explained and illustrated showing the ceaseless circle of renewal. The sizes and habitats of creatures great and small living in a variety of waters are compared. The great white shark is presented as a fearsome creature, and viper fish are portrayed with scary fangs. Transportation on waterways is represented by a variety of vessels, and floating homes and barges are shown as possible places to live on the water. Yet the broad assortment of facts, figures, and creatures results in a lack of coherence in this introductory work. VERDICT A random collection of information about life in Earth's oceans and rivers that lacks the coherence needed to be a truly useful resource. Best serves as an addition to existing collections on habitats.–Eva Elisabeth VonAncken, formerly at Trinity-Pawling School, NY
CLARK, Neil. The Book of Space Rockets. illus. by Neil Clark. 24p. (Clever Cogz). Quarto/QEB. May 2019. Tr $14.95. ISBN 9781786036339.
K-Gr 2–Join Cogz the Robot Dog and his mice friends Nutty and Bolt as they explore different types of space rockets. The book includes a table of contents and a quiz about rockets on the last page (with answers). There are fun, colorful, simple illustrations involving a variety of rockets. Cogz, Nutty, and Bolt provide commentary on the featured rockets and space vehicles. The illustrations are similar to those in the other books in the series and in Rusty the Squeaky Robot. VERDICT An absolutely adorable addition to anyone's collection. Great information and high interest perfect for the youngest reader.–Kristin Joy Anderson, Lewis University, Romeoville, IL
CLINTON, Chelsea. Don't Let Them Disappear. illus. by Gianna Marino. 40p. Philomel. Apr. 2019. Tr $17.99. ISBN 9780525514329.
PreS-Gr 2–Clinton's latest picture book is an ode to 12 animal species in danger of extinction. Those familiar with her past works will recognize the format: a collection of factual blurbs rather than one long narrative. A spread is devoted to each animal, always accompanied by a short explanatory paragraph. The text may be sparse, but there is not one wasted word. Readers will enjoy engaging with fun facts and vocabulary for animal groups (an "embarrassment" of giant pandas or a "crash" of rhinos, for example). In addition to the informational paragraph, bullet points are included for each animal which state its endangerment status, the reason for that status, and its geographic location. Marino's gouache illustrations are accurate yet whimsical and convey the personality of each animal. This book will get a lot of traction as a science or social studies curriculum addition and does not need to be read in order to be useful as a learning tool. It will also be an appealing cover-to-cover read for animal lovers. Useful endnotes include an explanation of the human-made reasons some animals are in danger of disappearing, as well as action items for those who want to do more to save them. VERDICT A sure bet for elementary school libraries.–Lindsay Jensen, Nashville Public Library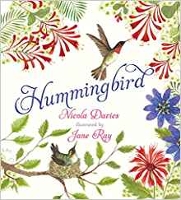 DAVIES, Nicola. Hummingbird. illus. by Jane Ray. 32p. bibliog. index. Candlewick. May 2019. Tr $16.99. ISBN 9781536205381.
K-Gr 3–The book's narrative opens in a garden, as a girl and her grandmother bond while watching and listening to hummingbirds. But the girl must leave for the United States and say goodbye to her grandmother, just as the ruby-throated hummingbirds must say goodbye to Central America and fly north. Factual details about hummingbirds are showcased in bolded text without detracting from the story. Though short, the back matter consists of an informational page, index, and bibliography that supplies additional information. Davies seamlessly weaves facts about hummingbird migration into a fictional narrative, with each aspect of the book enhancing, but never outshining, the other. Ray's bright watercolor illustrations bring out the warmth in the interactions that characters have with one another and with the hummingbirds. Though the girl and her grandmother are almost immediately separated, the hummingbirds' journey from Central America to New York and back again make that great distance seem less vast. Perfect for a read-aloud, this picture book is educational while providing opportunities for readers to connect with a story about human migration and family relationships. VERDICT The book, a colorful blend of fact and fiction, raises the bar for its genre and will leave many readers hopeful to hear the "Tz'unun! Tz'unun!" of hummingbird wings in their own gardens. A wonderful addition to any informational picture book collection.–Lauren Hathaway, University of British Columbia
EATON, Maxwell, III. The Truth About ­Elephants. illus. by Maxwell Eaton III. 32p.
further reading. Roaring Brook/Neal ­Porter Bks. Nov. 2018. Tr $15.99. ISBN 9781626726697.
K-Gr 2–This latest installment of "The Truth About" books opens with the punny boast that it contains "tons of information" about Earth's largest land animal. And indeed, it covers the basics of elephant types, traits, habitats, and behaviors. The true appeal of the book lies in its accessible style; librarians could use it as a playful counterpoint to Katherine Roy's comprehensive How To Be an Elephant. Eaton's work is unapologetically geared toward recreational nonfiction readers. Fans of the series will be pleased to find all of its usual motifs, including expressive cartoon illustrations, speech bubbles ("I get snacky at night," mumbles one elephant through a mouthful of leaves), easily digestible facts, and a wisecracking gallery of animals (this time featuring a manatee, a dugong, and a hyrax who form a jazz trio). Before concluding with a single spread of back matter, Eaton reminds readers that while humans pose the greatest threat to elephants, people can also help by reading, teaching, and speaking out on elephants' behalf. VERDICT A characteristically charming and browsable addition to the series. Consider for readers looking for a bit of information and humor.–Rebecca Honeycutt, NoveList, Durham, NC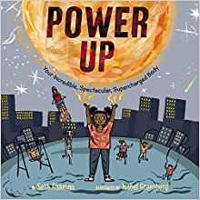 FISHMAN, Seth. Power Up. illus. by Isabel Greenberg. 40p. HarperCollins/Greenwillow. Mar. 2019. Tr $17.99. ISBN 9780062455796.
Gr 1-3–Fishman begins this work with an unbelievable but true statement about how there is enough energy in a person's pinkie finger to power a large city for an entire day. From there the text segues into an exploration of energy, from the stamina it takes to read a book to running, and how our bodies recharge through eating, sleeping, and exercise. At the end of the book, there is an author's note that explains how Einstein's famous equation can be used to find exactly how much energy is inside a pinkie finger. Complete with colorful digital illustrations that highlight the learning points throughout the book, this is a great introduction to human physiology that affirms just how special our bodies are. The author manages to get across the basics without bogging down the text with too much technical language, making it accessible to younger readers interested in science. VERDICT A solid, upbeat ­addition to nonfiction shelves.–Jayna Ramsey, ­Douglas County Libraries in Parker, CO
FLACH, Tim. Who Am I?: A Peek-Through-Pages Book of Endangered Animals. photos by Tim Flach.48p. Abrams. Nov. 2019. Tr $18.99. ISBN 9781419736469.
PreS-Gr 3–Cutouts are used throughout this book to provide a partial view of an animal that is initially identified by just a few clues. The turn of a page then reveals full-page photos of the creatures set against black backgrounds. Many of the animals, like the polar bear and the Bengal tiger, will be familiar to children. Others are examples of lesser-known creatures, such as the white-bellied pangolin, the crowned sifaka, and the Indian gharial. Flach shows some animal habitats and also provides fascinating close-ups of feathers, fur, shells, and scales. This book will be enjoyed by young children who will find the guessing game to be engaging. Older kids can spend time independently with the "Who Are We?" section, which explains what makes each animal unique. Although the book's font is regrettably small, the final page of back matter serves as an excellent guide on how to play an effective part in protecting the environment. VERDICT The arresting photographs make this title stand out among books on the topic of endangered animals.–Gloria Koster, formerly at West School, New Canaan, CT
EATON, Maxwell, III. The Truth About Hawks. illus. by Maxwell Eaton III. 32p. (Truth About Animals). Roaring Brook. Nov. 2019. Tr $16.99. ISBN 9781250198457.
Gr 1-2–This book about hawks is bold, confident, and straightforward. It features simple facts and clear, bright drawings on each page. The birds speak in cartoon bubbles and offer humorous commentary. This animal dialogue invites readers to empathize with the creatures and enter their world. Goofy comic images like a hawk on the phone add an air of hilarity but do not undercut the realistic pen-and-ink drawings that differentiate between species and illustrate details. Subplots having to do with voles and snails—who are prey—add drama and provide extended examples of the relationship between predators and prey. The author does mention threats to the survival of hawks, but instead of focusing on dire environmental conditions, he emphasizes appreciation for hawks in the wild. The book offers a very short bibliography (two titles) for further research. VERDICT With this fourth installment in a series of fanciful nonfiction books about animals in the wild, Eaton is shaping up to be a go-to source for amazing facts about nature.–Sheri Reda, Wilmette Public Library, IL
FIGUERAS, Emmanuelle. Nose Knows: Wild Ways Animals Smell the World. 38p. What on Earth Bks. Oct. 2019. Tr $21.99. ISBN 9781912920075.
Gr 1-5–This large-format picture book describes the ways animals use their sense of smell as a guide to find food, bond with offspring, impress a potential mate, and more. The book is organized into seven sections, and features large, colorful illustrations that bring the text to life, many with a lift-the-flap feature that pack an impressive amount of information. The opening section, "The Invisible World of Smells," states that humans can detect more than 400,000 different smells. An accompanying illustration shows the noses of a cat and a boy. When readers lift the flap, they see how the olfactory membrane sends messages to the brain. They also learn that cats have a much larger membrane for receiving smells than humans do. The opposite page explains that horses have a second "nose" and that they make "funny faces" in their attempts to sniff more successfully. VERDICT A terrific find for science units on animal behavior and useful for student browsing.–Myra Zarnowski, City University of New York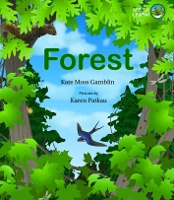 GAMBLIN, Kate Moss. Forest. illus. by Karen Patkau. 24p. (See to Learn). further reading. Groundwood. Mar. 2019. Tr $16.95. ISBN 9781554988792.
Gr 1-5–Drawing on her doctoral research in sustainability and her international teaching experiences, Gamblin has written a picture book that doubles as a love letter to the forest ecosystem. The gentle second-person narration is intimate and conversational: every page begins with the question, "Do you see?" pulling readers and listeners into the world of the forest, where they might encounter "the swoop of the swallow in flight" or "the delicious sunlight, giving way to the soft darkness of night." With reading suggestions for young and older readers, this beautiful nonfiction picture book will be a useful jumping-off point for inquiry and land-based pedagogy. The illustrations are lush and patterned, and the rich interplay between the text and images allows for this story to work well for read-alouds and silent reading. VERDICT A strong purchase for schools and libraries to encourage connection with the natural world.–Jen McConnel, Queen's University, Ont.
GOLDSTONE, Bruce. Spectacular Spring: All Kinds of Spring Facts and Fun. 48p. photos. Holt. Feb. 2018. Tr $17.99. ISBN 9781250120144.
PreS-Gr 1–The latest alliterative installment in Goldstone's season series (Awesome Autumn and Wonderful Winter) doesn't disappoint. It presents a neat overview of spring and is chock-full of interesting facts for young readers. Vibrant photographs grace each page, making it all the more appealing for little ones. The explanation of the science behind rain, rainbows, seeds, and more is presented in an accessible way. In addition, readers will learn about animals, spring flowers, how an umbrella works, the sounds and sights of spring, and spring celebrations, culminating in "some spectacular spring activities" (seed jars, mud painting, and more), including instructions—a bonus for makerspaces and caregivers. VERDICT Consider this latest from Goldstone wherever early science books are needed.–Megan Kilgallen, Packer Collegiate Institute, Brooklyn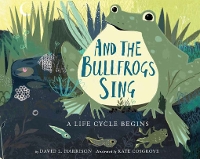 HARRISON, David L. And the Bullfrogs Sing: A Life Cycle Begins. illus. by Kate Cosgrove. 32p. further reading. websites. Holiday House. May 2019. Tr $17.99. ISBN 9780823438341.
PreS-Gr 2–Starting with a lyrical title, the content illustrates the life cycle of the bullfrog. Young readers are provided with all the elements necessary to learn about growth cycle, diet, predators, and hibernation. Cosgrove's visuals complement Harrison's text; the pictures and words flow together smoothly and offer an attractive presentation. One element is omitted: the male's role of fertilizing the eggs. Harrison focuses on the female choosing her mate among the full-throated bigger males. End matter consists of fast facts about bullfrogs and recommended books and websites. VERDICT A storytime selection, suitable for the juvenile nonfiction picture book collection.–Nancy Call, formerly at Santa Cruz Public Libraries, Aptos, CA
HORSTACHÄFER, Felicitas. X-Ray Me!: Look Inside Your Body. illus. by Johannes Vogt.22p. HarperCollins/Greenwillow Bks. May 2019. Board $12.99. ISBN 9780062889966.
Gr 1-5–This interactive board book opens wide—and when a spread is placed in front of a particular area of a child's body, viewers can look at the internal workings of the human body. The skull and brain, which are held up to the head, have a cut-out hole to peek through. A model in the upper right-hand corner guides readers on where to place the book. Dark blue background pages make the text stand out. Illustrations are simplified and have labeled parts. Pink, white, and orange are the primary colors used to depict particular organs or body parts. A two-sentence blurb in white explains what is being viewed, followed by a question in pale yellow that further encourages kids' curiosity: feel your skull, count your ribs, bend your knees. The X-ray of the knees shows the legs turned to the sides to show the kneecap. VERDICT This enjoyable title might prove useful for an introductory exploration of the body. This will fuel more questions from curious toddlers as well.–Sandra Welzenbach, Villarreal Elementary School, San Antonio
HUBER, Raymond. Gecko. illus. by Brian Lovelock. 32p. Candlewick. Jan. 2019. Tr $16.99. ISBN 9780763698850.
K-Gr 3–This title will amaze and engage readers as they learn everything there is to know about geckos. Each spread has an illustration, a line about what the gecko is doing, and in a different font, informational text about geckos. Our gecko travels through his world, eating and making sure he doesn't get eaten by one of his many predators. This is essentially one day in the life of a gecko. The gecko keeps itself clean, hunts for food, watches out for predators, sheds its skin—which it then eats—and loses its tail while escaping from a rat. The engaging narrative is simple blocks of text with an occasional large type exclamation: "Crunch!" such as when the gecko bites a cockroach. Back matter includes a short "More about Geckos" and an index that highlights both the fiction and nonfiction within the text. The illustrations are bright and colorful and bring geckos to life. Readers can often sense the quick movements of this animal through the illustrations. The blue gecko with orange spots stands out in lush greenery done in colored pencil, acrylic ink, and watercolor. This is a book that can be shared with readers of many age levels. A younger reader might enjoy the storyline while a slightly older reader will be captivated by the information. From the cover with gecko "climbing" through the title "Gecko" until the end when gecko loses his tail to the rat but eats the predator's leftovers, a thoughtful, colorful, and informative title. VERDICT A must-have for younger nonfiction shelves.–Susan Lissim, Dwight School, New York City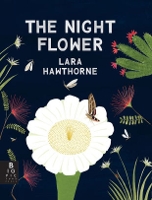 HAWTHORNE, Lara. The Night Flower: The Blooming of the Saguaro Cactus. illus. by Lara Hawthorne. 32p. glossary. Candlewick. Mar. 2019. Tr $16.99. ISBN 9781536206166.
K-Gr 2–Hawthorne makes her nonfiction debut with this beautifully illustrated introduction to the saguaro cactus. Covering 24 hours in the Sonoran desert, the book's pages are principally filled with depictions of the flora and fauna in the desert, while rhyming quatrains provide a lively description of the activity that can be found in the habitat. The text and renderings at the beginning of the book demonstrate the central role saguaros play in Southwestern America's diurnal wildlife: providing food, water, and shelter for the many animals Hawthorne showcases. When night finally falls, nocturnal pollinators flock to the saguaro as its magnificent flower blooms by moonlight. The text is as informative as it is lyrical; however, the real attraction here is the illustrations. The clean lines and minimalist style lend themselves particularly well to the starkness of a desert landscape, while including enough detail in the animal renderings to ensure scientific accuracy. Five pages of illustrated back matter include the parts and life cycle of a saguaro, trivia on various desert animals, and a glossary of biology and botany terms used throughout. VERDICT With its rhyming text and stylized illustrations, this wonderful read-aloud possibility for an elementary school science unit will fascinate readers while conveying the importance of the saguaro in the desert ecosystem.–Katherine Barr, Cameron Village Regional Library, Raleigh, NC
JENKINS, Martin. Beware of the Crocodile. illus. by Satoshi Kitamura. 32p. index. websites. Candlewick. Mar. 2019. Tr $16.99. ISBN 9780763675387.
PreS-Gr 2–British conservation biologist Jenkins (Fabulous Frogs; Can We Save the Tiger?) teams up with Japanese illustrator Kitamura for a factual, funny, and frightening study of the lifespan of one of the world's most fearsome creatures. As Kitamura's grand and formidable crocodile moves from the title page to the first spread with jaws open wide, Jenkins's playful writing alleviates how frightening this subject can be: "If there's one thing you should know about crocodiles, it's that they're really scary—or at least the big ones are. They've got an awful lot of…teeth." Focusing on crocodiles' hunting and nesting patterns, the spare text is packed with information. When it is time for the crocodile to eat, the most gruesome parts are left off the page, but both text, rendered in different sizes, and illustrations give a sense of momentum and movement. This dramatic read-aloud contains occasional well-placed, offset crocodile facts, but stopping to read them doesn't disrupt the pacing. Kitamura's pen, watercolor, and mixed-media illustrations capture the animal's natural smile, adding personality, and the use of shadow and line adds tension as the animals sneak up on their prey. Back matter offers additional facts, including the difference between an alligator and a crocodile. VERDICT An engaging and enlightening classroom read-aloud, and a first purchase for libraries.–Danielle Jones, Multnomah County Library, OR
JUDGE, Lita. Homes in the Wild: Where Baby Animals and Their Parents Live. illus. by Lita Judge. 48p. glossary. sources. websites. Roaring Brook. Jun. 2019. Tr $18.99. ISBN 9781626727243.
Gr 1-2–Judge's warmly yet accurately illustrated animal families show a wide range of homes in the wild. Introductory pages for each category of home help contextualize the information; detailed paragraphs on how and why each of the featured species makes their chosen home provides in-depth data without overwhelming readers. Pleasantly readable and offering good word placement on the page, the rich illustrations never distract from the information. Whether the families are small or extended, with one or more parents, the diverse range of animals glows with coziness. A closer look at each of the species mentioned provides budding naturalists with further reading, a glossary, a list of updated sources, and a list of websites to complete the package. VERDICT A lovely and informative picture book featuring over 20 kinds of animal families and their homes in nature. A must for nonfiction collections everywhere.–Parnell Memorial Library, Montevallo, AL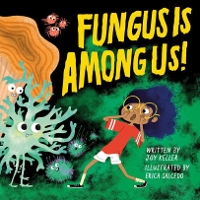 KELLER, Joy. Fungus is Among Us! illus. by Erica Salcedo. 40p. bibliog. Innovation Pr. Sept. 2019. Tr $16.99. ISBN 9781943147649.
Gr 1-4–This narrative nonfiction title, written in couplet rhymes, is all about fungi. The main character, sporting oversize Snapchat-style glasses, blueish-black hair, and one sagging sock, mouth open in a scream, is frightened by the prospect that she can't escape fungus. It's along the trail she hikes, in the tree she climbs, in her yard, and even in her house. The bathroom, refrigerator, and kitchen all contain fungus. The only acceptable fungus lives in the pizza her dad is making (mushrooms and yeast in the dough). Keller points out that fungi are everywhere, even on humans. The protagonist eventually accepts that fungi are helpful and not necessarily as scary as she first anticipated. Small print mixed in among the pages provides additional scientific information. Illustrations are bold and bright. The fungi are depicted with goggle eyes and tiny mouths. Back matter contains an interview with a mycologist who answers questions about what the job entails. VERDICT A fun introductory piece of informational poetry that will be enjoyed by many age groups. Great paired with Carla Billups and Dawn Cusick's It's a Fungus Among Us: The Good, the Bad & the Downright Scary.–Sandra Welzenbach, Villarreal Elementary School, San Antonio
KNOWLES, Laura. We Build Our Homes. illus. by Chris Madden. 64p. words & pictures. Oct. 2018. Tr $17.95. ISBN 9781910277829.
PreS-Gr 2–In the charming We Build Our Homes, children are taken on a door-to-door safari through the ingenious homes of all manner of animals. The information is presented in a lyrical, almost Tolkien-esque manner. The organization of the animals included in the book has an incremental feel to it, which pulls the reader's attention from one page to the next. At the beginning of the book, it's almost as if with each preceding page, the reader moves from the foreground into the background of nest-laden trees to examine all the little details included in the textured, collage-like art. The images are striking, such as a portrait of the baby tailorbirds. Their demanding hunger is palpable, as evident by their tiny, craning necks and gaping beaks. Following birds, the reader is then introduced to insects, reptiles, and then to mammals, with the last page being a great payoff to the book's overall narrative journey. We Build Our Homes could easily act as a gateway to other books about the featured animals. On the other hand, the descriptions could benefit from a consistent poetic flow, but such a continuous rhythm could have impacted the information's easily digestible nature. VERDICT A definite recommendation, with potential for a second volume, as long as there's some follow-up material for inquisitive minds.–Sean Dorsey, Suffolk Public Library, VA
LUNDE, Darrin. Whose Footprint Is That? illus. by Kelsey Oseid. 32p. Charlesbridge. Oct. 2019. Tr $16.99. ISBN 9781580898348.
PreS-K–Budding naturalists will appreciate this animal tracking guessing game. Presented with a large animal footprint replica on a white background, readers must deduce which animal left its mark. A sneak peek of the creature's nose, tail, or ears also aids in solving the mystery. Junior detectives will love matching the animals with their tracks. A full spread of the footprint culprit follows, showing the animal in its natural habitat. Readers will likely be familiar with the flamingo, the mountain goat, the chimpanzee, the snowshoe hare, and the snake. However, the wallaroo (a smaller cousin of the kangaroo) may be new to them. A dinosaur's fossil print is included in the lineup, though the species is not identified. A final test of skill asks, "Can an animal change its footprints?" In response, the book displays a range of human footwear, including ice skates, hiking boots, and flippers. High-contrast gouache illustrations with minimal background distractions make the animals easy to identify and locate. Details in the artwork add texture and depth. Though pictured, the animals' habitat and geographic location are not described. Still, this title has broad appeal and application for preschoolers. VERDICT A solid choice for nature units and general collections.–Richelle Rose, Kenton County Public Library, KY
MATHESON, Christie. Bird Watch. illus. by Christie Matheson. 48p. glossary. HarperCollins/Greenwillow. Feb. 2019. Tr $17.99. ISBN 9780062393401.
PreS-Gr 1–Bluebirds, warblers, hummingbirds, and a mighty hawk are among the hidden treasures to be found in this serene counting book about birds. Urging children to look carefully, Matheson's watercolor and collage illustrations use a soft, quiet palette to marvel at the beauty of the natural world. From 10 black-capped chickadees hiding in a green fir tree down to one powerful owl soaring in the night sky, young children will delight in finding the hidden birds, insects, mice, and even a slimy banana slug among the flowers and ferns. The gentle text offers consistent encouragement to continue the search and a birding checklist illustrates the hidden quarry. Endnotes offer further information on each of the birds and their locations. This engaging work will be useful as a nature study, a counting book, and a fun way to promote careful observation. VERDICT A peaceful look at nature for little ones.–Eva Elisabeth VonAncken, formerly at Trinity-Pawling School, NY
McLENNAN, Connie. The Forest in the Trees. 32p. Arbordale. Aug. 2019. Tr $17.95. ISBN 9781643513508.
PreS-Gr 3–McLennan, using a cumulative text format, explores the canopy of coast redwoods in northern California and southern Oregon. These sprawling environments have their own ecosystems and are alive with flora and fauna that often differ from what resides at ground level. Each spread describes a unique aspect of the tree canopy that is sometimes 250 feet in the air, and only recently (the late 1990s) explored by scientists. Amphibian and insect life includes certain kinds of salamanders and bugs that spend most of their lives in the trees. Extensive ferns grow almost exclusively in the canopy. While the text is rhythmic and predictable, it doesn't necessarily rhyme and sometimes feels like a free verse poem. Detailed insets explain how the many parts of the canopy are interconnected and show the organisms' reliance on one another. The illustrations fill the page and offer varying perspectives of the forest, sometimes from the ground and sometimes from afar. Many offer a closer inspection of the canopy with detailed artwork of lichens or small insects. VERDICT An engaging read-aloud, peppered with plenty of facts for the scientists in the crowd.–Jody Kopple, Shady Hill School, Cambridge, MA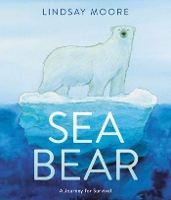 MOORE, Lindsay. Sea Bear: A Journey for Survival. illus. by Lindsay Moore. 48p. HarperCollins/Greenwillow. Jan. 2019. Tr $17.99. ISBN 9780062791283.
K-Gr 2 –A patient polar bear journeys through Arctic waters seeking land. It is springtime and warmer temperatures have caused the ice to break into isle-like patches in the ocean. The bear's odyssey is daring, the thin ice makes hunting challenging and fatigue eventually starts to set in. Moore, who studied marine biology and medical and scientific illustration, subtly demonstrates the impact of global warming on polar bears in this debut. In the illustrations—done with graphite, watercolor, drawing inks, conte crayon, and color pencils—Moore combines layers of different blues to contrast with the white ice and the white bear, which smartly emphasizes the solitude of the creature and its predicament. Along with the expressive art, the first-person narrative will help readers connect with the bear and the other creatures it encounters in the book, including star-skinned narwhals, walruses, seals, and a whale. This title would work well for lessons on climate change, a science unit on Arctic animals, and as a companion to Lily Williams's If Polar Bears Disappeared. VERDICT An artful and expressive take on the effects of global warming—and a timely addition to picture book nonfiction collections.–Kathia Ibacache, Simi Valley Public Library, CA
Eds. note: For suggestions on using this book in the library or classroom, see The Classroom Bookshelf's "A Subtle Call to Action for Planet Earth in Debut Picture Book" by Katie Cunningham.
NOLAN, Dennis. Dinosaur Feathers: An Epic Rhyme. illus. by Dennis Nolan. 48p. Holiday House/Neal Porter Bks. Sept. 2019. Tr $18.99. ISBN 9780823443307.
Gr 1-4–This nonfiction poetry offering will satisfy young dino enthusiasts and draw in others who will appreciate the rhythm and rhyme, as well as Nolan's lovely watercolor illustrations. Even with the phonetic pronunciations included, the many dinosaur names will be tongue twisters for the adults who will be asked to repeatedly read this aloud. The plot is simple: the massive dinosaurs who once roamed Earth have vanished with the few remaining feathered creatures evolving into birds. Rich back matter includes dimensions of the various terrestrial and aerial creatures, translations of their Latin names, geographic locations, and clear cross-references to pages in the book where they are depicted. There's also a double-page spread of the tree of life, visually representing four billion years of evolution. VERDICT Make room on the shelf for this original addition to your dinosaur collection.–Gloria Koster, formerly at West School, New Canaan, CT
PATTISON, Darcy. Pollen: Darwin's 130 Year Prediction. illus. by Peter Willis. 34p. (Moments in Science). bibliog. glossary. photos. Mims House. Feb. 2019. pap. $10.99. ISBN 9781629441207.
Gr 1-3–Sometimes science does not happen overnight. In this installment of the "Moments in Science" series, readers are shown how Charles Darwin's prediction about orchids on Madagascar being pollinated by insects would not be fully proven until over 130 years later. Using a variety of media to illustrate the text (collage, paint over text, cartoons), Willis gives even more life to the already fascinating story of how "progress in science needs predictions, observations over a long period of time, and sometimes, a bit of luck." The back matter features a glossary of terms and more detailed information on each of the scientists, plants, and creatures involved in the discovery of orchid pollination. Throughout the text, scientific names are given and include a pronunciation guide. The content is challenging enough for older readers, but scaffolded enough for younger ones. ­VERDICT An excellent purchase for elementary collections with a need for more books on ­scientific inquiry.–Molly ­Dettmann, ­Norman North High School, OK
PAUL, Michael. Chomp: A Shark Romp. illus. by Michael Paul. 40p. Crown. Apr. 2019. Tr $16.99. ISBN 9781524767020.
PreS-Gr 2–From gentle giants to fierce hunters, sharks vary in size, color, appetite, and habitat, making the underwater dwellers distinct in each depiction. As readers swim alongside each shark illustrated, they will learn that many sharks have unique personalities and habits, making it safer to see them from afar in an aquarium than in the wild. The text within the nonfiction narrative is uncomplicated, leaving room for children to absorb the labeled illustrations that are simultaneously simple and realistic. Although Paul implies we should not swim with sharks, kids can visit many of them at aquariums. Paul also offers a picture glossary in both the front and back of the book. Fans of his Roar: A Dinosaur Tour and the "Baby Shark" song will enjoy learning about the sharks that live under the ocean's surface. VERDICT A strong choice for early elementary nonfiction shelves and a vibrant exploration of ­different types of sharks.–Hilary Tufo, Columbus ­Metropolitan Library-Reynoldsburg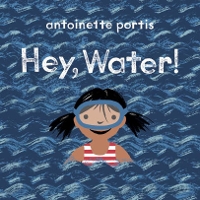 PORTIS, Antoinette. Hey, Water! illus. by Antoinette Portis. 48p. Roaring Brook/Neal Porter Bks. Mar. 2019. Tr $17.99. ISBN 9780823441556.
PreS-Gr 2–This simple introduction to water is an ideal read-aloud for the youngest scientists. Bold, beautiful, and equally simple illustrations are rendered with brush, sumi ink, and digital color. In addition to the brief running narrative, each page or spread features a word that refers to a different form of water ("tear") and descriptive text ("sometimes you slide down my cheek without a sound"). The book makes for a fun guessing game—children will enjoy figuring out, for instance, that "I stomp in you and scatter droplets everywhere" refers to a puddle. The book explores ways water can be found in homes, yards, and neighborhoods (in faucets, hoses, sprinklers) but also describes streams, rivers, oceans, dewdrops, clouds, fog, and icebergs. The final page shows a girl in the bath and her toy whale spouting sprays of water. Appended are accessible explanations about water forms, the water cycle, and conservation. The endpapers sport thick brushstroke waves in grays and blues. VERDICT Both school and public libraries will want this striking first science book on their shelves.–Barbara Auerbach, Cairo Public Library, NY
PRINGLE, Laurence. The Secret Life of the Skunk. illus. by Kate Garchinsky. 32p. further reading. glossary. Boyds Mills/Highlights. Aug. 2019. Tr $17.99. ISBN 9781629798776.
K-Gr 4–Pringle introduces readers to five young skunks as they cuddle close in the secret burrow their mother made deep in the ground. The striped skunks are nurtured by their mother for several weeks. At about five weeks old, the kits are ready to venture out of their burrow to learn to hunt for food under maternal supervision. The author depicts the fascinating journey of growth and discovery from early spring through summer as the skunks learn how to survive and prepare for a life without their mother. Packed with interesting facts and beautiful digital illustrations, this nonfiction book will entice early readers and student researchers alike. Back matter includes more information about skunks as well as a glossary and a list of additional resources. VERDICT Young readers will enjoy the lyrical text and warm illustrations in this fourth book in the author's "Secret Life" series.–Annette Herbert, F. E. Smith Elementary School, Cortland, NY
RITCHIE, Scot. Join the No-Plastic Challenge!: A First Book of Reducing Waste. illus. by Scot Ritchie. 32p. (Exploring Our Community). glossary. maps. Kids Can. Sept. 2019. Tr $16.99. ISBN 9781525302404.
K-Gr 2–Nick is celebrating his birthday with a picnic on the island. He has been learning about plastic pollution and decides to challenge his friends to go all day without single-use plastics. From shopping for the party to playing in the sand, the five friends learn what plastic is made of, how it gets into our food chain, and so much more. In this seventh book in the "Exploring Our Community" series, Ritchie explains recycling in kid-friendly language while demonstrating that any effort will help our Earth become cleaner. On each double-page spread, the story and illustrations provide concrete examples of what the author is trying to convey while bold-typed explanations help readers understand the vocabulary and suggest actions that they can take in their own lives. The digitally rendered illustrations are bright and colorful, with maps and labels to assist emerging readers. End matter includes a glossary. VERDICT This story leaves readers with hope that plastic pollution is being addressed by manufacturers and encourages everyone to take the "No-Plastic Challenge!" An excellent introduction to reducing waste for young readers.–Annette Herbert, F. E. Smith Elementary School, Cortland, NY
RODERICK, Stacey. Birds from Head to Tail. illus. by Kwanchai Moriya. 36p. Kids Can. Oct. 2018. Tr $16.99. ISBN 9781771389259.
PreS-Gr 1–Combining a guessing game with quick facts, this book invites children to answer a series of questions matching avian characteristics with the corresponding species. Moriya's cut-paper collage is made up of stunning, brilliant colors—intricately done. Each bird is chosen for its distinct features, including the owl, hummingbird, eagle, kiwi, tern flamingo, blue-footed booby, and peacock. After each question is answered, Roderick supplies facts about that body part. She provides just the right amount of information to pique readers' interest. During storytimes, younger children can play the guessing game, while older kids could be presented with the more factual text. Back matter consists of eight additional feathered creatures with just a sentence about each. As an addition to the juvenile nonfiction collection, the art and text will encourage readers to pursue more information about the birds pictured. ­VERDICT ­Versatile for storytime. An easy pick for most libraries.–Nancy Call, formerly at Santa Cruz Public Libraries, Aptos, CA
ROTNER, Shelley. Hello Winter! 32p. glossary. Holiday House. Oct. 2018. Tr $16.99. ISBN 9780823439768.
PreS-Gr 2–The sights, smells, and feelings of winter come alive in the vivid photographic illustrations found in this latest from Rotner. As the days get shorter, winter begins to set in, bringing with it chilly weather, crystalline snowflakes, and memorable celebrations. Readers are introduced to myriad activities associated with the season in the text and images. Whether or not the activities are familiar, new vocabulary and concepts are easily understood thanks to the thoughtful design of each spread. The text is composed of short words and phrases, making this book accessible to a wide range of readers. Select words are emphasized in color within each sentence throughout the text, from the deep red of fall through the blues of winter to the fresh green of spring; serving to link Rotner's other season-themed titles together. The descriptive text couples beautifully with the vibrant illustrations to create a nearly tangible winter wonderland. VERDICT An excellent addition to most nonfiction collections, especially as a companion to Rotner's other works.–Mary Lanni, Denver Public Library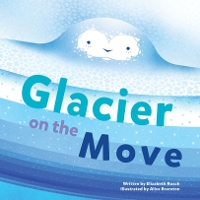 RUSCH, Elizabeth. Glacier on the Move. illus. by Alice Brereton. 32p. further reading. West Margin Pr. Aug. 2019. Tr $17.99. ISBN 9781513262307.
K-Gr 3–Travel with a glacier named Flo as it moves through different seasons and landscapes. We see what Flo does for the landscape and the things it leaves behind. We also get commentary and additional facts on glaciers from the ice worm, a delightful character along the edges of the page; ice worms can actually be found among glaciers. The end of the book includes information about climate change and information about real glaciers of the world, as well as a reference list and some more facts about ice worms. The language of the main story is simple, although the interjections of the ice worm are a little more complicated and use more scientific verbiage. The illustrations are absolutely charming; they project movement well and are surprisingly colorful for a subject that is mostly ice. Readers also see cute images of seals, birds, moose, bears, and deer. VERDICT An adorable addition to any library's picture book or science/STEM collection.–Kristin Joy Anderson, Lewis University, Romeoville, IL
SAYRE, April Pulley. Being Frog. illus. by April Pulley Sayre. 32p. S. & S./Beach Lane. Feb. 2020. Tr $17.99. ISBN 9781534428812.
PreS-Gr 3–A frog is a living being with habits and needs. The author's spare verse walks the reader through detailed photographs of a frog's typical day, including lots of waiting, swimming, and leaping. The text does a good job of evoking and contextualizing a frog's life without overwhelming readers with excessive information by using simple rhymes. Notable omissions, including a frog's diet, make this best for a very young audience rather than for research projects. Detailed photographs show frogs in their natural habitats and reveal the textures and tones of a pond, a plant, or a rock. The photos could encourage crowd participation in a storytime setting; the storyteller could ask very young children to find the frog on the page, list the plants or environments they see, or describe what the frog is doing (swimming, sitting, climbing). While resources for further exploration are limited to three websites, the inclusion of a resource for recorded frog songs and calls is a unique feature. VERDICT A beautifully photographed nonfiction book suitable for read-aloud.–Savannah Kitchens, Parnell Memorial Library, Montevallo, AL
SAYRE, April Pulley. Like a Lizard. illus. by Stephanie Laberis. 32p. further reading. websites. Boyds Mills. Mar. 2019. Tr $17.95. ISBN 9781629792118.
K-Gr 2–There are thousands of lizard species that are so different from one another that their distinct characteristics make for the clever rhyming text that drives this book. Right from the start, a pattern is established with a question: "Can you run like a lizard / Sun like a lizard/ Bob your head like a lizard?" Questions are followed by bright, digitally rendered and labeled illustrations that represent the particular animals capable of performing these various actions. For further information, however, the reader must consult the back of the book, where there are more detailed entries for 28 lizard types. While not sufficient for in-depth research, these brief entries all include a physical description, a habitat fact, and an explanation as to why the author attributed a given behavior to a given creature. VERDICT This rhythmic, zippy work is packed with verbs printed in bold-faced type. Valuable not only for reptile enthusiasts but also as a mentor text for students working to expand their own writing vocabularies. A fun and useful purchase that a range of readers will enjoy.–Gloria Koster, formerly at West School, New Canaan, CT
SJÖBERG, Lena. Bright in the Night. illus. by Lena Sjöberg. 48p. Thames & Hudson. Jan. 2020. Tr $17.95. ISBN 9780500652190.
Gr 1-5–The night sky may not always be visible due to city lights, but the moon, the stars, and the Milky Way can be seen in areas where there is little human interference. Each page discusses objects in the night sky, plants, animals, ocean creatures, and mysterious lights. Animal eyes appear to glow due to the reflective lenses in their eyes. Animals living deep in the ocean have lots of reasons to provide their own light. Even plants and bacteria have luminescent abilities. Some things can't be seen with the naked eye but can be seen using an ultraviolet light. The interior print is very small, and readers will need ample lighting to read the white text. The dark backgrounds contain plenty of room for numerous illustrations painted in glowing, bright colors. The final pages brighten as the night ends and the sun shines to start a new day. VERDICT Use this title as an overview of the topics, but additional sources will be needed for in-depth research. For students seeking science materials about the bizarre and strange, this book will fit the demand.–Sandra Welzenbach, Villarreal Elementary School, San Antonio
STEWART, Melissa. Seashells: More Than a Home. illus. by Sarah S. Brannen. 32p. Charlesbridge. Apr. 2019. Tr $16.99. ISBN 9781580898102.
K-Gr 4–A well-researched addition to the ocean biome canon, Seashells is unique in that it pairs form with function. Both the text and illustrations present information that is easy to digest and understand. Introducing the concept that seashells come in various shapes and colors due to their different jobs, the author and illustrator then launch into examples such as the scallops that can flit like a butterfly. This is paired with an illustration of a butterfly, a diagram of a shell and how its movement mirrors a butterfly, the shell in its environment, and corresponding text. The language is not too informational or too ­poetic; it is just the right amount of colorful and interesting. An appendix of sorts and additional resources are included. VERDICT A delightful addition to an elementary library's nonfiction collection.–Amanda C. ­Buschmann, Carroll Elementary School, Houston
TECKENTRUP, Britta. Fish Everywhere. illus. by Britta Teckentrup. 32p. Candlewick/Big Picture. May 2019. Tr $16.99. ISBN 9781536206258.
Gr 1-4–Author and illustrator Teckentrup takes on fish in her latest endeavor. Topics are explained in simple, relatable language limited to page spreads. The book looks at body structure, the evolution of fish, geographic location, feeding habits, survival adaptation, breeding, and their relationship with people. Three spreads are displayed vertically. Color blocks on the page help readers transition between subjects. To make the reading even more enjoyable, questions acting as guessing games are sprinkled throughout, such as a quest to spot all the Atlantic cod in one picture. While important words are in bold, there is no glossary. The lack of a table of contents, back matter, or resources to consult for further study also signal that this book is not for hard-hitting research. Some information is misleading in its tendency to lean toward the whimsical. For example, the adult ocean sunfish is listed as weighing up to 5,100 pounds (on average, the ocean sunfish is 2,200 pounds). Some of the body parts in the diagram are sweeps of color; the liver is a perfect circle. VERDICT If readers usually swoon over Teckentrup's fabulous illustrations, this book won't disappoint.–Elissa Cooper, Helen Plum Memorial Lib., Lombard, IL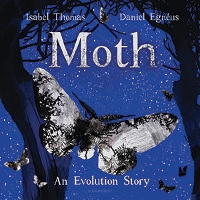 THOMAS, Isabel. Moth. illus. by Daniel Egnéus. 48p. Bloomsbury. Jun. 2019. Tr $18.99. ISBN 9781547600205.
PreS-Gr 1–Thomas and Egnéus show how adaptation and natural selection work in the evolutionary process in order to change a species. In Great Britain, when industry heavily relied on coal, environmental factors affected the survival rates of the peppered moth, because predators could now see what was once camouflaged. The text and illustrations are clear and move at a steady pace with a summary in the back matter, which solidifies the content. Despite the lack of source material, the value of this text is high. Children will understand how the environment can change an animal's survival rate and the passing of its genetic information. Moths as a subject do not usually garner high circulation rates, but if this book is placed in a display, the cover will attract attention. The illustrations throughout are mixed media, but the cover literally shines: silvery moths against a night sky is an attention grabber. Originally published in Great Britain in 2018, this text will enhance any juvenile nonfiction collection. VERDICT Buy this title for its clear presentation.–Nancy Call, formerly at Santa Cruz Public Libraries, Aptos, CA
Eds note: For suggestions on using the above book in the library or classroom, see The Classroom Bookshelf's "Follow the Human Impact to Hope: An Evolution Story" by Grace Enriquez.
Völker, Sven. A Million Dots. illus. by author. Cicada . Sept. 2019. 44p. Tr $18.95. ISBN 9781908714664.
Gr 1-4–What does a million dots really look like? Beginning with the number one, a single, large dot fills the page. One plus one is two, so next, a second dot joins the fun. Two plus two means that four dots then appear. Each page adds to the previous page's total to require increasingly more dots in each image. Once the number reaches one million, one page is no longer sufficient to hold all the dots, so the image stretches beyond the bounds of the book itself. While counting books are common in the libraries of young children, this particular book is memorable and unique. On each page, the number shown is represented in three ways—digits, written language, and dot form—to enhance comprehension. Instead of climbing from one to 10 in a linear fashion, adding larger numbers together means that children are exposed to numbers they might not otherwise encounter. The illustrations are comprised of simple shapes, clearly representing objects such as trees, boats, and buildings. Readers will recognize the images and be able to count each of the dots present if they so desire. As the numbers get larger, the dots become smaller and more space is required to accommodate them all; this leads to the final page stretching nearly an adult's arm's length once it is fully unfolded. VERDICT This is an unusual and profound addition to children's book collections emphasizing the concepts of math and design.—Mary Lanni, formerly at Denver Public Library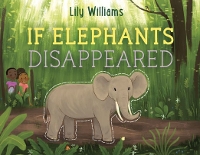 WILLIAMS, Lily. If Elephants Disappeared. illus. by Lily Williams. 40p. (If Animals Disappeared). bibliog. glossary. websites. Roaring Brook. Sept. 2019. Tr $18.99. ISBN 9781250143204.
K-Gr 2–After examining apex predators in two earlier entries, Williams explores a keystone species in this book. The author demonstrates the significance of the African forest elephant in relation to its environment in the Congo Basin Forest. The simplest actions of the elephants impact their ecosystem dramatically; elephant dung has never seemed so important. The elephant's dung is essential for the forest's plant life, and the plant life is essential to the forest itself. Williams communicates the various roles of elephants and the resulting chain reaction from their loss in an additive structure that is both simple and effective while deftly including scientific terms. Vibrant illustrations and engaging infographics complement and balance the text; information is conveyed in an impactful way through a timeline of elephants' history and a graph depicting their decline. Back matter includes a glossary, author's note, bibliography, and more to explore for budding researchers. VERDICT Readers will learn the important roles that elephants play in their ecosystem, while also becoming more aware of the need for the protection and conservation of one of the largest land mammals. A solid, resonating addition to Williams's series.–Jamie Jensen, Wayne Cox Elementary School, Roanoke, TX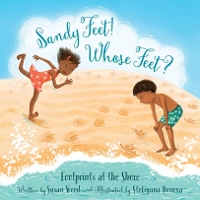 WOOD, Susan. Sandy Feet! Whose Feet?: Footprints at the Shore. illus. by Steliyana Doneva. 32p. Sleeping Bear. Apr. 2019. Tr $16.99. ISBN 9781585364091.
K-Gr 3–In this title, a family enjoys a fun day at a sandy beach. They enjoy activities such as playing with the dog, frolicking in the sand, and observing the creatures that inhabit the area. Additionally, this book explores the various footprints of different creatures. The footprints observed include those of crabs, sandpipers, and turtles. The text appears to follow the pattern of the beach as it twists and curves alongside layered sand and moving water. This unique aspect gives the book a natural feel. Throughout the narrative, there is a constant repetition of the word "feet" that is reflective of the overall soothing rhyming pattern. Both of these features help to harmonize the narrative. Each mention of feet is accompanied by different movements of beach creatures, which can serve as a tool to help kids become familiar with how different animals move. These movements can also be matched with illustrations of each animal's respective footprint patterns. The perspective of the book also changes throughout and contains close-up, distant, and aerial views of the family as they play. This element of the book creates a sense of constant movement which effectively mimics the fast and excited pace of the book's characters. VERDICT An engaging read which encourages children to explore the natural world around them, and to fully utilize and embrace their senses.–Deanna Smith, Pender County Public Library, NC
YOUNG, Judy. Marty's Mission. illus. by David Miles. 32p. Sleeping Bear. Apr. 2019. Tr $17.99. ISBN 9781534110144.
Gr 1-3–Marty's Mission is about the Apollo 11 mission in 1969 told through the eyes of Marty, the son of a man managing the NASA Tracking Station in Guam. The time difference does not affect Marty as he stays up to hear about the launch and watch the landing the next day, all while eagerly awaiting to see Apollo 11 return to Earth. After the Tracking Station's bearings become stuck, it's up to Marty to grease them up enough to ensure adequate communication and a safe landing for the astronauts on board. Thankfully, a crisis is averted thanks to Marty. Told with vivid detail and accompanying illustrations, this entertaining story about a young boy's role in space history also gives a good overview of the Apollo 11 moon mission. There are plenty of stories about the men who landed on the moon, but not a lot is written for children about what the time was like back on Earth or even what complications arose during the mission. The artwork portrays the cool evenings, detailed space transmission parts, and stressful mission that Marty has to undertake in order to save the day. VERDICT An excellent purchase for elementary school collections.–Molly Dettmann, Norman North High School, OK
ZUNON, Elizabeth. Grandpa Cacao: A Tale of Chocolate, from Farm to Family. illus. by Elizabeth Zunon. 40p. Bloomsbury. May 2019. Tr $17.99. ISBN 9781681196404.
PreS-K–While waiting for her mother, a girl and her father make a cake to celebrate her birthday using one very important ingredient: cacao. The father invokes the memory of Grandpa Cacao, who finds the most joy in his cacao farm in Ivory Coast, Africa. Zunon's first authored–illustrated picture book takes readers back and forth between the girl's kitchen and the grandfather's farm. The first person narration is evocative. Six-line paragraphs accompany art created with oil paint and collage with screen print. The illustrations have a majestic feeling, as though the main characters control the scene. Moreover, this large scale encourages the readers' eyes to focus on the charismatic pictorial elements, which utilize colors to elicit an emotional connection. The back matter contains author's notes referencing the reality of the cacao trade and child labor, information about the science behind chocolate and the first people who tried chocolate, an explanation of the production process, and a chocolate cake recipe. VERDICT With an educational approach sure to expand the minds of children, this is an engaging multicultural addition for a public library picture book collection.–Kathia ­Ibacache, Simi Valley Public Library, CA