These 14 dinosaur resources celebrate the unique traits of these creatures and share evolving discoveries and theories about them and their prehistoric habitats.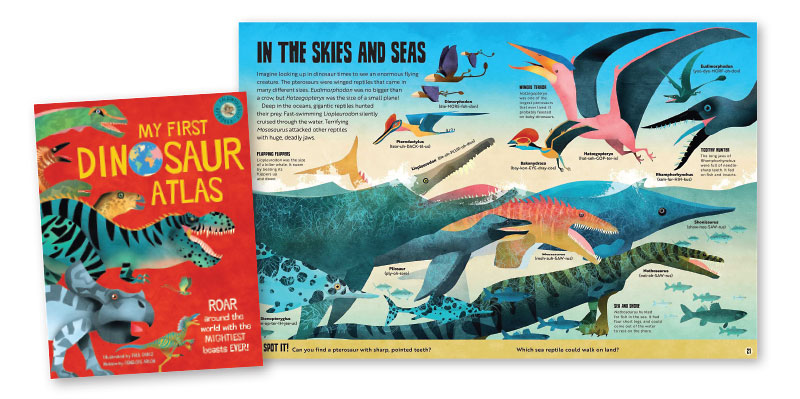 Humans still use the word dinosaur to mean archaic, when the opposite is true—dinosaurs were a hugely diverse, successful life-form.
The best dinosaur resources today celebrate the unique traits of these creatures and share evolving discoveries and theories about them and their prehistoric habitats. Recent dinosaur discoveries are enhanced by new technologies, like drones and MRI, as well as by communication across scientific fields—for example, paleontologists and oncologists conferring about cancer in dinosaurs.
And not all new discoveries involve digging up bones. Dinosaurs left behind footprints and impressions of their skin and feathers. Paleontologists reevaluate old fossils that are often stockpiled in museums and forgotten. Human oral tradition is reexamined for its record of prehistoric life, and credence is given to the findings of women and Indigenous people in moves to reverse past racism and sexism.
Consider adding new titles regularly, especially books that cite recent findings rather than reiterate old ones. Look for variety in how books share the information; for example, some group creatures by period, others list them alphabetically. These top-notch dino titles are a great place to start.
ARLON, Penny. My First Dinosaur Atlas: Roar Around the World with the Mightiest Beasts Ever! illus. by Paul Daviz. Earth Aware Editions. Apr. 2022. Tr $18.99. ISBN 9781681887999.
PreS-Gr 4 –This compendium stands out by grouping dinosaurs, prehistoric creatures, and plants by era as well as by continent, land, and sea. It is great for younger readers and high-interest browsing for quick factoids, but less effective for research, as only very brief information is given on individual dinosaurs and the brightly colored illustrations are somewhat stylized. Includes fossil explanation and index.
ARONSON, Marc & Adrienne Mayor. The Griffin and the Dinosaur: How Adrienne Mayor Discovered a Fascinating Link Between Myth and Science. National Geographic. 2014. Tr $18.99. ISBN 9781426311086.
Gr 5-8 –As a young student, Mayor wondered: Is the mythical griffin based on ancient people's interpretations of dinosaur bones? This biography shares her fascinating efforts to prove her theory correct and reveals other connections between science and human myth as well. Mayor's adult book, The First Fossil Hunters: Dinosaurs, Mammoths, and Myth in Greek and Roman Times, has more information.
BLACKFORD, Cheryl. Fossil Hunter: How Mary Anning Changed the Science of Prehistoric Life. Clarion. Jan. 2022. Tr $17.99. ISBN 9780358396055.
Gr 5-8 –At 13, Mary Anning collected fossils that became foundational international discoveries. In the early 1800s, when geology was in its infancy, women were excluded from science; but now, Anning's work is recapturing the attention it deserves. This engrossing biography shares the excitement of Anning's fossil discoveries and the complexity of the changing worldviews surrounding them.

BRUSATTE, Steve. The Age of Dinosaurs: The Rise and Fall of the World's Most Remarkable Animals. HarperCollins/Quill Tree. 2021. Tr $16.99. ISBN 9780062930170.
Gr 3-7 –Paleontologist Brusatte walks readers through profiles and the evolution of dinosaurs, the super salamanders and crocodiles that preceded them, and the birds and mammals that survived them. Via his fieldwork, Brusatte shares cutting-edge research and overviews of dinosaur discovery and dinosaurs' history on many continents. The black-and-white images are informative, but it's Brusatte's enthusiastic narrative that will engross readers eager to hunt fossils themselves.
CHINSAMY-TURAN, Anusuya. Dinosaurs and Other Prehistoric Life. illus. by Angela Rizza & Daniel Long. DK. 2021. Tr $19.99. ISBN 9780744039436.
Gr 4-7 –This book abounds with captivating facts and life-forms, from the Cambrian Hallucigenia to the Quaternary Glyptodon. The fossil photos shine, but illustrations are often missing details. The lack of an alphabetical index and haphazard cross-referencing make browsing the best approach. For example, the "Tree of Life," a diagram showing how forms of life evolve from one another, and glossary include trilobites, but nothing connects readers to the entry for Erbenochile, a type of trilobite.
JENKINS, Steve. Dinosaurs: By the Numbers. illus. by Steve Jenkins. Clarion. 2019. Tr $14.99. ISBN 9781328850959.
Gr 1-4 –Infographics help kids visualize statistics and compare things like dinosaurs' length, skull size, and size relative to humans. Though lacking realistic details, the collage illustrations are informative in this format. This book includes general information on some dinosaur species; an explanation of their extinction; and an index, glossary, pronunciation guide, and bibliography for kids doing general research.
JENKINS, Steve. Dinosaurs Roar. illus by Steve Jenkins. Clarion. 2020. Board $8.99. ISBN 9780358040552.
Baby-PreS – A not-too-scary introduction for toddlers just discovering dinosaurs. Each page shares a dinosaur action, such as running, hatching, or roaring. Opening the folded page reveals brief information about when the dino lived and what it did: for instance, a T. rex was a huge and terrifying hunter from 66 million years ago. Collage art shows the creatures in environments that support their actions.

LOMAX, Dean R. My Book of Dinosaurs and Prehistoric Life: Animals and Plants to Amaze, Surprise, and Astonish! DK. 2021. Tr $12.99. ISBN 9780744026535.
Gr 2-6 –An enticing overview of prehistoric life, including plants, early life-forms, dinosaurs, and prehistoric mammals. Emphasis is on life-forms that will intrigue and fascinate. Clear illustrations, factoids on each page, and an index add to this book's utility for easy research, and explanations of fossils, evolution, and extinction also make this a great basic resource.
MAYOR, Adrienne. Fossil Legends of the First Americans. Princeton Univ. 2007. pap. $37.50. ISBN 9780691130491.
Adult/High School –Mayor examines Indigenous North American history, science, and legends, finding evidence that connects human experience with prehistoric mammals, fossils, and dinosaur bones. From the Paiutes who recognized trilobites were "little water bugs in stone" to crediting forgotten Indigenous guides, the paleontological record is more inclusive, sharing the connections and conflicts that exist in dinosaur science and North American Indigenous culture.
NOLAN, Dennis. Dinosaur Feathers. illus. by Dennis Nolan. Holiday House/Neal Porter. 2019. Tr $18.99. ISBN 9780823443307.
Gr 1-4 –Pronunciation guides equip readers with skills to tackle the rhyming text of dino names that celebrates dinosaurs' evolutionary connection to birds. The illustrations parade colorful dinos toward their asteroidal demise and evolution into an array of Earth's diverse birds. Notes and a "Tree of Life" contribute life span dates of creatures and their relationship to one another.
OWEN, Ruth. My First Big Book of Dinosaur Facts. Ruby Tuesday. Jan. 2022. Tr $31.99. ISBN 9781788562461.
K-Gr 3 –Using a Q&A format, this high-interest narrative walks readers through the basics of paleontology. The question "What sounds did dinosaurs make?" is answered with brief facts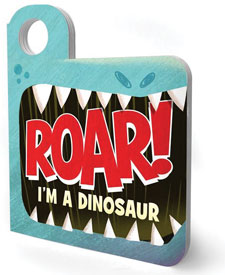 and helpful illustrations of the dino's fossilized crest and a pipe organ capable of similar sounds. Better for reading than research, the information isn't cross-referenced very well. Includes a table of contents, brief glossary, and dino quiz.
RAINEY, Merrill. Roar! I'm a Dinosaur. illus by Merrill Rainey. HarperFestival. Jun. 2022. Board $8.99. ISBN 9780063092075.
Baby-PreS –Even babies can participate in dinosaurs' theatricality, peeping through the set of dinosaur eyes that this fun board book provides on each page. Simple rhymes match dinosaur names with dinosaur actions: for a stegosaurus stomps, a T. rex crunches, a pterodactyl soars. The colorful art is bold but friendly.
---
Cathy Camper is a librarian and the author of Lowriders to the Rescue and Arab Arab All Year Long!