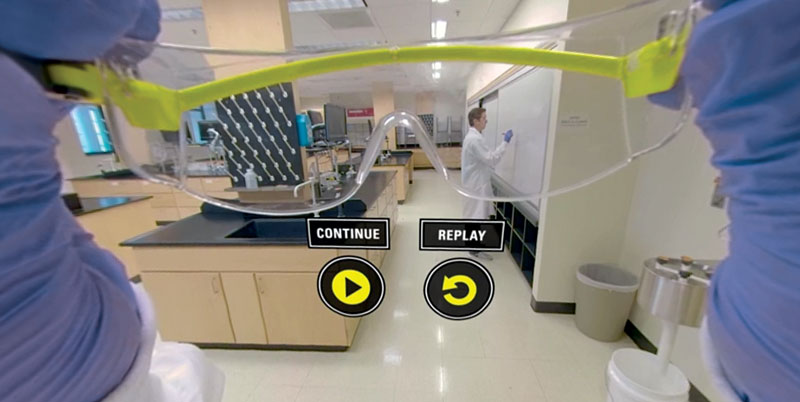 A VR lab developed by Maria Gallardo-Williams
Photo courtesy of Maria Gallardo-Williams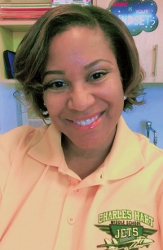 Ramona Hutchins
Photo courtesy of Ramona Hutchins
On a Saturday afternoon, eighth grade physics and robotics teacher Ramona Hutchins prepped lab stations for each of her incoming students, sanitized desks, and hung info charts in her classroom. It was the weekend before her students and the rest of District of Columbia Public Schools (DCPS) would return fully in-person. In Hutchins's class, children would have to stay at their desks, with materials brought to them and cleaned at the end of the day. Despite this extra work, Hutchins stays positive. "It is exciting, because they're coming back," she says.
Lessons from remote learning are still fresh in Hutchins's mind, however. During the shutdown, she found herself in front of a camera in her makeshift home lab. Her kitchen counter was her lab bench for running chemical reactions with vinegar and baking soda. Her backyard became a testing playground for catalyst reactions explaining thermodynamics.
Hands-on labs and group experiments are integral to science education. But socially distanced learning put a halt to many of these practices and pushed some STEM educators and librarians to rethink how they taught science.
As educators like Hutchins return to in-person learning, they're bringing hard-learned lessons from the virtual to the physical classroom. There's an opportunity to give students "the best of both experiences," she says.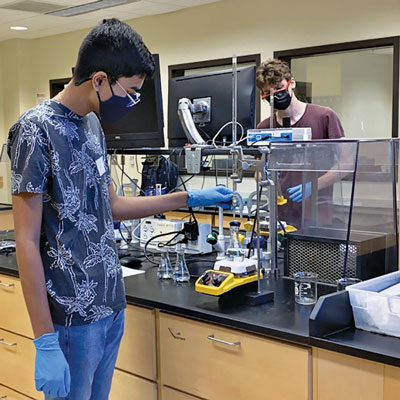 Students in a hands-on NCSU lab
Photo courtesy of Maria Gallardo-Williams
High interest in virtual design
Educator Tommy Martinez has always seen his library at Glacier Point Middle School in Fresno, CA, as a hub of tech, support, and resources. "It's not just physical, but digital," he says. In addition to the library's makerspace and physical collection, Martinez offers coding, 3-D design, and digital storytelling. That digital programming made for a smoother switch to remote learning, he says. It also made Martinez take stock of the resources he had and maximize their use.
"Once we went to the remote learning, we started to flex those muscles even more, and it was nice to see that I have all these resources already at my disposal," he says.
For digital storytelling, Martinez turned to Google Slides for basic retellings of stories students were reading, but encouraged them to get creative by using different functions of the simple presentation tool. "They bring pictures, use transparent backgrounds, overlay visuals," he says. The 3-D design unit, using Tinkercad and previously planned lessons, was extended throughout the whole year, since it can easily be learned independently.
Martinez's students were mastering their 3-D skills beyond his expectations, designing and building on their own on the weekends. He saw similar interest spike in an origami web app, Origami Player, that takes students through the geometric folds step by step for hundreds of different creations. "Students really were just eating that up," he says.
He's taking what he's learned and combining it with hands-on, in-person practices to get more students involved in STEAM back at school this year. "The hands-on approach, the dexterity and kinesthetics, are such a big part of STEAM," says Martinez. "[But] we're creating new teaching models and we're still building, creating, designing virtually."
Virtual labs improve equity
Organic chemistry lab director and professor Maria Gallardo-Williams was designing effective virtual lab environments long before the pandemic. At North Carolina State University (NCSU), Gallardo-Williams wanted to make labs more accessible for everyone: Students with mobility impairments may have trouble in a tight, confined lab bench; people who are pregnant are advised not to be around certain compounds; and military students could lose all their lab progress if they are deployed mid-semester. Plus, the fast-paced, equipment-filled lab environment can be overwhelming for students. "Maybe you would have learned more if you weren't so concerned about breaking things or using the equipment or getting the experiment right on the first try," she says.
Gallardo-Williams partnered with the university's Distance Education and Learning Technology Applications (DELTA) team in 2018, turning to virtual reality (VR) to meet these students' needs. Guided by videos with a virtual NCSU teaching assistant, students immerse themselves in an interactive organic chemistry lab. Each decision influences the experiment and results. In 2019, the team published a paper finding no significant differences in learning outcomes between students in the VR simulation and those in a regular lab. That fall, the university offered a fully online organic chemistry lab course.
When the school shut down, the organic chemistry department pivoted to remote learning, using Gallardo-Williams's method. "I don't even want to think about what things would have been like without our VR labs," she says. The online module is open access, and more than 45 schools across the world, from Ecuador and Panama to Italy and Ireland, have used the VR organic chemistry labs during the pandemic. "That was validating," Gallardo-Williams says.
Many of these techniques can be adapted for other grade levels. "I'm teaching these courses online, and my fifth grade son is doing his classwork next to me. And some of the things his teachers are doing are the same kinds of things I'm doing," she says. Increasing the availability of individual and group instructional support and encouraging inquiries on video chat can foster a different kind of engagement than in-person instruction, she adds. Some students are more comfortable participating through chat and back channels—spaces that can feel less intimidating to people who hadn't enjoyed science before.
"I think sometimes we forget how hard it is to speak up in a class," she says. "You may notice that people ask a lot of questions on the chat, even more so than you would get in person. I want to figure out a way that students can continue to ask those questions, even if we are back to fully being in person."
Now, with NCSU open at full capacity, VR labs are relied upon as makeup labs, especially when students can't come in due to COVID-19 diagnosis or exposure. Distance education lab sections are also available for students with disabilities or location challenges. "This works," says Gallardo-Williams. "And we should continue to offer some form of virtual labs." A variety of science subjects, including microbiology, physics, and physiology, are also available from VR lab companies Labster and VR Lab Academy.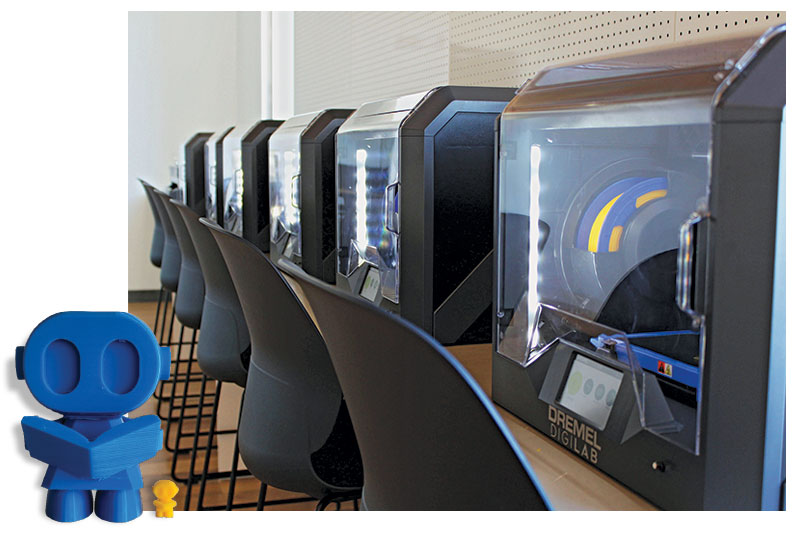 3-D–printed robot figures created at the Durham County Main Library makerspace
Photos courtesy of Durham County Library

Individualizing science inquiry
At Mitchell Elementary School in Charleston, SC, recently retired teacher librarian and NASA Solar System Ambassador Kellyanne Burbage began every virtual class with a plant show-and-tell. She took a clipping of a flower or branch from her backyard and explained how it grows and what it's used for.
It was an icebreaker that sparked discussion and inquiry. "I just started doing that every week. And now the students are like, 'What's the plant this week, Ms. Burbage?'" she says. "We've learned so much."
Burbage also encouraged students to go outside, make leaf prints, and share the plants growing in their own backyard. These activities were ways to observe science in the local community and "be a naturalist of your neighborhood," she says. "Every teacher knows that every opportunity is spent looking for ways to connect with students, and I just try to do it through science."
In the fall of 2020, most classes at Mitchell Elementary transitioned to in-person, but students were socially distanced. Typically, "we do a lot of maker activities in the library," suited to group learning, Burbage says. "The challenge has been focusing more on individual work."
In order to craft assignments students could work on independently, she relied on free digital tools, such as Pixton, a virtual comic maker. For one project, Burbage had students encouraging people to get the COVID-19 vaccine. She began by reading a picture book biography of Jonas Salk, which "naturally led into a discussion on COVID vaccines," she says. After watching videos explaining how vaccines work, the students used Pixton to build the comics. "Students' work was often simple: a smiling nurse or someone getting a shot. It wasn't deeply scientific, but it was a way to open up a discussion about vaccinations, so they had good information that they found from the library." Burbage has also used NASA's copyright-free online media and education resources to make lessons around the latest missions, like the Perseverance rover on Mars, the lunar landing, and the Parker Solar Probe.
"I am hoping that science education will head more toward having students create their own work, and no longer be just filling in a blank on a worksheet," she says.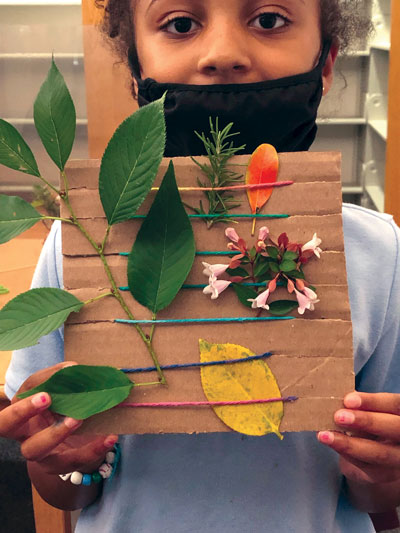 Second graders used yarn and cardboard to display plants from Mitchell Elementary's outdoor classroom.
Photo courtesy of Kellyanne Burbage
Maker kits to go
Durham County (NC) Main Library's makerspace transitioned to virtual services with an extra obstacle to overcome: a new building with services the public had yet to see. "We were supposed to open April of 2020, and then everything shut down because of COVID," says Gracey Gordon, the library's STEAM services manager. The new building has an innovation lab geared toward older youth and adults and a maker lab for younger kids. "We were super excited to have these brand-new users and we couldn't open," says Gordon.
Gordon did outreach through social media to spread awareness about upcoming virtual STEAM programming and helped develop tutorials about equipment in the space, like the 3-D printers and laser cutters, to drum up excitement. She also created free "Take & Make" STEAM activity packets.
Since February, Gordon's team has created new Take & Make packets every month, suitable for all ages. The first consisted of a 3-D–printed tangram puzzle, an activity that hones spatial reasoning and geometry. It has seven different shapes, like triangles and parallelograms, that can be assembled into a variety of figures, such as boats and swans.
They also created take-home toothbrush robots, or bristlebots, with batteries and vibration motors powering toothbrush heads to scamper around on their bristles. The kits had washable paints for making abstract art with bristlebots.
"People really like the kits, and it's a way to get a little bit more personal with the community," Gordon says.
Since the library opened and started gradually reoffering services, Gordon is still producing those kits—and collaborating with partners to more widely disseminate them in communities. The Take & Makes make it easy to do STEAM activities anywhere. "Some people are more comfortable at home," she says, and prefer doing the activities on their own time.
"COVID really taught us how important it is to have a backup plan and be able to adapt and pivot toward a different direction," she says.
Extending the flipped classroom model
At Truman Middle School in St. Louis (MO), library media specialist Megan Vallis runs the Design Lab, a makerspace-like lab where students follow the design thinking process.
When the school was relying on distance learning, Vallis created how-to videos for the different tools in the lab, which kids could access whenever they wanted. "Now I don't have to take the time to do that in class, and I can just be actively around to help kids further their learning," she says. "I never would have thought of it before the pandemic."
The instruction is in line with the flipped classroom approach that Vallis is continuing as the school returns fully in-person this year. Many classes in Vallis's school don't use textbooks, which she says can be especially beneficial for science. "I don't really think what's best for kids is to learn science from a chapter in a textbook," she says. "You actually need to experience it and be a part of it."
Instead, students use iPads and the school's learning portal, Canvas, while teachers make instructional videos that students watch outside of class and use class time for interactive lessons.
The flipped classroom allows for more meaningful in-class instruction, while making learning more personalized for students. It gives students more agency, says Hutchins. "Students can be a little bit more autonomous, grapple with content, and own their learning."
During the pandemic, Hutchins created STEM kits with nontoxic materials that she dropped off at students' homes. Kids performed the experiments along with Hutchins, and they observed the process together. It's one way Hutchins centers phenomenon-based instruction—a key feature in the Next Generation Science Standards that has students investigate phenomena and work backward to unpack what's happening.
To dig deeper into questions online, Hutchins used an assortment of interactive software, including Nearpod, Peak Deck, and PlayPosit. "I even had students lead class sessions and share their screen and walk us through a PhET [Physics Education Technology] simulation, or whatever virtual lab activity that we might be doing that day," she says. The experience inspired her to create a flipped classroom model this year. She's continuing to post videos of her teaching the concepts, so more of class time can be spent on engagement and exploration.
"I'm a teacher who constantly asks for feedback from my students, because I have so much respect for them and this is their education," Hutchins says. "Kids have spoken across the country loud and clear, saying that they don't like the way we have traditionally done school. I think the way in which we do STEM education needs to change."
---
Lauren J. Young is a science journalist based in New York City.