While in the minority, the SLJ Diverse Books Survey reveals some librarians are declining to purchase books with diverse characters to avoid a challenge.
In SLJ's Diverse Books Survey, librarians were asked if they have ever "declined to buy a book with diverse character(s) because of the potential for a book challenge?"
The majority of respondents (87 percent) said no. Within the 13 percent who have declined to buy a book because of a diverse character, school librarians were much more likely than public librarians to opt out of a title because of a potential challenge.
"I do not want to put myself in a position to have a book challenged," wrote one high school librarian. "If a student wants to read a particular book, I send him/her to the public library."
Leslie Sharbel, librarian at Vestavia Hills Elementary School Cahaba Heights, AL, has declined to purchase certain books, but said that is not necessarily about a challenge but her place as an educator.
"I am not opposed to anyone or anything, but if I were to introduce a controversial topic to a whole classroom of students, I would definitely hear from several parents. And rightly so," she wrote without elaborating on what is "controversial." "I want to present characters from all different cultures and nations in an interesting and engaging way."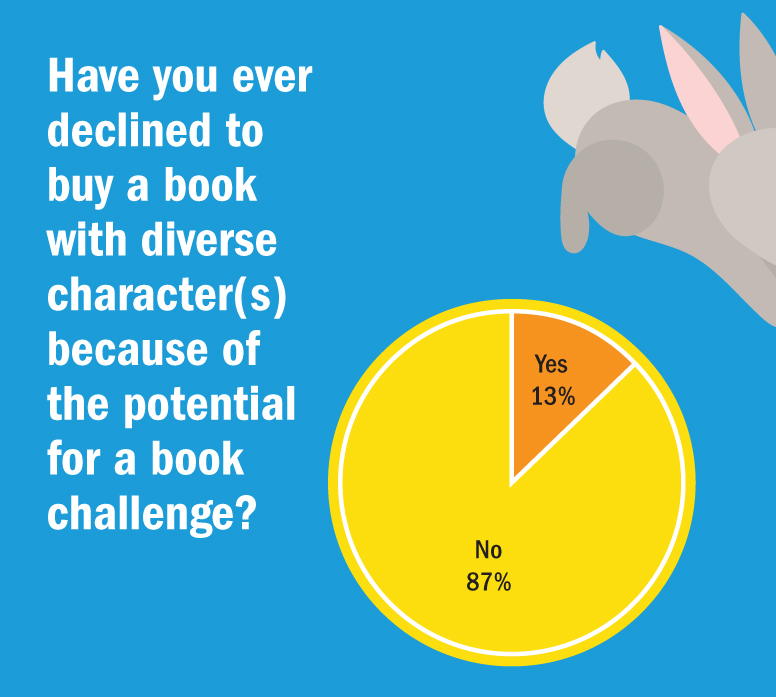 These are not always easy decisions. Survey respondents wrote about questioning themselves or acting against their own "freedom to read" philosophy. To some, not buying a particular book is just being pragmatic. They say they are simply trying to serve their kids and community within the limits placed on them—be it a conservative area or administration, religious school, or a lack of funding that makes it impractical to spend money on books they know will be pulled off the shelves by a challenge.
As Linda Hightower, library media specialist at Cashmere (WA) High School, wrote, "Collections reflect what the community is willing to pay for."
At times, though, the responses showed the community as a whole is not being reflected. One librarian wrote that even with two students in the school with same-sex parents, she still wouldn't purchase LGBTQ titles, because the middle school students "are too young for that material in our library."
To many, declining to buy a title because of a diverse character is self-censorship that goes against the very mission of the profession. Those who grapple with this often create strategies to somewhat counteract their own decisions. One librarian won't put a specific title in her library in an effort to keep the book elsewhere in the district. With a very conservative administrator she fears will try to take book out of all schools in the district if he becomes aware of it through her order, she instead directs kids to the intra-district borrowing, because she knows other schools have it. Another respondent says she waits out challenge-happy parents by ordering a book after their children leave the school.
When assessing a book for a collection, school librarians must often ask themselves, "Is it age appropriate?"
In schools educating students of a wide range of age and maturity, there is no easy, objective answer. What makes a title more mature—language, depictions of violence, sexual content (and what does one define as "sexual" content)?
"Sometimes I have to make the decision, due to language, violence, subject matter, etc. to purchase or not to purchase," wrote Lillian Graber from Baggaley Elementary School in Latrobe, PA. "Many years ago I had the 'Harry Potter' series challenged, because it was believed to be about the 'Occult.' I have had some books placed in my office due to these issues."
Diverse books include characters who are people of color, Native, disabled, different genders, among ethnic, cultural, and religious minorities, or LGBTQIA+. Anecdotally, it is that last marginalized group that seems to bring on the most challenges and keep librarians from making purchases.
Some will buy a title with a LGBTQIA+ character if they can counter any complaints with a list of awards it has won and/or recommendations from peer reviews and journals. One wrote that she will buy a book with LGBT characters if they "are written into stories naturally and [are] not the sole focus of the book."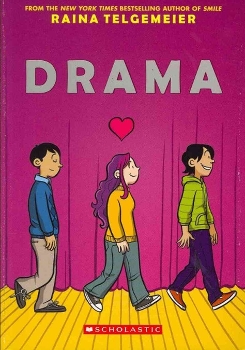 One librarian said that when Raina Telgemeier's Drama, which features a gay character, wasn't offered in their school's Scholastic Book Fair, she spoke with the Scholastic people and said was told they didn't carry it to avoid parental complaints. That discussion "prompted me to remove it from our library and send it up to the middle school." She noted that her students still ask for it and she wonders if she made a bad decision.
When asked about this, though, Scholastic Book Fairs director of communications Teryl McLane said the novel has been part of the company's book fairs for "a few seasons," and, this year, they are offering a Telgemeier boxset that includes the book.
"We want every child to find a reflection of himself or herself in a book at the fair, and books like Drama, which features messages about friendship, teamwork, and inclusion, helps us fulfill our mission to do that," McLane wrote in an email.
That said, Scholastic doesn't make the final decisions on what is offered in each school.
"Schools have total discretion as to what books and products they choose to display at their Fair because they are in the best position to decide," McLane said.
One elementary school librarian said she is reluctant to have books that involve subjects she's not sure the students know about yet. She included LGBT characters and themes, as well as the Holocaust, as topics that force her to hesitate, if not decline, to purchase a book. She is reluctant to introduce a "values-related subject" to children before parents do, she wrote.
"I am not proud of this," she added.