These narratives of home and family push back against stereotypes.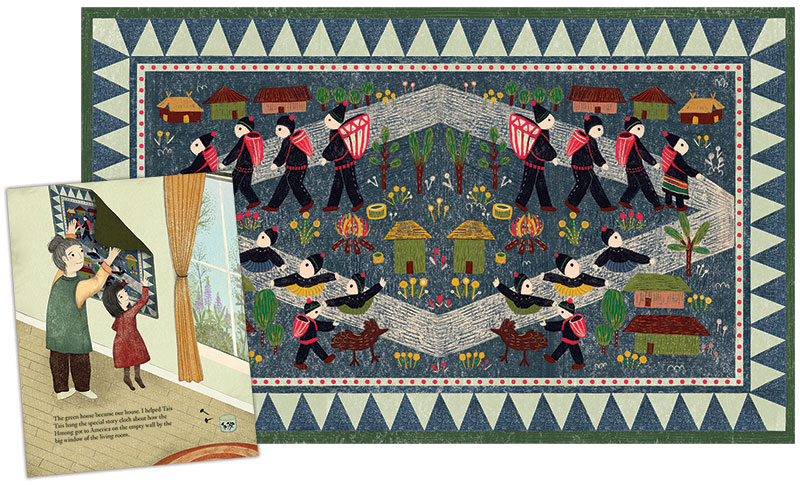 A Map into the World by Kao Kalia Yang, illustrated by Seo Kim (Lerner)
Asian Pacific Americans have a long, rich history in the country now known as the United States. From Native Hawaiians—the original inhabitants and rightful stewards of the islands—to more recent voluntary and involuntary immigrants, Asian Pacific Americans have created homes, built communities, and contributed to the diverse storytelling fabric of society. Our creatives tell stories through different media, demanding and creating #OwnVoices narratives that push back against single story stereotypes of perpetual foreigners and slant-eyed caricatures. They push back against the notions that our food is inedible, our language is unintelligible, and our dreams do not matter.
The year 2020 has seen an escalation of anti-Asian hate crimes due to the reckless racism of the U.S. president in regards to the COVID-19 pandemic, but stories by and about Asian Pacific Americans can counter negativity and instead foster empathy, understanding, and friendship. Readers learn through our stories about bridging generational divides, the devastation of war, and how to be a superhero.
Librarians and teachers in particular play a huge role in sharing the great complexity of Asian Pacific American stories with young readers. We offer a selection that showcases the beautiful diversity, humanity, resilience, and joy of Asian Pacific America.
Picture Books
BAHK, Jane. Juna's Jar. illus. by Felicia Hoshino. Lee & Low. 2015. ISBN 9781600608537.
K-Gr 4 –Juna and her best friend Hector love to play with empty kimchi jars. Together they collect rocks, bugs, and even a caterpillar! But then Hector unexpectedly moves away, and Juna is very sad. With the help of her brother, Juna finds new ways to have fun with her kimchi jars, including imaginative ways to manage her grief over Hector's absence.
GILMORE, Dorina K. Lazo. Cora Cooks Pancit. illus. by Kristi Valiant. Shen's Bks. 2009. ISBN 9781885008350.
PreS-Gr 2 –Youngest sister Cora finally gets the chance to cook a Filipino dish of her choice with Mama. She chooses pancit, a quintessential noodle dish, and learns about family history and food as they work together in the kitchen. Rich language invokes the senses and Tagalog is used throughout this charming book about how food brings families together.
KELKAR, Supriya. The Many Colors of Harpreet Singh. illus. by Alea Marley. Sterling. 2019. ISBN 9781454931843.
Pre-S-Gr 2 –Harpreet expresses his feelings through the colors of his patkas, the turban commonly worn by Sikh boys. After his family moves across the country, Harpreet wears his white patka day after day. White is the color he chooses when he feels shy and wants to be invisible, and reflects Harpreet's struggles to find joy in his new school. One day, Harpreet befriends someone who inspires him to return to his colorful self.
LÊ, Minh. Drawn Together. illus. by Dan Santat. Little, Brown. 2018. ISBN 9781484767603.
PreS-Gr 2 –A boy isn't looking forward to spending time with his grandfather, partly because they speak different languages, but then he discovers that they are both artists.Through stunning illustrations and an economy of words, readers see how through art the boy and his grandfather overcome what once seemed like an insurmountable chasm.
LOOMIS, Ilima. 'Ohana Means Family. illus. by Kenard Pak. Neal Porter Bks. 2020. ISBN 9780823443260.
PreS-Gr 2 –In the poetic tradition of "the house that Jack built," Loomis describes the stages that kalo travels through to become the poi that will be enjoyed at a family gathering. Gorgeous watercolor illustrations reflect the rich, natural beauty of Hawaii and a note from local farmer and educator Hokuao Pellegrino provides more information about kalo and poi.
PHI, Bao. A Different Pond. illus. by Thi Bui. Capstone. 2017. ISBN 9781623708030.
PreS-Gr 2 –A young boy and his father wake early to go fishing to make sure they have food for dinner. The father tells his son about another pond in Vietnam where he used to fish with his brother before the war. Beautiful artwork accompanies this powerful, quiet story.
SAEED, Aisha. Bilal Cooks Daal. illus. by Anoosha Syed. S. & S./Salaam Reads. 2019. ISBN 9781534418103.
PreS-Gr 3 –Bilal loves daal, a classic South Asian lentil dish. He invites his friends over to help make daal for dinner, but they have never tried it before. As the daal cooks for several hours, Bilal worries that his friends may not enjoy his favorite dish as much as he does.
WANG, Andrea. Magic Ramen: The Story of Momofuku Ando. illus. by Kana Urbanowicz. little bee. 2019. ISBN 9781499807035.
PreS-Gr 3 –Instant ramen is now a ubiquitous part of American culture, but how did it become a standard on supermarket shelves? Momofuku Ando was dedicated to creating nutritious foods and was determined to develop an affordable, healthy, and efficient noodle option to feed the hungry. This book describes how a year of tenacious experimentation led to the invention of instant ramen.
YANG, Kalia Kao. A Map into the World. illus. by Seo Kim. Carolrhoda. 2019. ISBN 9781541538368.
PreS-Gr 2 –A young Hmong girl and her family move into a new home, where they befriend their elderly neighbors and enjoy the changing seasons. After the wife passes away, the girl draws vibrant chalk pictures to comfort her grieving neighbor. This beautiful picture book demonstrates the importance of human connection to one another and to nature.

Beginning Readers
FARUQI, Saadia. Yasmin Superhero. illus. by Hatem Aly. Picture Window Bks. 2018. ISBN 9781515845799.
PreS-Gr 2–Yasmin wants to be a superhero. She's got the outfit, now she just needs to find some villains to defeat! She heads out into the neighborhood ready to fight crime, but instead ends up helping others. This spunky heroine discovers that superheroes do not have to spend their time fighting and can focus on being helpers instead.
LIN, Grace. Ling and Ting: Not Exactly the Same! Little, Brown. 2010. ISBN 9780316024525.
PreS-Gr 2–Ling and Ting are twins, but they are not exactly the same. In six short chapters, readers learn what makes them different, such as how Ling thinks chopsticks are tricky, but Ting thinks they are not hard to use. Despite their differences, the girls enjoy spending time together making dumplings, doing magic, and sharing stories. Cheerful, bright illustrations accompany each page.
Chapter Books
CROWE, Ellie. The Story of Olympic Swimmer Duke Kahanamoku. illus. by Richard Waldrep. 2018. Lee & Low ISBN 9781620148525.
Gr 3-7 –Duke Kahanamoku, known as the "father of modern surfing," was an Olympic champion swimmer, surfer, and, for the last third of his life, sheriff of Honolulu, Hawaii. This adaptation of Ellie Crowe's Surfer of the Century adds informational text about Hawaiian history, surfing, the Olympics, and Jim Thorpe to contextualize the life of this legend.
FLORENCE, Debbi Michiko. Jasmine Toguchi, Flamingo Keeper. illus. by Elizabet Vukovic. Farrar. 2017. ISBN 9780374308377.
K-Gr 3 –Jasmine Toguchi wants nothing more than a pet flamingo, so when her Obaachan (grandmother) sends a daruma (a Japanese wishing doll), that's what she wishes for. She does her best to show her parents that she is responsible enough to care for a flamingo, and through that process she first learns a lot about flamingos and then, surprisingly, her older sister.
KRISHNASWAMI, Uma. Step Up to the Plate, Maria Singh. Tu Bks. 2017. ISBN 9781600602610.
Gr 4-6 –Maria Singh is adha-adha: half Mexican, half Indian. When her fifth grade teacher begins softball practice after school, her dreams of playing ball suddenly seem possible, if only Papi and Mamá will support her. This story, set in Yuba City, CA, during World War II, deftly weaves histories about alien land laws, immigration, and unequal access to citizenship into an engaging story about friendship, family, and softball.
TAN, Susan. Cilla Lee-Jenkins: The Epic Story. illus. by Dana Wulfekotte. Roaring Brook. 2019. ISBN 9781250183637.
Gr 2-5 –Cilla Lee-Jenkins, author extraordinaire, doesn't want fifth grade to end because she heard middle school is very Serious and not at all Silly. As some of her classmates seem to be moving full steam ahead, Cilla finds comfort in the school library. But then her beloved Ye Ye suffers a stroke, so Cilla and her whole family band together to help him recover.
---
Noreen Naseem Rodríguez is an assistant professor of elementary social studies in the School of Education at Iowa State University. Sarah Park Dahlen is an associate professor in the Master of Library and Information Science Program at St. Catherine University in St. Paul.