The Mid-Continent Public Library system in Kansas City, MO, has beefed up and expanded its resources and services for all students learning from home, including temporary homeschoolers.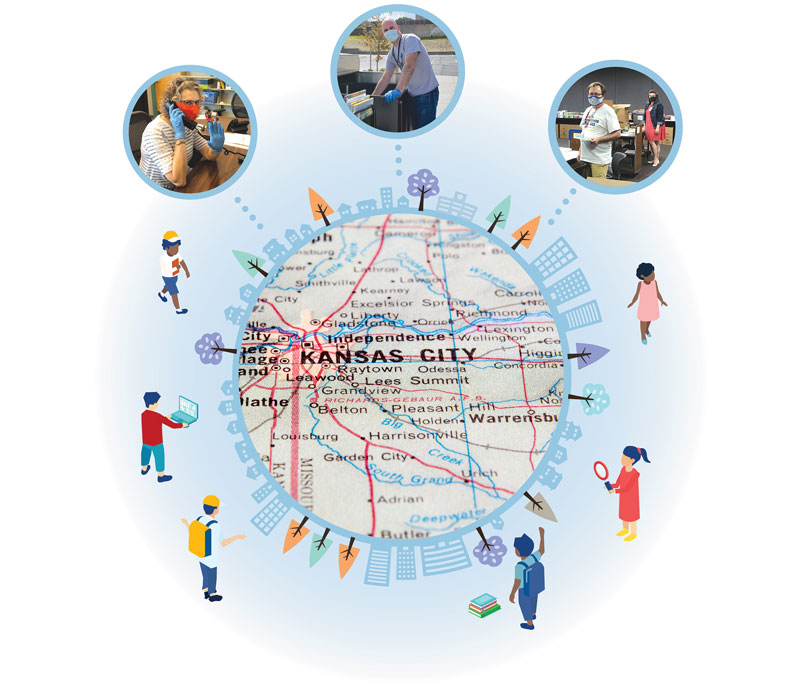 SLJ montage with MCPL photos and Getty Images/DragonTiger; Feodora Chiosea; and Cesar Okada
Related articles:
Homeschool: The Home Team
Homeschooling families have long relied on public libraries to help their children learn outside the traditional classroom. Many branches carry curriculum materials, and the books, DVDs, and online offerings that are often critical for families looking for homeschool support. In non-pandemic times, library buildings also provide safe places for homeschooled students to meet up with other kids.
The Mid-Continent Public Library (MCPL) system in the Kansas City, MO, region provides
numerous programs and materials for homeschoolers at many of its 33 branches and online. "Homeschooling has been steadily increasing in all of our communities for quite some time," says Michael Willis, MCPL's youth services specialist. The library now has six designated homeschooling branches in each county, which helps the system target its resources, Willis says.
The pandemic impacted how families used MCPL's programs and holdings. During the last year, MCPL beefed up its virtual resources for all students learning from home, including "temporary homeschoolers," a term its staff uses to describe kids who attend traditional school but have been learning remotely.
As this library system looks ahead, it is thinking about not just homeschooling families but also the needs of families whose kids will be learning in hybrid or remote environments. Instead of relying on specific branches to provide programs for homeschoolers, MCPL will expand these efforts to all of its branches.
"We recognize that all of our branches service homeschool families, so going forward our program will reflect that more broadly. We anticipate that many branches may need to offer kids' programming during the traditional school day," Willis says. "This will benefit all patrons, especially in those districts that adopt hybrid instructional models for their students and families."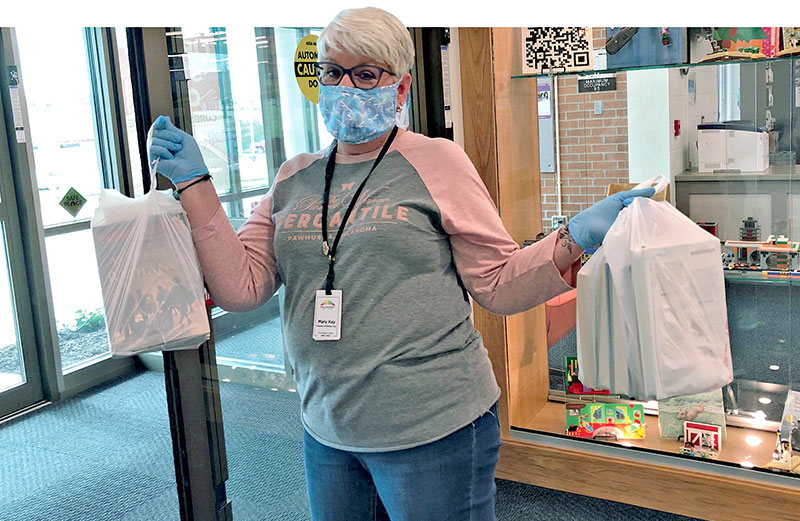 Mary Kay Moppin, customer service associate at MCPL's Weston Branch, with materials for curbside pickup.
MCPL is considering continuing its hybrid programming. "It's likely that we will continue to offer virtual experiences to all of our patrons, including our homeschool families, even as in-person programming gets back to normal," Willis says.
On the "Kids" tab of the library's home page, MCPL has a section devoted to homeschool resources, including a newsletter and information about a free, live homework help program from tutor.com. MCPL has also invested in Scholastic Teachables, an electronic platform that has hundreds of worksheets and lesson plans. There are links to curriculum resources and free courses from companies such as Gale, Universal Class, and Mango Languages, as well as homework help materials from Britannica Kids, Tumble Kids, and National Geographic Kids, among others. A section for teens includes links to news and history sites. There are also links to reference books about homeschooling for parents.
MCPL has also created a series of YouTube videos to help families create an effective learning environment at home. These videos include quick tips and helpful hints on topics such as setting up a learning space, assisting with homework, and helping children with reading.
To assist students and others in accessing the internet, MCPL started a hot spot lending program called Wi-Fi to Go that allows patrons to check out a device, which provides Wi-Fi access from virtually any ­location.

Early literacy associate Sharaden Staten presents an online bilingual storytime (left); stories and songs with children's services librarian Keri Wiester.

Another important initiative at MCPL is its Homeschool Advisory Team (HAT), though it has been on hiatus during the pandemic. This group of homeschooling parents has traditionally met MCPL's youth services librarians a few times a year to develop programs, discuss new technology resources, and talk about their needs and concerns.
In one collaboration between MCPL and HAT, families that worked with HAT said they wanted to learn more about the electronic resources available through the library. The Youth Services Department helped develop a system-wide training for them, while HAT took responsibility for promoting the session and inviting attendees.
Before the pandemic shut down library buildings last spring, some of MCPL's local branches were hosting innovative programs that attracted homeschoolers from around the region. Until the building closed, this branch was offering events twice a week during the school day for homeschooled students. These events usually attracted at least 15 students each week, and sometimes as many as 40 kids, says Josh Lane, youth services associate at the Withers Branch in Liberty, MO.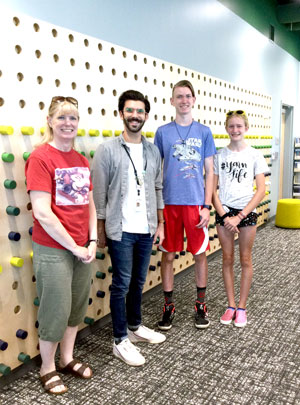 Youth Services Associate Joshua Lane (second from left) with the Hutson family, customers of MCPL's Withers Branch and members of the homeschool community.
"Our goal has been to provide fun and enriching programs that are not curriculum focused," Lane says. "We were doing a lot of STEAM activities."
The programs included yoga and mindfulness as well as art activities and games that helped the kids build social skills and work on teamwork. "I created a list of outcomes I want[ed] to fulfill," Lane says. "High on my list is to help the kids develop social skills and foster community. Homeschool families are definitely looking for that."
Lane says that the families who come for homeschool programs are really connected and became a support system for one another. "They lean on each other and ask questions," he says. "If we have a new homeschooling mom, I have people I can point them towards."
Emily Ferrarini is the youth services associate at MCPL's East Lee's Summit Branch. They say the community has a large homeschool population that has expressed "a need and desire for all kinds of programs."
When Ferrarini joined the library, they attended a meeting of homeschoolers in their area and planned an open house at the library for homeschool families to find out what the families needed and wanted from the library. "I got to know people that way and got a sense of what the gaps were," Ferrarini says. Initially, they were surprised to find out that many of the families were not looking for social opportunities. "These kids were already doing many things, such as sports and youth groups," Ferrarini adds. "They were looking for ways to meet academic requirements. I also found out that this group was looking for more activities for teenagers."
Ferrarini put together a cohort of homeschooled teens and planned a number of arts programs for them as well as book celebrations. They also ran programs that were designed for homeschooled kids of all ages, such as a history club where students learned about the Titanic and the Underground Railroad.
The library's virtual resources have been critical this year for families, but Ferrarini and others at MCPL hope to begin their homeschool programs in person as soon as they can. "All of us that do programming are very eager to get back to it," Ferrarini says. "I really miss all of it."
---
Melanie Kletter is a teacher and freelance writer in New York.
Photos courtesy of MCPL