LittleBits is offering Expansion Packs, with additional hardware and instructional content, to enhance its STEAM Student Set and Code Kit.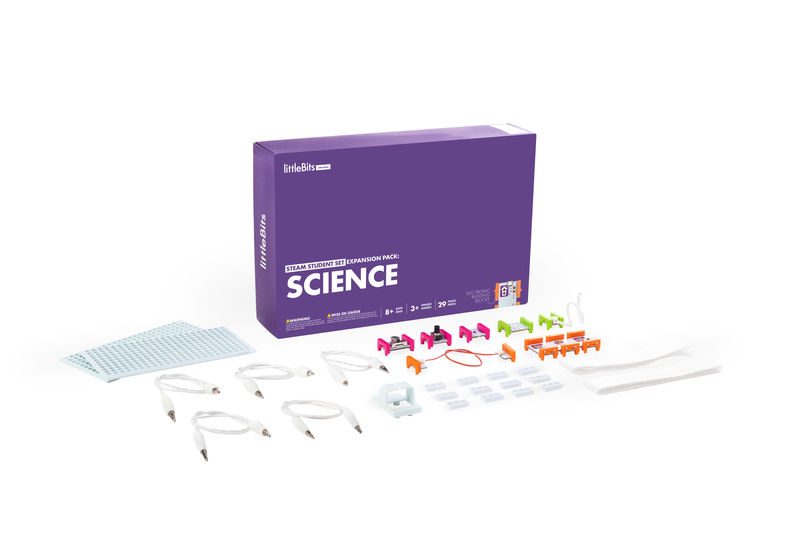 LittleBits is offering additional hardware and instructional content to enhance its STEAM Student Set and Code Kit.
The two new Expansion Packs—designed to build upon littleBits' modular electronic sets—were announced today and include both additional hardware, Bits and such, and lessons for grades 3–5.
The first product release since the company decided this year to focus on the education market, the Packs offer 12+ hours of instructional content tied to curricular subjects, including Computer-, Life-, and Earth Science, and align with national standards.
The STEAM Student Set Expansion Pack includes, according to the release: Science lessons and invention projects for grades 3–5, with an accelerometer, sound trigger, threshold, Makey Makey, wire, long LED, and bargraph Bit, and other accessories. NGSS aligned.
In the Code Kit Expansion Pack: New Computer Science lessons for grades 3–5, and invention experiences with a proximity sensor, accelerometer, light sensor, random, wire, fork, number, and two long LED Bits, plus various accessories. CSTA-aligned Computer Science subject matter. Design aspects adhere to National Core Art Standards.
As anyone who's worked with the colorful, magnetized blocks has experienced first hand, littleBits are designed for flexible use. This same idea carries through in the Packs. So the life science exercise, "Creature Connection," engages third graders in how creatures connect to their environment, says Elaine Khuu, littleBits senior product designer. "In grade 4, it's about learned behavior, grade 5, it's an interactive food web. The same circuit is used three different ways to meet three different standards."
One exercise—with high kid appeal written all over it—involves a digital pet. "After a time, it poops, and you clean the poop by shaking the circuit," says Khuu. And if you don't clean it up? Kids could design an effect for that scenario.
An art-related invention, meanwhile, results in a pixelated light effect, which kids can remix into their own interactive art piece.
The Packs ($149 each) will begin shipping May 31. Related lessons will be freely available online. For more information, visit littleBits.com.