Anxiety about the return to school is sharply rising, right along with COVID-19 infection rates due to the Delta variant. To help inform K-12 school communities, a panel of Duke University experts in pediatrics, psychiatry, and neuroscience offered some advice.
Anxiety about the return to school is sharply rising, along with COVID-19 infection rates across the United States due to the Delta variant. To help inform families, teachers, staff, and K–12 administrators, a panel of Duke University experts in pediatrics, psychiatry, and neuroscience offered some advice Wednesday based on their research, which found that in North Carolina schools, masks "effectively prevented COVID-19 transmission even without physical distancing in schools and on buses."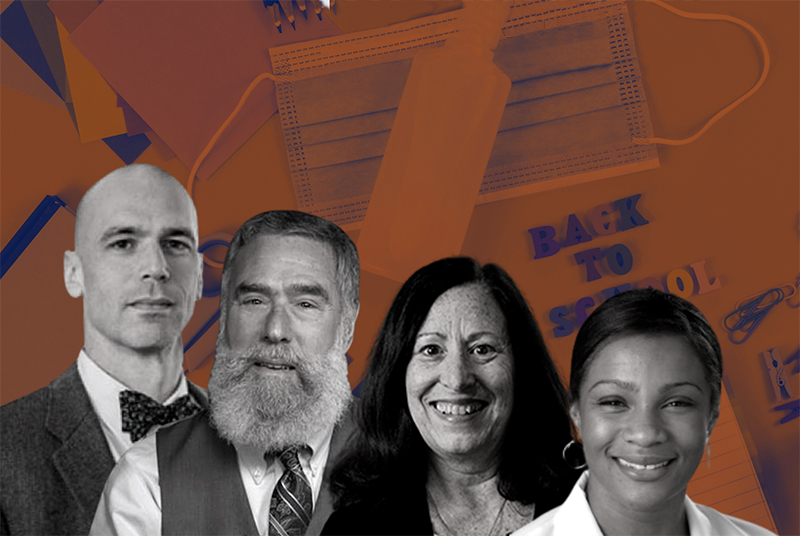 From left: Danny Benjamin, M.D., Ph.D; Harris Cooper, Ph.D.; Robin Gurwitch, Ph.D.; and Kanecia Zimmerman, M.D.
While masking as an effective preventative to COVID transmission isn't news, the directive to preserve public health comes at a critical time. With opinion following partisan political lines, schools are a particular flashpoint as state and local officials clash over plans for a safe return to the classroom. In Florida, Gov. Ron DeSantis issued an executive order last week to block school mask mandates, following a similar order for Texas schools. On Monday, Houston mayor Sylvester Turner joined other municipalities, announcing that his city would defy the July order by Gov. Greg Abbott banning COVID-19 restrictions.
"People whose job it is to keep you alive encourage masking. People who are running for reelection have very mixed opinions about whether you should be masking," said Danny Benjamin, M.D., professor of pediatrics at the Duke University School of Medicine and chair of the National Institute of Child Health and Human Development's Pediatric Trials Network.
"Clearly from a medical safety perspective, the optimal choice is masking," said Benjamin, speaking with a team of Duke University experts at an August 4 press briefing. "It prevents transmission in schools. The challenge for schools now—the majority of people in their community do not have access to the vaccine [a COVID vaccine has not been approved for children ages 12 and under]."
Benjamin and Kanecia Obie Zimmerman, M.D., associate professor of pediatrics at Duke University Medical Center, conducted a recent study of 100 North Carolina school districts and the return to school, part of the ABC Science Collaborative, which teams researchers and physicians with North Carolina school and community leaders.
"Schools that have succeeded at managing COVID are monitoring their masking rates," said Zimmerman, reporting data, and being transparent about what is happening in their schools with regard to masking and secondary transmission.
A mask policy is only effective if it is enforced, the researchers emphasized. And proper wearing is a must. "Make sure the fidelity—[placement] over nose, mouth and chin—is high," said Benjamin.
Ongoing stress and its effect
This is compelling information, an argument for a safe work environment, which would benefit not just teachers and students, but all staff—from bus drivers to custodians, according to Benjamin.
"If I'm a custodian in the 10th grade environment, I can protect myself," he says.
And if there was someone at home with an organ transplant, say, or kids too young for the vaccine? "When school boards vote to not have masking in place, with the Delta here, this is what they're going to be asking of their staff every day as it relates to a work and learning environment."
Robin Gurwitch, a professor in psychiatry at the Duke medical school, cites the mental stress of having to make that risk-benefit calculation. Having the answer in the form of vaccines and masking will help reduce that stress and worry, she said. For children, stress has an impact on learning, affecting flexible thinking and problem solving, says Gurwitch.
"How parents model can have the biggest impact on their kids. If parents explain, 'This is for our safety,' children are much more comfortable with it," she said. "And give them some role in masking. They do better when they think they are helping somebody else.'
Gurwitch is concerned about supporting teachers. They may be struggling with worry about their own families and also need skills for working with children, who may be coping with grief and loss, economic concerns, and food insecurity.
"The most important resources is to have sufficient psychological assistance for teachers and students," she said.
As for opposition to vaccination, Benjamin is unequivocal. "Whenever a new vaccine comes into the pediatric population, the potential for very disruptive and irresponsible behavior relating to vaccines, increases," he said.
"If it were up to the anti-vaccine crowd, we'd be back to the days of thousands of children being housed in an Iron Lung. We've seen this group kill several hundred Americans each day."