Author Phil Bildner shares a meaningful moment with a young reader during a school visit early last year.
This happened less than a year ago. I've shared this story a few times but never like this.
I was on my book tour for my new middle grade novel, A High Five for Glenn Burke. I was visiting an elementary school in the Denver area. I'd been invited to speak with their fourth graders. It wasn't lost on me that I was speaking with fourth graders.
When I arrived that Friday afternoon, I learned that their teacher had already started sharing my book as a classroom read aloud. The fact that she was sharing this book with fourth graders wasn't lost on me either.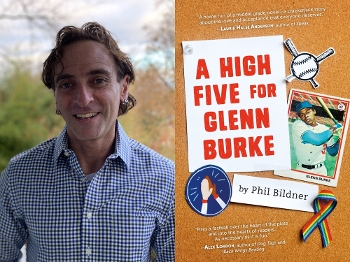 After my presentation, I was able to speak with the teacher and thank her. She shared a story from that morning. Right before lunch—which was when she read to the class each day—she read the early-in-the-book chapter where Silas, the main character, tells a secret to his best friend. After the class left for the cafeteria, one boy came back to the room. He was crying. He was so inconsolable the teacher initially thought someone had physically harmed him. When the boy was finally able to compose himself, he asked the teacher if he could tell her something he'd never told anyone. When she said yes, he leaned in and whispered in her ear.
"I'm like Silas."
In the chapter the teacher had just read to the class, Silas, the 12-year-old main character, had shared his authentic self with his best friend for the first time. He'd told her he was gay.
Books are toolboxes. Books are utility belts. They provide kids with the instruments and words to express themselves and thrive. Often, they let kids know they are not alone in the world. They have immeasurable power, the power to change lives and save lives.
I asked the teacher if I could meet the boy.
I taught middle school in the New York City public schools for eleven years, and as a teacher, I prepared for moments. What will I do when this situation arises? What must I do so that I'm ready? As an athlete growing up, I prepared for moments. I spent hours standing at the top of the key on empty basketball courts and at shortstop on empty baseball diamonds. I visualized the action and played out the scenarios in my head. So that when they happened for real, it wasn't the first time I'd experienced it. I was prepared.
A High Five for Glenn Burke is my first middle grade novel with LGBTQ themes. Other middle grade and teen authors who write books with queer content told me to prepare. They told me that when I interacted with young readers moments would happen. They said you can't fully prepare for the power and raw emotion of those moments, but they are going to happen. I didn't think one would only a few days after the book came out, but I was ready.
Be who you needed when you were younger. Say the things you needed to hear when you were his age.
When I met the boy, the very first thing I told him was how proud I was of him. I told him that I didn't know him, but I most certainly knew him. I told him he was brave, so much braver than I was at his age. I told him he was going to have a beautiful, wonderful life. I told him things were going to suck sometimes, really suck, but on those dark days when he was feeling low, I told him that things would get better. I told him he was going to find a family and friends who loved him for who he was the way he was. I told him he was going to be the hero of his own story.
There are queer kids in your elementary school classrooms. There are. They are not too young to know. They know. They may not fully understand, and in fact, they probably don't. But they are realizing and discovering and wondering.
Please acknowledge the queer kids in your elementary school classrooms. Let them know they are not alone. Don't deny what they're feeling or experiencing. Even when others from your school or community say you shouldn't. Respect what they're experiencing. Respect their humanity. It is who they are.
Let queer kids know that books exist that reflect their lives. Make sure they have access to those books. Even when others from your school or community say you shouldn't. Help make them feel less alone in the world. Like you sometimes felt when you were their age.
In a few weeks, hundreds of thousands of kids around the country will be starting year two of pandemic learning. A year in which they were physically away from school, away from their friends, away from their people. A year of physical isolation.
For many queer kids, it's isolation on top of isolation. Many of them are in unsafe, toxic, and even dangerous environments. Let them know someone sees them. Remind them that they are valued and worthy. Just like you would've wanted.
Be who you needed when you were younger.
Phil Bildner is the author of the 2021 Charlotte Huck Award Honor-winning  A High Five for Glenn Burke, the Margaret Wise Brown Prize winning Marvelous Cornelius, and the middle grade "Rip & Red" series. A former New York City public school teacher, Bildner is also the founder and president of The Author Village.