September's starred titles include new books from Amy Sarig King, Kwame Alexander, and Juana Medina, as well as several winter holiday reads for all ages.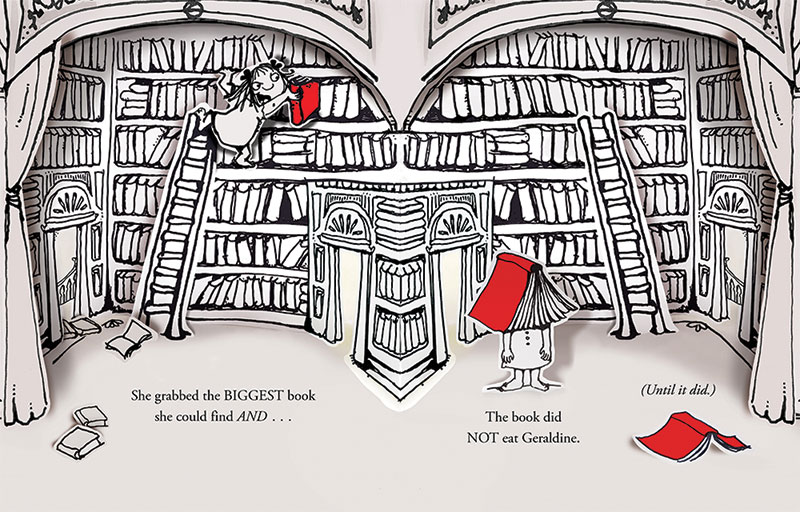 How to Eat a Book (MacLeod) ©2022 illus. by Mrs. & Mr. MacLeod
Holidays
Adams, Rosie. Christmas Kitten: A Touch-and-Feel Book. illus. by Lucy Barnard. Tiger Tales.
Keller, E.G. Murray Christmas. Abrams.
Brown, Tameka Fryer. Twelve Dinging Doorbells. illus. by Ebony Glenn. ­Penguin/Kokila.
Reynolds, Hannah. Eight Nights of Flirting. Razorbill.
Watkins, Lala. Little Santa's Workshop. S­cholastic.
Picture Books
Gopal, Jyoti Rajan. My Paati's Saris. illus. by Art Twink. Penguin/Kokila.
Grant, Shauntay. My Fade Is Fresh. illus. by Kitt Thomas. Penguin Workshop.
Kosinski, Colleen Rowan. Love Made Me More. illus. by Sonia Sánchez. Two Lions.
Lam, Thao. The Line in the Sand. Owlkids.
MacLeod, Mrs. & Mr. How to Eat a Book. Union Square Kids.
Medina, Juana. I Feel!: A Book of Emotions. HarperCollins/Versify.
Morrison, Nora & Jessie Ann Foley. Agatha May and the Anglerfish. illus. by Mika Song. Dial.
Savage, Stephen. Moonlight. Holiday House/Neal Porter.
Srinivasan, Divya. Little Owl's Love. Viking.
Stead, Philip C. The Sun Is Late and So Is the Farmer. illus. by Erin E. Stead. Holiday House/Neal Porter.
Thundercloud, Ria. Finding My Dance. illus. by Kalila J. Fuller. Penguin Workshop.
Yang, James. Go, Sled! Go! Viking.
Chapter Books
Deen, Natasha. The Ghost Tree. illus. by Lissy Marlin. Random.
Middle Grade
Alexander, Kwame. The Door of No Return. Little, Brown.
Bowles, David. They Call Her Fregona: A Border Kid's Poems. Penguin/Kokila.
Buyea, Rob. The Daredevils. Delacorte.
Guillory, Sarah. Nowhere Better Than Here. Roaring Brook.
King, Amy Sarig. Attack of the Black Rectangles. Scholastic.
Pérez, Celia C. Tumble. Penguin/Kokila.
Preus, Margi. Windswept. illus. by Armando Veve. Abrams/Amulet.
YA
Ferguson, Jen. The Summer of Bitter and Sweet. HarperCollins/Heartdrum.
Forest, Kristina. Zyla & Kai. Penguin/Kokila.
Iloh, Candice. Break This House. Dutton.
Krasner, Barbara. Ethel's Song: Ethel Rosenberg's Life in Poems. Calkins Creek.
Lin, Alice. Fireworks. Underlined.
McManus, Karen M. Nothing More to Tell. Delacorte.
Onoseta, Rimma. How You Grow Wings. Algonquin.
Summers, Courtney. I'm the Girl. Wednesday Bks.
Graphic Novels
Ortega, Claribel A. Frizzy. illus. by Rose Bousamra. First Second.
Raúl the Third. Team Up: El Toro and Friends. illus. by Raúl the Third. colors by Elaine Bay. HarperCollins/Versify.
Nonfiction
Bascomb, Neal. The Race of the Century: The Battle to Break the Four-Minute Mile. Scholastic Focus.
Edelman, Claudia Romo & Sara E. Echenique. Hispanic Star: Roberto Clemente. illus. by Manuel Gutierrez. Roaring Brook.
Maraniss, Andrew. Inaugural Ballers: The True Story of the First US Women's Olympic Basketball Team. Viking.
Marr, Melissa. Wild Horses. Penguin/Nancy Paulsen.
Messner, Kate & Margaret E. Powell. Only the Best: The Exceptional Life and Fashion of Ann Lowe. illus. by Erin Robinson. Chronicle.
Music
Into the Little Blue House. Performed by Wendy & DB. Tigerlily Music.
Jukebox. Performed by Street Corner Symphony. Pound Gorilla Records.
Let's Move. Performed by Katie Dwyer. West Side Rose.
Moonwalking. Performed by Young Folk. Stonycroft Records.
Space Cadet. Performed by Justin Roberts. Carpet Square.
Super Wiggles. Performed by The Wiggles. ABC Kids.
That Friday Feeling. Performed by Brady Rymer and the Little Band That Could. Bumblin Bee Records.