Illustrated works enhance classic African American songs and embrace the joys of rhythm.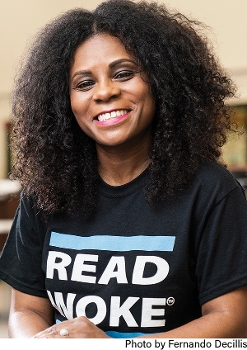 Music soothes the soul; some call it a universal language. African Americans have used music throughout history to communicate, cope with trauma, inspire, worship, and more. Coupled with picture books, melodies from Black creators are ­being introduced to new generations. Put your hands together for these books. Let's show our readers the power of music and rhythm!
Every Little Thing: Based on the song "Three Little Birds" by Bob Marley, adapted by Cedella Marley, illus. by Vanessa Brantley-Newton. Chronicle. 2015.
Baby-Toddler–Every Little Thing is the salve the world needs right now. With the lyrics from Bob ­Marley's "Three Little Birds" adapted by Marley's daughter ­Cedella, this board book has an upbeat message for our young readers. A little kid in a Bob Marley T-shirt faces everyday disappointments, reassuring himself and others that, "Every little thing / is gonna be / all right." ­Brantley-Newton's appealing, dynamic illustrations will put a smile on any face.

I Got the Rhythm by Connie Schofield-Morrison, illus. by Frank Morrison. Bloomsbury. 2014.
PreS-Gr 1–Get your little ones up and moving! This book will have you tapping your feet to the beat. A young girl walking with her mother finds music and rhythm in her neighborhood, from a drummer in the park to children playing clapping games at the playground. Filled with onomatopoeia and illustrated with lively oil paintings, this title shows us that the rhythm is all around.

We Shall Overcome, illus. by Bryan Collier. Orchard. Nov. 2021.
Gr 1-2–This song has always filled me with pride and hope. I remember marching with my mom in West Point, MS, to commemorate the March on Washington every Martin Luther King Jr. Day. As we marched from Mary Holmes College to a local church, we sang "We Shall Overcome" and held hands. Collier's book is a great way to introduce young readers to this powerful protest anthem that inspired so many during some of the darkest parts of history. Gray-toned watercolors depict true events and historical references as a young Black girl walks to school. An engaging section at the end provides information about the illustrations, including 16th Street Baptist Church in Birmingham, AL, and a statue of Dr. King that the girl passes. Despite all the hate in our world today, I do believe: WE SHALL OVERCOME! "Oh, deep in my heart…." You know the rest.

Standing in the Need of Prayer: A Modern Retelling of the Classic Spiritual by Carole Boston Weatherford, illus. by Frank Morrison. Crown. 2022.
Gr 1-4–Morrison's breathtaking illustrations capture the timelessness of this spiritual in this 2023 Coretta Scott King Illustrator award winner. Weatherford recasts the classic song by adding mention of past and current issues, showing that the fight for justice continues. Portraits, also documented in the back matter, highlight references from Weatherford's verses: Tuskegee Airmen, Duke Ellington and all of Black music, Ruby Bridges, Martin Luther King Jr., Florence Griffith Joyner, Colin Kaepernick, and Black Lives Matter. Check out the accompanying educators guide I created. This modern retelling of the spiritual will resonate with readers of all ages.

Lift Every Voice and Change: A Sound Book: A Celebration of Black Leaders and the Words that Inspire Generations by Charnaie Gordon, illus. by Aeron Cargill. becker&mayer! kids. Jan. 2023
Gr 3-7–Listen up, world: This book has something to say! Beautifully illustrated portraits accompany detailed biographies of Black leaders. The audio component, ­allowing students to hear the voices of these leaders, makes the book feel personal and more in-depth. The words, sounds, and pictures create a triple threat! I ­recommend it for everyone.

Cicely Lewis (Twitter: @cicelythegreat) welcomes suggestions.