A new digital library for students across New York City is growing fast, with more than 1.5 million checkouts to date.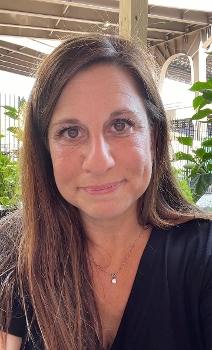 Melissa Jacobs (pictured) is monitoring an online ticker tracking digital title circulation like a day trader watching the stock exchange.
"Today, we've circulated 6,162, just at 3:15 pm on a Friday," says Jacobs, director of library services for the New York City Department of Education and a Library Journal Mover & Shaker. "This month we've circulated 25,700...whoops, it just changed…25,819. You have to be quick."
It's that kind of demand that has made the new Citywide Digital Library such a success. The project began in the summer of 2020 to create a collection of diverse and engaging digital books to support students and teachers navigating remote learning. By the end of 2021, NYC DOE students had borrowed more than one million ebooks and audiobooks.
Jacobs had long advocated for increased student access to digital collections, but it was the pandemic-driven pivot to remote learning that presented the opportunity to launch the new initiative.
Like all educators who had to transform their process when remote learning began, librarians had to figure out how to provide access to a rich collection without a physical library. For Jacobs, the answer became the Citywide Digital Library.
"A lot of teachers were going on Google and looking for a PDF of a book, because we transitioned to remote learning overnight," Jacobs says. Teachers relied on whatever they could find, and sometimes those digital versions weren't legal. "We understood the frustration. They wanted to teach the book, and we had to be copyright police. But we wanted to help."
Jacobs was instrumental in securing more than $4 million during the pandemic from a variety of sources including several private grants from the Ezra Jack Keats Foundation to get the digital library started, and her leadership in literacy support was recognized by EdWeek, which named Jacobs a 2022 Leader to Learn From.
Now, the DOE has built up a collection of more than 20,000 unique digital titles, including fiction, nonfiction, graphic novels, and cookbooks, all in multiple languages. Those titles are accessible to every student grades K–12, who can log in with a single school credential through the Sora reading app on their computer, tablet, or smart phone. Not only does it make using the system simple, students can keep track of everything they read.
"I see this as being instrumental in how we teach the love of reading," Jacobs says. "Students can see all the materials and notes and annotations and badges and everything from kindergarten through 12th grade. It's a tool that grows with them, and there are not many things that stay with them their entire educational career."
And that digital ticker with its rapidly changing statistics? It helps librarians respond to demand in real time according to Rachel Chapman, a school librarian at the George Westinghouse Educational Campus in Brooklyn.
"I can see how many kids are checking books out, which books have long hold times, and buy new ones instantly," Chapman says. "When someone is reading a series and number six is checked out, we can go on and buy and it and have it ready in 24 hours. That's really cool."

A library for all
For students, there is always something new to discover. Just as physical libraries build displays to show off new books, the main page of the Citywide Digital Library is constantly refreshed, highlighting new titles or collections tied into topics or events, such as February's "The Time is Always Right to Do What is Right" in honor of Dr. Martin Luther King, Jr. Keeping it fresh and exciting for every student was crucial for Jacobs. That's why she also worked to create a brand for the system that distinguished itself as unique to New York City.
"This is the city's digital library and what makes it special are our librarians who curated collections" specifically for NYC students, she says. That included developing a request form for librarians from across the city and developing diverse reading lists for the NYC DOE Universal Mosaic Curriculum built with a Culturally Responsive-Sustaining Education and social-emotional learning lens.

Librarians have also been instrumental in creating collections based on their own expertise. Before becoming a school librarian, Chapman was a classroom science teacher and now curates a collection of STEM-related books. Previously, subject area specialists' recommendations would have only been for the students and teachers with access to a specific library; now everyone can benefit.
"It's bringing interlibrary loans to the modern day because now I can purchase the same amount of content, but it's not just limited to the students in my building," Chapman says. "Now we can invite librarians plus educators and it's much more interactive and community oriented. I think we can reach more people."
A silver lining of remote learning was that the NYC DOE distributed a huge number of devices to students. Even if network connections at home are unreliable, students can download books while at school and read them at home regardless of internet access.
"One of the best benefits of the Citywide Digital Library is that we reached kids that unfortunately do not have access to a librarian or library," Jacobs says. "Now, these students have access to materials selected and curated by librarians."
Lindsay Klemas is a librarian at Forest Hills High School in Queens, one of the largest high schools in New York City. With the digital library, Klemas appreciates the opportunity it affords students of all learning backgrounds. For instance, students with physical disabilities can use features like high contrast mode or the ability to zoom in on text; and audiobooks support students learning English.
"One thing for English Language Learners is I'll tell them they can borrow a physical copy of the book and listen along to the audio version," Klemas says. "They have the ability to level up and read something they are interested in. There are so many options like that for little kids but having the option for older kids is so helpful."
Educators have come to appreciate the flexibility the new system as well. Teachers no longer have to worry about students forgetting a copy of their book, and students can read a physical copy of an assignment in class and then have the option to access it digitally at home, where they can also save annotations and highlight important quotes.
While some teachers are still hesitant to use the system, citing concerns over students using their phones in class, Chapman believes students should be given the benefit of the doubt.
"In the library, most of my day is spent having open library time and I'll see kids on the couches on their phones, and I'll check, and they are reading a book. I think we jump to conclusions, and you'd be surprised that students want to read more than adults give them credit for."
Jacobs expects the Citywide Digital Library to hit two million loans by the end of the calendar year. While that's impressive, she says there is plenty of room to grow to reach more students.
She's also aiming to get more educators on board through a new Teacher-2-Librarian Program that enables New York State-certified teachers to receive their library certification. Professional texts required for the program will be purchased and available through the digital library.
"These cohorts of new librarians will go in using this platform," Jacobs says. "Every program and initiative we do, I've figured out how to integrate the Citywide Digital Library. You can't just toss this out. This is becoming an integral part of kids' education."
Andrew Bauld (Twitter: @AndrewWBauld) is a freelance writer covering K-12 and higher education.