Check out the latest must-have works for kids and teens, including poetry collections, fantastical middle grade, and heart-pounding YA.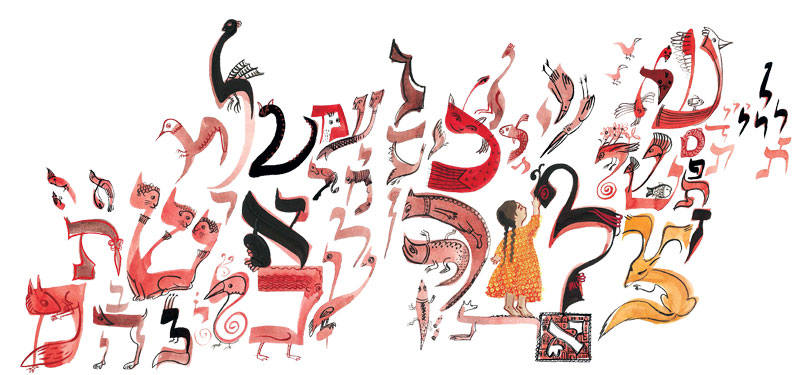 Osnat and Her Dove: The True Story of the World's First Female Rabbi. (Samuel) ©2021 by Vali Mintzi
Picture Books
Battersby, Katherine. Trouble. Viking.
Charles, Tami. My Day with the Panye. illus. by Sara Palacios. Candlewick.
Eggers, Dave. Faraway Things. illus. by Kelly Murphy. Little, Brown.
Hodgson, Rob. When Cloud Became a Cloud. Penguin Workshop/Rise.
Kerstein, Lauren. Home for a While. illus. by Natalia Moore. Magination.
LaRochelle, David. See the Cat: Three Stories About a Dog. illus. by Mike Wohnoutka. Candlewick.
Naylor-Ballesteros, Chris. Out of Nowhere. S. & S.
Samuel, Sigal. Osnat and Her Dove: The True Story of the World's First Female Rabbi. illus. by Vali Mintzi. Levine Querido.
Trinder, Theresa. There Is a Rainbow. illus. by Grant Snider. Chronicle.
Yuksel, M.O. In My Mosque. illus. by Hatem Aly. HarperCollins/Harper.
Middle Grade
Costner, Arianne. Confessions of a Class Clown. Random.
Cypess, Leah. Thornwood. Delacorte.
Heider, Mary Winn. The Losers at the Center of the Galaxy. Little, Brown.
Moriarty, Jaclyn. The Stolen Prince of Cloudburst. Levine Querido.
Petro-Roy, Jen. Life in the Balance. Feiwel & Friends.
YA
Bhuiyan, Tashie. Counting Down with You. Inkyard.
Bowman, Erin. Dustborn. HMH.
Mangle, Bethany. Prepped. S. & S. /Margaret K. McElderry.
Reed, Amy. Tell Me My Name. Dial.
Saft, Allison. Down Comes the Night. St. Martin's/Wednesday.
Graphic Novels
Stanley, Stan. The Hazards of Love: Vol. 1; Bright World. Oni.
Nonfiction
Bausum, Anne. Ensnared in the Wolf's Lair: Inside the 1944 Plot To Kill Hitler and the Ghost Children of His Revenge. National Geographic.
Deans, Karen. Playing To Win: How Althea Gibson Broke Barriers and Changed Tennis Forever. illus. by Elbrite Brown. Holiday House.
Gibbons, Gail. Frogs. Holiday House.
Gibbons, Gail. Monarch Butterfly. Holiday House.
Grimes, Nikki. Legacy: Women Poets of the Harlem Renaissance. illus. by various. Bloomsbury.
Jurmain, Suzanne. Murder on the Baltimore Express: The Plot To Keep Abraham Lincoln from Becoming President. Little Bee/Yellow Jacket.
Loveless, Gina. Puberty Is Gross but Also Really Awesome. illus. by Lauri Johnston. Rodale.
Prelutsky, Jack. Hard-Boiled Bugs for Breakfast: And Other Tasty Poems. illus. by Ruth Chan. HarperCollins/Greenwillow.
Sidman, Joyce. Hello, Earth!: Poems to Our Planet. illus. by Miren Asiain Lora. Eerdmans.
Synnott, Mark. The Impossible Climb: Alex Honnold, El Capitan, and a Climber's Life. adapt. by Hampton Synnott. Viking.
Williams, Lily. If Bees Disappeared. Roaring Brook.