Sophie Corrigan's whimsical art and ingenious puns will tickle the funny bone of maturing young readers while exposing them to the classics.

Author-illustrator Sophie Corrigan delights and inspires children of all ages.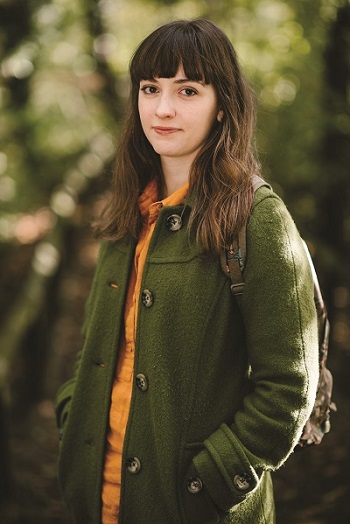 In search of ideas for his new play, Corrigan's ursine bard journeys out to see other Literary Critter Guild members. Young readers (ages 4-8) join Will as he gets advice from writers like Crane Austen, Langston Mews, and Mole Dahl. Will also shares his love for reading, writing, and books. Corrigan's whimsical art and ingenious puns will tickle the funny bone of maturing young readers while exposing them to the classics. Alongside the book, an educator guide and activity kits offer lesson plans for creative writing or drawing workshops.

What inspired you to create Literary Critters?
I'd started to build up a collection of cute animal pun illustrations based on literary figures. The more I created, the more I realized they may have their own little story to tell, and their own world to share! William Shakesbear looked for his own inspiration throughout the story, and writing it felt like I was right along with him on that journey.

When you are both writer and illustrator, what is your creative process?
I usually start out with a character to anchor and build the story around. Then, I look for a good nugget of an idea to expand on, and explore and research from there. It takes loads of writing, re-writing and sketch-booking, and I like to tweak words and layouts as the story develops.

What have been your favorite reactions by children to this book?
The book isn't quite on the shelves just yet, but I've heard a couple of early reviews and have been delighted with the response so far! My favorite is from a mother whose eight-year-old read it cover to cover and asked his mum if she got the jokes. He thought the Roald Dahl BFG references in the book were hilarious, which is really made my day to hear.

I laughed out loud when I saw the critter with the suitcase. How and when did you discover your gift for comedy?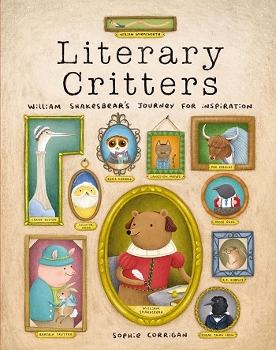 I really don't think I have a gift for comedy at all! I'm a big fan of comedy though, and have always been drawn to silly, absurd, and wonky things. I think it brings a lot to life if you can appreciate the little things, so I really try to do that through both my art and my writing.

William Shakesbear asks readers what they will be reading or writing next. How might new technology affect future generations' literary lives?
Only time will tell I suppose. It's changing so quickly. Social media and crowdsourcing I think will have roles to play, as creators can connect directly to their audience, and get instant feedback about new ideas—the good and the bad. While I prefer physical books, screens have helped them become instantly accessible, and increased choice might open people up to trying authors and titles they haven't before.

Which of your books would make the best animated series and why?
Probably my "Pugtato" series. Each of the characters in the books is a mix between a vegetable and an animal, from Pugtato and Brussels Snouts, to Unicorn on the Cob. Along with the running themes of friendship and believing in yourself, Pugtato and his 'best spuddies' could help educate children about gardening and food whilst also being really silly and sweet.

You illustrated Lulu the Rhinoceros, which appeared on Dr. Phil's and Ellen DeGeneres's television shows. How did those high-profile plugs impact your career?
It was so exciting (and quite surreal!) to see my work on American TV, it still blows my mind a bit. It was very encouraging to say the least, and it gave me a lot of exposure to a new and bigger bulldog-appreciating audience overseas, which is always welcome.

Which writers and illustrators influenced your artistic development? How so?
To name a few, recently I've been really taken by the super-textured work of Dena Seiferling, the Fan Brothers, Rebecca Green, and Emily Hughes. I've been experimenting with my textures and colors a bit more, but tend to go back to simplicity here and there. Tove Jansson and Roald Dahl never stop inspiring me when it comes to books, too.

How many cockatiels do you live with? What are their personalities like?
Two—Tilly and Freya! Tilly's really intuitive, a bit of a one-person bird and can be a little shy sometimes, and Freya is the polar opposite—she craves any food on the scene and wants to be everybody's friend. They're equally adorable, inquisitive and tickle-loving.
SPONSORED BY