From fighting period poverty to speaking out on the negative effects of gentrification, the kids in these forthcoming middle grade books take a stand.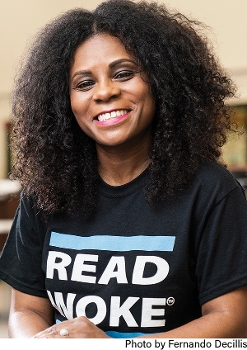 Middle school is when most kids are learning who they are—and for many of them, that means standing up against injustices. From fighting period poverty to speaking out about the negative effects of gentrification, the children in these forthcoming books take action in ways that will prompt young readers to do the same. Hand them to your students and inspire change, one story at a time.
Race for the Ruby Turtle by Stephen Bramucci. Bloomsbury. Oct. 2023.
Gr 3-6–Jack has to spend a week with his great-aunt, who lives off the grid in "the rainiest town in Oregon," while his parents attend a workshop that Jake suspects is a ruse for a vacation without him. Jack's aunt spouts stories about a mythical ruby-backed turtle, and when strangers arrive in town claiming to be zoologists, Jake realizes that the turtle may not be a myth. With the help of his new friend, Mia, Jake sets out on an eco-adventure full of self-discovery.

Also read: "Read Something, Do Something | Read Woke"
Code Red by Joy McCullough. Atheneum. June 2023.
Gr 3 Up–When Eden's dream of becoming a professional gymnast ends, she feels lost. Then, an unexpected encounter with a bully results in a new friendship, and Eden's whole world opens up. Suspended from school, Eden volunteers with a classmate at a food pantry and learns about period poverty, awakening her spirit of activism. But not everyone welcomes this newfound cause, and Eden faces her biggest adversary right in her own home. This insightful story of a young girl's dedication to menstrual activism will have your students flipping for more stories like this.
The Umbrella House by Colleen Nelson. Pajama Pr. June 2023.
Gr 3-7–Ruby Markowski dreams of working with Veracity News and having a future in journalism. So she and her best friend, Scout, decide to enter the Young Voices video contest and showcase the beauty of their community...but she needs a topic to blow the judges away. When a real-estate developer threatens to buy Ruby's apartment building, Umbrella House, in Manhattan's East Village, Ruby decides to tell the story of its residents and fight for their home. The clock is ticking—will Ruby's plan work?
Clouds Over California by Karyn Parsons. Little, Brown. July 2023.
Gr 3-7–In 1970s Los Angeles, Stevie is the new girl at school, struggling to fit in while dealing with family problems at home, namely her parents' escalating arguments. Then her cool older cousin, Naomi, comes to live with them in an effort to distance Naomi from a "bad" crowd—the Black Panthers. When Naomi secretly continues her work with the Black Panthers, Stevie agrees to stay mum, and her own outlook starts evolving, too.
Nic Blake and the Remarkables: The Manifestor ­Prophecy by Angie Thomas. HarperCollins/Balzer + Bray. Apr 2023.
Gr 3-7–Some kids wish for a bike on their birthday, but not Nic Blake. She hopes that her dad will finally teach her how to use the Gift and be a real Manifestor when she turns 12. But when a shocking family secret turns her world upside down, Nic springs into action. Nic and two companions must go on a journey to clear her dad's name for a crime that only Nic believes he didn't commit. Using African American history and folklore, Thomas creates a fantasy world spotlighting the courage of a young girl.
Greenwild by Pari Thomson. Farrar. June 2023.
Gr 4-7–Who says kid activism is limited to realistic f­iction? Some of the greatest activism stories can be found in fantasy worlds, including Greenwild, a vibrant place filled with green magic. Daisy Thistledown's search for her missing mother leads her to run away from her English boarding school to this magical universe. Travel with Daisy as she teams up with a botanical genius, a feisty cat, and a boy who can talk with animals as they try to solve a mystery that threatens green magic—in Greenwild and back home.
Cicely Lewis (Twitter: @cicelythegreat) welcomes suggestions.