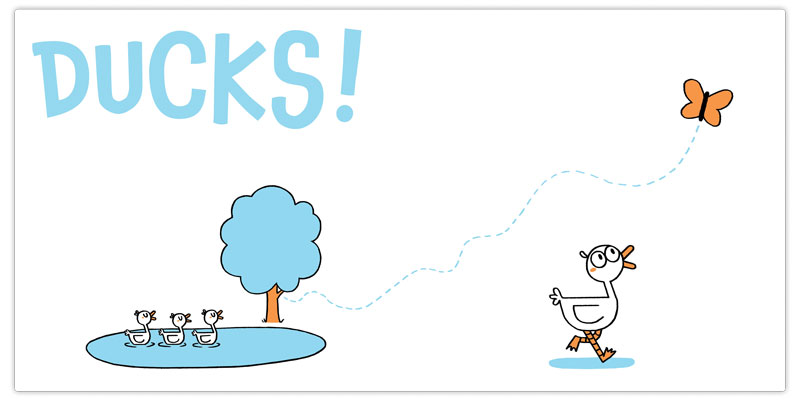 Ducks! (Underwood) ©2023 by T.L. McBeth
The good news about board books is that they continue to evolve into colorful, fact-filled, totable sources of fun, learning, activities, and more, and many of them also make adults laugh out loud with delight. The promises that come with these small volumes—to improve hand-eye coordination, to help babies focus, to facilitate improved concentration—well, we're from the school of let babies and toddlers do what they do. These books will make them happy, keep them engaged, and will not wear out caregivers on the first reading. And they are still, despite global paper shortages, downright sturdy and will stand up to multiple story hours and revisits.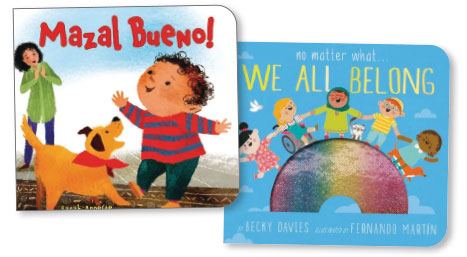 Fiction

Aroeste, Sarah. Mazal Bueno! illus. by Taia Morley. 12p. Kar-Ben. Apr. 2023. Board $8.99. ISBN 9781728445588.
PreS-K –"When you grinned your first grin, as we tickled your chin, we laughed." This glimpse of Ladino, the language of the Sephardic Jewish community, is boiled down to the single phrase of praise when baby takes the first steps or stands alone. In simple but arresting domestic scenes of a very sweet, spare household, Aroeste showcases a dark-haired, dark-eyed mama and her beaming baby, and Papa is not far away. VERDICT So joyful and welcoming, there will be shouts of "Mazal bueno!" in every preschool.
Cousins, Lucy. Maisy's Recycling Truck. illus. by Lucy Cousins. 18p. (A Go with Maisy Board Book). Candlewick. Apr. 2023. Board $7.99. ISBN 9781536230741.
PreS-K –Maisy, who was once a mouse of simple concerns, is now a "Go with Maisy" powerhouse model of modern industry. Here she takes on recycling, and she and Tallulah gather glass from one neighbor, yogurt cups from another, cardboard, paper, and just keep going. At the end, readers see how it is all sorted at the recycling center into specific bins. VERDICT Recycling 101 from everyone's favorite mouse! It's a primer, and it's never too early to teach children the importance of helping out.

Davies, Becky. No Matter What . . . We All Belong. illus. by Fernando Martìn. 10p. ­Tiger Tales. Jan. 2023. Board $9.99. ISBN 9781664350632.
PreS-K –Die-cuts in various shapes offer ­children puffy glittery glimpses of the rainbow that brings this book to a close, but along the way, the uplifting message more than cheers them on: "No matter what the music,/ no matter what our name,/ no matter what our language.../ our smiles are all the same!" It's a message worth shouting, it's chantable, and it will have story hour attendees begging for rereads. VERDICT With a diverse crew of children of so many abilities and in such an array of cultural garb, this book wins. We all belong.
Deutsch, Georgiana. Looking for Sleep. illus. by Megan Tadden. 24p. Tiger Tales. Mar. 2023. Board $9.99. ISBN 9781664350588.
PreS-Gr 1 –In scenes that are the deep blues and purple of nighttime, "It was bedtime in the forest, but Wolf was wide awake. He just couldn't sleep!" Most readers, even preschoolers, will relate. Amid the beautiful scenery the illustrator has created, awash in moonlight to alleviate the dark, what is Wolf to do? He searches for sleep, shouts for it, and others join him. This is a darling tale of how tricky looking for sleep is, and it takes an owl to set them all straight. The digital art is toylike; every scene looks like a theatrical stage. VERDICT A bedtime book that gets very loud before it gets quiet, but children will love to see the animals finally find sleep.
Gomi, Taro. Little Chicks. illus. by Taro Gomi. 26p. Chronicle. Feb. 2023. Board $7.99. ISBN 9781797218748.
Toddler-PreS –In very few spreads, Gomi's ­illustrations, like stained glass or torn tissue, show three orange chicks leaving home, on their way to the adventure of a lifetime. What do they learn? The world is big and scary; home is best. Simplicity has always been this creator's hallmark, and toddlers who may have worried over the sight of chicks in a bus heading out of town will relax as they see them heading back into the wings of their parents. VERDICT So simple, so clean in design and message, but what an emotional wallop. Leave this one on a low shelf for preschoolers, too.

Hurston, Zora Neale. The Making of Butterflies. adapt. by Ibram X. Kendi. illus. by Kah Yangni. 24p. HarperCollins/Amistad. Mar. 2023. Board $9.99. ISBN 9780063111585.
PreS-K –This adaptation by Kendi is poetic, vigilant, and gives the original words stature by amplifying the high notes for very young children. Caregivers will delight in the cadence, and babies in the colors that Yangni splashes across every page in a piece of folklore that threads readers from a genesis of sorts to an urban landscape full of flutter-byes. People of color, a world of verdant hues, rejoice in Hurston's butterfly-laden universe. Back matter explains this story's origins, a bit about Ebonics, and other historical notes to delight adults perusing this. VERDICT This will dance off the shelves by itself, but works for Black History Month, spring roundups, highlighting poems, or just a look at the lyrical.
Lloyd, Rosamund. Don't Mix Up My Puppy! illus. by Spencer Wilson. 10p. Tiger Tales. Jan. 2023. Board $9.99. ISBN 9781664350526.
Baby-Toddler –With Pat the Bunny-like use of textures, but with the addition of a spinning wheel to change, for example, the spotted tail of the dalmatian to a curly poodle's, this book will have toddlers reaching for rereads. There's an illustration of a dog—dachshund, setter, poodle, terrier, or that dalmatian—but the tails, seen through die-cut holes, are three-dimensional, movable, and distinctive. VERDICT With a smiling carrot, a happy bee, and other touches, this lighthearted game will lead to mix-ups and "Put it back!" and plenty of happy accidents. A keeper.
McLean, Danielle. Hope Is a Rainbow. ­illus. by Vicki Gausden. 12p. Tiger Tales. Mar. 2023. Board $9.99. ISBN 9781664350625.
PreS-K –With die-cuts and benign lines of encouragement—"Hope is a rainbow in the sky that spreads its magic cheer"—plus a puffy rainbow on the final spread that has been visible from the cover, this book will have small children reaching into the pages. Creatures of every size form animal families—a few golden mice, cats and kittens, brown rabbits, a trio of bluebirds, foxes, deer. The tone is one of reassurance, with the softened pastoral scenes reinforcing the message. It's very uplifting. VERDICT A gentle offering for morning story hours, this is a heartfelt lap book.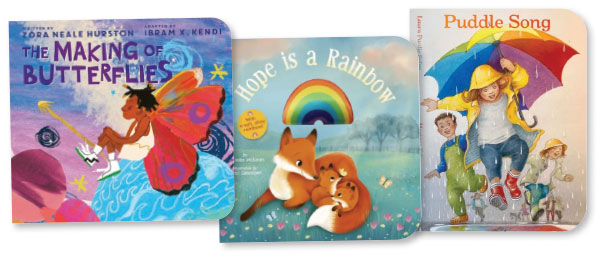 May, Tallulah. Can Do! 12p. (Mighty Express). Penguin. Jan. 2023. Board $7.99. ISBN 9780593523247.
Pre-K –In this "Mighty Express" book, Flicker the fire engine train fearlessly takes on the important job of delivering all the recycling to the Building Yard Station. A beaver creates a delay, and a pile of cans sets him back; a larger obstacle teaches our hero that a train is "never too big to ask for help!" Digital illustrations make the visuals appear to be toys come to life and will have children crowing over the excitement of this civic-minded task. VERDICT This is a charming way to teach ­recycling, compassion, and collaboration.

Salas, Laura Purdie. Puddle Song. illus. by Monique Felix. 14p. Creative Editions. Mar. 2023. Board $9.99. ISBN 9781568463834.
PreS-Gr 3 –"Bring me your boots, you stompers and jumpers./ Bring me your leaves, you wind-rattled trees." Who is narrating this divine glimpse of children, who are variously Asian, brown, and white, riotously ­clomping, skipping, and whirling through a rainy day? The puddle, of course. In atmosphere and dress, the watercolorlike illustrations strike an old-fashioned tone but adhere to the ­puddle's perspective, offering surprising close-ups of a doggy's curious face and leaves floating past. A solid ode to childhood's ­passion of viewing a silky surface and destroying it. VERDICT A first purchase; joyful, economical, and ­exhilarating.
Sze, Gillian. When Sunlight Tiptoes. illus. by Soyeon Kim. 20p. Orca. Mar. 2023. Board $10.95. ISBN 9781459834507.
PreS-K –A beautiful celebration of morning as a family of three enjoys the energy of the baker sugaring tarts and the light that is opening up the skies. Told in a closed pantoum form (Malayan), the verses almost become circular as phrases echo or harken back to previous pages. VERDICT Accompanied by soft illustrations that match the morning mood, this is a wonderful way to begin a day with children and set them up to speak to their own beginnings.

Underwood, Deborah. Ducks! illus. by T.L. McBeth. 24p. Holt. Jan. 2023. Board $8.99. ISBN 9781250863775.
PreS-K –In an all but wordless board book in three colors (black, blue, orange), one duck becomes separated from three others and valiantly tries to find them. The duck calls "Ducks?" but finds only "No Ducks!" and feathers (from a pillow fight), squawks from brass horns, and discouragement. A lost dog sign inspires this duck to make a similar sign, and the simplicity of the solution and the reunion will reassure any toddler who has ever stepped into the wrong aisle at a grocery store. Here is a delightful economy of form, accompanied by a powerful impact emotionally. VERDICT Could it be a classic? Children will be shouting "Ducks!" and "No Ducks!" at story hours, but it's all in a terrific cause.
Williams, Sam. Whose Feet?: A Split-Page Flap Book. illus. by Ekaterina Trukhan. 24p. Boxer. Mar. 2023. Board $14.99. ISBN 9781914912269.
Toddler-PreS –This "split-page flap book" is the sort of title that two-year-olds adore, for with every turn of a half-page, a duck's feet end up on every animal except the duck. The triumphant last page restores order. VERDICT This has been done before, of course, but the illustrations are perfect for this age group.

Yee, Patrick. 7 Best Things About Family. illus. by Patrick Yee. 14p. Flowerpot. Mar. 2023. Board $7.99. ISBN 9781486724208.
PreS-K –Yee's nuclear family is made up of white bunnies with pink cheeks, big smiles, charming triangular noses, and postures that speak of love and joy in the house. The first two best things are hugs and kisses. ­Doing things together makes the list, and so do chocolate chip pancakes. It's hard not to grin at every page or point out items to a young one. VERDICT With so many grace notes to spy in the bunnies' days, preschoolers will want to gaze at this book with ­caregivers or alone.
Nonfiction
Archer, Charlotte. Sea. illus. by Charlotte Archer. 12p. (Look, Touch, Learn). Child's Play. Sept. 2022. Board $17.99. ISBN 9781786286277.
Toddler-PreS –Touted as having a particular palette and touchy-feely elements or moving parts appropriate for the very young, this book promises to promote curiosity, or at least answer it. It's more likely that babies and toddlers will delight in the words coming out of adult readers' mouths: starfish, knobbly, spiny, seaweed, rubbery, swaying. They'll also love the stylized shapes from the sea, green and white spots on a hot pink starfish, or a black and white spiral of a seashell on an orange sand beach. VERDICT This will nab the attention of the very young and will be returned to again and again.
Harmony, Cynthia. Mexico. illus. by ­Claudia Navarro. 20p. (Our World). ­Barefoot. Apr. 2023. Board $9.99. ISBN 9781646868476.
PreS-Gr 2 –In the "Our World" series, this book shows a scene of a mother waking up her child and a line of dialogue that uses both English and Spanish, along with a bit of help for pronunciation. "Buenos dias* I love to see el sol* and Mami's smile!" An asterisk follows to help sound it out, for example, of "bweh-nohs DEE-ahs." A scene at the breakfast table references some of the foods, and the ebullient illustrations offer readers a multigenerational view of a family enjoying their meal. The day-in-the-life continues with a bus to school, the class, a museum, and later on dinner and bedtime! What a sweet way to visit Mexico! VERDICT A charming way to enjoy tiled streets, sunny sidewalks, and domestic scenes, and to take on new vocabulary.
Holub, Joan. This Little Engineer: A Think-and-Do Primer. illus. by Daniel Roode. 26p. (This Little). Little Simon. Jan. 2023. Board $7.99. ISBN 9781665912082.
PreS-Gr 1 –With a cadence that goes minimally to that of "This little piggy," this book introduces engineers out of real life on the verso: "This little engineer/ hopes we'll visit Planet Mars/ to live and do work there/ among twinkling stars." On the right, children meet, in this case, Gwynn Shotwell, the president and COO of SpaceX. They also meet Nikola Tesla, Steve Wozniak and Steve Jobs, the Latina astronaut and then director of NASA's Johnson Space Center Ellen Ochoa, and a few others. The wooden digital illustrations are not a bar to entry, servicing the text ably.­ VERDICT The emphasis on women engineers, and especially women of color, makes this a delightful starter kit for every lap-sized budding child with access to LEGO sets or Tinker Toys.
Hughes, Helen. Things That Go. illus. by Liza Lewis. 12p. (Slide and See First Words). Tiger Tales. Mar. 2023. Board $9.99. ISBN 9781664350663.
PreS-K –Cheerful spreads might show objects out of context—sailboat, submarine, speedboat—under the heading "On the Water," and then the opposite page shows merry animal friends using those boats, in this case. Sliding panels reveal aspects or words about what readers see: the "splash" of the speedboat, or the submarine submerged. Other pages have straight questions and answers. VERDICT Energetic point and play, this book will entertain lap sitters and give them early training in vocabulary.
Siqueira, Ana. Brazil. illus. by Ana ­Matsusaki. 20p. (Our World). Barefoot. Apr. 2023. Board $9.99. ISBN 9781646866304.
PreS-Gr 2 –In the "Our World" series, this book shows vibrant scenes from Brazil, then simple sentences in both English and Portuguese, plus a smattering of phonetics. "Let's cool down with cups of mate and dripping frozen treats." The guide makes clear that "mate" is "MAH-chee." There is a day in the life of Brazil and domestic scenes, as charming as the other books in the series. VERDICT Armchair traveling for the youngest, or a way for them to learn about faraway relatives and new words.
Slack, Michael. I Take Care of My Kitten. illus. by Michael Slack. 16p. (Happy Little Pets). Chronicle. Feb. 2023. Board $14.99. ISBN 9781797205274.
PreS-K –In the "Happy Little Pets" series, a book that pretends the kitten is right inside the pages, and through interactive flaps, slides, and finger-walks, allows children to become familiar with what they can expect as pet owners. The bright eyes of the kitten gaze out at the toddler looking at the book, with close-ups of food, water, and environment (scratching post, etc.) and basic care. This book is not meant to train children, or the pet, but just to introduce them to one another. VERDICT An inviting resource, and a good book to have on hand for class mascots, or for families picking up more in-depth books on pets.
Sriram, Meera. India. illus. by Neethi. 20p. (Our World). Barefoot. Apr. 2023. Board $9.99. ISBN 9781646866281.
PreS-Gr 2 –In the "Our World" series, this book shows scenes from India, then ­sentences in both English and Hindi, with helpful pronunciation guides close to the sentence. The illustrations are as colorful as saris, showing beautiful floral patterns on clothing, warm interiors, and cozy ­mealtime scenes. Within this one board book, children will have a sense of the clothing, jewelry, sights, and sounds of another country, vividly evoked by paintings and in language, and stamped with the love of the families shown. VERDICT This series offers solid glimpses of faraway places, more poetry than a tour guide, but evocative and inviting.
---
Kimberly Fakih is SLJ's senior editor of picture books.