In Renée Watson and Ellen Hagan's stunning new book, the authors introduce readers to two budding activists who challenge the status quo at their school.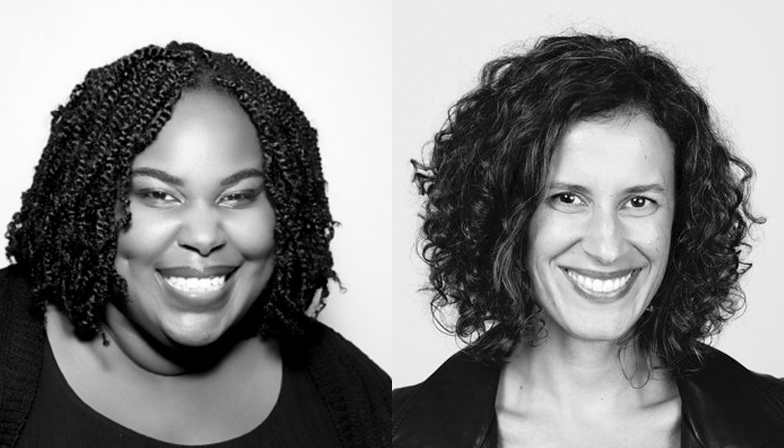 In Watch Us Rise (Bloomsbury, Feb. 2019; Gr 8 Up), Renée Watson and Ellen Hagan introduce readers to Jasmine and Chelsea, two teens who attend a progressive high school in Amsterdam Heights, New York City. Finding that their school's clubs reinforce the status quo, the two start "Write Like a Girl," a club that reflects their interests and voices, supported by performances and guerilla art events. They also host a blog, focused on women's issues and unheralded female artists and activists. Featuring potent prose and poetry pieces on topics ranging from beauty magazines to "What It Be Like: on being a girl," the blog soon goes viral. Pushback and attacks from classmates and the school's administration follow, but as the book's title suggests, nothing can stop these young feminists who are about to change the conversation, and ultimately, the culture of their school. Introduce Watch Us Rise by reading aloud one of the above mentioned poems…and buzz about this thought-provoking title is guaranteed to follow.

As Jasmine states in Watch Us Rise , "We want to talk about issues that matter to us, and we need a space to do it." Your book, which addresses topics from family and friendships to shaming and racism, offers just that for these characters. As a collaborative work, how did you decide on your focus and discover the arc of the book?
Renée Watson: We knew right away that we wanted to write a book about girls who are budding activists and artists. Ellen and I have worked together in arts education organizations for several years and we know young women like Jasmine and Chelsea. We wanted to represent the young people we've come to care about. Time and time again, we've mentored students who just want someone to listen to them. They care deeply about what's happening in their world and they have a lot to say.
Each setback and accomplishment pushes the plot forward and every time something challenging happens to Jasmine and Chelsea we see them figuring out how they will respond. When thinking about the arc of the story, it was important for us to layer the novel with both the personal and the political. Simultaneously while the girls are discovering what it means to be a feminist, an activist, they are also dealing with personal family issues, relationships, and their own insecurities.
You each write in the voice of one of the characters. Tell us a little about them.
RW: One of the things I love most about Jasmine is that she really likes herself. She is a fat, dark-skinned girl who loves to act in the theater club. She is confident but she has to constantly reaffirm herself because of the stereotypes and assumptions people have about her. In part, her story is about putting all the things she's been taught about activism and standing up for oneself into practice. Jasmine's a daddy's girl and has learned a lot about the importance of community organizing from her father. Over the course of the novel, the lessons from him aren't just theory anymore. She has to push herself out of her comfort zone—and grief—to fight for what she believes in.
Ellen Hagan: Chelsea is full of energy and fire. It was so much fun writing her because she really took over the story, and had these ideas and visions for how she wanted the world to be for young people—and she pushed ahead to make those things happen. She is unafraid of confrontation and is bold in a way that surprised me. Chelsea finds a home in writing and creating work that addresses the larger world, and she's complicated, too. She wants to look and be beautiful, even if that means sometimes falling into society's ideas about what beautiful is. She's simultaneously raging against the systems that she also subscribes to—trying to figure out her place in the world and how she wants to present herself. To me, that's what makes her relatable and brave.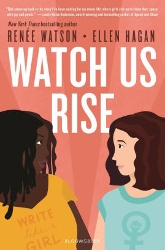 As you delve into these characters and the challenges they face as daughters, young women, feminists, and as people of color, we see them push back on stereotypes and labels from inside and outside their communities–the teacher who encourages Jasmine to explore a stereotypical role assigned to black female actors–but also from their peers.
RW: We wanted Jasmine and Chelsea to have agency. We didn't just want things to happen to them, we wanted them to make things happen. But of course, they're teens so we needed to think about ways teens can be active in taking a stand. We believe artistic expression is one way. This means that Jasmine and Chelsea use poetry and theater to respond to sexist subway ads, street harassment, and the fashion industry. It means they have difficult conversations with teachers, parents, and each other when micro (and macro) aggressions happen.
The anchor in all of this is their friendship. They lean on each other and learn from each other. In many ways, their friendship gives them the courage to push back and speak up.
Your characters reveal themselves to readers in many ways, but so powerful are the segments that feature the written and spoken word. I'm wondering if you can discuss that, and your relationship to the spoken word?
RW: Poetry is my first love. I grew up reading and writing poetry in my journal (and still do). As a teaching artist, I've taught poetry to young people here in the United States and also internationally. I've seen students who don't see themselves as writers or who have struggled with reading really gravitate to spoken word poetry. I have witnessed firsthand how poetry brings teens together, how it affirms and heals, and challenges and celebrates.
For Jasmine, a budding actress, I wanted to explore the notion of a girl who is good at being on stage as someone else, who is comfortable taking someone's words and bringing them to life, but not so comfortable writing and sharing her own words. Writing what's in her heart and actually saying it out loud on a stage is both terrifying and freeing for her. Over the course of the novel, we see Jasmine standing in her own truth, saying her own words.
EH: In high school, I went to an incredible summer arts program that introduced me to a wide range of poets that have shaped my writing life. We read June Jordan, Naomi Shihab Nye, and Nikky Finney, to name a few. And then I discovered Sapphire and Sandra Cisneros and was in awe of how they used poetry to explore their identity and their womanhood, to activate and rise up. Poetry helps me distill and process the world in a unique way, so it will always be essential to me as a writer.
Chelsea is saved over and over by poetry. Her journal is the space that she returns to throughout the novel— it's a place for her to explore her emotions and navigate the kind of woman, artist, and activist she wants to be. She oscillates between confidence and vulnerability; I loved the chance to explore what that looks like in poem form.
Early in the book Chelsea pokes fun at educators unwilling to go beyond the "canon" to consider contemporary classics from the poetry of Lucille Clifton to Rebecca Skloots'sThe Immortal Life of Henrietta Lacks to Ta-Nehisi Coates's Between the World and Me. As young readers, did you feel the same?
EH: Absolutely! What was considered the "literary canon" didn't speak to me in high school, and even in college I would get into heated discussions with classmates about what the "canon" was, and who ended up in it. It was dominated by white (predominantly male) writers and they did not represent me. It made me think about who was getting published and who was publishing them. Very early on, I sought out women and writers of color who quickly became my literary canon: Nikki Giovanni, Sonia Sanchez, Lee Smith, Gayl Jones, Gloria Naylor, and Dorothy Allison.
My contemporary poetry and YA list would include: Fatimah Asghar, Aracelis Girmay, Elizabeth Acevedo, Kamilah Aisha Moon, José Olivarez, Natalie Diaz, Renée Watson, and Hieu Min Nguyen to name just a few of the many brilliant folks that move and inspire me. Young people should be reading widely and challenging what's being taught in their schools if it doesn't include a diverse reading list.
You are both active promoting the arts and writing, particularly with teens and through I, Too Arts Collective. I'm wondering if you could speak to those connections and how they inform your work.
RW: One of the motivations behind launching I, Too Arts Collective was because I really wanted to live what I teach. I am always encouraging young people to stand up for what they believe, to take artistic risks, to make a difference in their local community. Knowing that the Harlem brownstone of Langston Hughes was not a space for writers or a museum, I couldn't just keep venting about it and waiting for someone else to do something. I wanted to create what I didn't see—a place that honors the legacy of Langston Hughes and builds on it by providing poetry workshops for teens, literary events for adults, and space for the community to gather. It's been an inspiring journey and my experience with the young people who participate in our programs absolutely impacts my writing.
EH: I've worked as a teaching artist and an administrator in arts education since I moved to New York City in 2001, starting with the Community~Word Project and DreamYard. Teaching writing and performance to young people and watching them bond over the issues they care about: identity, politics, love, traditions, pop culture, and so on, has been transformative, thrilling work. The more we connect with one another, the more we break boundaries and shut down stereotypes—this is the real work of community building.
I feel that Watch Us Rise is doing this work; it's getting the conversations started. How do we create the kind of art that pushes us towards a more just world? That our characters are doing just that together makes it all the more powerful.