Nothing like bugs that fizz, animals with mucus-skin, and slimy information about digestion to get the whole family in on these weird science lessons!
Nothing like bugs that fizz, animals with mucus-skin, and slimy information about digestion to get the whole family in on these weird science lessons!
You Smell!: (and so does everything else) by Clive Gifford. illus. by Pete Gamlen. Laurence King. ISBN 9781786273932.
Gifford provides a cornucopia of information for curious readers. The book's organization is eye-catching and practical from the first turn of the page.
Gut Garden: A Journey into the Wonderful World of Your Microbiome by Katie Brosnan. illus. by author. Cicada. ISBN 9781908714725.
In an effective combination of clear science writing and entertaining illustrations, this exploration of the body's gut garden opens with a description of the main categories of microbes (fungi, bacteria, viruses) followed by a brief explanation of the role that microbes play in the world.
Insect Superpowers: 18 Real Bugs That Smash, Zap, Hypnotize, Sting, and Devour! by Kate Messner. illus. by Jillian Nickell. ISBN 9781452139104.
Messner celebrates 18 insects' "superpowers" using large, informative comic-book style sequences, pithy chapter titles ("Great Imposters," "Big and Tough," "Masters of Chemical Weaponry"), clever phrases ("the malevolent mimic," "the great glue shooter," "the sonar smasher"), and large-print exclamations. Highly recommended for browsing and enjoyment.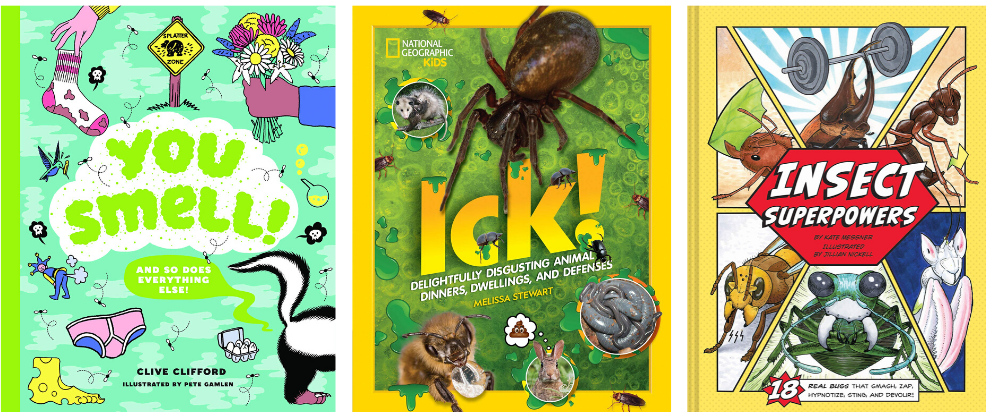 Your Amazing Digestion from Mouth through Intestine by Joanne Settel. illus. by Steve Björkman. S. & S./Atheneum. ISBN 9781481486880.
Rhyming one's way through the digestive system is a lot more casual than most researchers might expect, but Settel's work is both engaging to read and chock-full of facts.
ICK!: Delightfully Disgusting Animal Dinners, Dwellings, and Defenses by Melissa Stewart. National Geographic. ISBN 9781426337475.
Stewart explains insect behaviors and traits in detail and provides context to how these seemingly off-putting habits allow these animals and creatures to live and survive. Double-page spreads describe each animal and a fascinating (but gross) aspect to their everyday lives. High-resolution photographs offer visual appeal, and the text is organized into bite-size pieces of information that are pleasingly arranged on the page.
Gross as a Snot Otter by Jess Keating. illus. by David DeGrand. Knopf. ISBN 9781524764500.
Snot otters use their mucus-covered skin to repel infections and predators. Siberian chipmunks rub their fur with the dead flesh of snakes to scare away predators. Facts such as these fill Keating's latest title in the "The World of Weird Animals" series.
Death Eaters: Meet Nature's Scavengers by Kelly Milner Halls. ISBN 9781512482003.
Readers who relish the gross side of life (and death) will find this title to their liking. Halls begins with the death of a wild boar, and describes what and how the process of decomposition takes place. Excellent color photos of excellent quality vary in size, including full-page. Get ready for many "oohs" and "yucks" from readers.