A child's first haircut is a big deal—sometimes scary and always exciting. Here are 13 books that can be shared with kids in advance of their first "big chop."

M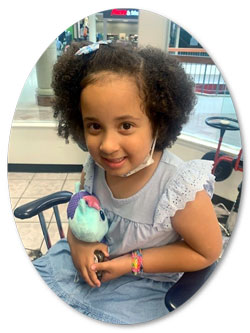 y six-year-old (pictured) just had her first professional haircut right before the start of the school year. In the days leading up to her first visit to the salon, I struggled to find a book that would help ease her into this vital milestone. While there are several books about boys getting their hair trimmed (and a couple featuring lions with their manes), I was coming up short on titles about girls with voluminous and gorgeous curly hair sitting on the spinning chair for the first time. Thankfully, there were quite a few about appreciating your locks that I could read with her in advance of the big day. Below are 13 books to share with kids before their first "big chop."
Haircuts
Crown: An Ode to the Fresh Cut by Derrick Barnes. illus. by Gordon C. James. Agate/Bolden. ISBN 9781572842243.
K-Gr 3–Rhythmic text describes the feeling of a young African American boy as he gets a "fresh cut" and how a trip to the barbershop changes the way he feels about the world and in turn how the world perceives him. While a trip the barbershop is the main story line, the themes of confidence-building, self-esteem, and joy of young Black boys are the important takeaways, and the illustrations jump off the page and invite readers to share in the experience. A super fun read-aloud, this acclaimed book (it was one of the most honored books of 2017) is a must-have for that first-time, "fresh" haircut.
Wally Does Not Want a Haircut by Amanda Driscoll. Knopf. ISBN 9780553535792.
PreS-K—Wally the woolly lamb has a very impressive coat—one he is proud of and does not want trimmed. However, his hair has become a hindrance. It often causes him to trip and tumble, and, sadly, it blocks him from hugging his mother. One day, Mama decides that she has waited long enough and declares that today is the day that Wally will get shorn. This is a story that many children will relate to, and it will have them rooting for Wally from the very beginning. Plus, the joy of Wally's realization that the haircut wasn't so bad after all is a relief to everyone. Full of alliteration, rhyme, and onomatopoeia, this humorous and cheerful picture book will be a fun read-aloud for the younger crowd in advance of the big day.
My Fade Is Fresh by Shauntay Grant. illus. by Kitt Thomas. Penguin Workshop. ISBN 9780593387085.
PreS-Gr 1–In rhythmic text and hilarious art, Grant and Thomas put boots on the ground in a barber shop where absolutely everyone has an opinion. At ten o'clock in the morning, a Black mother and child walk into a shop called Chrissy's Barber for "The freshest fade up on the block!" It's two o'clock before they emerge from an odyssey of hairstyles, perhaps created by Chrissy herself, cheered on by the Greek chorus of other customers. Spikes? Gel? Puffs? This goes on for pages, until the beleaguered child and barber have clearly had enough! Vivid use of color and expressive faces show the eagerness of the onlookers, the exasperation and woe of the key players (some of the spreads are explosive), and the joy when the child, in a yellow skirt and very fresh fade, shaved up the sides and squared across the top, heads out the door. A winner-takes-all glimpse of one of childhood's major milestones, taking agency over fashion choices, personality, and style.
Ife's First Haircut by Ifeoma Onyefulu. Frances Lincoln/Janetta Otter-Barry Bks. ISBN 9781847803641.
PreS-Gr 1—First word. First steps. First haircut. Onyefulu expertly demonstrates that children's milestones are both universal and personal. In this book, she invites readers into a home in Nigeria as a family plans for and then celebrates toddler Ife's first haircut. Told from big sister Chinaza's perspective, the narrative introduces the family members and simply explains the events of the big day: "Then Uncle Mike arrives to cut Ife's hair. He shows Chinaza a comb and a pair of scissors. Chinaza is very excited." The haircut is followed by a party that evening with friends and relatives. Onyefulu's color photographs illustrate the tender story with a portraitlike charm and nearly tell the story on their own.

Hair by Leslie Patricelli. Candlewick. ISBN 9780763679316.
Baby-Toddler—Clad in just a diaper, a cartoon-style white baby declares, "I have a hair!" What follows is a tot-inspired tutorial on how to care for that one curl. Of course, all of that hair maintenance leads to—a haircut! "Will it hurt?" frets the concerned-looking tot, as a lone blue teardrop slides down a rosy cheek. "It did not hurt! Now my hair is just right." The last two pages feature a dozen different types of hair on a multiethnic cast of floating heads. Patricelli's vibrant art style is fully evident and on display here, with brightly hued acrylic paint backgrounds on each spread, chunky black outlines, and lots of smiles. A reassuring title to introduce toddlers to their hair and the upkeep required.
Leo va a la peluquería by Britta Teckentrup. NubeOcho. ISBN 9788418133954.
PreS-K–Leo the lion has not been to the salon in some time and needs a new haircut and hairstyle. Should he choose curls? Braids? Blonde or red hair? Leo tries out several hairstyles before finally settling on a perfect one—his classic lion mane. This simple and fun title features colorful collagelike illustrations of the characters and items, such as shampoo and brushes, all on a bright white background. This eye-catching title is sure to become one young readers turn to for repeated outings. The die-cut pages and tall trim size will make it stand out among the usual board book fare. A great (and stylish) addition to Spanish board book collections for children.
Lion Needs a Haircut by Hyewon Yum. Abrams. ISBN 9781419742248.
PreS-Gr 1–Little Lion is looking rather unkempt. The cub's overgrown, rust-colored mane hangs in his face, gets in his food, and hampers his reading, but he has plenty of excuses for why a haircut is unnecessary. Though Dad assumes he understands why his son doesn't want to go to Goatee's Barber Shop, he is surprised upon learning the real reason: His son wants to look like him. The childlike hand-lettered text is printed in gray with the son's words in a paler shade than his father's. The colored pencil illustrations in pastel hues complement this universal tale of a common childhood situation. An enjoyable tale about a common childhood issue.
Even Monsters Need Haircuts by Matthew McElligott. Bloomsbury. 9780802788191.
K-Gr 2—The young narrator learns a lot from watching his barber dad in action—how to give a good haircut or trim, treat his clientele with respect, and give them what they want—even if the "regulars" are monsters. Once a month, Frankenstein, Cyclops, Vlad, Medusa, and others fill the barbershop chairs after midnight strikes, and the boy (who never breaks the rules and NEVER leaves the house alone) stands atop a ladder or chair, and—clad in monster slippers, pj's, and "shamp-ewww"-filled pockets—competently gives each customer a new 'do. With a jewel-toned palette in ink, pencil, and digital art, the shadows of night brighten in the barbershop to bring out the personalities of a lighthearted collection of monster-inspired characters. Fears of the unknown are faced as a human arrives at the shop during the wee hours, yet the boy never backs down and takes care of business. Narrated in the voice of a child, this offering is perfect for young readers facing a bit of personal anxiety.

Hair Love
Hair Love by Matthew A. Cherry. illus. by Vashti Harrison. Penguin/Kokila. ISBN 9780525553366.
PreS-Gr 3—Zuri wakes up on a very special day and needs a perfect hairstyle. The young Black girl thinks of the wondrous things her hair can do and how it reflects her personality: "I love that my hair lets me be me!" Full-page spreads alternate with smaller sequential art as Zuri imagines herself a regal princess with beaded braids and a superhero with Afro puffs. When it comes time for the unidentified event, Zuri needs all the hair help she can get; luckily, Daddy is right by her side. With a comb and video tutorials in hand, he tries several styles to no avail; they just aren't special enough! Finally, the pair land the perfect look. Cherry has crafted a celebration of Black hair and family that will connect with many. Harrison's charming digital renderings thrive both in their detail and in the abstract. The characters' vivacity leaps off the page with sweetness and gentle humor. Mommy's headwrap and Daddy's locs may be an introduction, or a welcome moment of familiarity, for a variety of readers. A wonderful slice-of-life tale about family support, Black hair, and embracing individuality.
Dalia's Wondrous Hair/El maravilloso cabello de Dalia by Laura Lacámara. tr. from English by Gabriela Baeza Ventura. Piñata. ISBN 9781558857896.
K-Gr 2—One day, a young Latina girl's thick, black, wavy tresses stand straight up into the air. This might sound like a setup for a bad hair day, but rather than being appalled or upset, Dalia happily makes the most of it. She proceeds to add items in her hair to look more like the natural surroundings, in hopes of resembling a special tree for her mother. The Spanish translation is good, and it is just as enjoyable to read in English as it is in Spanish. At the end, the author includes a glossary of flora native to Cuba that are mentioned in the story. Lacámara's rich and colorful artwork beautifully complements the imaginative text. This is a fun and enjoyable read-aloud.
Don't Touch My Hair! by Sharee Miller. Little, Brown. ISBN 9780316562584.
PreS-Gr 2–Smiling bright, brown-skinned Aria happily shares the things she loves about her bouncy, beautiful hair. She receives plenty of compliments from others, too, which she enjoys—but she resolutely does not enjoy when people try to touch her hair without asking. In a series of amusing and increasingly wacky situations, Aria tries to flee from overly curious hands, first situating herself behind a shrub, then diving underwater with a mermaid, and even leaving Earth for the safety of space (where she is approached by two meddlesome aliens), all to no avail; everyone still wants to touch her hair! When she finally escapes notice, Aria feels lonely. She returns home, but she has something to say: "This is MY hair…please, just look and don't touch without my permission." Miller has managed to put an upbeat, silly spin on a relatable problem that for many children can be awkward and upsetting. Each page of Miller's bold mixed media art brims with texture, from Aria's ebullient coils filling a spread to the zany houses of her bustling hometown. An engaging, colorful lesson in personal space that will shine whether read aloud or one-on-one.
Stella's Stellar Hair by Yesenia Moises. Imprint. ISBN 9781250261779.
K-Gr 2–Stella, a young Afro-Latina, wakes up and is perturbed that her hair is not the way she wants it to be for the "Big Star Little Gala." She runs to her mother to fix her hair but is not pleased; her mother suggests visits to her aunts, who may have different answers. Stella uses her hoverboard to navigate visiting the planets where her aunts live: Mercury, Venus, Jupiter, Saturn, and more. Every aunt has a distinct recommendation, but Stella remains unhappy and questing; she creates a hairstyle all her own with a combination of all the suggestions. This journey has grace, whimsy, and panache, tied up by an explosive array of colors and textures.
The Hair Book by Latonya Yvette. illus. by Amanda Jane Jones. Union Square Kids. ISBN 9781454944324.
PreS-Gr 2–Readers explore the world of hair in this inclusive book. Vibrant illustrations depict an individual donning a particular hairstyle, with accompanying text describing the look in two or three words: "long hair," "short hair," "cornrow hair," "afro hair," and so on. Yvette features diverse hairstyles throughout, including a woman covering her hair with a hijab and a young boy wearing a kippah over his hair. The book's conclusion reminds readers that no matter their style of hair, they are welcome anywhere. Jones's striking spreads include bold and eye-catching colors that celebrate the diversity of beauty. With all the comfort and generosity of Todd Parr's inclusive books, this is joyful and affirming.


[See also: Celebrate Natural Hair | Read Woke

]