The textbook isn't dead, but learning with multimedia is a comfortable (and in some cases, preferred) experience for students today. A 2022 Pew Research study on teens, social media, and technology found 77 percent of teens access YouTube daily, and while teacher-selected classroom videos may not have the draw of student-selected YouTube clips, the immediacy and connectedness remains. For the youngest viewers, gently presented stories unfold, providing examples of strength, teamwork, perseverance, and the value of time together. Middle grade videos ramp up complexity, with real-life examples of environmental challenges and in-the-news social justice issues. High school educators can consider mainstream documentaries, as students approach voting age, careers, and adult decision-making.
Videos break down complex topics and educators can help students analyze whether a film is seeking to educate, influence, or entertain—or some combination. Productions made for educational use provide targeted material with student learning objectives top of mind. It can be worthwhile (or necessary) to preview and scene-select for videos and documentaries intended for a wider audience. In all cases, students get reading practice when videos are subtitled, and closed captioning is available on virtually all videos. After viewing, educator-moderated discussion can deepen learning, increase empathy, and broaden student horizons.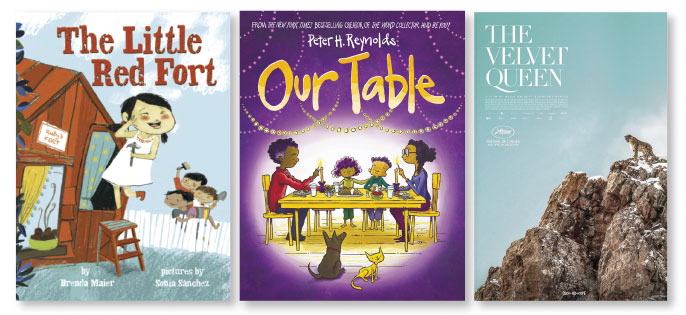 Elementary
Weston Woods, in partnership with Scholastic, maintains its founding principle of faithfully adapting excellent children's literature to a multimedia platform. Films include read-alongs, subtitles, closed captioning, and descriptive captioning as options. Music, narration, transitions, shots that zoom in and out, animations, and more bring stories to life.
Be Strong. adapt. from the book by Pat Zietlow Miller. illus. by Jen Hill. narrated by Grace Capeless. music by Ernest Troost. Weston Woods. 2022. 10 min. ISBN 9781338863017. $64.95.
PreS-Gr 1–Elementary schooler Tanisha, her head crowned by curly black hair, is thwarted by the climbing wall. Some days, "simple things seem too hard." She can't climb the wall, her backpack is too heavy, she misses the bus. Backed by bouncy music, rainy day sounds, and a wheezy accordion, Capeless expressively narrates as Tanisha learns other kinds of strength: showing up to help others from her dad, speaking up for others from her mom, sticking to a goal from her grandmother. VERDICT Twin takeaways that you can make things happen and the importance of asking for help will empower young viewers as they join Tanisha's urban adventures.

The Little Red Fort/El fuertecito rojo. adapt. from the book by Brenda Maier. illus. by Sonia Sánchez. English narrated by Frankie Corzo; Spanish narrated by Carolina Ayala. music by Scotty Huff. Weston Woods. 2022. 9 min. ISBN 9781338839807. $64.95. BL
PreS-Gr 3–Ruby is full of ideas, but she doesn't get support from her brothers when she asks for help carrying them out. She proceeds on her own, with help from her grandmother and others, gathering supplies, drawing up plans, and building a fort. When Oscar Lee, Rodrigo, and José see Ruby amid spinning pinwheels, ­enjoying the fort on her own, they begin to pitch in. A mailbox, some flowers, and a coat of red paint later, they enjoy a "fort-warming party" together. VERDICT The little red hen would feel at home with can-do Ruby and the women in this updated fable.
The Little Wooden Robot and the Log Princess. adapt. from the book by Tom Gauld. illus. by Tom Gauld. narrated by Rosie Jones. music by David Mansfield. Weston Woods. 2022. 15 min. ISBN 9781338861983. $64.95.
PreS-Gr 3–After a childless king and queen appeal to an inventor and a witch, a wooden robot and a log princess join their family. They live happily and love each other until one day when the princess is mistaken for a real log and ends up on a barge, lost among hundreds of other logs. Simple woodcut-style illustrations and ample natural colors follow the robot as he searches the cold north for his sister. Later, she takes over the return trip when the robot is exhausted. Jones's English accent perfectly captures the fairy-tale mood, complete with a yawn-y sleep-filled interlude. VERDICT A nontraditional fairy tale with further adventures hinted at (the queen of the mushrooms, the baby in the rose bush) and ready for young minds to fill in. Concludes with a satisfying happily ever after.
Our Table. adapt. from the book by Peter H. Reynolds. illus. by Peter H. ­Reynolds. narrated by Peter H. Reynolds. ­music by ­Sarah Hart. Weston Woods/­FableVision Studios. 2021. 7 min. ISBN 9781338857016. $64.95.
PreS-Gr 3–Violet misses family time at the table, and illustrations depict the lonely girl in shades of purple. She notices her father absorbed in TV, her mother with her cell phone, and her brother gaming on his tablet. As Violet watches the family table shrink to the point of disappearing, she takes matters into her own hands. With her father she watches a DIY show, with her mother she posts a message for helpers, and with her brother, she draws up plans. Soon lively piano music and full-color illustrations accompany the family table-building adventure. VERDICT Violet leads her family back to shared mealtimes and delivers the message that we have the power to make changes in our lives.
Middle School
Ecology, conservation, and social justice issues continue as newsworthy topics. At the middle school level, students begin to see how the choices they and their families make can have an impact on the future.
Fixing Food. Bullfrog Films. 2022. 46 min. ISBN 1948745895. $99. Rental options avail. S
Gr 6 Up–Five segments, about 10 minutes each, explore aspects of food production and consumption that turn minds and taste buds to more sustainable ways of eating. "The 3 Cricketeers" have a family business raising the protein-rich insects and processing them into cricket flour and more. "Native Table" features a culinary award-winning Minnesota restaurant focused on Indigenous foods. "Farming the Sky" (vertical farming), "Harvesting the Sea" (kelp products), and "The Rescue Brigade" (reducing food waste) round out the options. VERDICT Short, high-quality features address food sustainability topics, centering innovative and diverse entrepreneurs ­seeking solutions.
We Have Reached the Moment: Conversations About Acceptance. Good Docs. 2019. 33 min. $129. S
Gr 7 Up–A highlight of Vic Barrett's life, prior to graduation from high school, was addressing the United Nations about climate change. A few years pass, and Vic (who is trans and identifies as male) visits with his father, who is skeptical that human impact is a factor in climate change. Walking along the beach and through the Florida Everglades, college-age climate activists Vic and Delaney point out changes in their environment. They also address counter arguments used against their cause, including that mankind is small and God is in control. Vic's father posits that greenhouse gasses are unseen, and therefore must not exist. Plus, there are more pressing problems that deserve attention. A civil and occasionally loving tone is maintained throughout, even at points of frustration. Opinions do not shift much yet each side is given screen time. VERDICT Part climate change documentary, part example of respectful disagreement and how you can love a person while not agreeing with them. Useful for science, sociology, and debate classes.
The Velvet Queen. Oscilloscope Laboratories. 2022. 92 min. ISBN/UPC unavail. DVD $34.99; Blu-ray $39.99.
Gr 7 Up–Photographer Vincent Munier and writer Sylvain Tesson are the embodiment of patience as they attempt to photograph a snow leopard in the mountains of Tibet. Often in the cold and quiet, the men walk, wait, photograph other wildlife, and occasionally philosophize about the state of the world and humankind's growing disconnect from nature. A Tibetan family provides a warm haven, but the movie belongs to the gorgeous vistas and the men's persistence without guarantee of success. This is done in French, with subtitles, and includes one F-bomb about an hour in. VERDICT Beautiful and atmospheric. Consider for science, sociology, and ecology discussion. Use also for examples of perseverance, grit, attention to detail, and passionate pursuit of a dream.
Reflection: A Walk with Water. Bullfrog Films. 2022. 79 min. ISBN 1948745852. $99. Rental options avail. S
Gr 7 Up–Filmmaker Emmett Brennan uses his 200-mile walk along the path of the Los Angeles aqueduct as a launching point to explore the importance of water to human history, and specifically, that of the greater Los Angeles area. Along with leaders and fellow participants of the Walking Water experience, Brennan talks with scientists, an agroecologist, a permaculture specialist, and a holistic grazer, centering their stories and their recommendations for ensuring there is water for all needs, not just human activity. The filmed landscape is often arid yet beautiful, and while many interviews point out human harm, they retain optimism for the future. VERDICT While some current lifestyles and expectations may be part of the problem, the film finds many who are actively part of the solution and encourages viewers to find ways to do their part towards sustainably using and managing water.
Free to Care. Iron Light Labs/Optimist. 2022. 15 min. ISBN/UPC unavail. $150. S
Gr 7 Up–Incarceration goes back three generations in Lisa Creason's family, and she served time for an armed robbery at 19. Upon her release, she vowed to break the cycle and enrolled in nursing school. Upon applying for jobs, she was blocked by a change in Illinois law disqualifying those with felony convictions from working in 120 professions, including nursing. Frustrated by the uncaring attitude she faces when inquiring about a change, Creason takes up the cause with the help of the Illinois Policy Institute and begins a two-year cycle of visits to the state capital to talk with leaders about changing the law. In the process, she finds a sense of self-worth and empowerment as she advocates for herself and others in her position. VERDICT Consider for classes to focus discussions of self-worth, self-advocacy, grassroots change, and how one person can make a difference.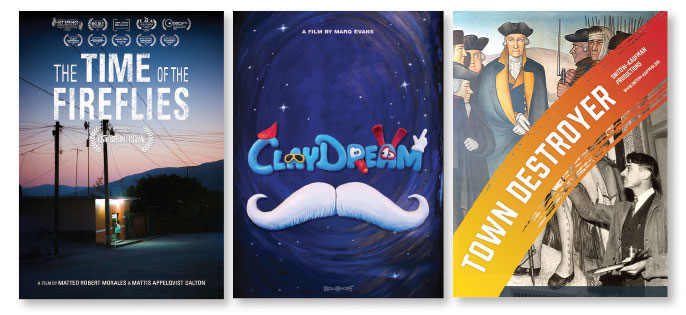 High School
High school students seek independence in forming opinions and show disdain when they perceive they are being told to absorb the preconceived ideas of adults. As issues become more complex, information can become more nuanced, foregoing a right vs. wrong, "do this vs. do that" conclusion. These selections will show young people the complicated layers that go into making decisions and how our response to situations and choices affects the results.
The Time of the Fireflies. Video Project. 2022. 52 min. ISBN/UPC unavail. $79. S
Gr 9 Up–As a boy in rural Mexico, Miguel knew his parents primarily through occasional phone calls as they worked and sent money from jobs in the United States. When Miguel turned 16, he also crossed the border without documentation. Miguel's father was arrested, and Miguel was alone in New York City, immediately under pressure to pay rent, pay off the coyote, and avoid immigration sweeps. His cell phone offers some connections to his family in Mexico, but he is steeped in loneliness and isolation. The film starkly addresses the difference between the dream of life in the U.S. and the reality for undocumented workers. Miguel, now approaching 30, continues to send money to his family, and finds education and helping others crucial for finding peace and moving ahead. VERDICT A realistic and nonjudgmental look at generational practices and economic circumstances that influence the decision to cross illegally into the country. Miguel is a relatable young adult, whose decisions could spark discussions in history, humanities, and government classes.
Zero Position. Video Project. 2022. 85 min. ISBN 1948745704. $89. S
Gr 9 Up–Zero position, a fighter explains, is the front line, where journalist and filmmaker Louie Palu interviews Ukrainians and pro-Russian separatists against a stark gray landscape in Eastern Ukraine, a few years prior to Russia's 2022 invasion. Abandoned tanks, destroyed buildings, and a burned school punctuate the frames, as Palu and his film crew pass through checkpoints, interview civilians and soldiers, and visit the industries (mining, steel mill) that still operate. Palu touches on the history and delves a bit into the politics, but dwells most on the human side, from red-cheeked children to elders who comment on which neighborhood houses were bombed first. VERDICT Palu avoids taking sides, but instead lets individuals speak, and shows the hardship and destruction endured by all. Consider for history and political science topics. A natural lead-in to discussion of the current Russia-Ukraine war.
Claydream. Oscilloscope Laboratories. 2022. 92 min. ISBN/UPC unavail. DVD $34.99; Blu-ray $39.99.
Gr 10 Up–Will Vinton, credited as the father of claymation, began as a stop-motion pioneer in the 1960s and rose to fame thanks to an Oscar for the short "Closed Mondays," the California raisins, creative partnerships, and frequent long hours in his studio. Samples of his wry and often humorous works, along with analysis and interviews concerning lawsuits, self-serving decisions, and well-intentioned mistakes, add depth and dimension. A few animations (raised middle finger, an animated penis) and some language swerve well into older teen territory, but Vinton's steady gaze and self-reflection leave a lasting impression. VERDICT Despite the association of animation with children's cartoons, Will Vinton Studios mainly produced works for adults. Equally apt for a new adult audiences in art, computer animation, business, entrepreneurship, and sociology classes.
Pleistocene Park. Bullfrog Films. 2022. 100 min. ISBN 19487458443. $99. S
Gr 10 Up–"Super undiplomatic" scientist Sergey Zimov and his son Nikita have an idea to slow the melting Siberian permafrost and thus reduce the impact of released carbon on climate change. Largely ignored by established experts worldwide, Zimov pushes forward to restore the ecosystem by bringing in large grazing animals (musk ox, reindeer, bison) without waiting for politicians and scientists to get on board. Interviews with climate scientists share time with Zimov's impassioned statements, rousing scenes of bison transport, occasional swearing, sometimes humorous subtitled adventures, and a bit of Russian history. VERDICT Sergey and Nikita Zimov's indefatigable belief in their vision is hard to resist and viewers will likely cheer them on as the titular Pleistocene Park takes shape. Consider for science and environmental science and Russian and European history classes.

Town Destroyer. Bullfrog Films. 2022. 53 min. ISBN 1948745909. $99. Rental and streaming options avail. S
Gr 9 Up–Murals in San Francisco's George Washington High School, painted in the 1930s, show President George Washington as a leader, slave owner, and destroyer of Iroquois people and land. A moral conflict (and legal dispute) exists between those who consider the murals national treasures and those who see traumatizing images that should be painted over. Thoughtful and occasionally emotionally-charged interviews with artists, educators, community members, parents and students show all sides of a complex question. Who gets to decide the role of art and when it goes too far? If views of what is acceptable change, is it best to eliminate what no longer conforms? VERDICT Abundant topics for history, social studies, social justice and humanities classes, as well as obvious connections to art and art history, make this an excellent choice for high school collections.
---
Maggie Knapp, Trinity Valley School, Fort Worth, TX.