A high school senior worked with SLJ to review three recently released adult fiction titles that have crossover appeal to teen readers. These selections span genres and would make great summer reading picks for mature teens looking to supplement school-assigned titles.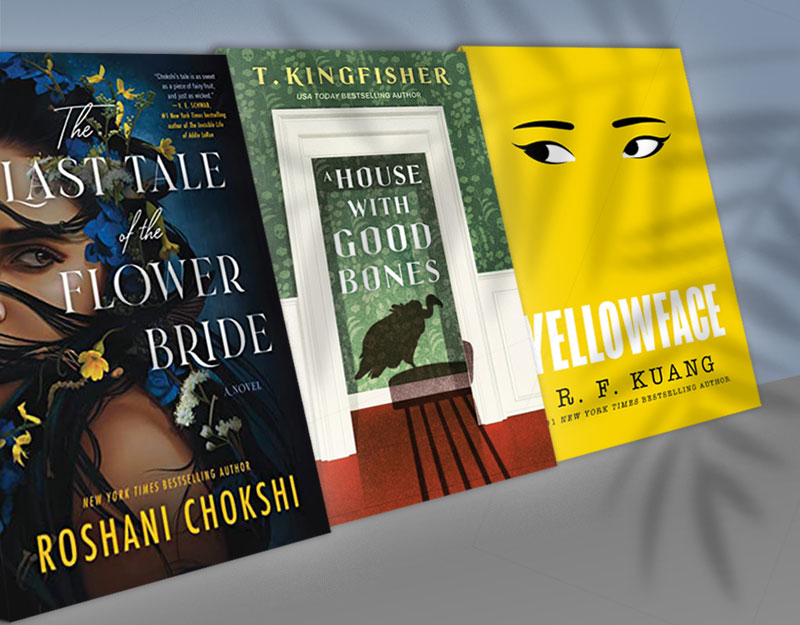 For her senior project, high school senior Marie K. in Ohio worked with SLJ to review three recently released adult fiction titles that have crossover appeal to teen readers. These selections span genres and would make great summer reading picks for mature teens looking to supplement school-assigned titles.
Ever since I was a kid, I've loved to read. I've dived deep into the magical worlds of middle grade fantasy and devoured the addictive tropes within YA novels. As I approached the end of my senior year, the books on the adult shelves started to interest me. However, the thick tomes on the fantasy shelves felt intimidating with their complex worlds, and I felt nervous to crack open a horror story and see what I might find creeping inside. In school, I found that a lot of the books I read bored me at first with their slower storytelling and complex prose.
For this project, I found books that wouldn't be overwhelming or boring for teen readers like me, dipping their toes into the adult book world. I looked for authors who had already written YA novels, books with soft worldbuilding, and novels with engaging plots that would grip teens from the first page. These three novels represent multiple genres, from a satirical thriller set in the publishing industry to a haunting modern-day fairy tale and even a horror story following a witty entomologist.
Chokshi, Roshani. The Last Tale of the Flower Bride. William Morrow. 2023. ISBN 9780063206502.
In this modern-day fairy tale, a character known only as the bridegroom meets Indigo Maxwell-Casteñada as a historian wishing to know about her family's famous grimoire. Soon after, they are married. The bridegroom revels in Indigo's love of fairy tales and how life feels like one with her. However, she has one rule for her beloved: he can never ask about her past. When they learn that Indigo's aunt is dying, the bridegroom finds himself in Indigo's childhood home, where the mysteries of her past hide behind every corner. One secret reveals itself when the bridegroom overhears about a woman in Indigo's past, Azure, who visited the Otherworld with Indigo as children—a place of fairy tales and magic. As secrets slowly surface, the bridegroom wonders if his wife truly is a fairy-tale princess, or a monster who could threaten their life together. Chokshi, who has already written for young adults with "The Gilded Wolves" trilogy, brings a breathtakingly fresh voice, accessible worldbuilding, and intoxicating prose to an adult fantasy that teens can enjoy. The book alternates between the bridegroom's and Azure's perspectives as Chokshi weaves the past and present together to unravel the secrets of Indigo's life. The first-person narration allows readers to feel intrigued by the two narrators' inner thoughts as both highlight their chaotic yet irresistible relationship with Indigo. VERDICT Teens who enjoy "Grimm's Fairy Tales" will love the enchanting atmosphere Chokshi creates with her metaphoric writing as the puzzle pieces left in each perspective slowly fit together for a gripping and satisfying conclusion.
Kingfisher, T. A House with Good Bones. Tor Nightfire. 2023. ISBN 9781250829795.
At 32, Sam Montgomery takes a break from her job at an archaeological site to return to her mother's home in North Carolina. However, when she returns, something seems… off. Vultures circle the house, weird voices echo through the house at night, and as an entomologist, Sam finds the complete absence of bugs in the garden strange. Her mother's usual lively spirit is replaced with uneasiness as she fears her dead mother's judgment and replaces the once colorful walls with plain, white paint. As Sam tries to figure out what's wrong with her mother, she begins to worry that the problem lies not only within her mother's mind, but somewhere deep below the house's creaky floorboards. Kingfisher proves to be a master of balancing horror with comedy as she builds Sam as a snarky, relatable protagonist against the unsettling nature of the house. Her haunting prose weaves through the Montgomery family's secrets while still leaving room for witty remarks in Sam's first-person narration. Kingfisher's strength lies in her character building as the strong bonds between Sam and her mother bring heartbreaking depth to the mother's slow decline under the horrors of a haunted house. VERDICT Teens who liked Kaylnn Bayron's "This Poison Heart" duology will enjoy how Kingfisher similarly crafts an eerie atmosphere through a Gothic house steeped in nature that leads to a thrilling conclusion as family secrets slowly reveal themselves.
Kuang, R.F. Yellowface. William Morrow. 2023. ISBN 9780063250833.
June Hayward is exhausted. She can't sell more than a few thousand copies of her novels, and her editor seems less and less interested in her ideas by the day. Then there's her old friend from college, Athena Liu, who has already snagged a Netflix deal and been called a prodigy for her novels that center the Asian American experience. How can a plain white girl compete with the captivating Athena Liu, June wonders. Her answer lies with Athena's final manuscript, left in June's possession on the night Athena dies in a tragic accident. June finishes and publishes the story under a new name (Juniper Song) and enjoys success she's never known—without ever crediting the original author. Through the thrilling first-person perspective of June, Kuang, the acclaimed author of Babel and "The Poppy War" series, explores the themes of corruption in the publishing industry, cultural appropriation, cancel culture, and the lengths a person will go to find success. Teens will enjoy the straightforward yet impactful prose as it probes the mind of a flawed and unreliable protagonist who obsessively rationalizes her plagiarism to readers. Kuang crafts a novel that feels fresh as she examines the intricacies of social media within the publishing industry while incorporating exciting plot twists and ominous foreshadowing that will keep readers engaged until the end. VERDICT This novel proves to be a suspenseful, page-turning satire that will entertain teens as June takes increasingly extreme steps to keep her secret safe.
---

Marie K. will be a freshman at John Carroll University this fall where she intends to major in creative writing. Throughout high school, she published reviews for VOYA magazine, interned at her school library, and worked as a staff writer for her school newspaper. In her free time, Marie enjoys playing piano, reading anything she can get her hands on, and creating illustrations with watercolor and colored pencil.