Dan Santat's middle grade graphic memoir received the prestigious honor at a ceremony where Oprah Winfrey spoke about 2021 School Librarian of the Year Amanda Jones and the power of diverse books.
Dan Santat's A First Time for Everything won the 2023 National Book Award for Young People's Literature.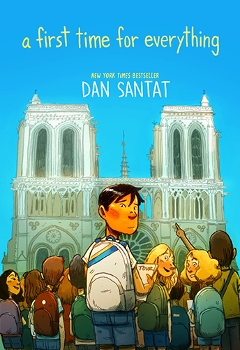 A clearly moved Santat accepted the award at the National Book Foundation ceremony on Wednesday night.
"I'd like to thank everyone at the National Book Award Committee, and especially this year's judges for selecting such a diverse range of books from young adults to middle grade and picture books and graphic novels, which demonstrate that a wide variety of stories can be worthy of such high praise," he said.
He finished with a special acknowledgment of his mother.
"Last but not least, I'd like to thank my mother—who I think is watching right now—who saw her young, insecure child endure the struggles of growing up through the tumultuous years of adolescence and gently pushed him out the door to show his young, innocent mind that despite the awkward and awful experiences we can sometimes experience in life, that the world is immense and that within that vast world, there's also great kindness and love."
A First Time for Everything was selected from a shortlist of finalists that included Kenneth M. Cadow's Gather, Huda Fahmy's Huda F Cares?, Vashti Harrison's Big, and Katherine Marsh's The Lost Year: A Survival Story of the Ukrainian Famine.
Prior to the awards being announced, Oprah Winfrey spoke to the crowd gathered in New York City. In her speech, Winfrey talked about the past couple of years of book banning attempts and shared the story of 2021 School Librarian of the Year Amanda Jones.
"Amanda Jones, a Louisiana school librarian, in July of 2022, went to a public library board meeting to speak out against an attempt to ban books," Winfrey said. "That day, she showed up at that meeting as just a concerned citizen. She didn't say where she worked, she just spoke about the importance of having diverse books. Immediately, she had her work address leaked, people began posting nonstop, making accusations about her abusing the young readers at her library. Children she dedicated 23 years of her life to educating. She started getting death threats. All for standing up for our right to read. Two years later, she's still nervous to go out in her community. She has her groceries delivered, she says, but she's not stopped fighting against book bans or stopped advocating for access to diverse stories."
Winfrey went on to say the numbers back up Jones' belief in the importance of having access to diverse books—citing a First Books study —before speaking about the first book she ever read with a Black protagonist, Maya Angelou's I Know Why The Caged Bird Sings. At 15, that book didn't just show her books could have a black protagonist, it "gave a voice to my silences, my secrets," Winfrey said. "It gave words to my pain and my confusion of being raped at nine years old. Until Caged Bird, I didn't know that there was a language, that there were words for what happened to me or that any other human being on Earth had experienced it. That's the power of books."
Watch the full ceremony below.