It's no easy feat to get your first book written and published. Here, four debut YA authors—Margot Wood, Amber McBride, Jessica Lewis, and Elayne Audrey Becker—share the ideas behind their books, and discuss some of the challenges they faced as they made their way through the writing and publishing process.
Margot Wood, Fresh (Aug. 3)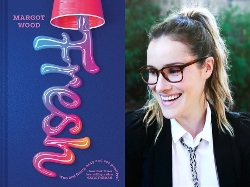 How did you come up with the idea for this story and what kind of inspiration did you draw from Emma by Jane Austen?
The story came about after reading a letter I wrote to my younger sister after I finished my freshman year at Emerson. I listed every mistake I made (so she wouldn't make the same ones) and I started writing scenes based on each of those mistakes and it grew from there. Emma came into play later, after I already had a collection of scenes. I re-read Emma and quickly realized that what I had already written felt like a modern update on the classic and once I knew I was going to use Emma as the framework, the rest of the story fell into place so quickly.
You really delve into the life of a college freshman. What kind of research did you do to help you tell this story?
The most research I had to do for this story was on Emerson College itself. Between the time I graduated from and now, Emerson's main campus in Boston had undergone quite a transformation, especially the dorm I lived in, The Little Building. A lot of the plot in Fresh is specific to the architecture of that building and since it was rebuilt as I was writing the book, I had to go back and change a few things to make sure the book reflected the new layout of the building. I also had a lot of fun talking to current Emerson students to make sure the details like classes and even dining hall food were accurate!
Why did you decide to tell the story from the first person POV and can you talk about your choice to explicitly talk to the reader and include extensive footnotes?
I don't want people just reading ABOUT Elliot, I want them right there, experiencing her story which is why I wrote in first person and incorporated a lot of interactive elements like footnotes, choose your own adventure-style elements, font changes, montages and things like that. It's even why the book is designed the way it is. It has no dust jacket, the cover typography is vertical, there are art elements on every page, there are a multitude of fonts. Everything about this book is intentionally, visually chaotic in order to further immerse the reader in Elliot's world.
What was the most challenging thing to write in this book?
The tone and style of the book is light and fizzy—it's a comedy!—but there are moments throughout the story where Elliot is forced to be serious and honest and it was hard to draw those moments out because Elliot is such a "hide her true feelings behind humor" type of person. So, pulling those moments out and making them ring true to her was often difficult.
For a lot of people, there is one summer in their life that stands out as the best. What's yours, and why?
The summer after my freshman year of college, a few high school friends and I decided to learn how to cook. Every weekend we'd meet up at a different person's house and we'd all learn a new dish and at the end of the summer we had a big celebration, and we cooked this big meal for all our families. I retained absolutely none of those skills, but it was an incredibly fun and delicious summer.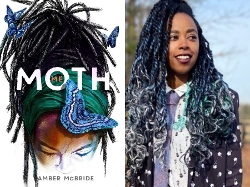 Amber McBride, Me (Moth) (Aug. 17)
Can you talk about how you came up with the idea for Me (Moth)?
After my gray bearded grandfather passed away in February of 2019, a family member mentioned that a few coins were left on his headstone. I remembered that leaving coins was often a ritual used in Hoodoo (spiritual practices and traditions that were created by enslaved African Americans in the south), giving offers to the spirits, and that really led me down a very interesting road researching Hoodoo. So, Hoodoo was the door to crafting this story. I also wanted identity and marginalization to be inspected in the novel. My aunt, who is Navajo, was kind enough to share so many stories and traditions with me—that's how the character of Sani was developed.
Your book includes Black folk traditions as well as those of the Navajo people. What kind of research did you do to help you tell this story?
I wanted to tell a story about two marginalized people who felt like outcasts, building a world scaffolded from their individual truths and origin stories. The research, specifically for the Navajo origin stories, was extensive. I had a brilliant resource in my aunt who is a member of the Navajo Nation and I read several books. What I found most interesting was that because many of these stories were told orally, just like in Hoodoo, the same story often had tiny differences depending on who you asked. The goal became telling the most authentic version of each story and the assistance of a sensitivity reader who was also a member of the Navajo Nation helped to ensure we were getting those stories right. Research for Hoodoo was like coming home—so many aspects I already practiced, and I had many teachers along the way.
What was the most challenging thing to write in this book ?
Writing Me (Moth) in verse was by far the most challenging aspect of writing this book. I am a poet and have published poetry widely, but poems are moments that don't have to connect to the next poem you write. Even in a poetry collection, the themes are connecting, not necessarily the plot of a story. I had never written a novel in verse, so there was a learning curve.
Why did you decide to tell this story in verse?
I wanted Me (Moth) to have a brevity and airiness to it—almost like a moth hovering its wings. My agent suggested I try writing a novel in verse a few months before because of my background in poetry. I started brainstorming for this book and it was quickly obvious that this was a book that needed to be written in verse.
For a lot of people, there is one summer in their life that stands out as the best. What's yours, and why?
Wow, that's a hard question. In Hoodoo, balance is key and living in the present moment and not the often-nostalgic past or the unknown future. So, my Hoodoo mentor would tell me the correct answer is this summer and this moment is the best because it is here; however, I also think history, ancestry, and identity are significant. Each summer my parents would drive my sister and I from the Northern Virginia suburbs to my grandma's house three hours away in the country. All of those hot sticky summers with extended family and cousins made me who I am today, they are rooted in me. Also, a living in the moment answer, this summer, the summer I've been working towards my entire like—the summer my debut novel Me (Moth) comes out!
Jessica Lewis, Bad Witch Burning (Aug. 24)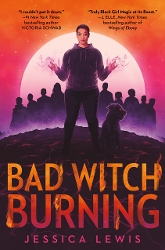 Can you talk about how you come up with the idea for Bad Witch Burning?
BWB is largely based on my own experiences as a teen and young adult, so it's definitely a very personal book. But the initial idea came from an anime called Violet Evergarden. It's a very different vibe compared to BWB, but that show got me thinking about how important handwritten letters are, to both those who write them and those who receive them. I added a cool power to the letters (summoning ghosts/raising the dead), and the rest is history!
What kind of research did you do to help you tell this story?
Most of my research came from my own noggin since the story is so personal. But some fun, random things I researched: age you can legally drop out of high school, spray-paint art, how to play Go Fish (yes, really, I had forgotten, lol), and Korean hip-hop/rap (sadly this didn't make it into the book, but I have some great songs on my playlist now!).
Why did you decide to write this as a fantasy story? Have you always been a fan of this genre?
I have always loved fantasy and science fiction. I love the real world with that extra special twist! It's both familiar and new and always drew me in as a reader. I also think magic/superpowers are a fantastic metaphor for real-life situations. That's definitely true for BWB. Katrell's ability to raise the dead is a stand-in for any hard choices a teenager should never have to make but, because of poverty and abuse, do every day. BWB is definitely a love letter to what I like to read and what resonated with me when I was a teen.
Your book weaves in commentary about poverty and the decisions people need to make when they are under stress. What would you like readers to take away from this story?
More than anything, I want teens who are growing up the way I did to know they're not alone. I want them to know that I've been where they are, and it's so painful, but it does work out. It does get better. So keep going, ask for help when you need it, and never forget that even if you burn everything down, you can rise from the ashes and build something new.
For a lot of people, there is one summer in their life that stands out as the best. What's yours, and why?
I'll be contrary and say none of them! I live in Alabama; summer is HOT and HORRIBLE. I spend four months lying in front of the fan and praying for winter, haha!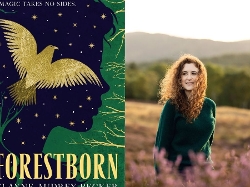 Elayne Audrey Becker, Forestborn (Aug. 31)
Can you talk about how you constructed the world of Forestborn?
I tend to begin with characters and construct a loose world around them, then further develop and add dimension to both sides. For Forestborn, I started with a shapeshifter who feels alone, unwanted, and subject to suspicion, then sketched a set of external circumstances to help drive her internal conflict—an isolating magical wilderness, a prophecy warning of shifters and death, and tension between magical and nonmagical people. It took years to get from there to the final version! Beyond these building blocks, it was important to me that this be an inclusive world in which there is no discrimination based on sex, gender, sexuality, or the color of one's skin, and also that it be very nature-forward. In real life, the natural world often comes second to human interests, and I wanted to challenge that idea by making the land and wildlife function almost as characters themselves.
Did you always know you wanted to write fantasy? Why did you choose to write in this genre?
Absolutely. It's difficult to pinpoint exactly when my love affair with fantasy began, but I was fascinated by fairy tales and mythology as a kid, and that pull toward magic only expanded over time. For me, writing fantasy provides the perfect synthesis of imagination and intentionality. On the one hand, it gives me the freedom to explore concepts that aren't possible in the real world and let my imagination run wild. On the other, it forces me to be organized and methodical in how I weave those imagined threads together. Magic can't be limitless; without boundaries to push up against, it's too perfect, too convenient a solution to all problems. In short, for me, I suppose writing fantasy is a bit like breathing—it just feels right.
What was the most challenging thing to write in this book?
The opening, hands down. To figure out the best place to start the story, to weave background information and contextual clues into the present action at just the right balance, to hook and ground the reader without overwhelming them…it's a challenging process. I spent ages editing the original opening chapter into oblivion before finally scrapping it entirely and rewriting a new one from scratch. That new version is what appears in the book, and fortunately, I feel quite proud of it!
What kind of research did you do to help you tell this story?
I modeled the Forestborn continent's natural world after North American wilderness and wildlife, as I believe the latter are pretty amazing and deserve to be celebrated more than they are! So while Forestborn's cultural, historical, and political landscapes are entirely imagined, its geographical landscape—the continent's topography, flora, and fauna—corresponds with different landscapes across North America; namely, the American Southeast, Kentucky's bluegrass region, the Midwest, the Badlands, the Great Plains, and the Rocky Mountain region. In addition to researching these regions' environmental features, I did deep dives into the three animals into which the protagonist shifts—lynx, goshawk, and mouse—to ensure that when she is in those forms, she is moving about the world and interpreting it through the same senses as those animals do.
For a lot of people, there is one summer in their life that stands out as the best. What's yours, and why?
I'll give a shoutout to my second summer living in New York City. First, because I took advantage of NYC in ways I hadn't before. Writing in my local Astoria cafes, walking Central Park top to bottom, working in the Flatiron, happy hours with colleagues, seeing Broadway shows, watching my brother's band perform on the Bowery, taking the Hudson line to catch a trail upstate—just a lot of long days with friends, despite the city's infamous sticky heat. Second, because I traveled to the Canadian Rockies for the first time, and the wilderness there really impacted me. There's a kind of inner peace I only find in the mountains, and a perspective that comes with immersing myself in land far more ancient than me and my problems, and I definitely found both on that trip.