PBS and KQED have launched a free certification in media literacy through a micro-credential program announced at SXSW EDU.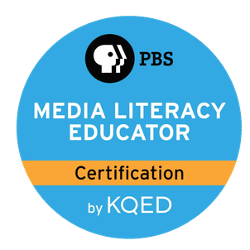 The ability to understand and create media is essential—for teachers and students alike. PBS and San Francisco Bay Area public media station KQED have partnered toward that goal, creating a free certification program in media literacy for PreK-12 educators.
Comprised of eight micro-credentials in a range of skill areas, from "Evaluating Online Information" to "Making Media for Classroom Use," the media literacy certification program was announced Monday at the SXSW EDU conference in Austin, TX.
PBS also announced a new course: Thinking and Making with Media in PreK-2 Classrooms.
The press release: