The worlds of Huxley, Lowry, Atwood, and Orwell have parallels to today, but largely leave out the racism, xenophobia, and intergenerational wounds that persist.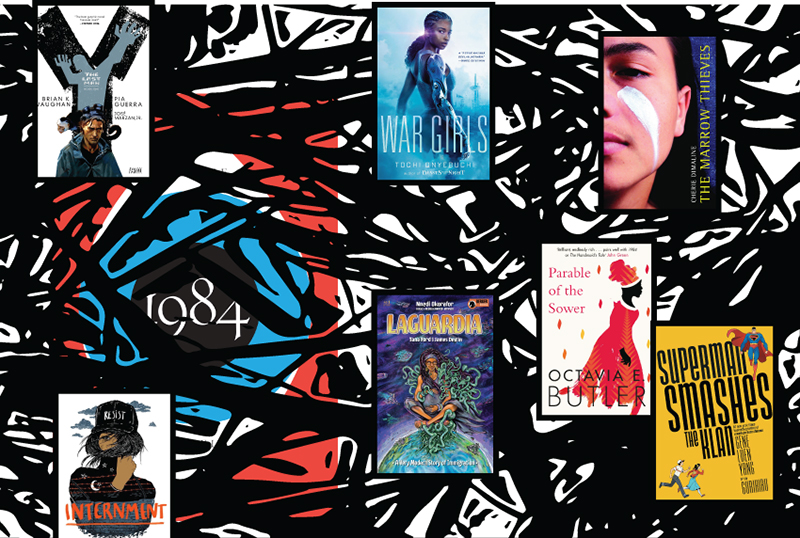 Many years ago, as an early-career high school language arts teacher, I was assigned a course to teach, English 10, and given a list of texts that went with that course. It's a pretty standard practice to teach the books that are in the book room. This is because education is usually underfunded and also because educators are always being asked to do more with less, and because of tradition.
We teach what has been done before, or what those in higher education tell us our students will need to know in order to be successful in their courses. The texts we teach are typically inherited, and somehow, it is often the case that nobody knows exactly how or when a particular title was added to curriculum, just that it has always been there and probably always will be. It was in just this way that I was given the choice of George Orwell's 1984, Margaret Atwood's The Handmaid's Tale, or Aldous Huxley's Brave New World to teach 10th graders about the concept of analyzing the present through depictions of future dystopia.
Around this time, The Hunger Games was taking the world by storm. It wasn't unusual for students to place the book they wanted to read in their laps during read-aloud time and to leave 1984 on the desk in order to "fake read." It isn't unusual for educators to teach 1984 as the present moment, or Brave New World and Lois Lowry's The Giver as the near future, and for students to find it intriguing that there are so many parallels between these texts and today. The Handmaid's Tale is a favorite, because it gives folks a chance to discuss the ills of living in a patriarchal society and the interplay between religious fundamentalism and politics.
Even so, these texts paint a picture of a world that is either post-racial, or, given the fact that each of these books were written by white people, one that is infused with their cultural and social norms, cues, and understandings. The Netflix adaptation of The Handmaid's Tale makes up for an absence of BIPOC and LGBTQ characters in Atwood's novel. These changes add texture and open up space for conversation and critical commentary about marginalization and erasure in the original narrative.

[Read: Stirring Up Trouble with The Crucible | Challenging the Classics]
But how many folks were taught (or are teaching) about that in the first place? Readers have to be taught to see beyond the confines of their lived experience. Many folks simply don't see marginalization or erasure of BIPOC identities and/or the absence of discussions about racism and centering of heteronormativity as issues. If the future of the past is upon us and these issues persist, what reason do we have to believe they won't always exist?
It could be argued that educators and curriculum specialists repeatedly recommend these titles primarily because of tradition. Many educators also believe the literary merit cancels out any issues with the original stories because they are considered to be part of the cultural capital needed to navigate this world. But if a pandemic and global environmental, social, and political instability have taught us nothing else, they must have taught us that we are living in a time of drastic change. Who can determine the cultural capital students will need to navigate our future world successfully?
The dystopias depicted by Huxley, Lowry, Atwood, and Orwell may have many parallels to today, but the narratives themselves largely leave out issues of racism, xenophobia, and intergenerational wounds that persist. The dystopian fiction students most often choose to read are titles such as Divergent, The Maze Runner, and The Hunger Games —all of which have been adapted into blockbuster movies.
A quick search on Goodreads for "Best Young Adult Dystopian Novels" will give you a list of nearly 100 titles. But one has to scroll for quite some time to find one that centers a clearly BIPOC or LGBTQ protagonist. This is just one example of the argument that curated lists are only as inclusive as the mind-set of the list maker, who has to have a developed critical consciousness in order to see areas of omission. The same could be said for curriculum that uses only heteronormative dystopian tales set in the Western world and are written entirely or primarily by white authors to support students developing skills of literary and critical analysis.
By contrast, Octavia Butler's "Parable of the Sower" series centers collectivism as a practice over individualism, with a person of color as the protagonist who displays "hyperempathy" rather than greed and a desire to be the victor or the "last man standing." The Marrow Thieves by Cherie Dimaline is a bold and terrifying social commentary centering Indigenous people that forces reflection about the ongoing dehumanization and genocide perpetrated against them.

[Read: Making the Most of Independent Reading]
The Eisner Award–winning graphic novel LaGuardia by Nnedi Okorafor is a natural book for students to pair with the 2006 film Children of Men cowritten and directed by Alfonso Cuarón. In both stories, Black, pregnant, female protagonists navigate a plot that deconstructs present-day problems with xenophobia and anti-immigration sentiments. The novel War Girls by Tochi Onyebuchi depicts a time in the not-so-distant future when technology, political instability, and the persistence of hope intersect to weave a tale students can both identify with and remain curious about. These works have representation of lived experiences and perspectives from those who were absent or marginalized in 1984 and The Handmaid's Tale.
Though the settings are more alternate reality than dystopia, there is much to discuss about the perils of silence in times of injustice, political instability, and the enduring fight for liberation from oppressive social structures in both Gene Luen Yang's graphic novel Superman Smashes the Klan and Samira Ahmed's novel Internment. These titles represent perspectives and center issues not typically addressed by white mainstream authors or educators. They also give students the opportunity to develop critical consciousness by diving into subjects like decolonization and oppressive social structures beyond sexism or classism.
So, if the goal is to draw parallels to today's society so that students can analyze literature using a complex text with literary merit, it could reasonably be argued that that can be done with a variety of texts in place of, or in conversation with, the classics.
One of the best and most underrated dystopian tales I have ever read that in the time when it was published and among its audience, garnered as much acclaim as The Walking Dead, is Y: The Last Man by Bryan K. Vaughan and Pia Guerra. Winner of multiple Eisner Awards, Y: The Last Man opens up space for critical conversations about masculinity, the dismantling of a patriarchal society, the role of science in a dystopian future, and so much more. If I knew during my days as an early-career educator what I know now, I would have brought that into my 10th grade classroom, not because Orwell wasn't right about his vision of the future, and not because 1984 isn't worth reading, but simply because for me, Y: The Last Man is more relevant to more of today's readers.
In the end, educators have to decide what will work best for their particular classroom. Context is everything. One universally accepted truth is that once students start reading a book they love, they typically don't want to stop. I can't keep copies of The Walking Dead on my library shelves. Books with film adaptations tend to lure students to those and similar titles, which is what I want to see. But I know that part of my job is to build bridges between what my students want and what the community says they need. If the goal of language arts class is to produce lifelong lovers of literature and students who think critically, reading both the world and themselves, we should bring the books students choose to read above the desks and into classrooms for academic study and discussion. What better time to make that shift, than the present?
Julia E. Torres is a librarian and ELA educator serving students and teachers in the Far Northeast region of Denver Public Schools.