The supernatural creatures of Japanese lore flourish in these manga titles.

For centuries, the Japanese explanation for things that go bump in the night has been yokai, sometimes called ayakashi or mononoke. These strange spirits occupy the dark spaces and lonely corners of everyday life, or occasionally, as in Hayao Miyazaki's Spirited Away, inhabit a spirit realm all their own.
Yokai is a generic term for a variety of supernatural creatures that have many shapes and temperaments: Nopperabo, for example, appear human but have no face; tengu are fierce creatures that combine the scarier elements of birds, monkeys, and humans; and tsukumogami are ordinary household objects that become yokai when they are 100 years old.
Yokai are usually invisible to humans. The ability to see them is often more of a curse than a gift: It's unnerving to see monsters everywhere you look, and those who can are often branded liars.
Yokai may be evil, mischievous, or friendly, but their looks can belie their true nature. They have shapeshifting powers and often hide their fiercer true form, taking on the appearance of a human or a cute animal. But a terrifying-looking yokai may turn out to be completely benign. And the same yokai may appear different in various manga: Kappa, for instance, are turtle-like creatures who live near water, love cucumbers, and have a dish on their heads that must be kept full of water, or they will die. In Kakuriyo: Bed and Breakfast for Spirits, kappa are cute and small. But the one in In/Spectre is huge and possibly murderous.
Yokai have existed for centuries in stories people told as cautionary tales, as explanations of odd phenomena, or simply as entertainment. Scholars began writing down the legends in the 18th century, when yokai started appearing in books and artwork. Their popularity declined in the early 20th century, but before and after World War II, they were a popular subject for kamishibai, traveling storytellers who used pictures as visual aids.
They have also become a part of modern urban folklore. In 1979, Japanese newspapers featured articles about a yokai named Kuchisake-onna, a young woman with a face slashed ear to ear beneath a surgical mask, and caused a nationwide panic. For a time, children across the country walked to school in groups for fear of being attacked.
Shigeru Mizuki, a former kamishibai artist, played a large role in bringing yokai into pop culture with manga adaptations of the kamishibai story Kitaro of the Graveyard. His children's manga were hugely popular in the 1960s and 1970s, and he also created yokai stories for adults. Drawn & Quarterly publishes Mizuki's work in English, including seven volumes of his "Kitaro" comics for children.
Here's a look at some manga series that feature the many faces of yokai.
"Yo-Kai Watch" by Noriyuki Konishi. Viz. 2015–present.
Gr 4 Up–"Yo-Kai Watch" was created as part of a media franchise that includes anime, games, and toys. "Yo-Kai Watch" is a bit like "Pokémon" in other ways, too. It features a boy summoning oddball creatures, but the Yo-Kai here solve problems. Nate Adams is an ordinary kid until a Yo-Kai named Whisper comes into his life and insists on being his butler. Whisper gives him a watch allowing him to see Yo-Kai, and when Nate befriends one of them, the creatures give him a coin to summon them at any time. The Yo-Kai have a similar vibe to those of folklore. In early volumes, each short chapter is a self-contained story. The series has some longer story arcs, but it's easy to pick up any volume and start reading. Viz rates it for all ages and published volume 19 in August 2022.
"Yokai Cats" by PANDANIA. Seven Seas. 2022.
Gr 5 Up–This lighthearted, full-color series features mischievous yokai cats who use their shapeshifting powers to steal food, make messes, and generally irritate their companions. The first volume will publish in October.
"Natsume's Book of Friends" by Yuki Midorikawa. Viz. 2010–present.
Gr 7 Up –High school student Takashi Natsume's grandmother defeated numerous yokai, writing each one's name in a book that gave her absolute power over them. When Natsume inherits the book, yokai pop up all around, either trying to seize the book or asking for their freedom. Natsume himself is an orphan who was shunned by his family because he had the power to see yokai, and now that he is with a loving foster family, he doesn't want to burden them with his strange ability. His bodyguard is a fearsome yokai that usually takes the form of a cute cat. Midorikawa's delicate art has just enough detail to bring each character to life. This is a long series (up to 28 volumes in Japan), and some early volumes may be hard to find. It's also episodic and doesn't have to be read sequentially. Adapted into an anime.
The Birth of Kitaro by Shigeru Mizuki. Drawn & Quarterly. 2016.
Gr 7 Up –This is the first of Drawn & Quarterly's juvenile-format Kitaro books, and it's a bit different from the others. Mizuki was a fan of American horror comics such as "Tales of the Crypt," and this story has a similar feel, with characters resembling zombies and mummies and its story of a boy who's born after his mother is dead. After that, the stories move to more playful tales of yokai outsmarting humans and one another, and Mizuki's depictions are delightful. Kitaro's entourage includes his father's eyeball, which follows him to make sure he's OK, and the rat-like trickster Nezumi Otoko. Each volume in this series has a historical introduction by translator Zack Davisson and a glossary of featured yokai. Each also has different ratings; the others are Kitaro Meets Nurarihyon (Gr 7 Up), Kitaro and the Great Tanuki War (Gr 3 Up), Kitaro's Strange Adventures (Gr 10 up), Kitaro the Vampire Slayer (Gr 1 Up), Kitaro's Yokai Battles (Gr 1 Up), and The Trial of Kitaro (Gr 7 Up).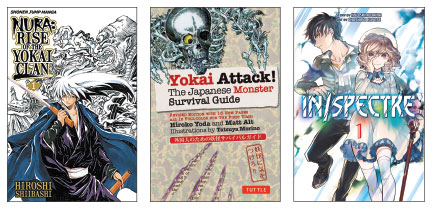 "Nura: Rise of the Yokai Clan" by Hiroshi Shiibashi. Viz. 2011–2015.
Gr 7 Up –Rikuo is three-quarters human, one-quarter yokai, and the grandson of the leader of all yokai. His grandfather is aging, and there's a power struggle among the yokai as to who will take over, but Rikuo isn't interested. He prefers to live as a human, but occasionally his yokai side takes over and he becomes a powerful warrior. Still, he struggles with his schoolmates' prejudice against yokai and his clan's hatred of humans. This action story has a huge cast of engaging creatures and linear, expressive art. The series is 25 volumes long and has been adapted into anime.
Yokai Attack! The Japanese Monster Survival Guide by Hiroko Yoda and Matt Alt. illus. by Tatsuya Morino. Tuttle. 2012.
Gr 7 Up –This yokai guidebook describes four dozen of the best-known specimens, with basic facts, historical notes, trivia, and information on what to do if one attacks you. It's heavily illustrated, and the writing is lighthearted and filled with odd facts, making it a fun read and a useful reference book. Back matter includes a list of yokai movies, online resources, and a bibliography.
"In/Spectre" by Chashiba Katase. Kodansha. 2016–present.
Gr 8 Up –Kotoko, a young woman, was kidnapped by yokai as a girl and sacrificed an eye and a leg to become their goddess of wisdom. Kuro, who is male, gained immortality and the power to shape the future after eating the flesh of two different yokai. After Kuro's girlfriend, Saki, leaves him out of fear, Kotoko convinces Kuro to become her boyfriend. Action ensues as the three fight to defeat a faceless yokai wielding a steel girder. This manga has a strong element of mystery and intriguing discussions about how yokai originate and grow—and how the internet is changing that. Adapted into an anime, it's ongoing; Kodansha published volume 16 in July.

"Malevolent Spirits Monogatari" by Onigunsou. Seven Seas. 2023.
Gr 8 Up –When spirits occupy inanimate objects and transform into yokai (tsukumogami), members of the Saenome clan help them get back to the spirit world. Hyouma, a member of the clan, harbors ill feelings toward tsukumogami. To help adjust that negative perception, his grandfather sends him to live among the tsukumogami with a woman who treats them like family. This action/fantasy manga will launch in January 2023, and an anime is in the works.
"Kakuriyo: Bed and Breakfast for Spirits" by Midori Yuma. adapt. & illus. by Waco Ioka. Viz. 2019–present.
Gr 8 Up –College student Aoi is whisked away to the land of spirits. There, she learns that her late adoptive grandfather ran up debt at an inn and pledged her hand in marriage as collateral. Now she must marry the inn's owner, a handsome ogre, or repay the debt. After establishing a restaurant to make money, she charms the grouchy ayakashi (as they are called in this series) and starts questioning everything she believed about her grandfather and her mother, who turned against Aoi because she could see yokai. The series is adapted from a series of novels (none of which are translated) and has been made into an anime. It is ongoing, and Viz will publish volume 8 in March 2023.
"A Terrified Teacher at Ghoul School!" by Mai Tanaka. Yen Press. 2017–present.
Gr 8 Up –The title sums up this comedy series about a faint-hearted teacher at a school for yokai. Haruki is scared of everything, including the yokai surrounding him. It turns out that, despite his cowardice, he is descended from a powerful yokai fighter and is invincible against yokai. This series is a broad comedy, with lots of slapstick, exaggerated expressions, and over-the-top situations. Yen Press will publish volume 12 in December 2022.
"Ayashimon" by Yuji Kaku. Viz. Spring 2023.
Gr 10 Up –Yokai meet yakuza (organized crime) in this story of a teen recruited into an otherworldly underworld. Maruo's ambition is to be a manga hero; he's strong, but not very bright. This keeps him from getting a job, until he rescues a kimono-clad girl from thugs. She's the daughter of the recently deceased leader of a yakuza family and is determined to take his place amid a violent power struggle. She asks Maruo to join up with her, and he agrees, not knowing what he's getting into. This action/comedy manga runs digitally in Shonen Jump and on the Manga Plus website and app (where it can be read for free). Viz will publish the first of three volumes in March 2023.
---
Brigid Alverson founded the blog "Good Comics for Kids" (slj.com/goodcomics).