Motivated by the lack of diversity in the books she saw in Little Free Libraries in her Massachusetts hometown, Sarah Kamya set out to add titles by and about Black and brown people to the boxes. Soon she was creating Little Free Diverse Libraries, getting national attention, and setting goals for this project that will continue beyond the pandemic.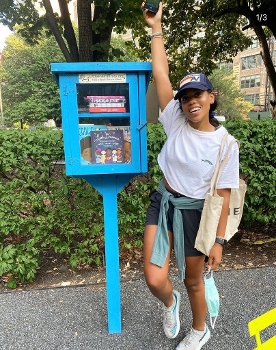 When COVID shut down her New York City school in spring 2020, 26-year-old school counselor Sarah Kamya—like many young adults—moved back to her childhood home. During that early stage of the pandemic and stay-at-home orders, she would take walks to break up her day. As she strolled the streets of her hometown, Arlington, MA, she noticed something.
Kamya (pictured) saw a lot of Little Free Libraries in her neighborhood: She found five of the cute wooden boxes that look like oversize birdhouses but are filled with books within two miles of her parents' house. Little Free Libraries are maintained by a host—usually a homeowner but sometimes a business or community organization—and serve as trading posts where neighbors can leave books to share or take home books they want. But when Kamya took a look at the books inside the boxes, she found them to be homogeneous uninspiring—and white.
"Books are such a good way to teach people, to have people hold on to something and share it with others," says Kamya, who hoped that a supply of diverse books would help her community question racism and understand the Black Lives Matter movement. "My family has a decent supply of books," she remembers thinking. "Let's just put some in."
Kamya, who is Black, grew up in the largely white and affluent town of Arlington without often being exposed to books with characters who looked like her. At the school where she works in New York, she's learned about many diverse children's books that she loves, including My Rainy Day Rocket Ship by Markette Sheppard and Each Kindness by Jacqueline Woodson. She's seen the impact such books make on students, and she frequently uses them in counseling sessions; for instance, she'll read Hair Love by Matthew A. Cherry when she's working with a student on confidence and building self-esteem.
"I personally know not seeing myself was significant," Kamya says. She was determined to change that for kids in her hometown today.
Kamya shared what she was doing on Instagram and asked friends to Venmo her money so she could distribute more books by and about Black and brown people. She hoped to raise $50. Within an hour, she had received $1,000 in donations.
Thus was born Little Free Diverse Libraries, a project Kamya never expected to start that has now been featured on LIVE with Kelly and Ryan and other media and has raised about $20,000. Kamya has used that money to send diverse books purchased from Black-owned bookstores to Little Free Libraries around the country. Her latest initiative is donating fully stocked Little Free Diverse Libraries to schools with diverse populations in Massachusetts and New York. She worked with the organization Love Your Magic to get five Little Free Diverse Libraries to schools. Another five were donated. Each school was stocked with 20 books recommended by Kamya or the school's staff and appropriate for the age and community.
Most of the schools that received boxes have their own library, except one which was undergoing renovations, according to Kamya, but the majority were doing hybrid or remote learning this year and access to books in the library was limited. But Kamya doesn't just want to help during the pandemic. She plans to continue working to get Little Free Diverse Libraries at schools. Her goal is for every Title 1 school in New York City to have its own, and that one day every school in the country will, too.
Kamya's work got the attention of the staff Little Free Libraries and now Kamya sits on Little Free Libraries' diverse books advisory group, alongside authors Roxane Gay, Grace Lin, Debbie Reese, and Caroline Tung Richmond.
"Sarah was a real inspiration," says Shelby King, program director for Little Free Libraries. Motivated by the Black Lives Matter movement, this past fall Little Free Libraries launched its Read in Color program, which has distributed hundreds of diverse books to existing Little Free Libraries in the Minneapolis–St. Paul area and installed libraries in new community locations. The program will expand to more cities this year.
"When we're giving any books, we're trying to make sure they're diverse, that they're in #OwnVoices," King says. "It's our responsibility."