School librarian IdaMae Craddock and school counselor Ouida Powe discuss the power of their partnership and the bibliotherapy initiative they launched at Community Lab, a 6–12 public school in Charlottesville, VA.
Ouida Powe I am a school counselor, but my experience as a parent encouraged my appreciation for the power of literature to support mental and emotional health in children. My elementary-aged child was the only student of color in her grade and the only one whose hair had a texture of significant variety. She could have waves one day, straight strands another, a curly afro the next. These styles were normal and beautiful. Then, kids from school began to tease her when her ponytail didn't swing like her classmates'. She sadly announced that she didn't want her hair in styles that would not swing anymore, and eventually—tearfully—
explained to me why.
She quickly let me know that my words of encouragement were appreciated, but were not necessarily credible when she responded, "You're supposed to say that. You're my mommy." In desperation, I reached out to her teacher and asked for help and partnership. The teacher went to the librarian, though I didn't have the wisdom to understand why, until my daughter got a book.
IdaMae Craddock The book was Misty Copeland's Firebird, with its gorgeous cover art. By purchasing, displaying, and recommending it, the librarian created a culture of acceptance and admiration.
Often, students perceive differences to be uncomfortable or scary. In response, bullying occurs. Providing a clear, successful, strong, and, in this case, beautiful role model in print helped Ouida's daughter understand she was not alone. Other students learned that difference in hair texture is not uncomfortable, scary, or worthy of scorn.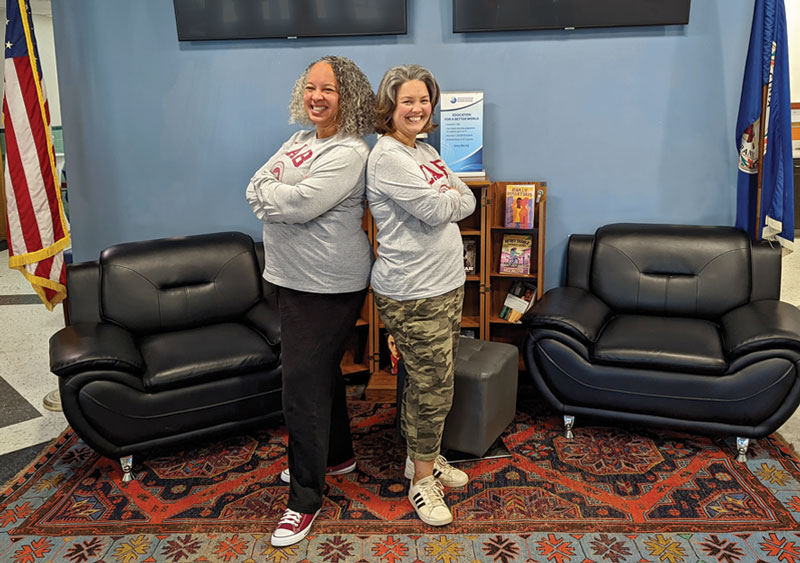 Ouida Powe (left) and IdaMae Craddock
Photo by Joshua O'Neill Rossouw
OP: At some point, every student in class learned about Misty Copeland and her beautifully textured hair. Firebird offered encouragement through representation. It was a valuable lesson in the simple, yet unmistakable, power of bibliotherapy and the possibility of school counselor–librarian partnerships.
IC: There is much we librarians can do to partner with school counselors and promote student well-being through bibliotherapy. The counselor-librarian connection can and should be commonplace in schools. This teamwork can benefit elementary students like Ouida's daughter and her classmates—as well as older students facing mental health issues.
The growing concern for middle and high school students' mental health for years pre-COVID has yielded to widespread awareness that many students suffer from anxiety, depression, and thoughts of suicide.
The suicide rate for children and young adults, ages 10– 24, rose by 56 percent from 2007 and 2017, and is now the second leading cause of death among teenagers, according to the National Center for Health Statistics.
According to the CDC, emergency room visits for mental health concerns among adolescent girls, ages 12–17, increased overall in January 2022 compared with 2019.
OP: As the mental health crisis persists, we need all the tools at our disposal to help students. Librarians are trusted members of the school community who occupy a particular kind of safe space, as do counselors.
Though we use the term "mental health" liberally, social development, emotional wellness, and mental health are distinct concepts that overlap. If students are in a state of distress regarding any of the three, they are likely to seek help from the same person—a school counselor. To be clear, though, students who experience distress, particularly those with accompanying neurodiverse diagnoses (for example, personality disorders, bipolar disorder, autism spectrum, etc.), are best served by mental health professionals with the expertise, training, and experience that school counselors currently lack.
IC: Working in an intentionally welcoming and accessible space, librarians often encounter students who are dealing with serious mental health issues. We refer those students to the school counseling office, but we can also help by suggesting books, which have the ability to comfort, educate, and embrace.
OP: Recently, I had a student who experienced a panic attack. I know that reading a book and discussing it with me will give her the language to process what happened and to understand that she's not alone. The use of a fictional mirror to her experience can disempower the negativity associated with her panic attacks. It can strengthen her language to describe what she's experiencing, why, and the ways she can manage the attacks in the moment or in the future.
IC: Books can also provide springboards for conversations in counseling. In a 2019 School Counselor magazine article, Jayna Mumbauer differentiates between clinical and developmental bibliotherapy, while noting that bibliotherapy can provide students with "mental health literacy." Mumbauer writes that benefits of bibliocounseling include "identification, the feeling of relating to a particular story or character; insight, awareness of personal problems and potential solutions; and catharsis, the release of pent-up emotions" (bit.ly/3A9QHq1).
Librarians can engage in developmental bibliotherapy for students and refer them to both titles and resources. We can improve our offerings by partnering with our school counseling office as we engage in collection development.
And one of our librarians' greatest assets is that we know the books. While I've memorized which ones talk about bullying, depression, anxiety, or have the right role models in them—our staff and students haven't.
We can share our knowledge using Follett's Destiny Collections, resource lists, or just straight up printing a categorized list and taking it to the counseling office. This has the happy by-product of increasing our circulation and reading test scores, forming closer relationships with staff, and creating a community of readers.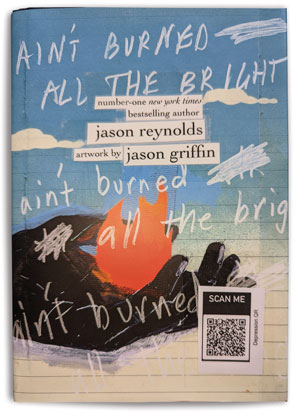 A library book with a QR code linked to mental health resources
OP: School counselors need creative strategies to reach multiple students in meaningful ways, help students feel seen, and connect to a community of peers. At our school, bibliocounseling fulfills the need at varying levels of vulnerability. A student may choose to read without intervention/interaction with others. They may choose to read asynchronously and explore the therapeutic jewels found in a book with their school counselor via notes. Or they may participate in a book club with other students and a trusted adult.
IC: Our book club began meeting on Zoom during quarantine and quickly found that all the traditional strictures no longer applied. No one had to travel. No snacks had to be corralled. No space had to be reserved, or rides procured, or activities rescheduled. Book clubs quickly became a safe space to process emotions as we experienced 2020.
OP: Students returned after months of isolation with a poignant need to be reminded how to be members of a community. They wanted and needed to connect, but lacked the language to ask. The in-person book club not only provides a connection among students, but also connects the role of the librarian and the school counselor for them.
IC: Now, students continue to participate actively in book clubs, because books provide a buffer and third-person point of view on our experiences. As we discuss the book, we also tangentially talk about our current state—
emotionally, physically, and mentally. That buffer is part of the reason that bibliocounseling is so helpful. It helps students process their emotions through talk, without requiring painful vulnerability.
Not all students are comfortable in book clubs, however. But, with the mental health of our youth still in crisis, we feel that doing nothing to help is not an option. For those students who do not want or cannot access bibliotherapy as we offer it, we connect library books with mental health resources using QR codes affixed to covers. If there is a character who struggles with depression, you will find a link to resources about depression by following the code on the cover. This system means that the books and resources that lived in my mind are now accessible virtually via Destiny Collections and physically on the book cover.
OP: At our school, books can also provide connections between students and the school counselor through writing therapy. Students who discover books via Destiny on a particular topic can engage with their peers and/or the school counselor to the extent they feel comfortable. Writing therapy with fellow students becomes a form of community journaling that is as much a part of bibliocounseling as reading and discussions. Students who participate in the asynchronous book club share parallel factual experiences and thoughts related to the fictional protagonists they read about with peers. This provides another layer of representation, as students know they are not alone in their experiences.
IC: Community can be created in many ways. Our students leave sticky notes on book pages describing their reactions to plot points; others sometimes add to or react to those notes. Students also contribute longer narratives about what they're reading to a community journal via Google Docs. Both ways, they don't have to engage in vulnerable, in-
person conversations to process emotion using literature.
These small notes or longer journals provide mutual support and empathy so students don't feel alone, even when they are. This pushes back on the sense of loneliness and isolation that feeds depression and anxiety.
IC & OP: Whether you choose to begin a tradition of asynchronous book clubs, distribute mental health resources via book titles, or help your school counseling department directly with readers' advisory, it is important to have forward movement in protecting vulnerable students. One in five students visits the library daily. That presents an opportunity to connect with them through books, particularly when there's a partnership between the school librarian and school counselor in place.
---
IdaMae Craddock is a librarian at the Community Lab School in Charlottesville, VA. Ouida Powe is a counselor at the Community Lab School.