Since D/deaf experiences vary greatly, it's important to offer kids multiple titles about D/deaf characters and characters with hearing loss, showcasing these differences.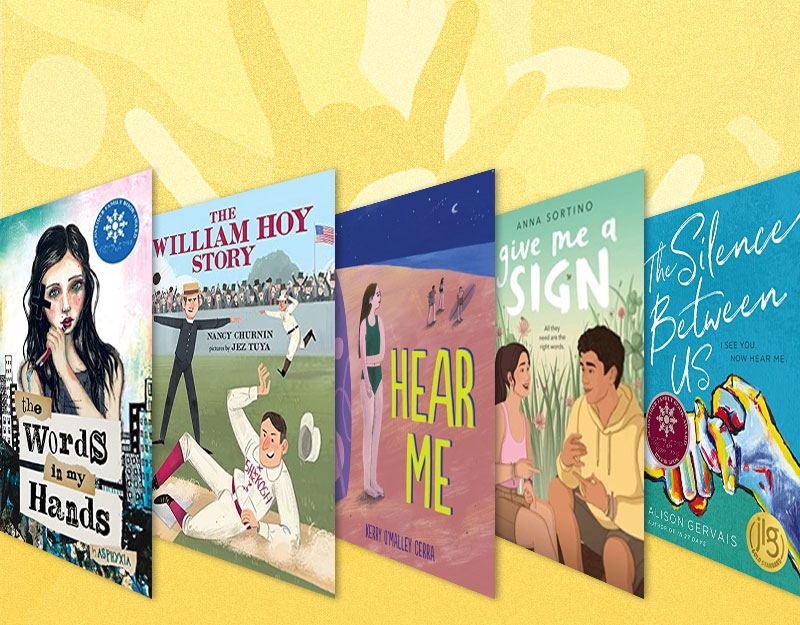 Happy Deaf Awareness Month! As a deaf children's book author and recently retired high school media specialist, I'm excited to give you a peek into how I spotlighted books based on different themes throughout the year. At the one-year anniversary of my own middle-grade novel about hearing loss and cochlear implants, Hear Me (Carolrhoda, Sept 2022), I want to especially highlight books you can feature to bring awareness to the deaf and hearing loss experience this September.
It's safe to say our collective goal as media specialists and librarians is to get as many kids reading as possible. I've found circulation numbers increased exponentially when I got books directly in front of my students. Engaging them up front is the key. If I were still in my library, I'd likely kick off September by showing a clip of Nyle DiMarco on Dancing with the Stars. That would surely raise a lot of great questions. The next week, I might show a segment from a Gallaudet University sporting event or a scene from the movie CODA. And after all the questions subsided, I'd point them to my display for books—because I'm always about the displays!
Finding books for my displays used to be a chore. Our district uses Follet Destiny to catalog books. A general search in Destiny using terms like "deaf" and "hearing loss" frequently omitted books I knew I had in my collection. Some simply weren't tagged that way in the system, and I often found myself searching endlessly through the database and scanning the shelves instead for books that fit the theme.
Then, I discovered the Copy Category tab. It allows you to create categories for anything you'd like, such as disability, Jewish experiences, outer space, grief, books set in Florida, gaming/coding, books in a series, and so forth. The possibilities really are endless, and it's up to you how thorough you want to be. You can see from my screenshots here that I was obsessively thorough.
Each time I received a shipment of books, I looked up every single one—mostly utilizing Follet and Goodreads. Both sites are fantastic for listing tags. Neither is necessarily better than the other, but both tended to include different categories that the other didn't, so using both was best. Of course, on top of this, I'd always read the book's summary, which often allowed me to check more boxes for tags I wouldn't have otherwise known about from the tags alone—mostly because many of my own categories were so specific. For a single book, I may check off 10 or more boxes. Another might only lead to two. As long as the book included a topic in my category list... check!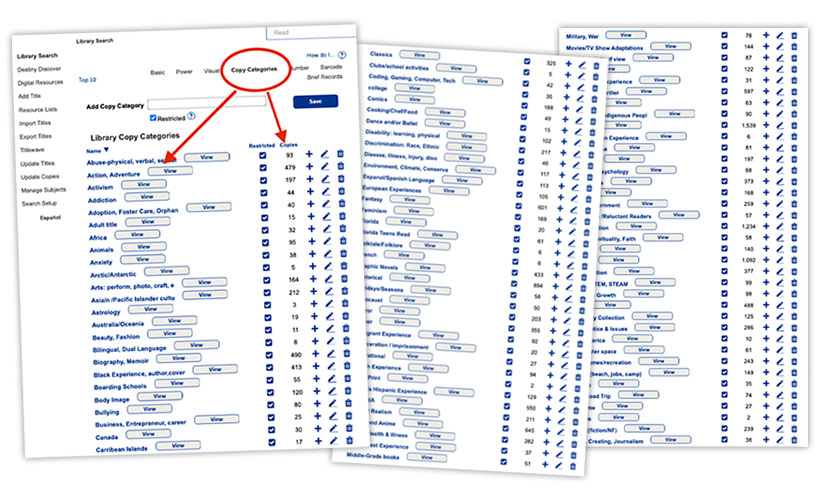 I'm not going to lie, my process is extremely time consuming, but the benefits far outweighed that. For one—probably most important—it allowed me to know my collection intimately. It also allowed me to find books easily any time I wanted to do a themed display. And I could pull books quickly for teachers when they brought their students in for research or if a student had a general idea of a book they'd like but nothing specific in mind. Plus, seeing low numbers in certain copy categories helped me be more mindful with my future purchases.
Let's face it: These days, a lot of the tasks librarians are assigned are, let's just say... not fun. Many of the rules continue to confine and stifle. But creating themed displays, cataloging books, and chatting about books with students was always the highlight for me. Luckily, the three go hand-in-hand.
Deaf Awareness
If you're looking to celebrate Deaf Awareness Month in your library, here are a few more ideas beyond typical displays. First, gather a list of all the books available to your students on the topic. Don't forget, this may include ebooks and audiobooks. Select a few to highlight in different ways. Some things that were successful for me were Title Talk Tuesday, which involved me, or one of my students, booktalking a novel. Trailer Thursdays were a hit too—I had Promethean boards around my media center and streamed a book trailer each Thursday. And then there's First Chapter Fridays. A student or I would read aloud from a title, but it turns out I had even more success playing the first chapter from an audiobook. Students were fascinated to learn that they could access audiobooks right from their phones, and also, the voices were incredibly engaging. They had assumed audiobooks were monotone and boring. Afterward, many kids asked me how they could get the book right then.
My circulation numbers were fantastic. I was always proud of that and confident it was the direct result of my cataloging process.
Below, are a few of the books from my school's collection to round out your own list and perhaps spotlight them this month. D/deaf experiences vary greatly, so it's important to offer kids multiple titles about D/deaf characters and characters with hearing loss, showcasing these differences as much as possible. For example, in my book, Hear Me, my character wears hearing aids, though she qualifies for—but is refusing—cochlear implants. She doesn't yet know sign language. In my forthcoming book, Make a Little Wave (Carolrhoda, Aug 2024), my character is a proud double cochlear implant wearer. In the Schneider Book Award winner Show Me a Sign by Ann Clare LeZotte (Scholastic, 2020), the main character exclusively signs. And in Give Me a Sign by Anna Sortino (Putnam, July 2023), the kids attend a summer camp for D/deaf children and children with hearing and vision loss—a nuanced depiction of diversity within this disability community. As I always say, there is no right or wrong way to be D/deaf, and I hope your collection will reinforce that.
The Words in My Hands by Asphyxia
A Quiet Kind of Thunder by Sara Barnard
SuperSorda! / El Deafo by Cece Bell
This is Kind of an Epic Love Story by Kacen Callender
Hear Me by Kerry Cerra
The William Hoy Story: How a Deaf Baseball Player Changed the Game by Nancy Churnin
Deaf Utopia by Nyle DiMarco
Sugaring Off by Gillian French
You're Welcome Universe by Whitney Gardner
The Silence Between Us by Alison Gervais
The Reckless Kind by Carly Heath
Five Flavors of Dumb by Antony John
Deaf Republic: Poems by Ilya Kaminsky
Tone Deaf by Olivia Rivers
Hurt Go Happy by Ginny Rorby
Give Me a Sign by Anna Sortino
Listen: How Evelyn Glennie, a Deaf Girl, Changed Percussion by Shannon Stocker
Impossible Music by Sean Williams
A Quiet Kind of Thunder by Sara Barnard
Disability Visibility: 17 First-Person Stories for Today edited by Alice Wong
Kerry O'Malley Cerra is the award-winning author of Just a Drop of Water (Sky Pony, 2014) and Hear Me (Carolrhoda, 2022). Her forthcoming books include Make a Little Wave (Carolrhoda, 2024) and the nonfiction picture book The Gallaudet Eleven: The Story of NASA's Deaf Bioastronauts (Little, Brown; March 2026). She lives in South Florida with her family and two poorly behaved rescue dogs.