The multi-talented 2020 Edwards Award winner is interviewed by legendary comic artist Stan Mack.
Fans of this year's Margaret A. Edwards Award winner won't be surprised to learn of Steve Sheinkin's affinity for thrillers. Taut plotting, dramatic details, and a flair for storytelling have provided his readers with riveting scenes from history often missing in school books. Sheinkin has said that the road to narrative nonfiction began when he was working as a textbook writer and realized that all the best stories never made it on the page. His journey from that early career has been awe-inspiring. Sheinkin's works have illuminated little-known accounts and events, and heroes whose lives, actions, and courage continue to reverberate today.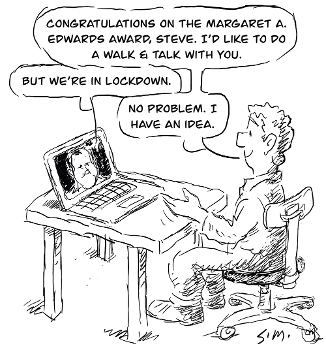 Who will ever forget the improbable cast of real-life spies and scientists he assembled in Bomb: The Race to Build—and Steal—the World's Most Dangerous Weapon (2012)? Or its spellbinding passages describing Knut Haukelid's parachute jump into Norway and his daring race on skis to destroy the plant where Nazis were manufacturing heavy water for their nuclear program?
Writing about the determination of the African American survivors of the 1944 explosion at a California naval yard in The Port Chicago 50: Disaster, Mutiny, and the Fight for Civil Rights (2014), Native American football players in Undefeated: Jim Thorpe and the Carlisle Indian School Football Team (2017), and early 20th-century female aviators in Born to Fly: The First Women's Air Race Across America (2019), Sheinkin has enthralled readers. The significance of these stories has not eluded his audience, as many Americans continue to fight for justice, civil rights, and the recognition that their lives, too, hold primacy. In Most Dangerous: Daniel Ellsberg and the Secret History of the Vietnam War (2015, all Roaring Brook), the author evokes today's headlines of whistleblowers and questions of governmental truth telling. Evident in each book is impeccable research that shines a light on the era and story through a historical, political, and social lens, while offering insight into the lives of those at the center.
In addition to these and other captivating titles, the versatile Sheinkin produced a series of "Rabbi Harvey" graphic novels (Jewish Lights) and, more recently, the "Time Twisters" series (Roaring Brook), which are sure to challenge readers who question whether history can be exciting. In Sheinkin's hands, it always is. Hats off to the 2020 Margaret A. Edwards Award winner.—Daryl Grabarek