At the SLJ Summit, attendees can convene in smaller groups after select panels to further ideas, discuss practical applications, and enjoy the kind of conversations that have been typically lost in virtual events.
One of the most frustrating experiences at meetings and conferences is to attend a program or panel that leaves you with questions, ideas, and so much more to discuss, but no one to talk to about it, because everyone is running off to another session or meeting. Often, those conversations never happen, lost to chaotic schedules and packed programs. With virtual events, the inability to further ideas or discussions after a panel can be felt more acutely. But at this year's SLJ Summit, we're making time and space for those conversations.
Small discussion sessions will follow three panel presentations: Reimagining School; Beyond Book Clubs: Next Steps in Antiracism Work with Children; and Challenging the Classics. Each discussion will take place in Zoom breakout rooms (of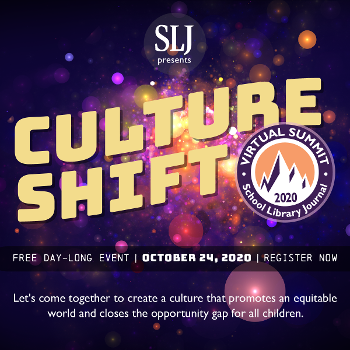 approximately 10 to 12 people in each small group) and be facilitated by experts in public or school library youth services, youth development, and education. Each facilitator was selected because of their ability to work with others to explore session topics in depth. Panel participants may take part in the breakout discussions.
These 50-minute, follow-up conversations will give participants the opportunity to delve deeper into the points raised during the panel presentation. Those who want to join can register when entering the Zoom environment after the session and will be able to ask each other questions, hear about best practices, discover new ideas, and come up with ways to move forward. As a way to capture the small group discussions more fully, participants will have the chance to take notes and add their thoughts to Padlets which will be made available to those who didn't have the chance to attend following the discussion sessions.
The schedule and facilitators for the Zoom discussions are:
Reimagining School, 11:20 a.m. to 12:10 p.m. EST
Danielle Arnold, librarian Belmar (NJ) Elementary School
Alida Hanson, librarian, Weston (MA) High School
Courtney Lewis, director of library services and innovative research, St. Catherine's, PA
Elissa Malespina, teacher librarian, Verona (NJ) High School
Carrie Sanders, youth services coordinator, Maryland State Library
Wendy Stephens, assistant professor, Jacksonville State University, FL
Jenny Takeda, district librarian, Beaverton (OR) School District
Beyond Book Clubs: Next Steps in Antiracism Work with Children, 12:20 p.m. to 1:10 p.m. EST
Shannon Lake, library consultant, GA
Leah Larson, Minnesota Department of Education, State Library Services
Kymberlee Powe, children and young adult consultant, Connecticut State Library
Julie Stivers, librarian, Mount Vernon (NC) Middle School
Challenging the Classics, 3:20 p.m. to 4:10 p.m. EST
Sarah Park Dahlen, Associate Professor, St Catherine University, MN
Amy Pattee, associate professor, Simmons University, MA
Nicole Rawlinson, teen services Llbrarian, Kitsap Regional Library, WA
Josh Thompson, English teacher, Blacksburg (VA High School
Leah Weyand, teen services coordinator, Tulsa City County (OK) Library
(Please note facilitators are subject to change.)