It's the fifth year the Sydney Taylor Book Awards will be announced at the Youth Media Awards, an inclusion that has vaulted books with Jewish content into a broader spotlight.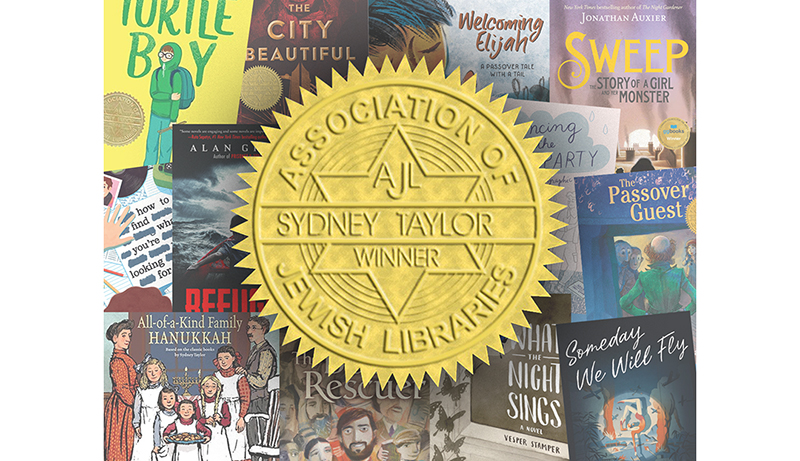 The children's literature world eagerly awaits Monday's announcement of the 2023 Caldecott, Newbery, and Printz winners, but there is more to the Youth Media Awards than the Big 3. Among the other awards of the day, this will be the fifth year the Sydney Taylor Book Awards are part of the ceremony, a platform that has been a "game-changer" for the awards that honor "outstanding books for children and teens that authentically portray the Jewish experience."
"It's been amazing," says Susan Kusel, who was the award committee chair in 2019 when the Taylors were first added to the ceremony lineup. "People know who we are, and they didn't before. They take us seriously."
The Sydney Taylor Book Awards are presented by the Association of Jewish Libraries, named in honor of the author of the "All-of-a-Kind Family" series, and funded by her daughter Jo Taylor Marshall. They are awarded in picture book, middle grade, and young adult categories. Creators don't have to be Jewish to be honored, but their books must accurately portray a Jewish experience. For example, Andrea Davis Pinkney, who is not Jewish, was the 2017 silver medalist for A Poem for Peter: The Story of Ezra Jack Keats and the Creation of The Snowy Day.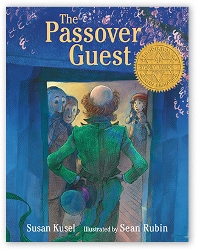 While the award has existed since 1968, its inclusion in the YMA ceremony "has changed everything," says Kusel, who won the award in the picture book category last year for The Passover Guest. When her book was announced as the winner during last year's virtual ceremony, she instantly started receiving congratulatory messages.
"What was so incredible is that it wasn't just the Jewish people or my friends," she says. "It was big-name illustrators. It was editors. It was sales reps. The industry was congratulating me."
Honoring Jewish books—along with others of marginalized communities with awards including the Asian/Pacific American Award, American Indian Youth Award, Stonewall Book Awards, and Coretta Scott King Awards,—feels particularly important in the current climate of censorship and rising hate crimes across the country.
"It's more important than ever, in this atmosphere, to make sure that all minority groups are supported and validated and are seen and are celebrated," says Heidi Rabinowitz, past president of the Association of Jewish Libraries and host of The Book of Life: A Podcast About Jewish Kidlit (Mostly). "Partly because you're just hoping that as many readers as possible will see how normal we are and that there's nothing to fear and almost [as] kind of a protest—when people try to oppress you, a good way to push back against that is to stand up and be proud of your identity that they're maligning. I do think that in this current atmosphere, diverse books are extremely important. And Jewish books are diverse books."

[READ: 

Authors Explore Jewish Identity

]
New stories are being published that show the diversity of lives within the Jewish community and those stories are being shared in previously untapped genres, like fantasy.
"We're getting a really wonderful array of representation at this point," says Rabinowitz. "It's really getting more diverse within Judaism, showing that intersectionality with a very broad diversity—Jews of color, Jews from different backgrounds, Mizrahi Jews, Sephardic Jews, neurodiverse Jews, queer Jews."
More books with Jewish content are published each year, no doubt helped by the inclusion of the award in the YMAs, which not only inspires authors and illustrators to tell these stories but helps make the industry aware of the stories and the audience for them.
"It does feel like editors and agents [are] more likely to take a chance, because they see it right before the Newbery," says Kusel.
In addition to being an author, Kusel works as a synagogue librarian for a collection that only houses Jewish books. Her focus on the category makes her acutely aware of the lack of titles with Jewish content and the "glacially slow" pace at which publication has accelerated. This year, she says there were about 200 books. And while it may be happening more slowly than Kusel would like, the number of books has increased each year. Rabinowitz calls it a "golden age of Jewish publishing."
"It's getting better and better," she says. "Every year, we get more and more books."
And on Monday, the publishing world will celebrate the best of those books among the rest of the best in children's literature.