Experts offer their picks in resources to help expand both knowledge and perspective this school year. There's zine-making with the Smithsonian; research tools from Infodocket's Gary Price; GLSEN webinars on supporting LGBTIA+ students, and more.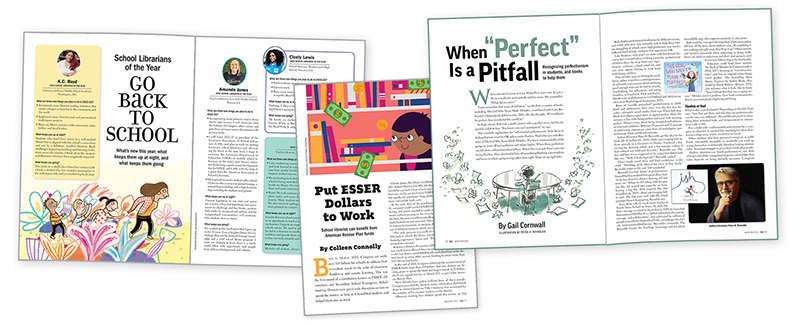 It's here. And librarians and other educators, not to mention students and families, are in high gear for the 2022/23 school year.
If you're catching up with SLJ's coverage, we report on key issues to inform our readers. There's ­perfectionism among students, "When 'Perfect' Is a Pitfall," and that evergreen concern: funding. In "Put ­ESSER Dollars to Work," Colleen Connolly reports on the third, $122 billion round of Elementary and Secondary School Emergency Relief funding, part of the federal American Rescue Plan.
While school libraries haven't been a big spending category in the grant program, librarians, as revealed in our story, have tapped these funds to support collection purchasing, library services, and the hiring of staff. ESSER III presents an opportunity for further investment in libraries. (At the November SLJ Summit, we'll delve deeper into ESSER with a panel discussion and workshop.)
For this particular return to school, we wanted to address student mental health. In "Reading for Well-Being," you'll learn about a ­bibliocounseling program created by school librarian IdaMae Craddock and counselor Ouida Powe (they'll be on hand at the Summit, too). In collection development, librarian Shazia Naderi offers titles to share with children "when scary things happen."
In challenging times, we could use support. So the editors tapped some stellar individuals for insight and inspiration: "School Librarians of the Year Offer Ideas, Inspiration."
Following suit, I asked some experts for their picks in resources to help expand both our knowledge and perspective to serve students and teachers this year.
GLSEN Education Webinars Six webinars, available on demand at no cost, include "LGBTQ+ Advocacy in Special Education" and "Supporting LGBTQ+ Students of Color." The programming can help educators "better understand the experiences of LGBTQ+ students at school and practices to support their wellness and growth," says Michael Rady, program manager of GLSEN's Rainbow Library. GLSEN's Responding to Anti-LGBTQ Censorship Attempts (rainbowlibrary.org/censorship) offers guidance on how to build a local coalition to defend LGBTQIA+–affirming content, including books.
APIA Biography Project With California taking a lead on integrating ethnic studies in education at all levels, says Jerry Dear, information strategist at San Francisco Public Library, this K–12 resource aims to raise awareness of Asian Pacific Islander American contributions to the United States.
Sarah Park Dahlen, an associate professor at the School of Information Sciences, University of Illinois at Urbana-Champaign, recommends the APALA ­Rubric to Evaluate Asian American and Pacific Islander Youth Literature. The ­Creative Commons–licensed tool is a guide, rather than a checklist, for evaluating Asian American and Pacific Islander American literature for young readers.
Foster multiple literacies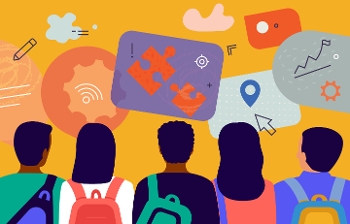 An interactive, image-driven source for using the vast, digitized riches of a premier network of museums, the Smithsonian Learning Lab offers new programs of interest for librarians, cited by ­Smithsonian digital content producer Tess Porter. One activity, Zine-Making with the Smithsonian, offers "­historical background on zine-making and ideas for creating students' own zines to communicate ideas that are important to them," says Porter. The Smithsonian addresses Information Literacy with collections to help students in grades 6-12 identify, find, evaluate, and use information effectively.
Reference guru Gary Price, editor Of LJ's Infodocket, tips us on two search tools. Semantic Scholar is "a wonderful resource to discover open and pay-walled research papers," he says. "Registered users can set up topic alerts than we find to be very useful." Then there's Reasonator from Wikidata. "This tool allows the user to search all of the data that the Wikidata project makes available. It's a great way to discover open data providers but can also be useful as a ready reference tool," says Price.
"I'd love to note the new book from NAEYC Press, written by Faith Rogow: Media Literacy for Young Children: Teaching Beyond the Screen Time Debates," Lisa Guernsey, a senior fellow and strategic advisor in the Education Policy program at New America, wrote to me via email. "It's a thought-provoking book, full of practical advice and wisdom that applies across the preK-12 spectrum."
Shauntee Burns-Simpson, has two resources to recommend to teachers. The Schomburg Curriculum project highlights the library's unique collection for classrooms across the country.
And Burns-Simpson, associate director, Center for Educators & Schools, MyLibraryNYC, recommends: "Your librarian. The librarian will help find articles, books, and resources to use in the classroom to engage with students and foster conversations."

Read: Get Up, Stand Up: Taking the fight to abusers, Amanda Jones wields power. She is not alone. | Editor's Note