Middle Grade
by S.K. Ali & Aisha Saeed, eds. Abrams/Amulet. ISBN9781419740831.
Gr 3-6 –Readers are welcomed into a celebration of Eid in this compilation of 15 #OwnVoices short stories that show a diverse set of holiday experiences from various settings, family structures, races, and cultures. Whether familiar with Eid traditions or not, tweens will enjoy this collection that radiates the love and joy of the holiday season.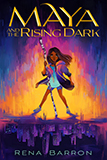 Maya and the Rising Dark
by Rena Barron. HMH. ISBN 9781328635181.
Gr 5-7 –Comic book–loving Maya discovers that she is no ordinary girl from South Side Chicago, but a godling and half-orisha; her father is the Guardian of the Veil that separates the worlds. When he suddenly goes missing, it is up to Maya and her two best friends to save him from the Lord of Shadows. Barron expertly weaves a nail-biting adventure featuring a diverse cast and elements of African folklore that is sure to excite any reader.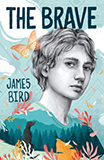 The Brave
by James Bird. Feiwel & Friends. ISBN 9781250247759.
Gr 5 Up –Collin has been bullied his whole life for counting every letter that is spoken to him and compulsively saying the number out loud. When he fights back, his dad sends him to live with his mother, whom he has never met, on an Ojibwe reservation in Minnesota. Collin quickly forms warm relationships with his new family and learns more about the community. With touches of magical realism, this beautiful story of first love, acceptance, strength, and loss will appeal to a wide audience.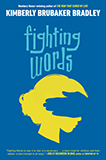 Fighting Words
by Kimberly Brubaker Bradley. Dial. ISBN 9781984815682.
Gr 5 Up –Sisters Della, 10, and Suki, 16, are put in foster care after escaping a sexually abusive home. Readers experience their initial recovery through Della's perspective as she finds strength in herself but sees Suki declining. This book is searingly honest with an ultimately hopeful resolution. Readers are strongly urged to experience this text with a trusted adult, as there is a great deal to unpack in the narrative. Gut-wrenching, hopeful, and necessary.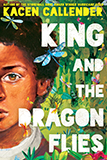 King and the Dragonflies
by Kacen Callender. Scholastic. ISBN 9781338129335.
Gr 4-9 –The sudden and inexplicable loss of his older brother consumes King as he attempts to navigate his changing relationships and connect with the dragonfly he believes Khalid has become in the afterlife. When his former friend goes missing, only King knows the real reason, and he struggles to balance his emotions with his desire to help. Callender deftly ties sexuality, abuse, racism, grief, and the hard parts of friendship into this fast-paced tale of self-discovery and hope.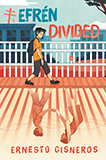 Efrén Divided
by Ernesto Cisneros. HarperCollins/Quill Tree. ISBN 9780062881687.
Gr 5-7 –Efrén sometimes wishes that he didn't have to share a bed with his younger twin siblings, but he knows that they are all loved and well cared for. When his mom is suddenly deported to Mexico, Efrén takes on the heavy mantle of caregiver as his father works round the clock to support them. But things inevitably start to slip, and Efrén must find a way to get Amá back. This timely debut about family, resilience, and injustice will resonate with readers of all ages.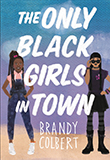 The Only Black Girls in Town
by Brandy Colbert. Little, Brown. ISBN 9780316456388.
Gr 3-7 –Alberta was the only Black girl in town until Edie and her mom moved into the bed-and-breakfast down the street. Though Edie and Alberta don't have much in common, their shared experience as Black girls, and a mystery surrounding the journals found in Edie's attic, brings them together. This book bravely takes on conversations of race and racism, with a cast of dynamic characters and a plethora of nontraditional family structures.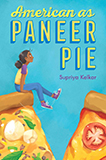 American as Paneer Pie
by Supriya Kelkar. S. & S./Aladdin. ISBN 9781534439382.
Gr 4-6 –Lehka, 11, spends her days navigating the micro- and macroaggressions from her classmates and feeling like she has to hide who she is as an Indian American kid in suburban Detroit. When a new girl from India joins her class, Lehka learns more about herself, her culture, and standing up for what's right. Through rich characters and strong friendships, Kelkar conveys the importance of embracing your true self—a message that will speak to many.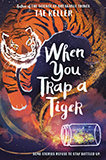 When You Trap a Tiger
by Tae Keller. Random. ISBN 9781524715700.
Gr 4-7 –Lily has always known, thanks to her Halmoni's stories, that tigers can't be trusted. Even so, when a magical tiger appears in her grandmother's basement with a deal to heal the ailing woman, Lily is willing to do whatever it takes—even if that means trapping the tiger. What follows is a glorious tale of self-discovery and family overflowing with Korean folklore and magical realism. Thought-provoking and deeply moving.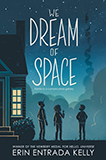 We Dream of Space
by Erin Entrada Kelly. HarperCollins/Greenwillow. ISBN 9780062747303.
Gr 4-6 –Set against the Challenger launch in 1986, the novel features the changing Thomas family.Cash is in seventh grade (again) with twin siblings Bird and Fitch. Cash is lost, Fitch is angry, and Bird nurtures aspirations far beyond societal and familial expectations. Meanwhile, their parents fight—a lot. Kelly expertly articulates tween experiences while discussing prevalent issues like gender inequality. In an engrossing 1980s setting, the Thomas siblings navigate difficult situations that are likely to feel familiar to many.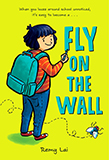 Fly on the Wall
by Remy Lai. illus. by author. Holt. ISBN 9781250314116.
Gr 4-7 –Henry Khoo's desire for independence from his helicopter family leads him on a solo plane trip to Singapore, where his father lives. On Henry's journey of self-discovery, he learns that nothing is as simple as it seems and there are consequences to his actions—especially for the rumor blog he created, "Fly on the Wall." Henry's development throughout is flawlessly accented by Lai's illustrations, resulting in a dynamic and engaging reading experience.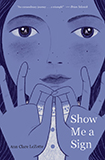 Show Me a Sign
by Ann Clare LeZotte. Scholastic. ISBN 9781338255812.
Gr 3-7 –Mary Lambert is struggling with guilt due to her brother's accidental death and also seeks to find her place in her tight-knit Martha's Vineyard community. When an outsider comes to study the deaf community and kidnaps her as a "live specimen," Mary must find strength within herself to escape. LeZotte packs this historical fiction novel with cultural information regarding 19th-century Martha's Vineyard, addressing treatment of Native Nations, disability, grief, and prejudice in this slow-burn, occasionally dark #OwnVoices novel.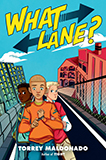 What Lane?
by Torrey Maldonado. Penguin/Nancy Paulsen. ISBN 9780525518433.
Gr 5-8 –Stephen is a biracial kid growing up in New York City who feels like life is constantly challenging him to pick a lane—Black friends or white friends? He doesn't want to choose, but he's finding it increasingly hard not to see racism in how he and others are treated. Maldonado's story of identity, friendship, and justice will strike a chord with young audiences.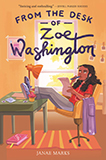 From the Desk of Zoe Washington
by Janae Marks. Harper/Katherine Tegen. ISBN 9780062875853.
Gr 4 Up –Zoe's life is dominated by her dream of competing on her favorite cooking show—until she receives a letter from the dad she has never met, who is incarcerated for committing a horrific crime. He tells her he is innocent, so Zoe begins a journey to uncover the truth about her dad, about her world, and especially about herself. Marks's recipe of discovery and mystery—mixed with adventure and seasoned with excellent discussions on wrongful conviction, racism, and blended families—produces quite a treat for readers.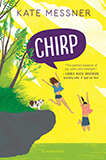 Chirp
by Kate Messner. Bloomsbury. ISBN 9781547602810.
Gr 4-6 –When Mia moves to Vermont with her family the summer after seventh grade, the former gymnast navigates new friendships and tries to save her grandmother's cricket farm, all while nursing a painful and confusing secret. This engaging, humorous, and heartfelt work is an excellent introduction to consent and the #MeToo movement, with a fun family mystery to boot.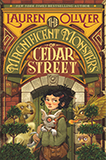 The Magnificent Monsters of Cedar Street
by Lauren Oliver. illus. by Ethan Alridge. HarperCollins. ISBN 9780062345073.
Gr 4-6 –Cordelia Clay's father is a veterinarian for monsters, and she spends her days helping him nurse creatures like filches, dragons, and squelches back to health. When her father disappears with their monsters, Cordelia is determined to find them. Along the way, she meets new companions, rekindles old friendships, and learns who the true monsters are. Oliver's invigorating tale packs a surprise at every turn and is a thoroughly entertaining read.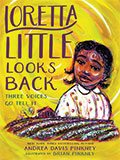 Loretta Little Looks Back: Three Voices Go Tell It
by Andrea Davis Pinkney. illus. by Brian Pinkney. Little, Brown. ISBN 9780316536776.
Gr 5 Up –The Littles—Loretta, Roly, and Aggie B.—each grew up facing different obstacles, from sharecropping and living under Jim Crow laws to fighting for civil rights. The family members take turns boldly voicing their stories and experiences in this deeply emotional and powerfully hopeful "stage on a page" novel. Andrea Davis Pinkney's narrative is complemented by Brian Pinkney's evocative illustrations in this fresh and invigorating historical fiction come to life.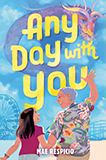 Any Day with You
by Mae Respicio. Random/Wendy Lamb. ISBN 9780525707578.
Gr 4-6 –Kaia's summer revolves around completing a bucket list with her Tatang (great-grandfather) and creating a short film honoring her Filipina heritage with her best friends. So many things in Kaia's life are changing, yet her family always pulls together and supports her as she discovers herself. Respicio's infectiously happy and wise characters are a burst of sunshine in this upbeat story about family, mindfulness, chasing your dreams, and growing up.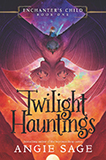 Twilight Hauntings
by Angie Sage. Harper/Katherine Tegen. ISBN 9780062875143.
Gr 4-7 –Enchanters are banned in Luma, which is unfortunate for Alex because she just might be one. Having lived with a foster family for 10 years, Alex secretly reads magical cards until she's discovered and must escape. What follows is a series of fantastic events exploring greed, discrimination, and power in a tween-friendly high fantasy setting. Readers witness not only the compelling elevation of heroes but also the birth of a villain. At once comfortably familiar and surprisingly refreshing, this is a fantasy world readers will be sure to revisit.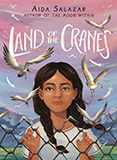 Land of the Cranes
by Aida Salazar. Scholastic. ISBN 9781338343809.
Gr 3-7 –This novel in verse explores family separation, deportation, and detention at the U.S.-Mexico border through the eyes of Betita Quintero. Betita loves to write, and it's through her words that readers experience the abounding emotions of a fourth grade girl trying to understand her family's situation. Salazar trusts her readers with complex issues, and while the story doesn't provide the closure they may expect, Betita finds hope and her own kind of happiness in the end. A potent book with many opportunities for discussion.
A Wish in the Dark
by Christina Soontornvat. Candlewick. ISBN 9781536204940.
Gr 4 Up –Pong escapes the prison where he was born in search of meaning and a chance to be near the Governor, the creator of all the light in the kingdom. He is relentlessly pursued by Nok, a young woman bent on bringing Pong to justice, but the further the chase goes, the more they each discover injustice all around them. Soontornvat transforms the timeless tale of Les Misérables into a Thai-inspired fantasy addressing equality, bravery, and how to find one's own path amid cultural expectations.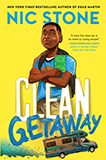 Clean Getaway
by Nic Stone. Crown. ISBN 9781984892973.
Gr 3-6 –When Scoob's grandmother offers him the chance to escape grounding by going on a road trip with her, he leaps at the chance. The duo are guided by the Green Book, which helped Black Americans travel safely in the era of Jim Crow. But they are also haunted by Grandma's memories, which slowly unfold during their journey. A cleverly told mystery, with a good dose of history; readers will be deeply invested in this intergenerational adventure.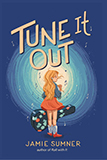 Tune It Out
by Jamie Sumner. S. & S./Atheneum. ISBN 9781534457003.
Gr 5 Up –Lou can sing like an angel, yet she lives in fear of loud noises and high fives. Her free-spirited mother hopes that Lou's talents will result in her big break. Then Child Protective Services sends the girl to live with her aunt and uncle, and everything in her world shifts—including her inability to speak up for herself. A raw and uplifting story addressing invisible disabilities, homelessness, and poverty, with dignity and hope.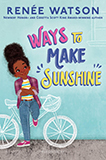 Ways To Make Sunshine
by Renée Watson. illus. by Nina Mata. Bloomsbury. ISBN 9781547600564.
Gr 3-5 –Ryan is a ray of sunshine whose positivity is infectious, even during challenging times. Watson takes a look at the everyday ups and downs of kid life in this series debut following a young Black girl in Portland, OR. Readers are bound to fall in love with enthusiastic Ryan and her warm, loving family.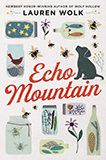 Echo Mountain
by Lauren Wolk. Dutton. ISBN 9780525555568.
Gr 4 Up –When Ellie and her family move to the mountains of Maine after suffering significant losses during the Great Depression, Ellie's father is injured in an accident and becomes comatose. With natural skill, the protagonist steps up to help her family, but conflict boils. Ellie tries myriad cures for her father to no avail, until she meets Cate, a "hag" who is herself gravely injured. Subtle supernatural elements tint this rich, historical novel about family relationships, friendships, and finding your own power.