Seven recent works and an overview of recent Black comics publishing.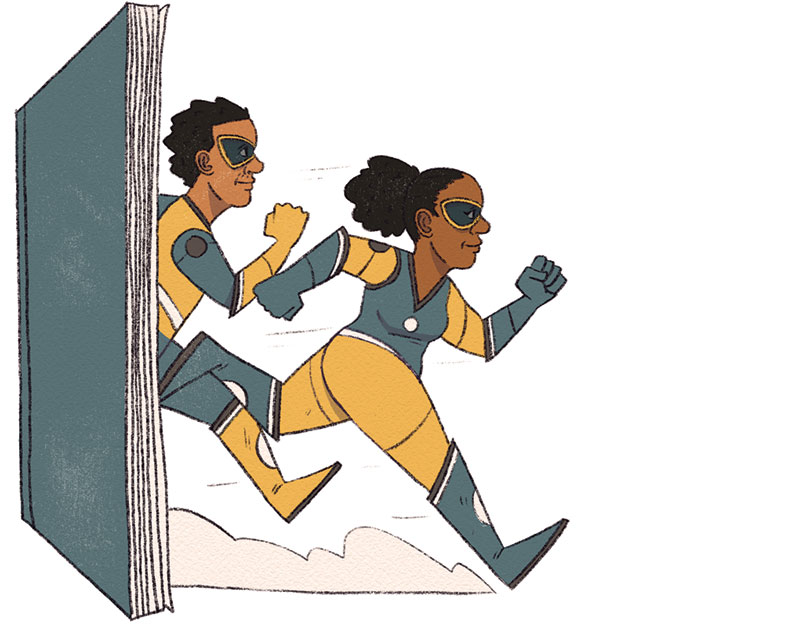 Illustration By Theodore Taylor III
Reader demand has driven change in the comics world, including a significant increase in its numbers of Black creators and characters. For proof, one need only look to the graphic novel sales charts: Jerry Craft's New Kid and Rep. John Lewis's "March" trilogy have sold millions of copies.
In the superhero comics arena, DC has relaunched Milestone comics, which began as a Black-owned publisher in the 1990s and created an entire universe centered on Black superheroes. Marvel not only expanded the Black Panther universe to include T'Challa's younger sister, Shuri, but created new characters, including Riri Williams/Ironheart and Lunella Lafayette/Moon Girl. Both publishers are bringing these characters to young readers—DC through its original graphic novels and Marvel through its Marvel-Verse imprint as well as its co-publishing program with Scholastic (which launched with a graphic novel starring Miles Morales, the Black/Latino Spider-Man character). All these characters are part of the publishers' larger superhero universes, which means they don't exist in isolation but show up in other characters' storylines as well. (It should be noted that some of these characters, including Miles Morales, were created by white writers and artists but also have storylines by Black creators.)
Marvel and DC are top-down publishers: They own the characters, and they hire writers and artists to make comics about them. Indie comics are the opposite: Creators bring their stories to the publishers, and these publishers, including BOOM! Studios, Mad Cave (which has a YA imprint, Maverick), Dark Horse, and Top Shelf (the publisher of "March"), all have diverse catalogs that include Black creators and characters. Black-owned comics publishers include Iron Circus Comics, Rosarium Press, and Oni Press, which merged with Lion Forge in 2019 ancame under the umbrella of the Black-owned media company Polarity. The third arm of the graphic novel market is book publishers, and here, too, imprints such as First Second, Lee and Low, and Quill Tree Books (publisher of the "New Kid" series) have released an increasing number of books by Black creators. Abrams's Megascope imprint publishes YA and adult nonfiction along with speculative fiction (sci-fi, fantasy, horror) by creators of color. And Scholastic, the biggest publisher of graphic novels for children, offers a diverse range of stories that includes Varian Johnson's Twins (an SLJ Best Book of 2020) and Leon the Extraordinary by Jamar Nicholas. Creators have proven there's a readership for their works that comics publishers previously weren't reaching. The manga boom of the early 2000s and the graphic novel boom that followed had an impact by changing the market in important ways.
They moved comics from the closed environment of comics shops, which cater to enthusiasts rather than a wide market, to the broader bookstore market, opening up more paths to publication. Comics festivals such as Small Press Expo, as well as small indie publishers, offered budding writers and artists ways to bring their self-published comics to a new audience and brought them together into new communities. Creators including Craft and Shauna Grant built their audiences this way, and without the constraints of traditional superhero publishing, they were able to create truly original work that spoke to their own experiences and those of their community. The popularity of the Black Panther movie went a long way toward convincing Marvel that content featuring characters of color could be profitable—hence the jump in Wakanda-related properties. TV shows like Black-ish opened the door to more stories such as New Kid that reflect on the experiences of Black people with clear-eyed humor. And a surge of nonfiction titles includes David Walker and Marcus Kwame Anderson's The Black Panther Party.
There's more on the way. This year, Craft will wrap up the "New Kid" trilogy with School Trip, due out in April. In June, Ten Speed Press will publish Stamped from the Beginning: A Graphic History of Racist Ideas in America, Joel Christian Gill's graphic adaptation of Ibram X. Kendi's Stamped. DC will release its first YA graphic novel based on a Milestone character, Static: Up All Night. And Scholastic is teaming up with football player Colin Kaepernick's publishing company to publish graphic biographies of hockey player Akim 'Dreamer' Aliu as well as of Kaepernick himself.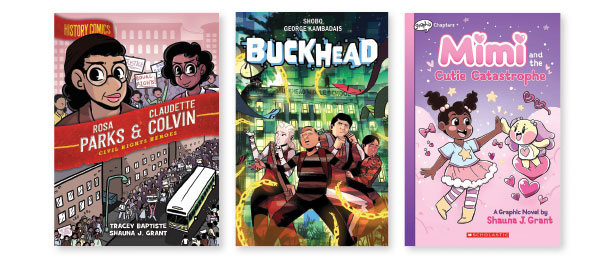 Here's a look at standout recent and upcoming graphic novels.
Baptiste, Tracy. History Comics: Rosa Parks & Claudette Colvin: Civil Rights Heroes. illus. by Shauna J. Grant. First Second. Jan. 2023.
Gr 4-6 –"In history books, we tend to focus on the moment, not the work that came before or continued after," Baptiste writes in the afterword to this book, whose contents go a long way toward remedying that. Nine months before Rosa Parks refused to give up her bus seat to a white person, 15-year-old Claudette Colvin did the same thing. Colvin's court case didn't change the law, and she also was aware that she wasn't the "right" person to represent the cause of desegregation, narrating that in the eyes of movement leaders, she was "too young, too dark, and too poor," and a few months later, pregnant as well. She was, however, surrounded by allies, including well-organized chapters of the NAACP and the Women's Political Caucus, who supported her before and during her court case and were also ready to move into action when Parks took her stand. Grant's cute, rounded art belies both the seriousness and the complexity of this book, which sheds light on some of the lesser-known voices in the movement and the disagreements that occurred along the way.
Coker, Shobo. Buckhead. illus. by George Kambadais. BOOM! Box. Sep. 2022.
Gr 8 Up –After his father disappears on an archaeological dig, Toba and his mother move from their home in Nigeria to a sleepy town in Washington State. Toba and his friends discover a video game in the basement of their school, and Toba is unnerved when his father appears in the game. Then, men in black suits start chasing him, and everything goes off the rails. Turns out Toba's father released the spirit of an ancient Nigerian antagonist, Ewon, who is now determined to take over the whole town using mind-control rays. This story moves fast, as Toba and his friends must dodge Ewon and his minions, rescue their parents, and destroy the mechanism that is controlling them. Kambadais's uncomplicated art has eerie colors and just enough detail to get the point across, and the dynamic panel arrangements create a sense of speed and urgency. This story will appeal to fans of sci-fi and Afrofuturism as well as fans of R.L. Stine's "Goosebumps."
Grant, Shauna J. Mimi and the Cutie Catastrophe. illus. by author. Graphix. Jul. 2022.
Gr 1-3 –Mimi favors frilly clothes and lots of sparkles, and her magical stuffed animal Penelope is adorable, too. Cuteness has its drawbacks, though, as Mimi realizes when people assume she's as delicate as she is cute: her mother cautions her not to get dirty and her friend's father won't let her help carry boxes of comics. With Penelope's help, Mimi tries on different personas—superhero, super-smart teacher, and cool girl—before realizing that she just needs to be herself and speak up when people respond only to her looks. Grant's dynamic artwork has a manga-influenced feel. Mimi and Penelope are delightful lead characters, and Grant makes an important point while keeping the reader giggling. A second volume, Mimi and the Boo-Hoo Blahs, is out this month.

Grimes, Nikki. Garvey's Choice: The Graphic Novel. illus. by Theodore Taylor III. Wordsong. Jun. 2023.
Gr 4-7 –Garvey loves chess and science fiction, much to the dismay of his father, who wants to play football with his son the way he did with his own father. Garvey feels like he's letting his father down, but he can't do anything about it. Nor can he help the fact that the kids in school tease him about his weight. But he has a good team on his side, including his sister Angie, who got the athletic ability in the family, and his friend Joe. Things start to improve when Joe persuades him to join the school chorus. Garvey makes a new friend, Manny, who has albinism and who helps him learn to ignore the teasing. And in a nice twist, music turns out to be that one special thing Garvey can share with his father. Grimes wrote the original version of Garvey's Choice in a type of Japanese non-rhyming verse called tanka. Although she slightly modified the text for this graphic novel, the effect still comes through: The story is broken into bite-size pieces, each page or spread depicting a single moment. Taylor's art has a minimum of detail but plenty of emotional impact.
Nicholas, Jamar. Leon the Extraordinary. illus. by author. Graphix. Oct. 2022.
Gr 3-7 –This candy-colored, action-packed story mixes superheroes and school drama to good effect. In a city where superheroes and ordinary folk live side-by-side, the fact that Leon wears a superhero costume to school doesn't draw second glances, but he doesn't really have powers. Clementine, a power-mad hall monitor who is also a shapeshifter, taunts and bullies him, even inviting him to her birthday party just to humiliate him. When a smartphone app turns all their fellow students into zombies, though, Leon and Clementine must team up to save the day. The fast-moving plot is filled with action and humor, and Nicholas's exaggerated, colorful art gives the book the feel of an animated cartoon.
Okorafor, Nnedi, and Vita Ayala. Shuri: Wakanda Forever. illus. by Leonardo Romero, Rachael Stott, and Paul Davidson. Marvel. Dec. 2020.
Gr 5-9 –Don't be fooled by the playful cover: This isn't some cute chibi version of Shuri, it's a real comic story, collecting a 10-issue series that, while kid-friendly, isn't specifically written or drawn for kids. And that's a good thing. It starts with Shuri's brother T'Challa taking a trip to outer space, where he promptly disappears into a black hole. A group of women call on Shuri to take his place as the Black Panther. She declines, but when her search for her brother takes some hazardous turns, she reconsiders. This episodic story reads like a collection of comic books, with several distinct plots, various artists for different sections, and guest appearances by Groot, Rocket Raccoon, Miles Morales, Ms. Marvel, and others. It's a great read, just not your typical graphic novel. Shuri's insistence on data and hard science over tradition and intuition adds an interesting bit of food for thought. The art has a straightforward, almost old-fashioned comics style, with heavy lines and bright colors. A good pick for Black Panther fans, the book is also accessible to first-time Marvel readers.
Wimberly, Ronald. Now Let Me Fly: A Portrait of Eugene Bullard. illus. by Brahm Revel. First Second. Jan. 2023.
Gr 10 Up –This biography of Eugene Bullard, the first African American fighter pilot, doesn't soft-pedal the violence of the Jim Crow South or of World War I. It tells a fascinating story of an extraordinary man. Raised in rural Georgia, Bullard ran away at 13, joined a family from Ireland who were camped out near his home, then worked in different jobs until he could finally reach his goal of traveling to Europe. He worked as a music hall entertainer and boxer and joined the French army when World War I broke out. After being injured, he learned to fly on a bet and flew combat missions with the French Air Service. Bullard was smart and resourceful, and the many twists and turns of his life make for riveting reading. Revel's casual artwork, with deft lines and just a single color, is perfect for this story, clearly delineating each character and their emotions and quickly setting the scene for Bullard's many adventures.
---
Brigid Alverson edits "Good Comics for Kids" (slj.com/GoodComics).