Virginia Beach City school staff were accused of breaking the law, and books were removed in Michigan, North Carolina, and South Carolina in the latest Censorship Roundup.

Threatening emails sent to school staff in Virginia
Virginia Beach City (VA) Public Schools officials raised concerns over threatening emails sent to several staff members, including librarians, accusing them of breaking the law by providing access to books that "contain obscene material," according to 13NewsNow. Two of the books in question are Lawn Boy by Jonathan Evison and The Bluest Eye by Toni Morrison.
One email ends with the request that the recipient forward the email to others so "they are aware of the laws and can avoid retribution."
The district released a statement in support of the staff: "We are aware that emails that have been perceived as threatening in nature were sent to multiple staff members regarding books in our schools. It is unconscionable that any member of our community would allude to 'retribution' in an attempt to intimidate members of VBCPS staff. The safety and well-being of our staff will always be a priority, and this matter has been referred to legal counsel for consideration of actions by the School Division.
"If parents have concerns regarding books available in our schools, we have clearly-defined policies in place which articulate parent rights to review and challenge these materials, and we encourage them to follow those processes. Parents with questions about this should reach out to their school's principal."
---
Greenville County, SC, city council resolution would move LGBTQ children's books at public libraries
The Greenville County (SC) GOP passed a resolution for the city council to investigate who ordered and displayed LGBTQ books at public libraries this year and take up the possibility of relocating LGBTQ from the children's and juvenile sections of the library, making the titles available with parental permission in the adult sections, according to The Post & Courier.
The resolution states the GCGOP's position to "formally denounce any and all sexual indoctrination of children in government-funded schools and libraries," including specific titles which promote "transsexuality and LGBTQ ideology to children in Greenville County."
But those specific titles mentioned in the resolution, according to The Post & Courier, were taken from another county's list and not actually in the Greenville County Public Library system. Instead, GCGOP chairman Jeff Davis is quoted as saying that other titles have been checked out from the library by the group in order to keep them out of circulation, including Sex Is a Funny Word: A Book About Bodies, Feelings, and You by Cory Silverberg, Téo's Tutu by Maryann Jacob Macias, illus. by Alea Marley, Pride Puppy by Robin Stevenson, Feminist Baby Finds Her Voice by Lauryn Brantz, and Daddy & Dada by Ryan Brockington & Isaac Webster, illus. by Lauren May.
---
Dearborn, MI, district removes seven books, access to Sora
The Dearborn (MI) Public School district has removed seven books from circulation and limited students' access to the Sora reading app following parent complaints about explicit sexual material, according to WXYZ Detroit. The seven books in question are Push by Sapphire, All Boys Aren't Blue by George M. Johnson, And They Lived by Steven Salvatore, The Lovely Bones by Alice Sebold, Eleanor & Park by Rainbow Rowell, Red, White and Royal Blue by Casey McQuiston, and This Book is Gay by Juno Dawson. One parent reported This Book is Gay to the Dearborn Police Department and a department spokesperson told WXYZ that the complaint is being "investigated."
At a school board meeting, a curriculum consultant working for the district said, "We've also removed student access to all e-books that are available through the Sora app and the Wayne consortium and the Dearborn Public Library overdrive collection," according to the story.
According to WXYZ, the move prompted protest and the district released a statement saying, "It is important to point out that students in the Dearborn Schools still have access to a collection of almost 500,000 books with more than 370,000 unique titles. That doesn't include any books that are also available in classrooms. Our role as a school district has always been, and will continue to be, to offer our students a wide breadth of knowledge and diverse perspectives."
---
Banned Books Week post removed in Keller, TX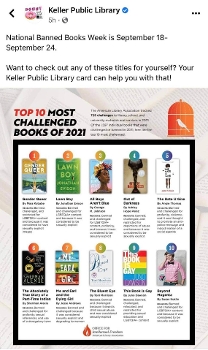 A social media post about Banned Books Week was removed from the Keller (TX) Public Library's Facebook page due to city officials' concerns that it would cause controversy. The post included the ALA infographic listing the Top 10 Most Challenged Books of 2021 and the reasons they were challenged. The post told residents a library card will help if they wanted to check them out for themselves.
According to the Fort Worth Star-Telegram, the city told the newspaper via text, "City leadership was concerned that residents would think we were trying to cause controversy, given recent debates about books in the school district, so we removed it as that was certainly not the intent." The mayor also stated that "the city's policy is to avoid social media posts that can be interpreted as political statements."
The Fort Worth Star-Telegram reported last month that books in Keller ISD undergoing challenges, and even books previously challenged but retained, will be placed in "parental consent areas" separate from general circulation in school libraries until the challenge process is resolved.
---
Gender Queer removed from NC high school
Alamance-Burlington (NC) superintendent Dain Butler removed Gender Queer by Maia Kobabe from the Western High School library, citing "inappropriate images that are sexual in nature," according to The Alamance News.
He told the paper that he had received email complaints about the book, as well as a list of other potentially inappropriate books in other district school libraries. A group called FACTS 2.0 Task Force, working with the Pavement Education Project, sent the district a list of questionable titles.
Gender Queer "happened to be at the top of the list," Butler told The Alamance News.