This new product allows users to alter code—and learn how to code—as they play. Kids can modify, change, and create a new game on the go.
The creators of Makey Makey have revealed their latest product in education technology. GameBender will allow kids to modify games as they play, tapping into the game's code and changing it as they go.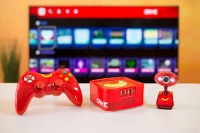 The announcement, which was made today, was eagerly anticipated by makerspace and STEM educators, who have found many uses for the Makey Makey and have high expectations for the new product, which is part of the world of invention literacy.
Leading into the announcement, the company tweeted, "# InventionLiteracy has a literature for us to read, it's all the human made stuff around us. As we learn to read it, we learn to be able to see the parts it is made of, then we can put these together & become # inventors ourselves."
GameBender is backed by a grant from the National Science Foundation and is a partnership with Scratch. Makey Makey founder and CEO Jay Silver helped create Scratch.
Read the full press release below.