Book sanctuaries—where "endangered" books, the right to read, and intellectual freedom are protected—are popping up in cities, libraries, churches, and schools across the country.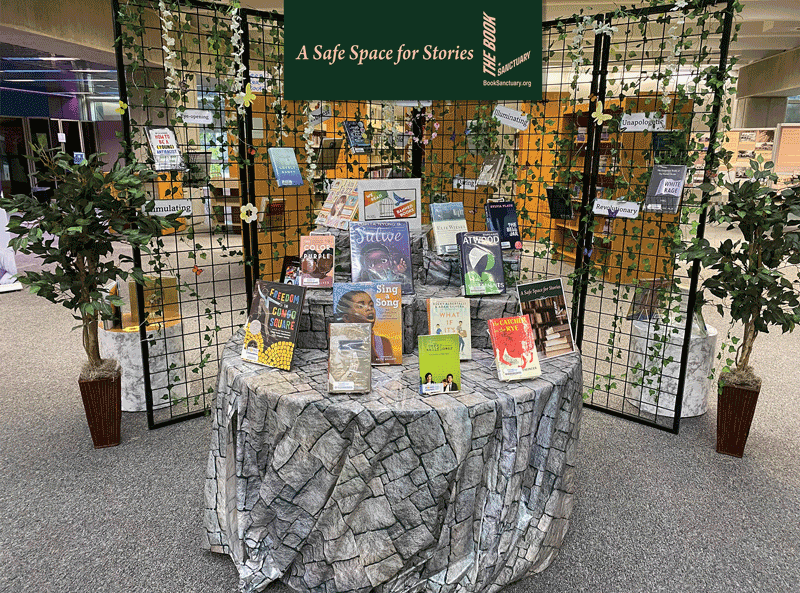 Book sanctuary display at Broward County Library branch
Photo courtesy of the Broward County Library
The Sanctuary for Banned Books at Coral Gables (FL) Congregational Church drew a standing-room-only crowd in early June when it held a poetry reading and giveaway of books challenged in Florida. Poet Amanda Gorman donated 1,200 copies of The Hill We Climb, which had been challenged and moved from the elementary to the middle grade section of a library at a K–8 school in Florida.
At the Sanctuary for Banned Books, the titles were celebrated, not vilified.
A book sanctuary is a place where "endangered" books, the right to read, and intellectual freedom is protected, and access to the challenged and banned titles is ensured. It can be an entire city or institution—a library, church, or school—or one classroom or designated area within the larger facility.
As director of Ferguson Library in Stamford, CT, Alice Knapp had learned to deal with unhappy community members. Throughout the years, whenever there's been pushback—to a drag story time or a Pride Month display—Knapp viewed those complaints as "invitations to have a conversation."
That changed in the fall of 2022, when Knapp says complaints turned into something much uglier.
They came in the form of anonymous calls—phone numbers blocked, voices disguised—with accusations that Ferguson librarians were pedophiles, groomers, and sexualizing children. "There were threats against staff and me," Knapp recalls.
She was grateful the calls only lasted a week. But other, quieter forms of harassment persisted, like books featured in an LGBTQIA+ display suddenly going missing, later found hidden in other sections of the library.
Connecticut public and school libraries have faced a record number of complaints this year, with 35 active challenges. In Westport, parents called for the removal of multiple books dealing with LGBTQIA+ themes from the local high school library, while in Newtown, the board of education has been in a stalemate over whether to keep or ban books that were challenged over similar complaints.
While these kinds of challenges have been prevalent in places like Texas, Florida, and Missouri, Knapp was surprised to "hear the rumblings of the rest of the country" in Connecticut. But she hasn't remained silent, and neither have other organizations.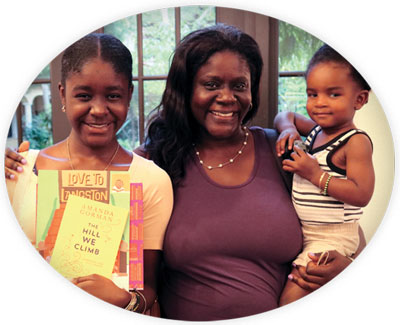 Attendees received free books, including Amanda Gorman's
The Hill We Climb.
Photo courtesy of Coral Gables Congregational Church
In 2022, the Connecticut Library Association adopted an intellectual freedom statement against censorship. In December, Ferguson Library's Board of Trustees voted to designate their library as a book sanctuary. One month later, in January 2023, the city of Stamford followed suit, declaring itself a book sanctuary city, the first in Connecticut.
Stamford's libraries have pledged to expand access to banned and challenged books, collecting and protecting books challenged and banned elsewhere and making them broadly accessible. In addition to planning events and public talks around book challenges and intellectual freedom, Knapp and her colleagues are also working on a reference collection containing all the titles being challenged or banned around the country so patrons can better grasp "the breadth of all the books challenged."
Stamford isn't the first book sanctuary city in the United States. That distinction belongs to Chicago. In 2022, the Chicago Public Library established sanctuaries across 77 neighborhoods in all of its 81 library branches and launched the Book Sanctuary Initiative. The city's efforts inspired others, including Stamford and the Toronto Public Library, which created a Book Sanctuary collection comprised of 50 adult, teen, and children's books that have faced censorship in North America.
This past April, Broward County Library (BCL) in Florida joined the ranks. Broward County, which includes the Fort Lauderdale metropolitan area, is home to 36 libraries and serves almost three million readers. As of June 2023, the county had avoided any book bans. But BCL director Allison Grubbs says that doesn't shield them from what's happening in the rest of the state.
"We're seeing from some of our neighbor counties distressing actions taken to change the collections by the county leadership," Grubbs says. "Some of the language being used by these county commissioners is, and I'm paraphrasing, 'We're a conservative county so we should have a conservative collection in our library.' That erases everybody else in the county who lives here, who visits here, and who might consider moving here."
BCL has created a book sanctuary in each of its 36 branches. The BCL Book Sanctuaries are designated areas where "endangered stories will be protected and made accessible for exploration or checkout," according to the system's website. In addition to offering "I Read Banned Books" library cards and buttons and hosting events throughout the year, every library in Broward County will have a display of banned and challenged books in the library's physical and digital collection.
The community response has been mostly positive. After just a month, each of the 50 banned titles available through the book sanctuary was checked out at least once. Although one Republican lawmaker criticized the program as "a political stunt," Broward County commissioners were quick to praise Grubbs and her efforts.
Grubbs appreciates the strong support from local leaders and hopes that the BCL sanctuary will inspire other library systems around the state to follow suit.
"Book sanctuaries are important to show that libraries still have boundaries on what we are willing to accept," Grubbs says. "We hear a lot of negativity around the freedom to read, around the framing of book challenges. To have the freedom to launch a book sanctuary and have it be received so positively by our community members is good to see, and good to bring that level of positivity back to the conversation."
The sanctuaries are far more than symbolic. In Connecticut, the actions of Ferguson Library and Stamford have resonated to the state level. In February 2023, shortly after the sanctuary announcement, state senator Ceci Maher finished drafting Senate Bill 2, "An Act Concerning the Mental, Physical And Emotional Wellness Of Children."
Not only does the bill improve children's access to health services, but it also protects libraries against book bans and rewards those that prioritize literary freedom. Under the bill, any Connecticut library that establishes a system to review challenged books through policies set by its governing board will have access to a state grant between $1,300 and $3,000.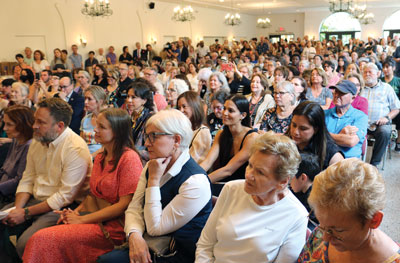 It was a full house at Coral Gables Congregational Church.
Photo courtesy of Coral Gables Congregational Church
The bill noticeably does not mention sanctuary libraries by name because of concerns that the term is too politically charged. Knapp says she's not worried about a single word being absent from the bill because it's "more important to have the protections in place." Maher hopes that Connecticut's model inspires other legislators in states where "'sanctuary' is too difficult a word."
"Maybe this bill will act as an impetus to put their own in place, now that we've given a second option," she says.
Connecticut legislature passed the bill in June, becoming the second state to enact legislation tying funding to protecting books.
This spring, Illinois adopted sweeping legislation that would require libraries to adopt the ALA's Library Bill of Rights—which prohibits book banning—in order to be eligible for state funding. Governor J.B. Pritzker signed it into law in June.
For Knapp, these legislative acts are only the first step in fighting back against censorship, but they are critical in providing real support for librarians.
"It's step one, but it's a big step recognizing what we're doing, putting protections in at a practical level, and putting money in our hands so we can do our jobs," Knapp says.
---
Andrew Bauld is a freelance writer covering education.