For some students, remote learning will continue well beyond this year. What we have learned will impact our educational system for decades to come.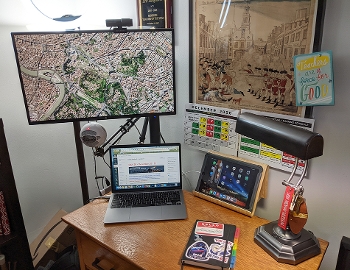 I remember sitting down at my computer on the first day of the 2020–21 school year and taking a deep breath. One click, and my Zoom was open, ready for class to start. It was the first day of my 26th year teaching, but it felt like my first. I typically teach eighth grade U.S. history and computer science at Discovery Middle School in Liberty, MO. This year I am one of our district's virtual teachers—teaching the entire year to students in our district who opted for virtual learning. I have 200 eighth graders in my U.S. history class.
As the Zoom screen appeared, I wondered: Who would show up? Would the technology work for both me and my students? There were many new skills to learn as I transformed myself into a sort of educational DJ—managing virtual students, checking the chat, changing settings to share screens, and muting distractions.
That first day back in September is long in the rearview mirror and roughly 400 class Zooms ago. We've all gotten more comfortable with the technology and achieved a little consistency. Now the challenge is making our virtual classrooms more engaging and the best possible experience for our students. Here are a couple of lessons that I've learned along the way.
Mix it up
Consider changing up where you teach from virtually. After teaching virtually for a couple of days, I realized that I didn't want to teach while sitting at my desk all day. I had started to use a standing desk in my traditional classroom shortly before the pandemic, and I decided it would be a good change of pace for virtual teaching, too. Using an old dresser from a thrift store, I created a standup desk and attached a power cord to the side for all my devices. Teaching at my standup desk (pictured) allows me to move around more and be mobile. It's closer to my traditional teaching style and provides a little more exercise as well.
Make it interactive
Zoom calls sometimes steer teachers back to a "sage on the stage" mentality. Discovering ways to add interactivity can be challenging but not impossible. Consider attempting a digital breakout game, similar to an escape room but with challenges and clues that students can solve as teams in breakout rooms or as a class. Teachers can create their own digital breakout games or search online for existing games matching their content area. Other examples of interactive lessons include read-alouds or readers' theater.
Be our guest
Remember the early days of Skype and video chat? Now nearly everyone has experience with setting up a video chat. One benefit: Finding a guest speaker to visit your virtual classroom has become a lot easier. Over the past several months, I've found many willing guest speakers to visit with my virtual students.
Jazz up your lobby
I admit my students at the start of my Zoom call from the waiting room. Taking attendance and getting everyone on the call typically takes about five minutes. These first few minutes of class are an opportunity to set the tone for the day and provide important information. I create a Google Slide presentation that detail the objective for the day, upcoming assignments, and a schedule for the week. Other slides include fun items like a dad joke and the question of the day ("Does pineapple belong on pizza?"), which gets students engaged in the chat. I publish the presentation to the web with a slide automatically advance every five seconds, on a loop. I share my screen with the presentation while taking attendance so students can view it in the opening minutes of class.
Virtual class DJ playlist
I've had great success adding a little music to the classroom—it's even more useful in the virtual classroom. I play music each day while welcoming students to the Zoom classroom. I try to mix up the genres, but student favorites have included upbeat tunes like 1980s disco and classic rock. I let them submit requests, and sometimes we'll have fun with a theme—hair bands, ABBA, country, etc. Students comment on how the music lightens the mood and makes it fun to start class.
Student choice
During the pandemic, I've given my students more personal choice in how they demonstrate their learning. In a traditional classroom, students typically have similar access to resources, materials, and time. Providing students more choices to demonstrate learning can invite more creativity. Virtual teachers must also acknowledge the diverse conditions our students have in their home environments.
Double your screen
If you've been teaching virtually for any length of time, you've probably already started using a second monitor. I did not use one when we launched emergency remote learning in spring of 2020, but I did as the new school year started, and it made a world of difference. Having one monitor devoted to just your Zoom class, with another for sharing a presentation or information, is a game changer. If you don't already have an extra monitor at school or home, you can purchase one for around $100. If you have an extra device, with an app like Sidecar, you can use an iPad as a second monitor for your virtual teaching.
Student check-ins
I've found it invaluable to do frequent check-ins with my students, more often than I typically would with a physical classroom. My students at home are often juggling an incredible collection of responsibilities, from taking care of their siblings to experiencing additional financial stress for their families. Short surveys can provide information on how your students are feeling and which students might need a little extra grace that week. Beyond the social-emotional check-ins, I also gain insight on what is or isn't working in my class from a pedagogical perspective. My students and I have all experienced a dramatic shift in what school looks like virtually, and they have provided me with great feedback on what I can do to help them as learners.
I hope that students and teachers will return to a more traditional physical classroom before long. But we've all experienced a huge shift. Teachers and students have learned new skill sets, which they will either bring back to the classroom or continue to use as virtual learners. For some, virtual learning will continue well beyond this year, and what we have learned will impact our educational system for decades to come.
Eric Langhorst teaches eighth grade U.S. history and computer science at Discovery Middle School in Liberty, MO.