The media specialist at Campbell High School in Smyrna, GA, champions student voice in the recording studio and equity throughout the school.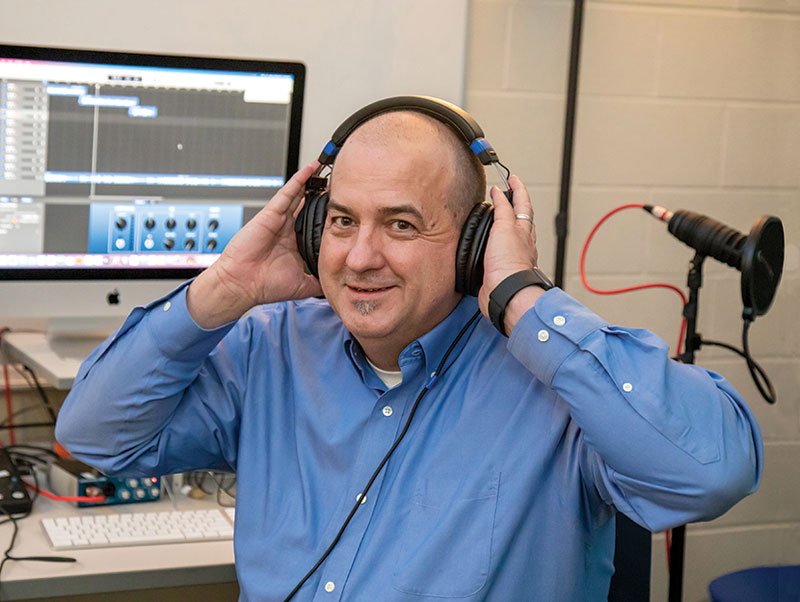 2022 SCHOOL LIBRARIAN OF THE YEAR FINALIST
Andy Spinks, school library media specialist, Campbell High School, Smyrna, GA
Photo by Dani Weiss. (Photo below courtesy of Andy Spinks)
One of the most popular spots in the library at Campbell High School in Smyrna, GA, has nothing to do with books. It's not even the largest or fanciest space in the school's brand-new, 12,000-square­-foot learning common.
But the library's recording studio is where you'll find most students when they have a free moment, waiting for their turn to get in front of the microphone, lay down a track, and freestyle new verses.
The studio exists thanks to the work of Campbell library media specialist Andy Spinks, who long dreamed of offering such a resource to his students.
"His vision for a vibrant, student-centered learning space has resulted in the most successful media center in Cobb County Schools," Campbell principal Jeanne Walker wrote in her nomination letter for Spinks.
Spinks is one of two full-time library media specialists at Campbell, a large suburban school north of Atlanta. It serves more than 3,000 students, of whom 40 percent are Black and 33 percent are Latinx. More than half the students come from economically disadvantaged homes. Campbell also houses an International Baccalaureate magnet program with another 300 students drawn primarily from outside the district.
Spinks says he is fortunate to serve all his students with a well-funded and well-supported program, with a library media allotment over $28,000 annually, in addition to $12,600 per year for the school's portion of online research databases, ebooks, and audiobooks purchased at the district level.
A "magical set of circumstances," including receiving equipment from a local music shop run by a Campbell alum, made the studio such an instant success, according to Spinks.
While students and teachers have used the space for everything from recording podcasts to tuba audition solos, by far the most popular use for the studio is hip-hop.
Spinks bought in a local Grammy-nominated producer for a training session, and a then-senior helped with the technical aspects of recording. The studio became wildly popular, drawing students to the library who wouldn't have come otherwise.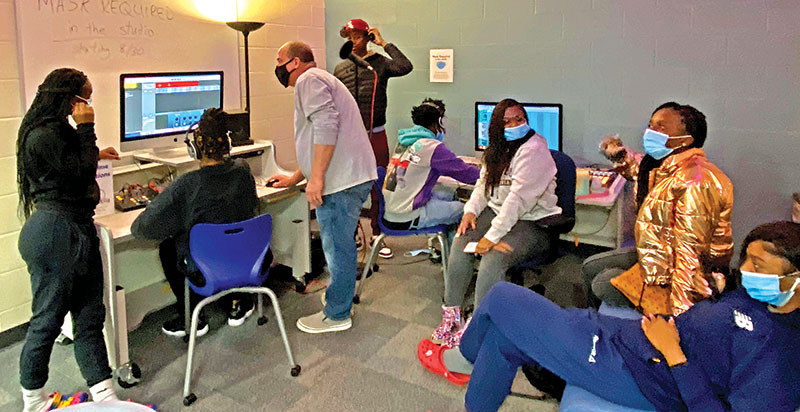 Spinks has only two rules for students using the studio­: no dis tracks bullying other students and no references to gang affiliations­. His goal is to create an open space, where learning everything from intellectual property to the science of sound and literary devices, happens alongside the creativity and self-expression students discover as they collaborate. Some educators have questioned hip-hop as a teaching tool and worry about offensive lyrics. But cultivating a library built on free speech is a central tenet of Spinks's philosophy.
"It says who and what is welcomed in our library, that there's a space in the library where hip-hop is not just tolerated, but encouraged," Spinks says. "To me, it's a place where you can create, find your voice, and express yourself in a way that the curriculum isn't giving you the opportunity to do."
Spinks has also curated a collection that reflects his students, bringing the same level of attention to representation in nonfiction as in fictional offerings. He's given presentations on the library's privacy protections to make sure LGBTQIA+ students feel safe searching for books without fear of being outed. He has also eliminated overdue and lost book fees.
"It's hard enough to get kids to read without these other barriers," Spinks says.
Spinks looks out for students in other ways. Recently, the district created a new initiative to provide students with laptops, contingent upon parents opting in online.
Spinks pointed out that hundreds of students, and those most in need of the program, didn't have a parent email registered. Also, most letters were written in English. Spinks and another librarian worked with the parent coordinator to translate the documents into Spanish to reach more families.
Drawing attention to these issues has not been without pushback. In 2019, he and Campbell math teacher Sandi Yoder led an anti-racism book study for faculty, and last year Spinks launched Cicely Lewis's #ReadWoke program. Although the program was well received by students, teachers, and administrators, district officials demanded the faculty book study be moved off campus, and the #ReadWoke program canceled.
Despite these challenges and the current nationwide wave of censorship, Spinks remains committed to championing free speech and representation, and Yoder says that dedication has been an inspiration. The Georgia Library Media Association named Spinks its 2021 Intellectual Freedom Award winner. But another recognition truly caught Spinks by surprise.
Home sick on a Friday in February, Spinks watched a livestream of Campbell's annual Martin Luther King, Jr. Humanitarian Awards program. Students select the winners, and it is one of the highest honors at the school.
Suddenly, Spinks's picture appeared on the screen. "Mr. Andy Spinks has gone above and beyond helping a multitude of students in many ways, shapes, and forms, from technical issues to just giving a good morning with a warm smile," a student read. "He gives all students an equal opportunity and pays into each and every child that walks into the library."
Spinks calls the award a validation that his "wacky ideas" are on the right track. That, and being named a 2022 School Librarian of the Year finalist, "definitely inspires me not to let the pushback discourage me."
"Our library bustles," Yoder says. "He's made it the hub of the school now."

# # #
About the Award
An annual award presented by School Library Journal (SLJ) and sponsored by Scholastic, the School Librarian of the Year Award honors a K–12 library professional for outstanding achievement and the exemplary use of 21st-century tools and services to engage children and teens toward fostering multiple literacies. Judges were: Amanda Jones 2021 School Librarian of the Year; Dr. Mike Daria, Superintendent, Tuscaloosa (AL) City Schools; SLJ editors; and a Scholastic Trade Publishing representative.
Learn more about the award and past winners at slj.com/SLOTY.
---
Andrew Bauld is a freelance writer covering education.